
Table of Contents

About the Author

Related Posts

Best Audio Recording Software
Rel
Updated on Mar 13, 2023|
min read
Feb 1, 2023, a clip video released on major social platforms aroused the expectations of Harry Potter fans worldwide - the final version of the trailer of Hogwarts Legacy based on the Harry Potter books was released.
On Feb 10, 2023, Hogwarts Legacy was officially launched, and many Harry Potter fans and gamers joined the game community. They record the actual experience of personal games, clip the highlights in the game, and share these wonderful clips on YouTube, Twitter, Instagram, and other platforms. These clips supplement the player's perspective that is not available in the official video, and build a real and complete world of Hogwarts Legacy for people together with the official video.
If you don't know where to Find Hogwarts Legacy clips, this post will give you a detailed guide. Meanwhile, we will also show you the best solutions to make a Hogwarts Legacy clip.
Where to Watch Newest Hogwarts Legacy Clips
Hogwarts Legacy is an outstanding game that has restored the wizarding world in a real way. Just the fine modeling of the college and the various bonus scene hidden in it are enough to make the fans crazy. You can control the characters to do tasks, go to the arena to fight, explore the world, find hidden treasures, build manors, and raise magical animals.
However, at present, Hogwarts Legacy on PC needs to be optimized in many places. In addition to the problems of thin plot and frame stuck, many users have even encountered the problem of save file gone.
If you are considering whether to buy Hogwarts Legacy, you might as well watch some wonderful clips recorded by players, and then decide whether to join them. The following 4 platforms are our most recommended to find clips:
YouTube
As the largest online video website, YouTube must be one of the first choices for users to upload and watch Hogwarts Legacy clips.
2 years ago, Hogwarts Legacy opened an official account on YouTube and uploaded the first version of the trailer of the Hogwarts Legacy. However, to live up to the expectations of players, Avalanche Software announced that the release time of the game needs to be extended from the original 2021 to 2022.
During the continuous development of the game, the Hogwarts Legacy official account has updated many warm-up videos and gameplay demo clips on YouTube from time to time, gradually revealing the increasingly rich magic world to the players.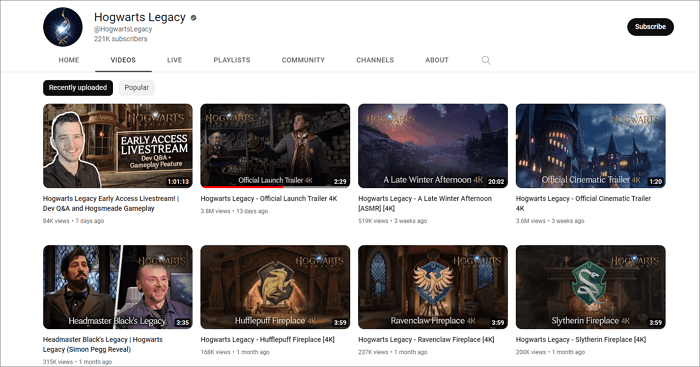 In addition to the official video, many YouTubers have sprung up after the official release of the game and uploaded many clips about Hogwarts Legacy. The content includes gameplay tutorials, battle strategy, game element display, etc. You can definitely find the wonderful clips you want to see in it.
Steam
As the distribution platform of Hogwarts Legacy on the PC side, Steam will undoubtedly gather lots of Hogwarts Legacy game players. Steam provides a special game community for these players, in which players can discuss game-related issues, share their screenshots, read the latest news, and share and watch clips recorded by players.
Although these clips recorded by ordinary players are not as exquisite as most videos on YouTube, they are extremely real, interesting, and worth seeing.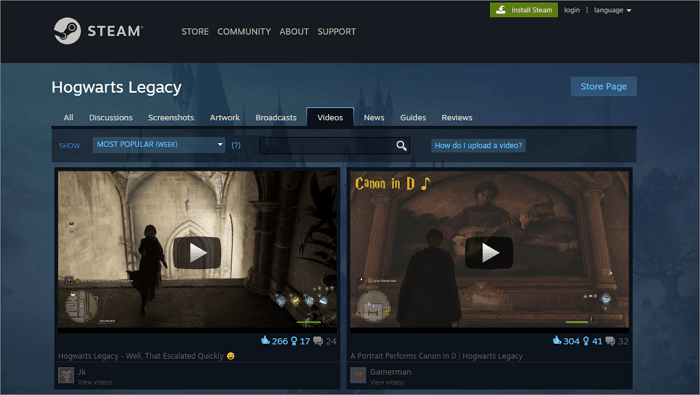 Twitter
As the top global social platform, Twitter is also one of the publicity channels of Hogwarts Legacy. You can follow the official account of Hogwarts Legacy on Twitter and read the information and game videos it sends at any time.
Class is in session. What have you learned at Hogwarts so far? #HogwartsLegacy pic.twitter.com/NVhboyrTzw

— Hogwarts Legacy (@HogwartsLegacy) February 13, 2023
At the same time, you can also watch the cute clips captured by other players by searching the topic of #HogwartsLegacy.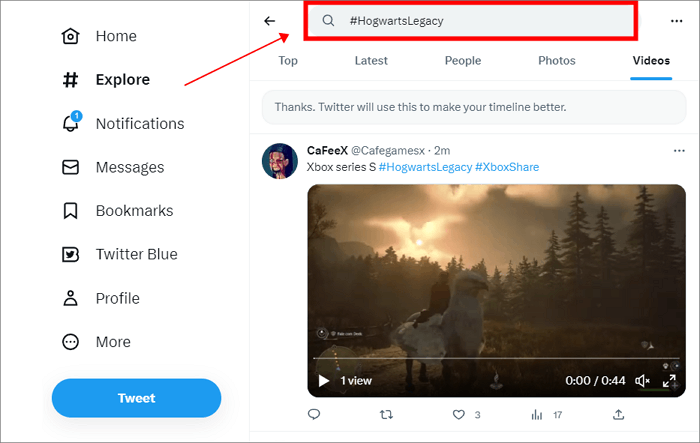 Twitch
Twitch is a real-time streaming video platform for video games. Game fans here will not be stingy to share the gameplay clips of Hogwarts Legacy. Navigate to the Hogwarts Legacy section of Twitch, and you will see many players share their game process here. Many players also use cameras and microphones when clipping to record their interpretation and real reactions to some game scenarios. You can even subscribe directly to your favorite live channels to experience this wonderful magic world in real time with the streamer.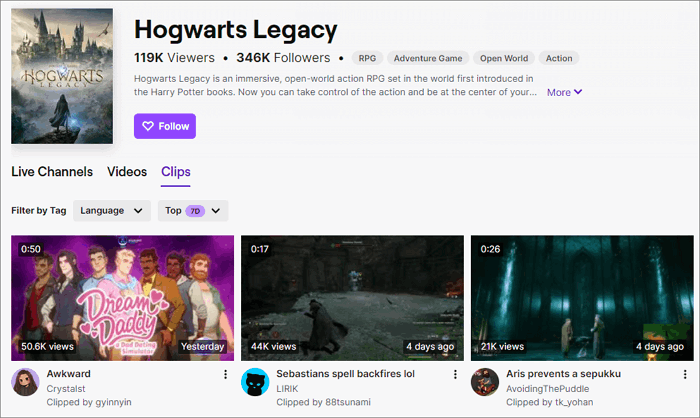 How to Clip Hogwarts Legacy on PC
The Hogwarts Legacy clips released on various platforms can show you the rich fun of the game, and each player likes different game scenes. Some players want to clip walk-through videos to help other players pass the plot point; Some players want to share the scenery of their House with you; Some players want to show their excellent fighting skills. If you want to record your precious moments in the game, don't worry, EaseUS RecExperts can help you.
EaseUS RecExperts is an efficient screen recorder for Windows and Mac which can handle all PC game recordings with no time limit. You can record Hogwarts Legacy gameplay with audio and a webcam whether you want to capture an area or the full screen.
Here are the key features of EaseUS RecExperts:
Now follow the clear steps here to clip Hogwarts Legacy with great ease.
Step 1. Start the gameplay you want to record and launch EaseUS game recorder. Next, select the Game mode.

Step 2. Click the nut icon to open the Settings window, and then click on "Video" to adjust the frame rate (from 1 to 144), video quality, format, etc. 
In addition, you can click on the "Game" button to change some game overlay options. Once done, click "OK".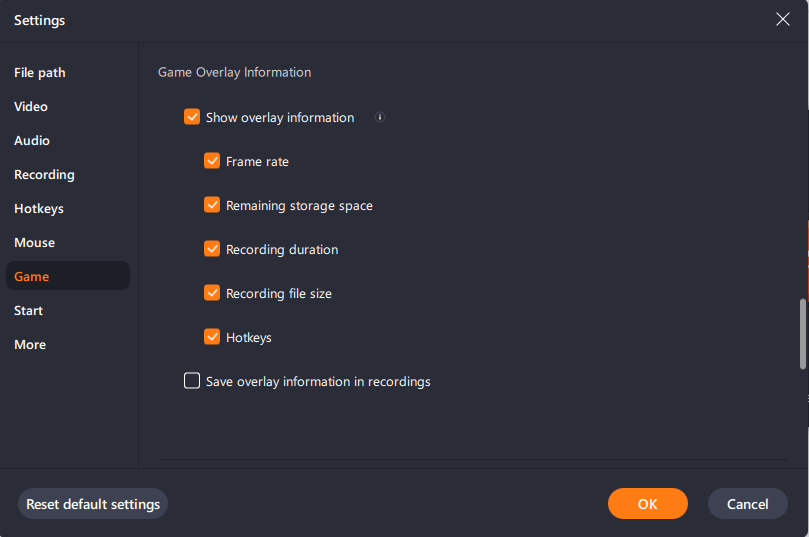 Step 3. Go back to the Game mode interface and click "Select Game" to choose the gameplay you want to capture. Next, click REC to start your game recording.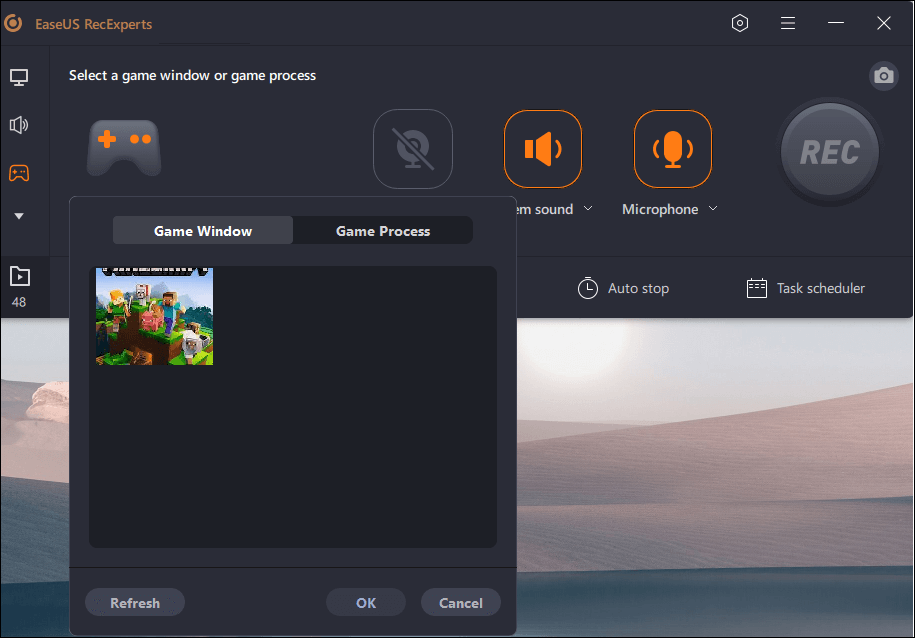 Step 4. You will see a small bar showing the time of your record. If needed, you can take screenshots in recording, or set the specific time to stop the recording by clicking the "Clock" icon on the toolbar.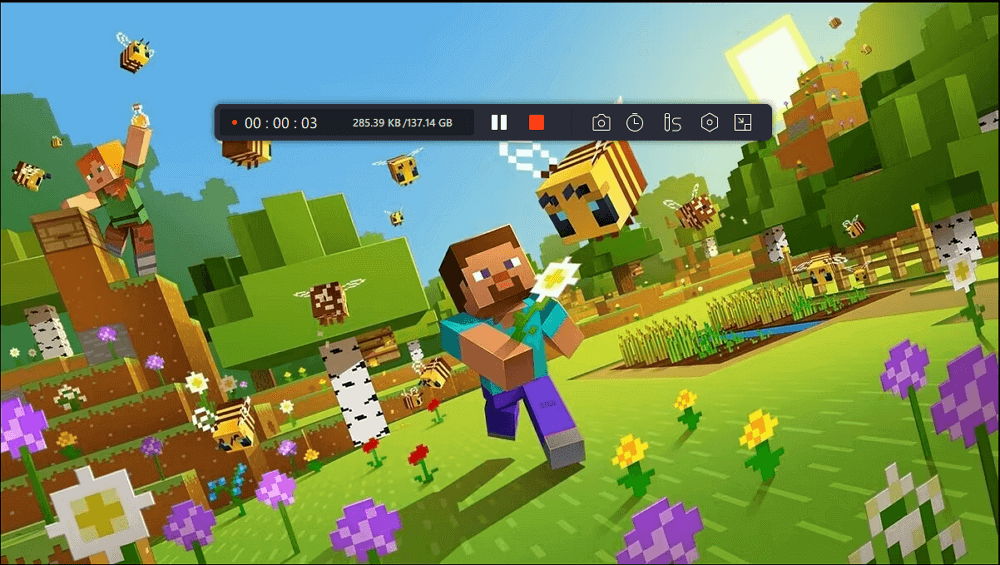 Step 5. Once done, you can watch and edit the recorded footage with the built-in video editor. On the recorded video, you can trim the recordings as you want.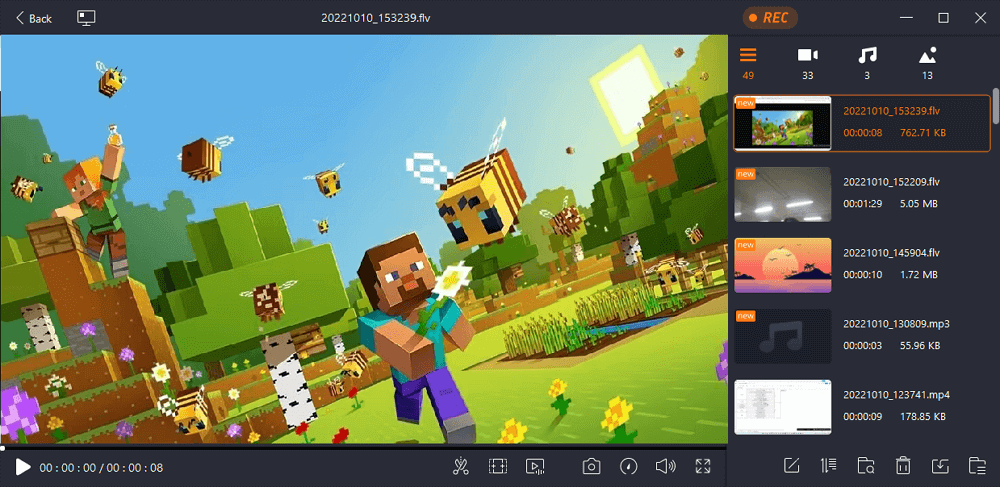 Conclusion
In the world of Hogwarts Legacy, you will play a student with secrets and embark on your magical journey. You can watch Hogwarts Legacy clips uploaded by other players on YouTube, Twitter, Steam Community, and Twitch and experience the magic world from different angles. You can also use EaseUS RecExperts to record your satisfied clips and share them with others. In short, let's write your legend in Hogwarts Legacy!
FAQs
1. Can you pick your house in Hogwarts Legacy?
Yes, I can pick my House in Hogwarts Legacy. Hogwarts Legacy supports players with 4 characters slot. Each character is assigned to a different House. But no matter whether you pick Godric Gryffindor, Salazar Slytherin, Rowena Ravenclaw, or Helga Hufflepuff, the main line you will experience in the game is the same.
2. Will Hogwarts Legacy have open-world?
Yes, it will. Hogwarts Legacy is an immersive open-world action role-playing game based on the Harry Potter series.
About the Author

"Hi readers, I hope you can read my articles with happiness and enjoy your multimedia world!"