
Table of Contents

About the Author

Related Posts

Best Audio Recording Software
Jerry
Updated on Mar 13, 2023|
min read
Hogwarts Legacy, the highly anticipated 3A masterpiece of Harry Potter fans, was finally released. Hogwarts Legacy is a single-player open-world action RPG set in the Wizarding World based on the Harry Potter books. It can be played on PS5, PS4, Xbox Series X/S, Xbox One, Nintendo Switch, and Windows.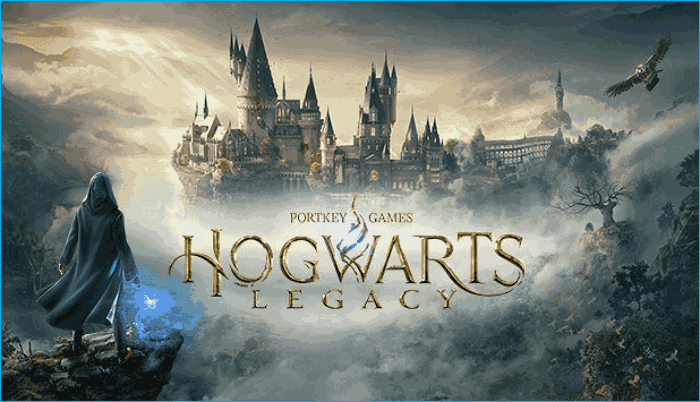  Warning

At present, this game is only officially released on computers, PS5, and Xbox Series X/S. The release of previous models, like PS4, Xbox one s/x, and handheld Switch, will be postponed.
Whether you're an experienced Twitch veteran or a new streamer, you should know a few different ways to stream PS4 gaming. This article will share with you: Hogwarts Legacy: how to stream PS to Twitch. Please keep reading!
Stream Hogwarts Legacy to Twitch with PS4/5 Broadcast
PS4/5 has a built-in broadcast feature that allows you to stream Hogwarts Legacy to Twitch from PS4/5. You'll need to create a Twitch account before we start. The process is quick and simple, but to login in on your PS5, set up two-step verification. Go to the Media section of your PS5 and download the Twitch app after you have an account. The workaround below describes how to Hogwarts Legacy to Twitch with PS5 broadcast.
Step 1. On your PS5, launch the Twitch app and choose Sign-in. A special QR code and an eight-digit code will be provided to connect your PSN and Twitch accounts.
Step 2. To finish the process, follow the instructions and choose Link Account on your PS5.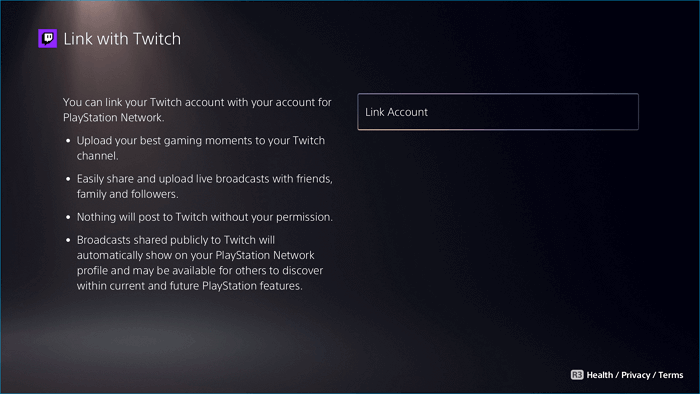 Step 3. Start Hogwarts Legacy on your PS5. When you're ready to broadcast live, press the DualSense controller's Share button (the little button in the upper-left corner of the touchpad) and choose Broadcast.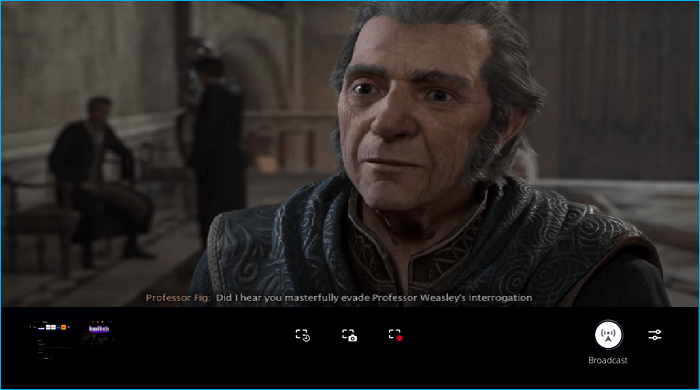 Step 4. From the PS5 stream options, select Twitch.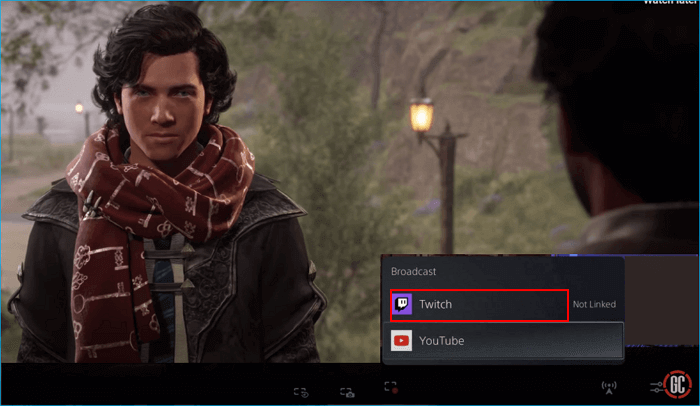 Note: By clicking the three-dot icon before going live, you can handle any broadcast choices, including whether to incorporate footage from the PlayStation HD camera, voice chat audio, and more. Players can also transmit sounds via the DualSense controller mic.
Step 5. Click on Go Live, and you're now streaming!
Press the Share button on your PS5 controller and choose Broadcast to pause or end your Twitch stream.
Stream Hogwarts Legacy to Twitch from PS4/5 with Capture Card
Another way to stream Hogwarts Legacy from PS to Switch is using a capture card. The captured is used to connect the PS5 and the computer. The detailed steps are as follows:
Step 1. Connect your PS5 to your capture card, and then connect the capture card to your computer.
Step 2. You can also link your headset and controller to the capture card if it has a microphone and headphone connection.
Step 3. You will need to connect your controller and headphones to a mic/audio splitter if your capture card does not include a microphone and headphone jack. Then, connect the capture card to the computer and the splitter to the capture card. With this configuration, you will want a solo mic connected to your PC for commentary.
Step 4. Set up your live-streaming service (Here, OBS will be taken as an example).
Step 5. Launch OBS on your PC and go to Settings.
Step 6. Select Twitch as your streaming service by clicking the Stream tab. Then, utilize your stream key to link your Twitch account.
Step 7. In Settings, click the Advanced tab and make sure the Process Priority is High or Above normal.
Step 8. Use the Video and Audio tabs to change the video and audio settings.
Step 9. Start your streaming.
Step 10. Add the capture card as a source in OBS.
Step 11. Arrange sources to create new scenes in the streaming window to improve your stream. In this phase, you can add overlays, your webcam, a chat window, and other features.
Step 12. Once everything is set, click Start Streaming in OBS to stream the Hogwarts Legacy.
Bonus Tip: How to Record Hogwarts Legacy Gameplay
Hogwarts Legacy is an action RPG that will take about 30 to 35 hours to complete. When you successfully finish the gameplay, you may want to release it on YouTube to share your experience or joy. You can use the Windows built-in recording tool, like Xbox Game Bar, to help you. 
But it is worth noting that Xbox Game Bar has a 4-hour time recording limit, and you cannot adjust the recording areas. Under such circumstances, you can use a game recorder called EaseUS RecExperts to help you record the gameplay.
EaseUS RecExperts is a professional screen recorder that can work on Windows 11/10/8/7. It can help you record almost everything on your PC. For example, you can screen record on your Windows 7 computer and create a scheduled recording. In addition, it lets you clip the last 5 minutes on your computer. It has no time limit, and you can edit the video while recording. It also allows you to make an instructional video with screen recording.
You can perform the following steps to record the Hogwarts Legacy Gameplay.
Step 1. Start the gameplay you want to record and launch EaseUS game recorder. Next, select the Game mode.

Step 2. Click the nut icon to open the Settings window, and then click on "Video" to adjust the frame rate (from 1 to 144), video quality, format, etc. 
In addition, you can click on the "Game" button to change some game overlay options. Once done, click "OK".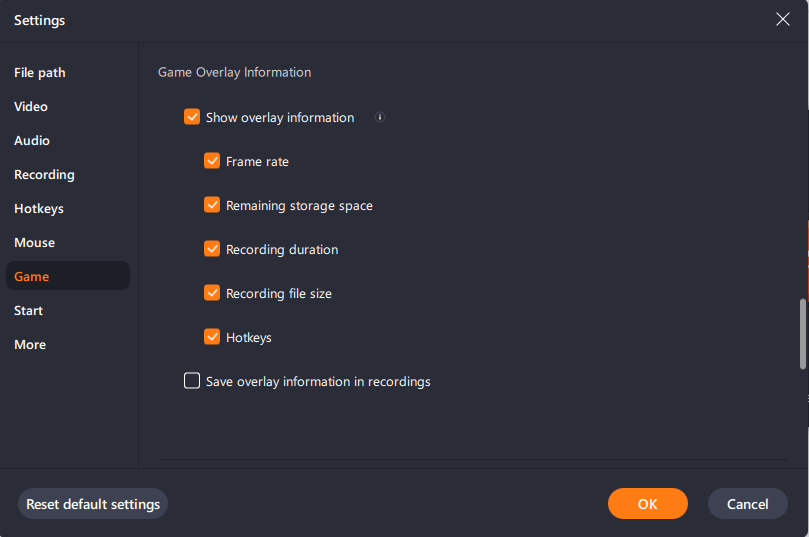 Step 3. Go back to the Game mode interface and click "Select Game" to choose the gameplay you want to capture. Next, click REC to start your game recording.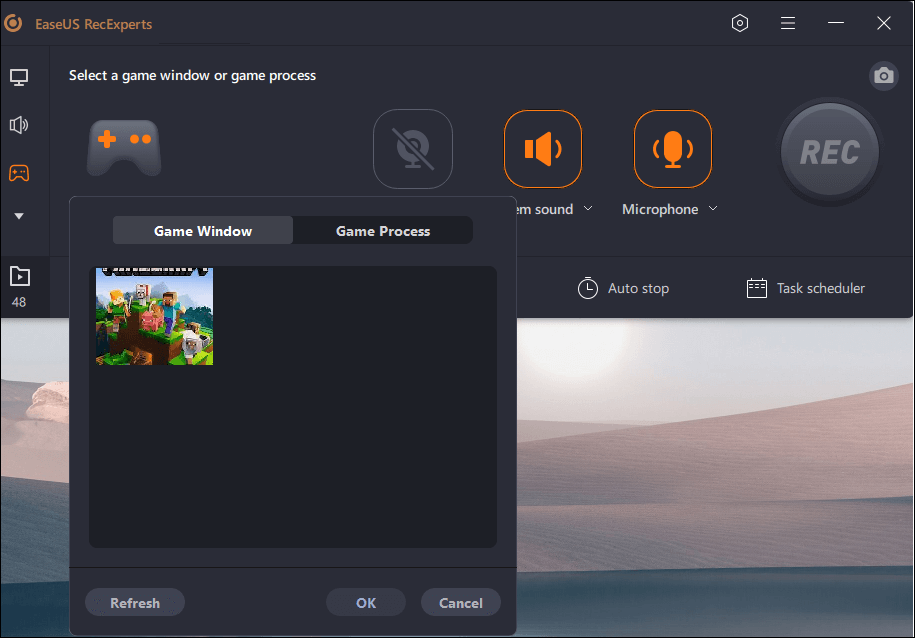 Step 4. You will see a small bar showing the time of your record. If needed, you can take screenshots in recording, or set the specific time to stop the recording by clicking the "Clock" icon on the toolbar.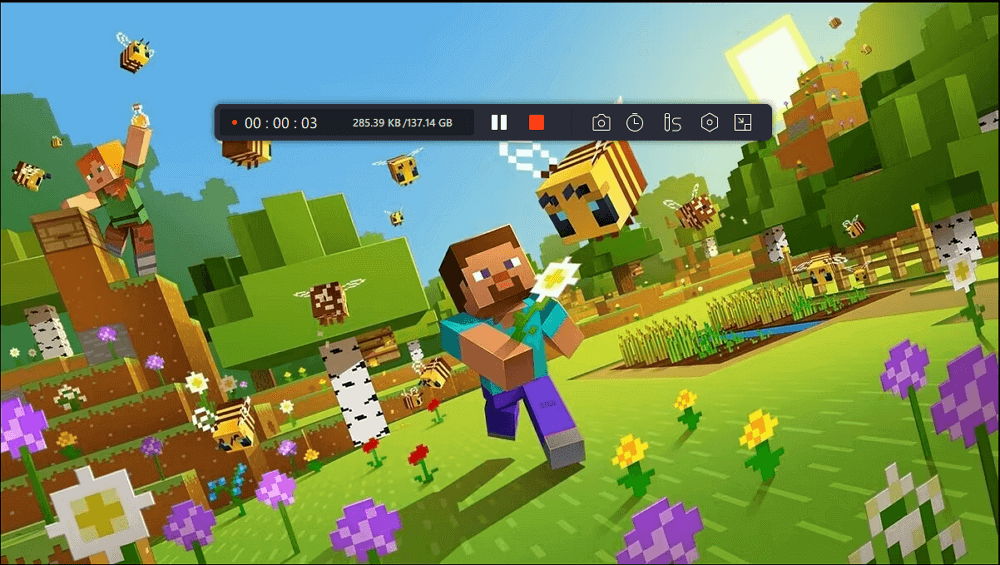 Step 5. Once done, you can watch and edit the recorded footage with the built-in video editor. On the recorded video, you can trim the recordings as you want.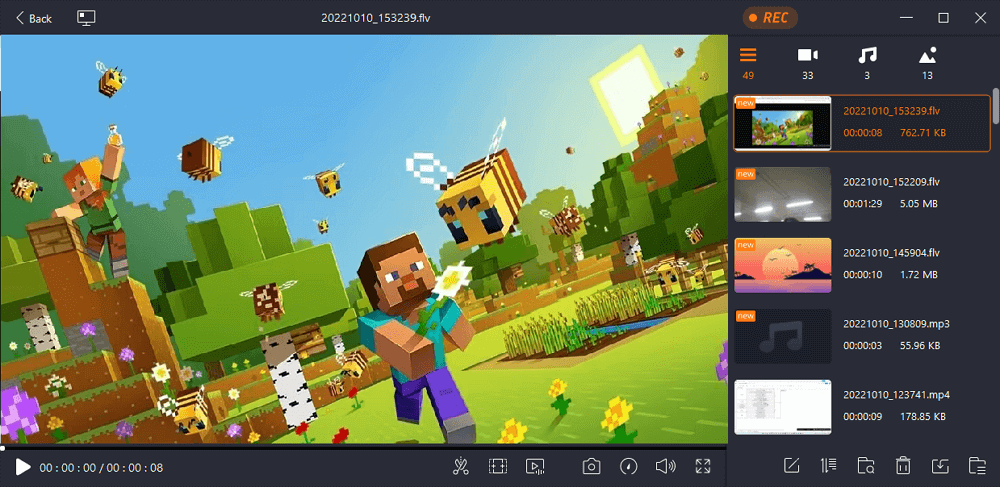 Final Thoughts
That is all about our topic: Hogwarts Legacy: how to stream PS4/5 to Twitch. In short, you can use the PS4/5 built-in broadcast capacities and the capture card to help you stream to Twitch from PS. The latter requires you to stream PS to Twitch through PC.
If you want to record Hogwarts Legacy gameplay, you can use EaseUS RecExperts to help you. It is a professional recording tool that can help you to finish many recording tasks. It can also help you to solve the OBS not recording screen issue, and the Windows Media Player won't play video error.
FAQs
1. Can you use a capture card to stream on Twitch?
You've probably heard of video capture cards if you play video games professionally and stream them live on sites like Twitch and YouTube. In essence, video capture cards are created to directly record or stream your monitor in a high-quality image without affecting the performance of your PC.
2. Why can't I stream on Twitch PS4?
Twitch currently demands 2FA (Two Factor Authorization). To broadcast from your PS4 on Twitch, you must enable 2FA on your account. Visit the Twitch Two-Factor Authentication (2FA) guide for complete details. You can log in to the Twitch from your PS4 and begin streaming after 2FA has been configured and authorized.
About the Author

"I hope my articles can help solve your technical problems. If you are interested in other articles, you can check the articles at the bottom of this page, and you can also check my Facebook to get additional help."