
Table of Contents

About the Author

Related Posts

Best Audio Recording Software
PAGE CONTENT:
Google Meet is a popular mode of visually connecting people. From business to education, almost all meetings and conferences are being carried out on this platform. But have you gotten tired of presenting the same rooms as your backgrounds? Do you want to change the background in Google Meet to hide your messy home offices and bedrooms in professional meetings?
More so, you may also want to offer better self-expression, professional appearance, and an educational mandate. Google Meet aids you in adding creative backgrounds from its library. But how to change the background in Google Meet?
This guide provides you with the simplest steps to change the Google Meet background before and after the meeting. Let's explore!
Change Background in Google Meet Before Meeting
Here is the solution if you have become tired of showing the same old backgrounds in online meetings. Google Meet helps you change backgrounds and add some creative ones.
You can utilize styles, backgrounds, filters, or even the blur option, whatever suits you. Plus, replacing background video without green screen on your device is easy with the right directions.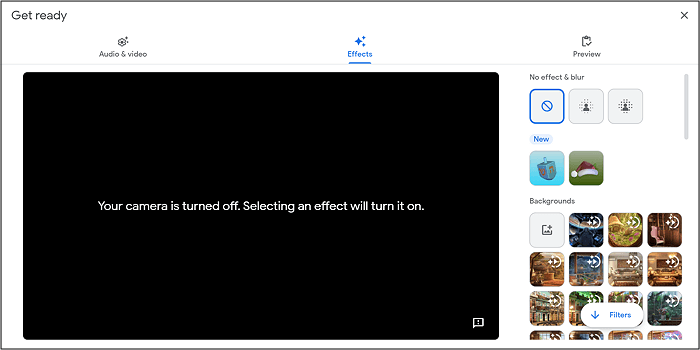 Here is a detailed tutorial on how to change your background in Google Meet before the meeting:
Step 1. Firstly, open Google Meet on your browser and sign into a meeting. Before joining, you need to press the "Apply Visual Effects" icon on the bottom right corner of the screen.
Step 2. Secondly, you will see multiple options to choose from. To blur your background, select the second or third option per your demands. In contrast, click the "+" icon to upload a background from your system. Even you can choose one from the Google Meet library.
Step 3. The last step is about clicking the background you want. It will automatically change the background in Google Meet when you start meeting. That's all!
Change Background in Google Meet During Meeting
Have you joined the meeting in your bedroom, and it's looking odd in front of everyone looking professional? If yes, don't worry. You can simply use the Google Meet background library and change the background immediately.
Just like changing the background in Google Meet before a meeting, you can change it during a meeting as well.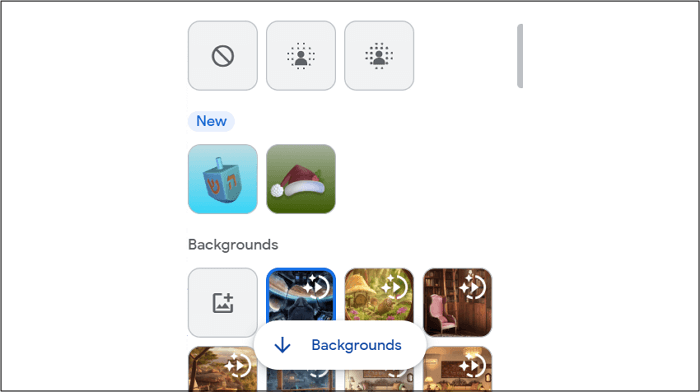 Let's follow the steps on how to change the background in Google Meet:
Step 1. Once you have joined the meeting, click on the three-dots icon from the left of the "Leave Call" button. A menu appears where you should choose the "Apply Effects" option to open a column on the right-hand side.
Step 2. Next, you need to choose the blur option, upload a background, or any other from the available in-built backgrounds of the Google Meet media library.
Step 3. Lastly, you can click on the desired option, and it's done. However, you have to option to change it anytime. Even it is possible to turn off the visual effects if required. All done!
Bonus tip. Record Google Meet with Easy Steps
There are times when you need to record Google Meet is essential to make a tutorial, listen later, or share with colleagues or friends. So EaseUS RecExperts must be your way to go.
This Mac and Windows screen recorder lets you record anything, whether it's an activity on the screen, an online video, a game, or a webcam. Plus, recording a webcam along with the screen is possible. Besides, it allows you to record microphone and system sound.
Even you can change the background while recording via a webcam with a green screen. You have to select a specific region or full screen as desired and start recording. Check more information about it below.

Features:
Offer a simple and intuitive recording process
Support multiple output formats, i.e., MKV, FLV, etc.
Provide you with real-time annotation tools
Allow you to take screenshots while recording
Let you preview recordings with its in-built player
Download it from the button below now!
FAQs about How to Change Background in Google Meet
Do you still need some clarification? Let's have a look at some frequently asked questions below:
1. Why can't I change my background in Google Meet?
If you can't change the background or use visual effects in Google Meet, it is because you are not using the updated browser version that supports styles, immersive effects, and backgrounds. Check your browser version, which should have Chrome 91 on Mac, Windows, or Linux.
2. Can I change the background in the Google Meet app?
Yes, it is possible to change the background in the Google Meet app. You are supposed to open the app and join a meeting. Now, click on your preview and tap on Effects from the bottom left corner.
You will get multiple options from where you can choose any static or dynamic background that will appear immediately.
Conclusion
Google Meet is considered a professional video meeting & conferencing service. But for several reasons, people want to change their background in Google Meet before and during a meeting. The above ways make it possible to select the desired background with simple clicks.
But sometimes, you have to record meetings on Google Meet for tutorials or storing purposes. In this scenario, EaseUS RecExperts comes in handy. It lets you record a screen, game, or webcam, along with the sound, while bringing high-quality output.
About the Author

Melissa is a sophisticated editor for EaseUS in tech blog writing. She is proficient in writing articles related to multimedia tools including screen recording, video editing, and PDF file conversion. Also, she's starting to write blogs about data security, including articles about data recovery, disk partitioning, data backup, etc.