
Table of Contents

About the Author

Related Posts

Best Audio Recording Software
If you record a Zoom meeting and choose the Record to the Cloud function, the video, audio, and chat text will be saved in the Zoom cloud. After recording, you can view and download it to your computer if you want.
If you want to get a Zoom recording saved on the cloud, you may try the methods in this article. Apart from the official function, we also give you some other ways to get Zoom recordings from the cloud.
PAGE CONTENT:
How to Record a Zoom Cloud Recording
There are many reasons that you want to save a Zoom recording to the cloud instead of the local folder on your computer. For instance, the recordings take up a lot of space on your devices. And expanding the space of a device, especially of iPhone, is expensive.
So, if you want to record a Zoom meeting and save it to the cloud, you don't need Zoom meeting recording software. Before recording, you need to make sure that you are fully prepared. A Pro, Business or Enterprise account is necessary. Later, we will show you how to record Zoom meetings to the Cloud. Follow the tutorial below.

Step 1. Start your meeting as the host and click on the "Record" button.
Step 2. Select "Record to the Cloud" to begin recording.
Step 3. To stop recording, click on the "Pause" or "Stop Recording" button. Or you can directly "End Meeting". Once the meeting has ended, the recording must be processed before viewing.
Where to Find Zoom Cloud Recording
If you have recorded some meeting sessions to the cloud and you want to view them or edit them, you will need to find them first. Since some people don't know where to find a Zoom cloud recording, here in this part, we will show you step by step. After finding them, you can even edit a Zoom recording as you like.

Step 1. Go to Zoom.us and Sign in to your account with your name and password.
Step 2. On the left side of your screen, click "Recordings". All your recordings saved to the cloud will be found here.
Download Zoom Recording from Cloud
Cloud recordings are saved on Zoom's server, and you can't directly manage them by the Zoom client on your PC. Of course, you can make basic changes to edit a voice recording or a video on the cloud interface. For instance, you can view, download, share and delete your cloud recordings.
However, if you want to make more changes to the cloud recordings, you need to download them to your local folders first. Here we will show you how to download a Zoom cloud recording with simple clicks.
Step 1. Log in to your account at Zoom.us. Click on "My Account" at the top right of the screen.
Step 2. Click the "Recordings" tab at the left of the screen. You will see a list of your Zoom cloud recordings.
Step 3. Click on a recording to access it. You can download the recording you want to your device by clicking the "Download" button.
Get Zoom Recording from Cloud by Recording
If you can't download the recordings with your account, you can get them by recording them to your local folders. Only if you can view the cloud recordings can you record and save them with EaseUS RecExperts, a Windows screen recorder that can be used on both Windows and Mac computers.
With this program, you can record a Zoom meeting without permission, record the screen with audio, and record your gameplay with the webcam. In a word, all the activities going on on your device can be recorded by it. Check more features of this tool.
Main Features:
Record Google Meet and other online meetings
Record and save the recordings in HD quality
View and make basic changes to the recordings
Play recorded videos and audio at various speed
Record both on Windows and macOS systems
Now, get the program from the button below.
Step 1. Sign in to the Zoom official website.
Step 2. Click "Account Management" then click "Recording Management".
Step 3. Click on the recording file to view it immediately. After that, you can start recording with EaseUS RecExperts.
When you are ready to play the Zoom cloud recording you want to record, follow the steps below to record it with EaseUS RecExperts.
Step 1. Run EaseUS RecExperts on your device and you will see two recording modes. You can choose "Full Screen"to record the whole screen or choose "Region" to select the recording area manually before recording.

Step 2. After that, you can choose to record the webcam, system sound, microphone or record none of them as you like. You can also set auto split, auto recording with various functions on the interface.

Step 3. Then, you can click the red "REC" button to start recording. Here will be a menu bar on your screen. To pause the recording, click on the white double vertical bar; to end the recording, click on the red square sign.

Step 4. After recording, you will be led to the list interface. Here you can view or edit your recordings. To start a new recording, just click on the "REC" button on the top of the interface.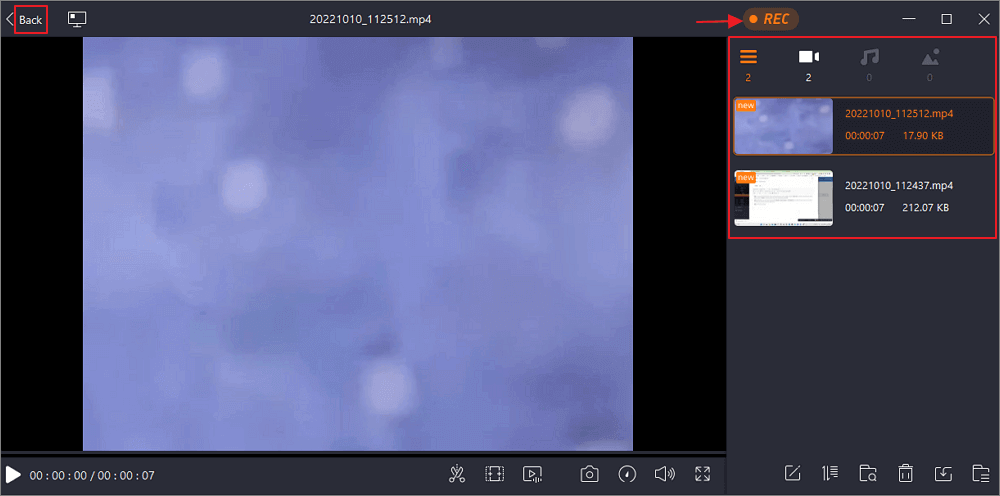  Notice:

The recording has to finish processing before being accessed. If you see a "Processing Recording..." message displayed in the list, it means that the recording is still being converted. You may start viewing afterward.
FAQs about Zoom Cloud Recording
If you still have questions about this topic, you may check the frequently asked questions and their answers below and see if they can answer your questions.
1. How do I retrieve Zoom from cloud recording?
You need to follow the steps below to retrieve Zoom from cloud recording.
1. Sign in to the Zoom web portal and click "Recordings".
2. If there are any cloud recordings in the trash, you will see a "Trash" icon at the top right. The deleted cloud recordings within the past 30 days will be saved here.
3. Click "Recover" on the right to retrieve the recording. After that, click "Recover" again to confirm your order.
4. Your recording will be retrieved and saved to the "Recordings" list.
2. Where does Zoom cloud recording get saved?
A Zoom cloud recording will be saved in this path: Zoom.us > "Recordings" list located on the left side of your screen. You can find all the Zoom cloud recordings there.
Conclusion
In this article, we have shown you some information about Zoom cloud recording and the ways to download a Zoom recording from the cloud. We hope you can get your answer from the content above. We suggest you download EaseUS RecExperts since it can record not only a Zoom meeting but all the activities going on on your screen.
About the Author

Melissa is a sophisticated editor for EaseUS in tech blog writing. She is proficient in writing articles related to multimedia tools including screen recording, video editing, and PDF file conversion. Also, she's starting to write blogs about data security, including articles about data recovery, disk partitioning, data backup, etc.