
Table of Contents

About the Author

Related Posts

Best Audio Recording Software
PAGE CONTENT:
Audio recording is crucial whether you want to save a memorable conversation, an important lecture, practice music sessions, a professional interview, or your thoughts/ideas. But in this advanced technological world, there is no requirement for a separate audio recorder for Windows.
The reason is the new and prolific methods with which you can easily and swiftly do voice recordings on smart devices. For example, the built-in Voice Memos app works as the best iPad and iPhone voice recorder. Their microphones enable you to record high-quality audio effortlessly.
However, some third-party recorders have taken voice recordings to heights. So this detailed guide provides you with the leading options for selecting the best voice recorder for iPhones to complete your task!
Top 1. Voice Memos
Voice Memos is an in-built iPhone voice recorder that offers an exciting range of features for everyone, especially beginners in the recording world. You need to check the Extras icon from the home screen to find the app. If your video length is long, you can utilize its trimming function to cut it short.
Besides its microphone, it is possible to connect the Bluetooth headset or external microphone if required. Plus, you can use its Skip Silence feature to skip the audio gaps in your recordings.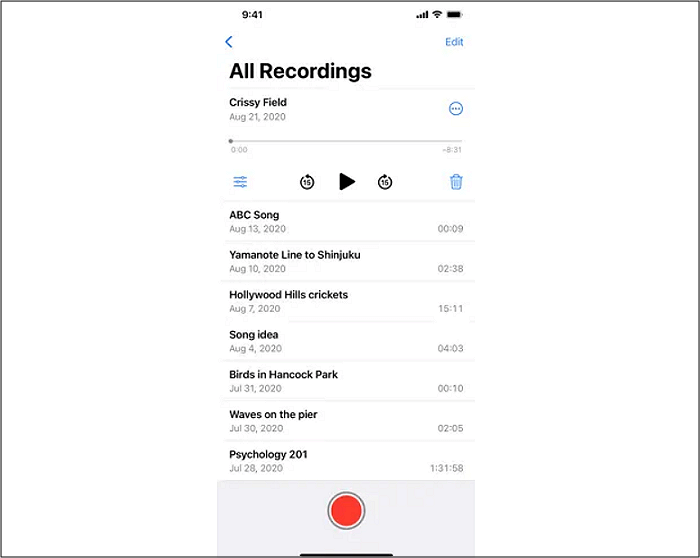 Pros:
Compatible with Apple Watch
Help you reduce background noise
Let you record while using other apps
Cons:
Unable to share the lengthy files
It doesn't offer notes taking while recording
Not suitable for professionals, mostly
Top 2. Rev Voice Recorder
Rev Voice Recorder is a fantastic solution if you want an easy-to-use, customer-oriented, free recording application. It assists you in not only recording but also transcribing any audio file. You can achieve unlimited high-quality recordings with ease.
Furthermore, it lets you trim and share recordings to Cloud, Dropbox, Evernote, etc. Even you can effortlessly record in the background; however, it gets paused for incoming calls.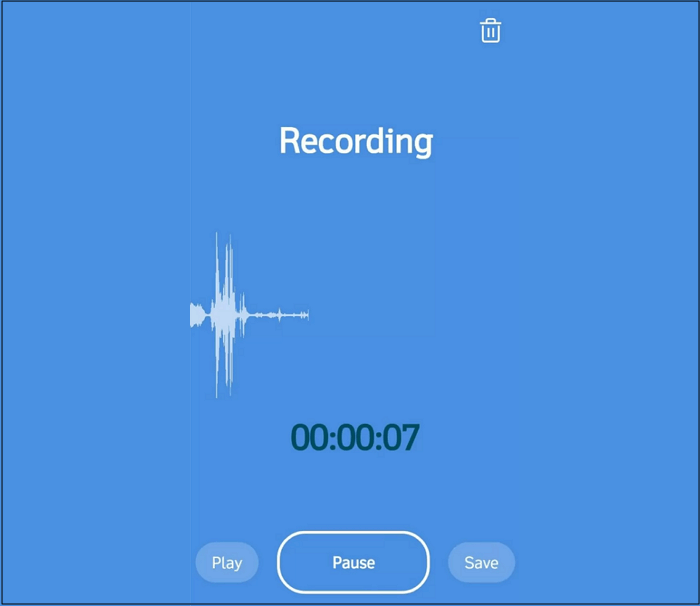 Pros:
Work on iPhone, iPad, Android, and Mac
Import recordings to Rev from other apps
Let you view or play the recordings if required
Cons:
Voice-to-text transcription is not free
It does not offer advanced features
Some people reported crashes while working
Top 3. AudioShare
Do you need to work on multiple audio files? If yes, you are going to love the AudioShare iPhone voice recorder. It helps you transfer files between the different applications or your PC. Along with fantastic power tools, you can record microphone.
You can easily import your recordings and go for playback at different qualities. Simply, it lets you select your bitrate and sample rates.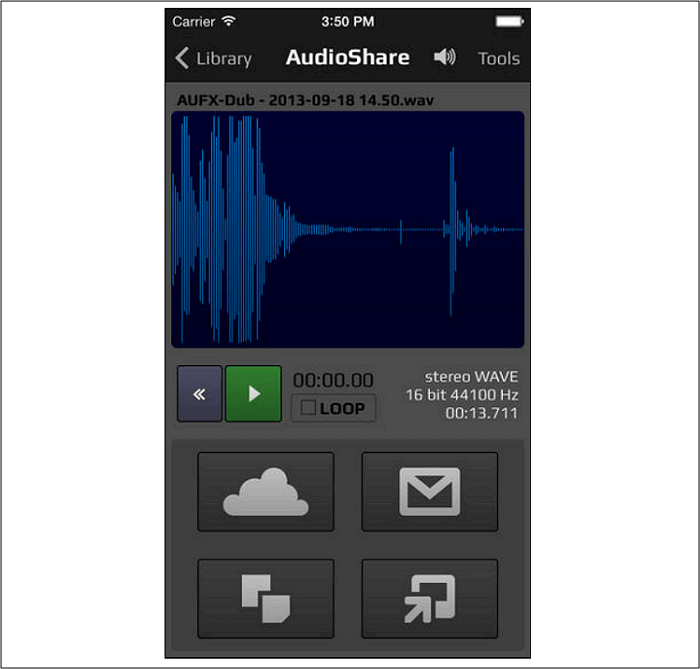 Pros:
Help you trim and fade in & out audio files
Offer an advanced set of recording features
Support an easier recordings management
Cons:
Beginners may require a tutorial to work
It does not offer a modern interface
The audio effects selection is not much
Top 4. Otter: Transcribe Voice Notes
The Otter is a great app that works as an iPhone voice recorder with only a click, either shortcut or a widget. Though its name only implies its meeting transcription services, it does the recordings as well. Even you can change audio speed.
It offers an easy AI-based solution to record and transcribe interviews, meetings, and much more in real-time. Once done, you can create a group and share everything to view, edit, and highlight.
Pros:
Support output formats like SRT, PDF, MP3, and TXT
Transcribe all the voice recordings automatically
Provide you with live captioning during meetings
Cons:
Offer only 600 minutes in the free version
Costly annual and monthly subscriptions
Support no settings for voice recordings
Top 5. Recorder Plus
Recorder Plus is a professional iPhone voice recorder that supports voice memos recordings. Coming with a simpler user interface, it provides you with a one-touch voice recording. Besides recording, you can also play files in the background over other apps.
While offering recordings in low, medium, and superb audio quality, it lets you choose the audio format quickly. Even you can access the file management options if required.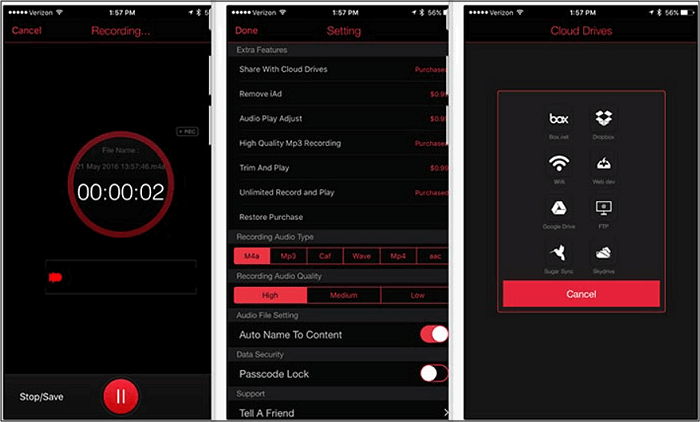 Pros:
Offer adjustable playback and trim controls
Let you share multiple recordings to iCloud
Save/Download recordings to Mac using iTunes
Cons:
Require purchase for many features
Support only basic editing options
Get buggy sometimes
Top 6. HT Professional Recorder
HT Professional Recorder is an ideal choice for people who want to record large business meetings or classroom lectures. The reason is the voice sensitivity feature of this video conference recorder, which is powerful enough to amplify the voices automatically.
Therefore, recording in larger rooms gets easier once you press the Record button. All the audio files are saved in Library, and you can share them with others via email or iTunes, as preferred.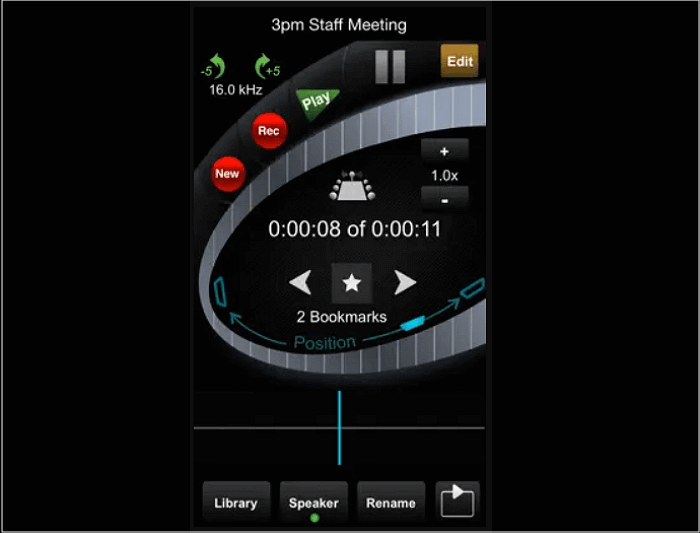 Pros:
Offer skip silence button to remove gaps
Let you bookmark the important moments
Start recording automatically once you launch the app
Cons:
No availability of transcription feature
Pause recordings due to incoming phone calls
It does not offer any free services
Top 7. Awesome Voice Recorder
The voice recording on your iPhone gets quick and efficient with Awesome Voice Recorder. You only need to adjust the result file quality, the option to make stereo or mono recordings, and the file format, i.e., you can record MP4 on iPhone, record as M4A, MP3, or WAV.
Plus, it is possible to pause or resume the recordings; however, the pause must not exceed three minutes. Even adding tags to highlight some recording parts is not tricky with this app.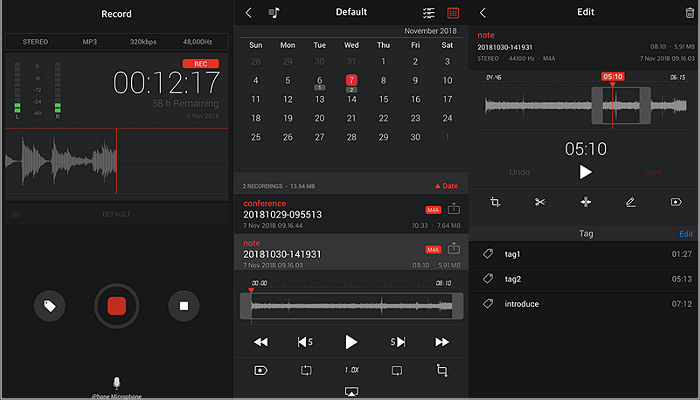 Pros:
Offer background noise reduction feature
Support an easy and quick processing method
Let you use advanced recording tools
Cons:
The number of output formats is not much
The inexperienced users may face some difficulty
Some users may encounter bugs issues
Top 8. Voice Recorder & Audio Editor
Voice Recorder & Audio Editor is a simple-to-use app for beginners, especially students. It allows you to record lectures without limitation, but you must have enough storage on your iPhone. Offering multiple output audio formats, you can also go for trimming and adjusting the audio playback speed.
Even it is possible to upload the recordings to iCloud & Drive and share them on different social websites like Snapchat, Facebook, etc. Lastly, you can benefit from its (paid) transcription services.
Pros:
Protect your recordings with a passcode
Let you skip back & forth and loop recordings
Save your files to iTunes effortlessly
Cons:
Offer only limited free functionalities
Generate long files if stopped in between
Recording calls require a purchase
Top 9. AudioNote 2 Voice Recorder
If you are looking for a highly professional voice recorder for your iPhone, AudioNote 2 is just right for you. The specialty of this recorder is its adaptation to the environment while recording, such as room size and volume level. Along with its noise reduction feature, you can also perform the unwanted background noise removal function.
Moreover, it is free of any pause time limitation while recording. Even importing the already recorded audio files is possible for note-creation purposes.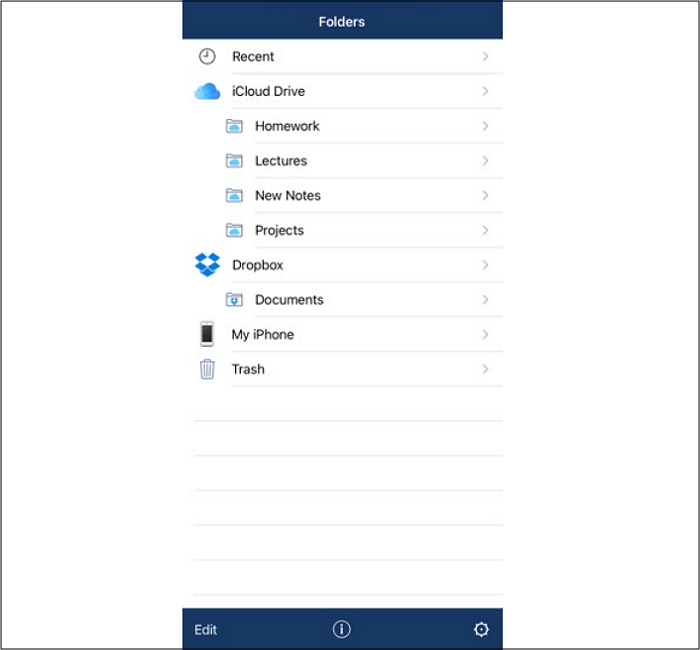 Pros:
One of the cross-platform voice recorders
Syncs the recordings between various devices
Provide you with the superb quality recordings
Cons:
Offer only a month's trial for free
The interface and some features are outdated
People may require a guide to begin working
Top 10. Smart Recorder and Transcriber
Smart Recorder is a credible and efficient app that not only works as a voice recorder but also creates ringtones for iPhone. Also, the reason behind its support for many audio files is its no time limitation feature for recordings.
Furthermore, you can easily navigate your recorded files and share the desired ones via iTunes and iCloud, whatever you prefer.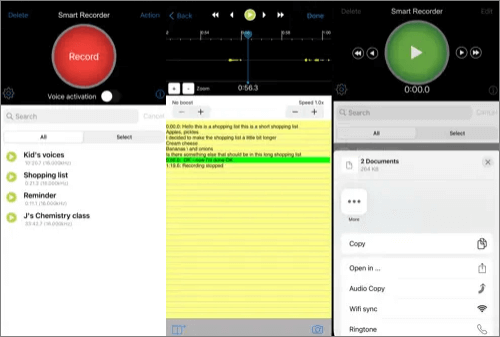 Pros:
Let you transcribe your recordings quickly
Support Bluetooth to share files
Export the short audio recordings via email
Cons:
Unable to record the incoming phone calls
It does not offer any advanced editing features
Provide you with only a limited number of formats
Bonus Tip. Best Windows and Mac Voice Recorder
In case you want to use a secure and stable voice recorder on Windows or Mac, EaseUS RecExperts is a leading choice. The reason behind this is its perfect sound quality with flexible recording functionalities. This Mac and Windows screen recorder not only helps you record the audio but perform the screen recording function as well. You can also record screen with microphone or the system sound collectively or separately.
Even recording without audio and adjusting the volume is all in your control. More so, it assists you in changing the audio settings like format, bitrate, and channel. You can also use the task schedule feature by entering some simple details. Last but not least, it is possible to go for advanced editing of the output audio file.

Main features:
Work as an OGG player with a good performance
Support formats like WAV, OGG, FLAC, AAC, etc.
Record screen (with or without audio) and webcam
Speed up video playback with one click
Keep track of all the recorded audio/video tracks
FAQs about iPhone Voice Recorder
Check the frequently asked questions and their answers below.
1. Where is the voice recorder on my iPhone?
The voice recorder on your iPhone is called Voice Memos app. With this app, you can record the system audio easily and quickly.
2. Can I use my iPhone to record a conversation?
You'll need a call recording app to record your iPhone conversations. You have a long list of audio recording apps to choose from in this article. Just choose one tool you like.
3. How long can you record audio on iPhone?
There is no time limitation on recording your audio. However, if you record too long, the recorded file will take up too much space in your storage. It's better to record in a reasonable time period.
Conclusion
The above write-up offers you the ten best iPhone voice recorder apps. However, the choice is dependent upon your priorities and needs. Some people want to use built-in iPhone recorders for capturing moments or making voice memos. However, you must use third-party apps for high-quality recordings, such as audio content creation.
Sometimes, people must use a voice recorder on PCs like Windows or Mac. If so, EaseUS RecExperts is the ultimate choice. Considering its flexible recording options and editing features, why not try it once?
About the Author

Melissa is a sophisticated editor for EaseUS in tech blog writing. She is proficient in writing articles related to multimedia tools including screen recording, video editing, and PDF file conversion. Also, she's starting to write blogs about data security, including articles about data recovery, disk partitioning, data backup, etc.