
Table of Contents

About the Author

Related Posts

Best Audio Recording Software
In search of the best online free video recorder? We have selected 6 online screen recorders that we selected after much consideration. We picked out tools that record your screen but also let you edit it, annotate it, share it across social media platforms, and so much more.
In this article, you will learn about the best free online video recorders that are not only free but also packed with useful tools to help you in your daily life. Moreover, you can also learn an excellent Mac and Windows screen recorder at the end.
Part 2. Top 6 Best Free Online Video Recorder
Here are our best free online video recorders that you will never go wrong with:
#1. Panopto
Panopto is one of the best free online video recorders for beginners that you can access from your browser. You don't even need to create an account to use Panopto.
With Panopto, you can record webcam and screen at the same time for up to 5 hours in the free version. It's great for recording your online meetings or classes, and record Teams meetings, and it has a wide range of options to configure how you want to record your file. Besides, you can also use Panopto as a smart camera that follows you as you move around. This is perfect if you are a teacher and are holding an online class or presentation.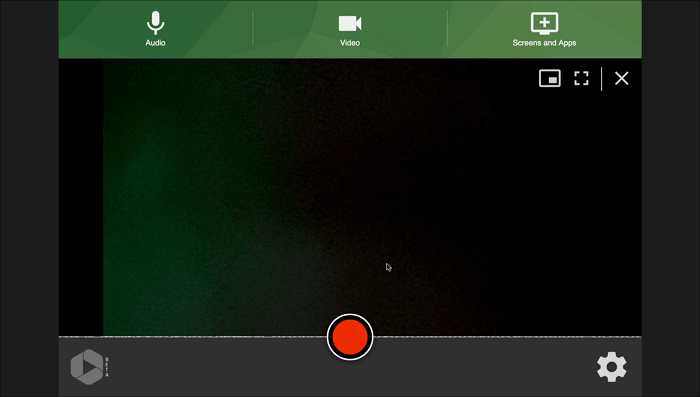 Pros:
Available on Mac and on Windows
Support HD recording
Smart camera
Cons:
Recording limit of 5 hours
#2. Webcamera.io
Webcamera.io is another popular online free video recorder that has grown very popular among users lately. It can record your webcam, screen, both internal and external audio, take screenshots, and more. And if you are someone that doesn't like your video flipping the opposite way in meetings, you can use "Mirror Mode" to flip it again to see yourself as you would usually see it.
After recording your meetings or taking screenshots, you can then later save the files to any third-party cloud services like Google Drive, Mega, Box, and others directly.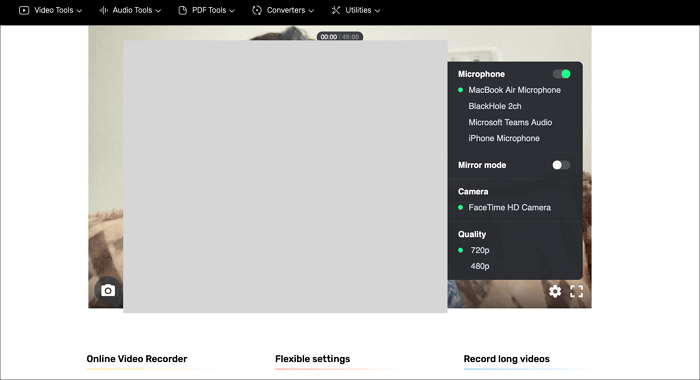 Pros:
Directly save to third-party cloud services
Cons:
The maximum recording size limit is 700MB
#3. Movavi Screen Recorder for Chrome
Movavi lets you capture and record videos, online calls, webinars, tutorials, and so much more. Features such as recording only your current tab or the entire screen, recording external or internal-only audio, and so on, make it very easy to record your webcam, your browser window, or your desktop. Moreover, it is free to download an extension that is available on Chrome.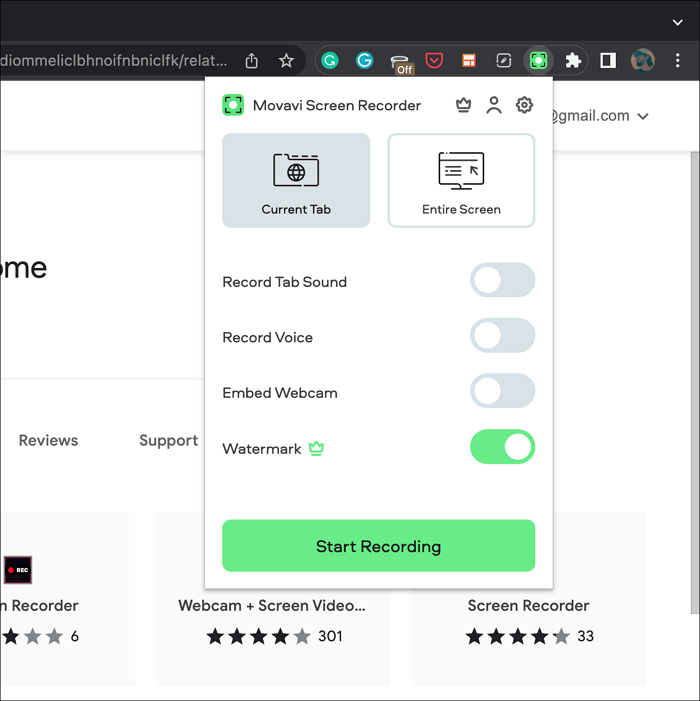 Pros: 
It is lighter
Export your recordings in the MP4 format
Easy-to-use
Cons:
The free version adds a watermark
#4. Clipchamp
Clipchamp is another free online video recorder that is feature-rich and powerful. Users can screen record their videos in 480P without any limit. If you opt for the premium version, you get to remove the 480P resolution limit and can instead record your videos in full HD. By opting for the premium version, you also have the option to remove the watermark. 
Overall, this is a great screen recorder that you can use to record your screen or webcam and later edit them or add effects and sounds.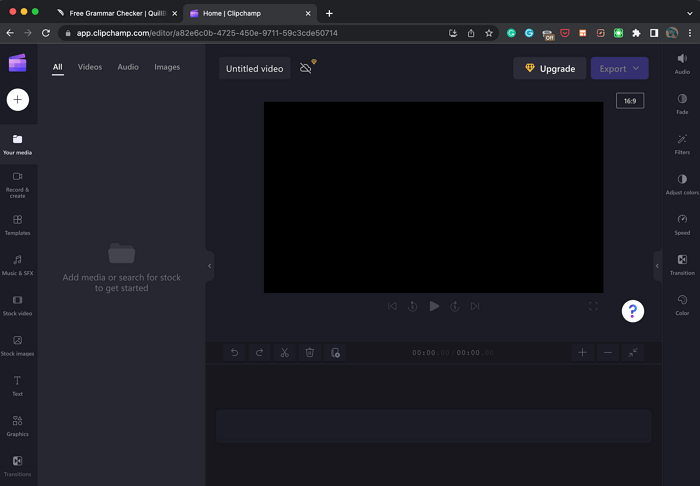 Pros:
Record and edit video from one place
Cons:
The free version recording resolution is limited to 480P
#5. Loom
With the Loom Video Recorder, you can quickly record your online classes or your online meetings. Even if you are not a student or you want a screen recorder, this can be used by anyone.
This is actually an online meeting platform built for professionals, but students or anyone that wants to hold meetings can do so. The surprising element in this is that, while this is an online meeting tool, there is also a screen recorder with which you can record your meetings, classes, or conversations with your loved ones to keep them as a memory.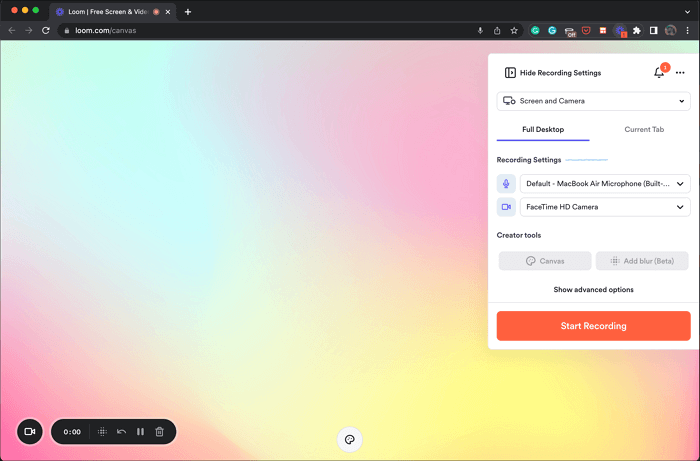 Pros:
Easy to use
Save videos in MP4 format
See who viewed your videos
Cons:
Videos that capture the entire screen are often of lower quality
#6. AceThinker Online Video Recorder
AceThinker Online Video Recorder is an online free video recorder, which is packed with several features that make screen recording simpler and easier. You can select a portion of your screen to only record that particular section, include external audio using a mic, record only internal audio, or both. If you are looking for an easy-to-use and feature-packed video recorder tool, then this will be the right choice.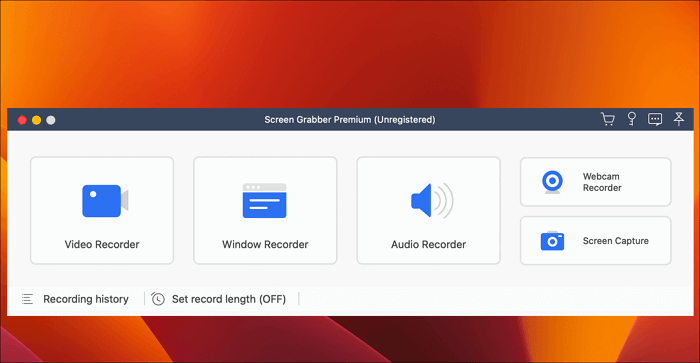 Pros: 
It's simple to use
Automatically share screen recordings on social media sites
Videos can be exported and saved in WM, AVI, MOV, and other such formats
Cons: 
Video editing options are limited
Pro Tip: Best Free Screen and Video Recorder for Mac and Windows
Online video recorders let you start recording tasks easily without downloading any software on your devices. However, this kind of tool has a big shortcoming: you cannot use it without a network. So if you sometimes want to capture video without internet, you'd better choose an excellent desktop screen recorder, like EaseUS RecExperts.
It is a comprehensive tool that is very easy to use, and even a 6-year-old can use it to record his/her classes, and even adults can use it to record their webcam or video with no hassle. With its help, you can record your videos, or record protected videos such as from Netflix, Amazon, Disney+, and others, or even record your meetings. After recording, you can also edit them using the editing tool.
Highlights:
Let you record a full screen, part of the screen, or a single window flexibly
Capture videos and shows from some popular streaming services like Netflix without black screen
Provide a professional game recording mode
Offer a built-in video player and editor to enhance your use experience
Wrapping Up
Aren't our tools feature-rich and easy to use? I told you! You will never go wrong with the tools that we've mentioned above. They have been around for quite a while, and they are trusted. Also, the programs that we selected are very light and use fewer system resources, which means you can record your video or take screenshots without slowing down your computer or causing it to freeze. Just choose one to start your recording now.
Online Free Video Recorder FAQs
Here are a few questions that we answered that we think you'd be interested in learning about:
1. What is the best online video recorder?
Actually, it just depends on your situation. Here are some recommendations about online video recorders:
#1. Panopto
#2. Webcamera.io
#3. Movavi Screen Recorder for Chrome
#4. Clipchamp
#5. Loom
2. How to record high-quality videos online for free?
All video recorder tools capture high-quality videos, and they are pre-configured to record in high quality. You shouldn't worry about fiddling in the settings menu. Just launch the application, and press the record button to record your high-quality video.
3. What's the best camera recorder online?
Webcamera.io is a nice option if you are looking for the best camera recorder online. It can record your webcam, screen, both internal and external audio, take screenshots, and more. Once done, you can directly save the recordings to Google Drive or other platforms.
About the Author

Jane is an experienced editor for EaseUS focused on tech blog writing. Familiar with all kinds of video editing and screen recording software on the market, she specializes in composing posts about recording and editing videos. All the topics she chooses