
Table of Contents

About the Author

Related Posts

Best Audio Recording Software
PAGE CONTENT:
Recording audio for different purposes is a thing that almost all of us do regularly. The growing technology has changed the aspects of audio recording tools as well. Rather than depending upon the old classic audio recording options or software, one prefers checking out online tools for performing the same functions effortlessly.
Online MP3 Recorders are easy to access and save a lot of space on your device. One doesn't need to install these tools to acquire access to them. Just launch the instrument from its official website and start accessing it effortlessly.
Finding a reliable and trustworthy online best free MP3 recorder is not that easy. We will understand your confusion, and that's why we have landed here with the best 12 online MP3 recorders available in the marketplace.
Top 12 Online MP3 Recorder | Editor's Choices
Now we will give you the best 12 online MP3 recorders in this part. You may check the information and choose the one you like to use.
1. Voice Coach Online Voice Recorder
It is an easy-use, browser-based recorder that lets you record audio on PC or other devices. The best part about using the recorder is that it ensures privacy. If you do not download the recording, it is automatically deleted. The tool allows you to record in MP3, WAV, and OGG.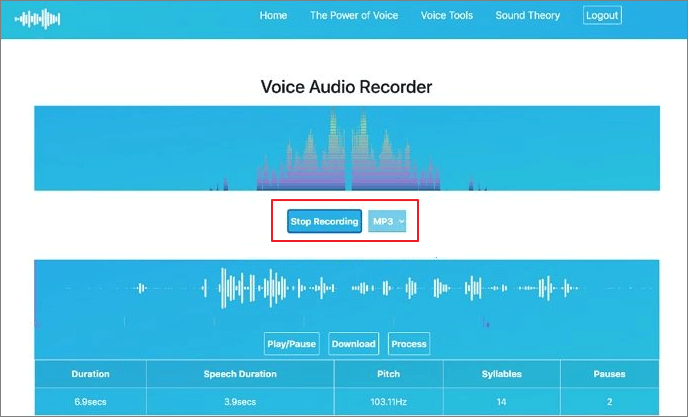 Pros:
Supports multiple audio formats
Shows wave format, duration, pitch, number of syllables, and pauses
Playback support to preview the recording
Bult in method to share the recording
Cons:
Processing takes a longer time compared to others
Audio file size can be large
2. Clyp
Are you looking to make a digital audio recording? Clyp is the perfect platform for recording and uploading sound recordings. Click the button below to start your recording. Not only is it free to use, but it's also super easy to start. Whether you want to capture a special moment, record a meeting, or create your audio files for whatever purpose you need, Clyp is the perfect tool for you.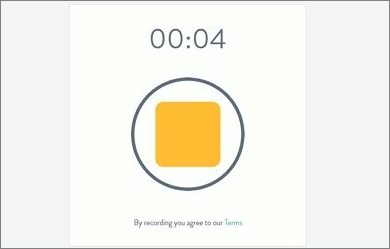 Pros
Easy and straightforward to use
The audio output quality is excellent
Offer a pro version for significant audio recording
Work as a video conference recorder
Cons
No option to directly download the recording as soon you complete
Only supports MP3
3. Online Voice Recorder
Online Voice Recorder is another attractive option in the list that allows users to record any background sound from video-sharing websites such as DailyMotion, YouTube, and much more. The platform not only helps you in capturing audio but can record music tracks and MP3s as well.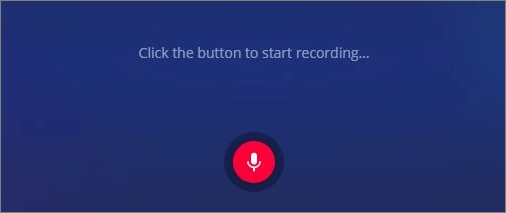 Pros:
Easy to navigate
Record audio from video-sharing websites 
Free-to-use platform
Cons: 
Features limited input approaches
Output is only limited to the MP3
Includes some glitches that interrupt users' experience
4. Vocaroo MP3 Recorder Online
If you are looking for an online MP3 recorder that can provide you free access, Vocaroo MP3 Recorder Online is a beautiful option you can pick. Featured with a very cute homepage and clean and straightforward interface, it is a lovely platform providing easy and ad-free access to the users. The platform can efficiently record audio on Windows 10 and other systems. Vocaroo features a simple and easy-to-navigate interface where you can make a few clicks to record any video.
Vocaroo owns the ability to eliminate background noise. Users here are free to adjust the volume to optimize the recording. Once you have recorded your preferred sound, you can save it as an MP3 or generate a link to share further.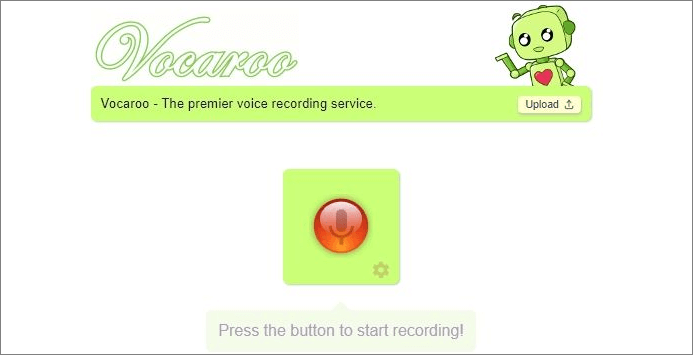 Pros:
Enables easy recording to internal audios and external voices
Removes background noise efficiently
Simple, clean, and straightforward interface
It doesn't feature any annoying ads
Easy navigation through dedicated buttons
Cons:
The sound quality is not that good
It doesn't feature any built-in audio editor
Saves recordings only to MP3 format
5. Record MP3 Online
Record MP3 is a great online MP3 recorder option for those willing to enjoy free MP3 recording without hassle. Once you sign up on the website, you must go to your folder and click on the Record button. It will display a small popup where you get access to recording controls. 
The recording controls allow you to pause the audio in between, which is a huge plus. Once done, click the stop button, and the audio will be uploaded and converted to your account.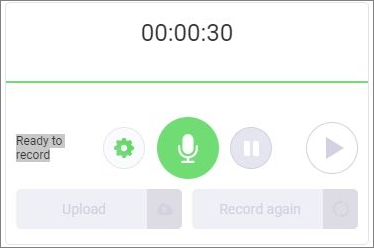 Pros:
Support multiple mobile devices via a browser
Configure audio recording before starting
Pause option during recording
Cons:
The interface is very old
No option to convert local audio
6. Rev Online Voice Recorder
Rev is another attractive online voice recorder option available in the marketplace designed to record microservices such as solutions, firm agencies, software, and phone voices. Users here can create a soundtrack, rehearse a speech, and voice over your how-to videos efficiently. It allows users to record and export sounds to MP3 files conveniently.
It is a free and secure platform that efficiently saves time, effort, and storage space. One doesn't need to worry about the potential fees or leaks while downloading MP3 recordings online.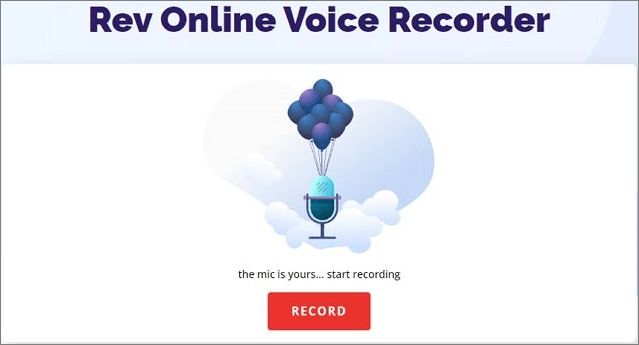 Pros:
Easily accessible through Chrome and Safari web browsers
Clean and clear interface
Transcribe Audio with a preview
Work as iPhone voice recorder
Cons:
Fails to trim voice recording without an editor
Fails to export MP3 recordings to other formats
7. Resonate Free Online Voice Recorder
Resonate Free Online Voice Recorder is an excellent option for those seeking free online voice recorders. The platform claims to be a monologue recorder, making it easier for users to record podcasts on their computers or smartphones. One must plug in the microphone or headset to enable convenient sound recording.
It is a retro-style online voice recorder option with a straightforward and easy-to-use interface that can be navigated easily. The home page included is quite prominent and features a large red recording button for enabling sound recording. Users must select the microphone devices plugged into the computer while starting the recording. Resonate offers the facility of checking the recording and can also enable easy download of the high-quality WAV file.

Pros:
Convenient voice recording
Record microphone without any hassle
Support audio recording on computers and smartphones
Simple and easy-to-use interface
Cons:
It doesn't include an audio editor.
You will need to convert the WAV file to an MP3 file
The Voice recording facility is a bit complicated
8. VirtualSpeech Free Online Sound Recorder
VirtualSpeech Free Online Recorder is an attractive online MP3 recorder option that mainly focuses on recording sounds from a microphone or headset. The tool offers convenient access over Chrome, Android, and iOS devices. It is a simple and easy-to-use platform that doesn't feature complicated operations. One can easily record their voice and speech online using an audio device. 
The best thing about this online MP3 Recorder is that it doesn't require any signup process. Just prepare your audio content and tap on the Start Recording button to enable easeless audio recording. It is a free online recorder option that ensures users have high-end quality without issues. The platform offers users the facility of saving the audio. VirtualSpeech has the unique feature of converting audio to text, making it easier for users to view their recordings conveniently.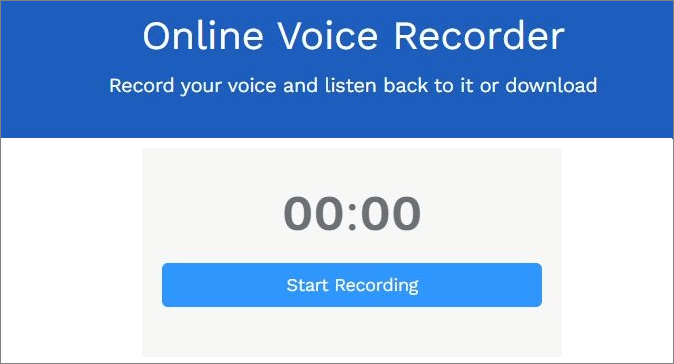 Pros:
Convert audio to text conveniently
Export audio recordings to MP3 and OGG formats
Record sounds from microphone and headsets
Cons:
Fails to trim the audio recording
Faces glitches during access
It doesn't feature noise cancellation feature
9. Voice Spice Recorder
Voice Spice Recorder is an online MP3 recorder with a straightforward and easy-to-use interface. It is an absolute option for creating text-to-speech messages and enables convenient voice changing online. It is a free online tool designed to offer users the facility of recording audio in different ways. The platform is intuitive and interactive and greets users with a large Record button with simple customization. 
One can easily change their voice and add effects for adjusting the pitch of your voice. Voice Spice Recorder allows users the facility to record audio from different resources. The platform includes playing a game of voice tag and using your voice to create a customized greeting card.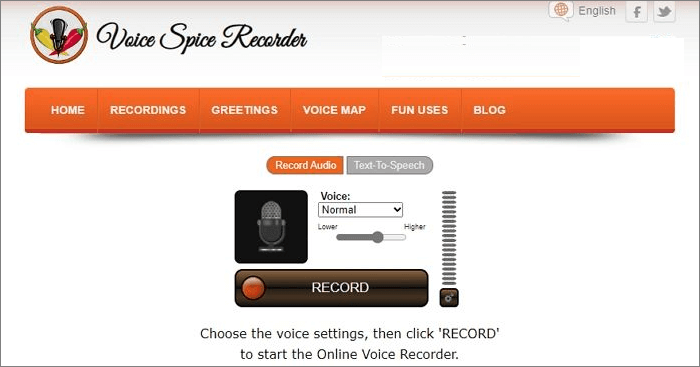 Pros:
Features different audio adjustment settings
Convenient text-to-speech recording
Quick and straightforward to use on
Free tool
Cons:
It doesn't feature a direct download feature
Premium versions are a bit higher
Lags sometimes while accessing
10. Telbee Online Voice Recorder
Telbee Online Voice Recorder is an excellent option for business owners looking for a perfect online MP3 recorder. Users can easily customize the recorded voice as per their brand requirements. The best thing about this excellent platform is the automatic transcription. Users here can also reply to their customer queries directly through their voice, which adds more credibility to their account.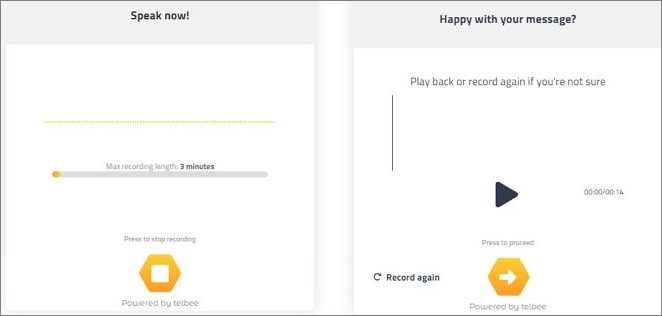 Pros:
Ensures automatic transcription
Comes up with Chrome extension
Features a wide choice of export options
Easy customization of the recorded voice
Cons:
The premium package is a bit pricey
11. SpeakPipe
If you are looking forward to storing your recordings in a cloud, SpeakPipe is a great option you could pick. It is a free online MP3 recorder option that can be easily upgraded to the pro options through two different paid plans, i.e., Gold and Premium. It is a no-frills online voice recorder option well-known for its simple and easy-to-use interface. 
The tool features straightforward navigation that one can follow up to acquire high-end voice recording. One can tap on the green colored Start Recording button to enable seamless recording. The tool also allows users to share recorded videos with their friends. The tool doesn't impose any upload limits on the users.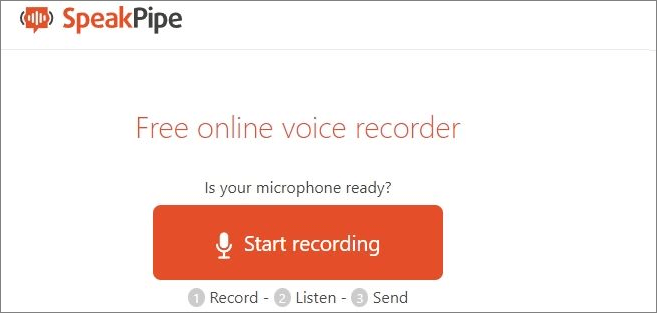 Pros:
Runs efficiently on computers and smartphones
Offers cloud storage space
Offers API for websites
Interactive and intuitive interface
Ensures effortless multiple sharing
Cons:
Lags sometimes while accessing
The audio quality could have been better
12. Soundation
If you want an online MP3 recorder for editing voice recordings, Soundation is an attractive option you could pick. It is a free option with paid plans that offer users very affordable pricing. Foundation is an excellent option for creating high-quality music and is quite familiar among music producers. 
It is a feature-loaded online MP3 recorder option that allows users to record their audio into the software. The interface of Soundation is a bit tricky and requires technical knowledge to operate. Foundation offers extensive documentation, and that also complicates the access to the users. The tool provides Chrome and Flash versions to the users.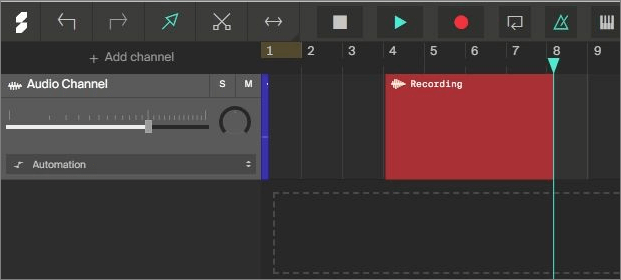 Pros:
Professional music-making application
It provides a vast collection of bits and samples
Features a wide range of editing tools
Convenient cloud storage
Cons:
Export options are limited
The interface is a bit complex
Requires extensive documentation
Bonus tip. Best MP3 Recorder for Windows and Mac
Regarding MP3 Recorders, EaseUS RecExperts is a leading name in the marketplace that allows users to record their preferred audio or video files conveniently. With this Mac and Windows screen recorder, users can record the audio along with other elements.
For instance, you can record with the screen, record screen and webcam, record the system audio with the microphone sound, and record gameplay with voice and camera, etc. Integration of this beautiful tool has made the file-sharing process much more convenient.
Premium features of EaseUS RecExperts:
Set automatic recording with simple operation
Capture video, audio, webcam, or images conveniently
Play recordings and videos with one click
Record a zoom meeting, YouTube videos, games, etc.
Download this comprehensive MP3 recorder to your device by clicking the button below.
After installing, follow the steps below to start recording MP3.
Step 1. Launch EaseUS RecExperts, then click on the nut icon at the top to open the Settings window.

Step 2. Choose the "Audio" option on the left sidebar, and select the output format. Moreover, you can also adjust bitrate, sampling rate, and more here.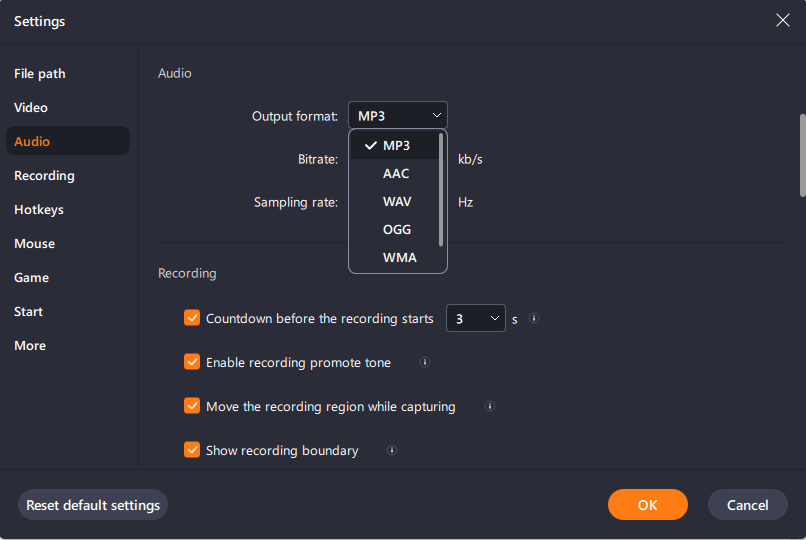 Step 3. Go back to the main interface, and click "Audio" on the left. Afterward, select the audio source, like system sound, microphone, or both. Next, click on the REC button to start recording. To finish it, you just click on the red square icon.

Step 4. Finally, a media player will appear, and it will play the audio just recorded. There is a built-in tool for you to trim the audio freely.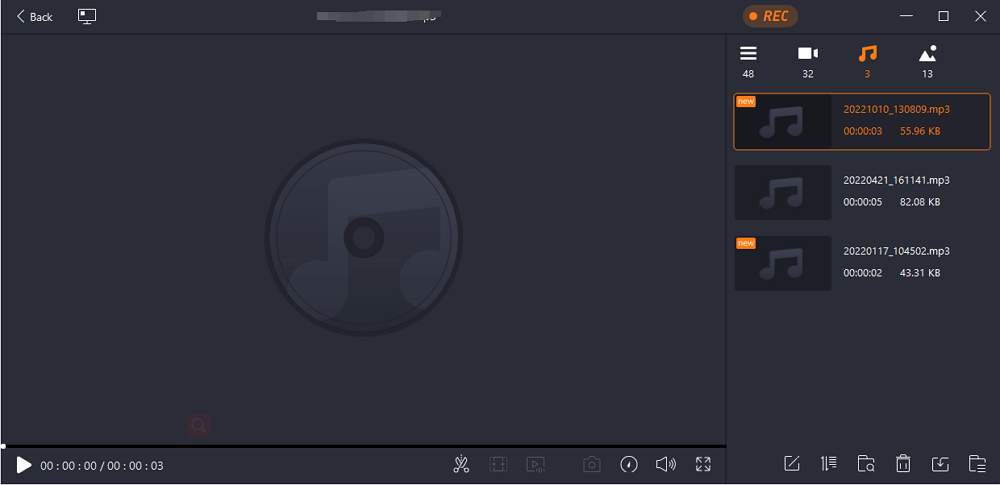 FAQs about Online MP3 Recorder
In this part, we collected some frequently asked questions about online MP3 recorders. If you have the same question, find the answer from the content below.
1. How do I record an MP3?
Recording MP3 conveniently is no longer a hectic task now. We have provided you 12 best online tools for the same above. You can quickly go through the details or features and pick the preferable one that suits your needs well. All the tools integrated above are simple and easy to go and only require a few clicks.
2. What is the best Voice Recorder online?
While most of the voice recorders we have discussed are good, if you are looking for something that offers a better interface and experience, check out the Rev Online Voice Recorder.
3. How do I record MP3s in Chrome?
You can use any extension, such as Chrome Audio Capture, to record audio when using Chrome. The extension can record in the background while you work or watch anything.
Conclusion
So, Guys! These are the leading online MP3 recorder options that will offer endless recording options. All the tools above are high-end, reliable, and trustworthy, ensuring users have easy access to its services. We have added the detailed features and pros and cons of the different tools above. You can quickly go through the details and pick a reliable option accordingly./p>
If you are interested in an offline MP3 recorder, you can try EaseUS RecExperts by clicking the button below.
About the Author

Melissa is a sophisticated editor for EaseUS in tech blog writing. She is proficient in writing articles related to multimedia tools including screen recording, video editing, and PDF file conversion. Also, she's starting to write blogs about data security, including articles about data recovery, disk partitioning, data backup, etc.