
Table of Contents

About the Author

Related Posts

Best Audio Recording Software
Sometimes, people may have to work at home, which makes many troubles for technicians in various industries, such as the IT industry. In the past, they could have actual access to every device they needed to work with and set them up or install software on them. However, nowadays, you have to choose an alternative way: visit those devices via virtual path.
In other words, they need to connect with other people's computers and operate on them remotely. For this purpose, the remote desktop connection manager software is indispensable. This post will introduce five powerful remote desktop management tools, and you can choose from them freely.
1. SolarWinds Dameware Remote Support
This is a robust remote support solution with over a decade of history. This software aims at helping IT technicians to simplify and accelerate remote IT administration tasks. With its built-in mini remote control tool, you can access devices with various operating systems, including Windows, Mac, and even Linux.
This software wins users' love for many reasons, such as its ease of use. Its interface is intuitive so that everyone can understand how it works, and even you are a beginner who is not familiar with remote support software. And this software is also helpful if you plan to operate on mobile devices remotely, such as Android phones and iPhones.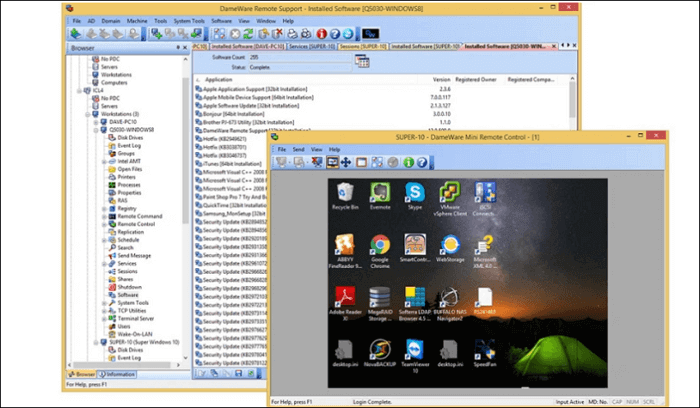 Pros:
Quick remote access
Support both desktop and mobile devices
Great graphical user interface
Cons:
The installation is complicated
Bandwidth usage is higher than some alternatives
2. mRemoteNG
This is the software that can be used to manage remote servers without much hassle, and it allows you to organize or group servers per your requirements. It makes it very convenient to work in a team as it enables everyone in your team to visit remote servers easily. 
Tabbed Views is one of its notable advantages. This feature lets you view each remote desktop in a separate window so that you won't feel confused with many different servers.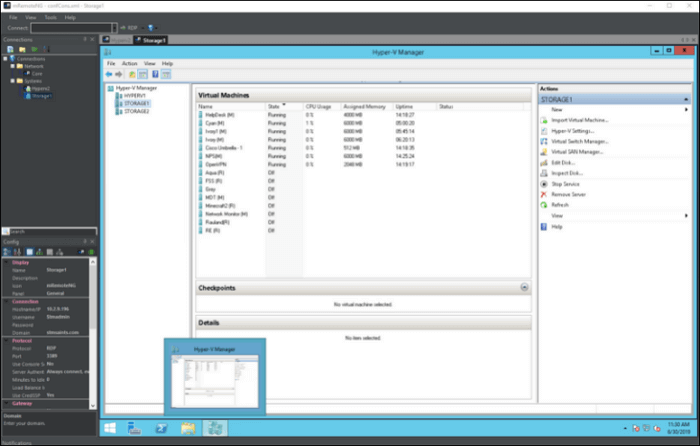 Pros:
Save time by storing credentials
Offer you many types of connection types
Easy-to-understand interface
Cons:
You need to check for updates manually
Some config files might be messed up
3. Devolutions Remote Desktop Manager
This software integrates with a complete set of tools for remote support. Compared with the vendor-supplied remote desktop manager, this software is compatible with more systems than merely the Windows OS, making it suitable for large enterprises. 
Devolution Remote Desktop Manager offers users many different modes to share the data among the team members. For example, the Amazon S3 only shares data in read-only mode, while the MySQL mode supports all features. Besides, the Windows PowerShell scripting makes it possible to manage the DMR automatically.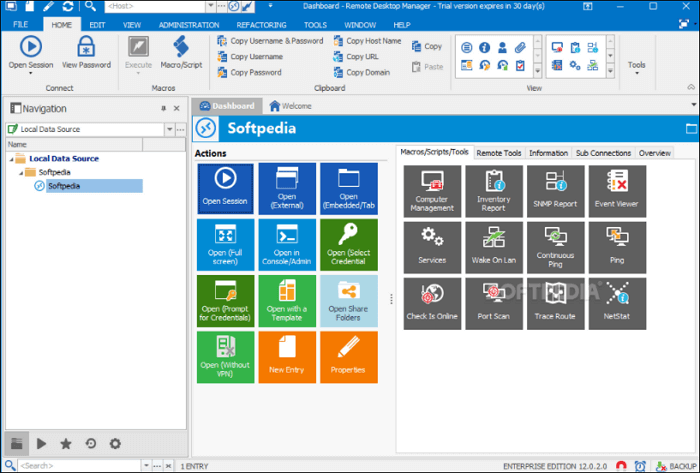 Pros:
Support cloud backup of config files
Ease of deployment
Support assigning credentials to entries

 

 

 
Cons:
The initial load up is slow
Professional knowledge is needed to use this software
4. Royal TS
Royal TS is also an easy-to-use remote management application available on Windows and Mac. It's especially suitable for individual users as the tools offered by its free version are enough for personal requirements. You may feel its user interface looks similar to that of Windows Office 2013, and that design avoid some problems in finding the tools users need since most of them are familiar with Windows Office.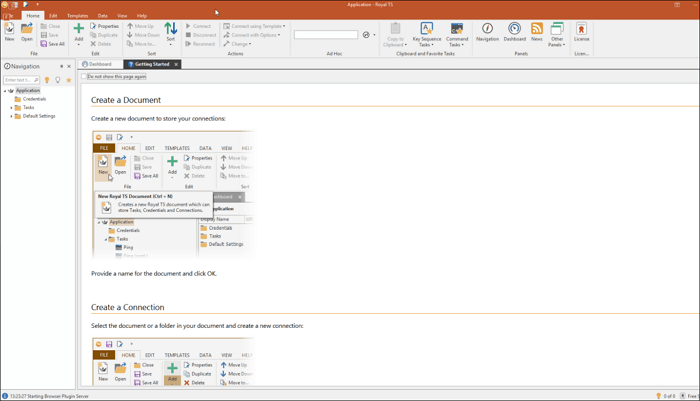 Pros:
Polished user interface
Protect your document with the encryption
Support bulk operations
Cons:
The trial version is limited to 10 connections
It's better to avoid using Windows keys while using RDC because they may get stuck
5. TeamViewer
TeamViewer is a rich-featured remote management software that provides you with a comprehensive set of tools related to telecommuting. Many users consider TeamViewer the best solution to remote control, desktop sharing, and file transferring. One of its worth mentioning features is that this software offers you a communication tool to discuss issues with your colleagues during the desktop sharing process.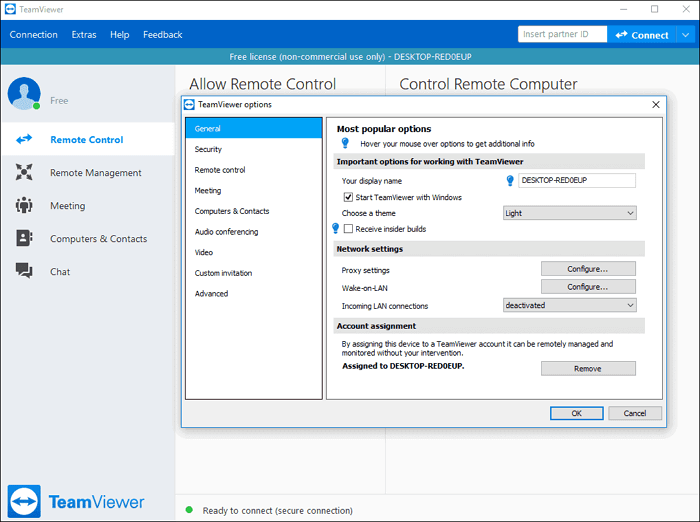 Pros:
It's easy to install and update
Share important documents with the team members
Support Windows, Mac, Linux, and Android
Cons:
It's not able to transfer large files
It doesn't work through proxy servers
Recommendation: The Best Screen Recorder for Windows & Mac
When operating on another computer remotely, you might need to record the screen to check if everything is correct. Capturing the PC screen is not a challenging task as long as you get a powerful screen recorder that can work on your device. EaseUS RecExperts is a worth trying recorder for both Windows and Mac users.
This software can capture everything that happens on your screen, and the resolution of its output videos is optional, ranging from 4K to 720P. One of the most notable features of this recorder is its Task Scheduler which is able to start and end the recording process automatically. With its help, you can capture your PC screen whenever you want. This intuitive interface ensures that everyone can use this recorder without any hassle.
EaseUS RecExperts
Best streaming video recorder for Windows and Mac users
Support various resolutions: 4K, 1080P, 720P, etc.
Start recording automatically using the Task Scheduler
Offer built-in tools to trim, split, and preview recordings 
About the Author

Melissa is a sophisticated editor for EaseUS in tech blog writing. She is proficient in writing articles related to multimedia tools including screen recording, video editing, and PDF file conversion. Also, she's starting to write blogs about data security, including articles about data recovery, disk partitioning, data backup, etc.