
Table of Contents

About the Author

Related Posts

Best Audio Recording Software
PAGE CONTENT:
Being a video creator on YouTube, Instagram, or any other platform, video editing remains a crucial part of your life. Besides changing other video aspects, you may also need to change the background if you have videos with a background that doesn't fit your theme. In this scenario, you can record the video with virtual background or replace the background with a video effect, image, video clip, or solid color.
Whatever the situation, various background remover tools help you perform the task effortlessly and quickly. So here are all the methods that assist you in how to replace background video without a green screen. It's because only some tools offer high-quality results, especially when you are replacing them without a green screen.
Methods to Replace Background Video Without Green Screen
Let's take a plunge into the details of all the best ways to replace background video without a green screen!
Way 1. Replace Background Video with Unscreen
Unscreen is a remarkable tool that helps you replace the background of a video recorded without the green screen, to help you. It supports multiple video formats, like WebM, OGG, MP4, MOV, OGV, and GIF. So you can upload the desired video without any hassle.
In addition, it offers a fantastic plugin for Adobe Premiere and After Effects to effortlessly complete the task. Finally, you don't have to try anything like paint masks, pixels, or colors. The service is entirely automatic, bringing up quality results.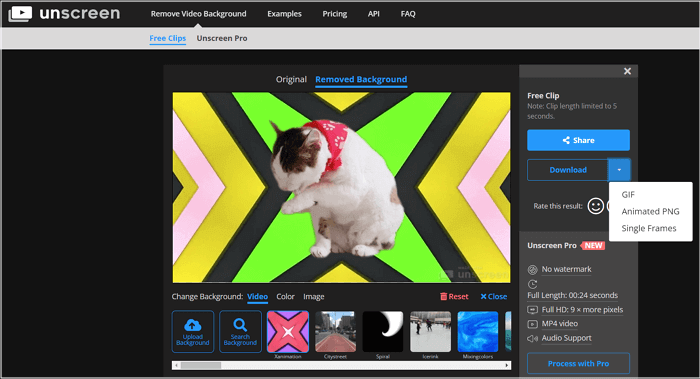 Steps for replacing background video without a green screen using Unscreen:
Step 1. The first step involves opening the Unscreen website. Now, click "Upload Clip" to browse and select the desired video.
Step 2. Secondly, press the "Change Background" button under the video. From here, you can either upload a video or choose one from the available ones.
Step 3. Lastly, you should expand the "Download" tab and download it in the desired format, i.e., animated PNG. All done!
Way 2. Replace Background Video Using Kapwing
Kapwing is another amazing online tool that assists you in isolating the subject of your video from the background without a green screen. You can simply remove the background from the Effects tab and replace it with the desired video.
Furthermore, its in-built media player allows you to preview the live changes. It offers multiple other features, including transitions, effects, layers, filters, object tracking, etc. You can crop, erase, rotate, adjust the aspect ratio, and trim videos on Windows.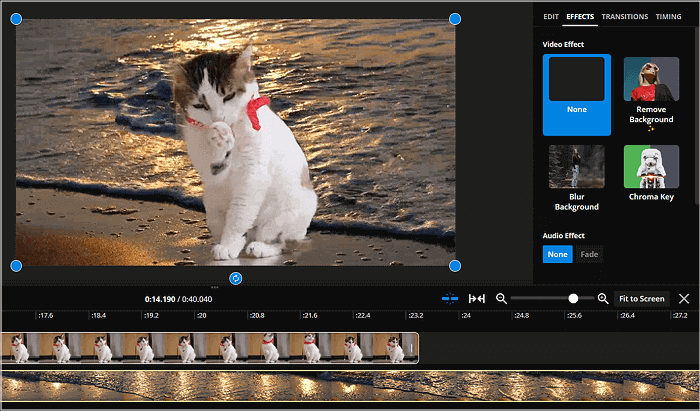 Replace background video without a green screen through Kapwing:
Step 1. Once you have opened the Kapwing website on your browser, tap "Upload Your Video"> "Click to Upload," browse, and choose the video.
Step 2. Next, expand the "Effects" tab from the right-side column of the video. Here you will find the "Remove Background" button; press it. Also, you need to open the "Layers" section from the left-hand side column and media.
Step 3. Finally, drag the video over the complete video using the bottom playback section. Adjust it over the video from the preview area, right-click, and send it backward. That's all!
Way 3. Replace Background Video in VEED.IO
VEED.IO offers a free online video background remover that helps you replace your background with the desired image or video. Even you can easily change the size, background color, and duration. For instance, you can change roblox background for your videos.
More so, it lets you use stock media or your images/videos from the system and Cloud. Besides, you can add sound effects, elements, subtitles, and music clips from the library. Lastly, recording a camera, screen, and webcam is possible.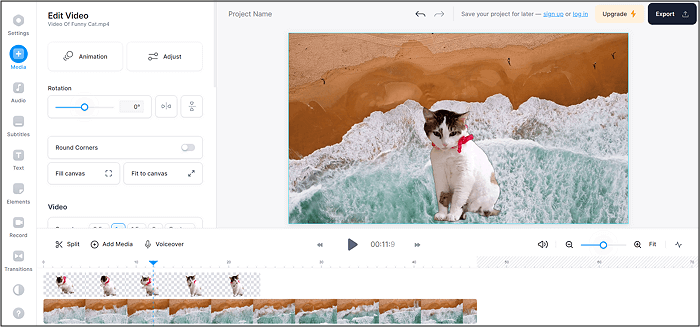 Here is how to replace the background video without the green screen with VEED.IO:
Step 1. First of all, open the website on your browser using the given link and click "Remove Video Background Now." From the main interface, you can upload the file from your system or choose one from the stock videos.
Step 2. Once uploaded, tap the video to open the settings. Scroll down from the left-hand side column to enable the "Remove Background" button. After background removal, click "Add Media" from the lower playback panel.
Step 3. Next, pick up or upload a video for the background. Adjust it well on the video, click on it, choose "Arrange," and then "Bring to Backward." Export it, and you are all done!
Bonus tip. Record Video with Customized Background
Though the recommended methods help you replace background video without a green screen, you may require to record a video with a customized background beforehand. So EaseUS RecExperts offers the ultimate recording solution with a green screen.
Once you set the green screen background, this software assists you to record webcams with some simple clicks. You can record the webcam only or screen video with the webcam. Also, it lets you select the desired audio source from the microphone and system sound. Even you can choose the camera source, along with the resolution and sound quality.
Besides picking up a background preset, you can upload the desired one from your system after enabling the chroma cutout option. More so, its schedule recording feature helps you record videos at a specific time, even if you aren't available. Even its auto-split and auto-stop functions aid you in saving the videos with proper duration and file size.

Main Features:
An intuitive webcam recorder for Mac/Windows users
Select the entire screen or recording region flexibly
Change Background in Microsoft Teams effortlessly
Support advanced sound options, i.e., volume mixer
Offer in-built tools for the editing of the recordings
Download it from the button below right now!
FAQs about Replace Background Video Without Green Screen
Do you still have questions in your mind? Here are some commonly asked questions regarding how to replace background video without a green screen:
1. How to remove the background from the video without a green screen after effects?
After Effects offer you two ways to remove the background without a green screen, the Luminance method and the Retroscope method. The second one is easier and more effective, where you can use Retrobrush to smear it on the subject in the video. If the background gets selected automatically, hold Alt to exclude it. Refine edges and do retroscoping for a complete video. Also, click "Freeze" and check the composition. That's all!
2. Can I replace the background in the video?
Yes, removing or replacing the video's background with or without a green screen is possible. However, an efficient tool is required that can change the background quickly without compromising the video quality after processing. You can try Adobe Premiere Pro, OpenShot, Unscreen, Kapwing, and more.
3. How can I record a video with a virtual background without a green screen?
It is possible to record video with a virtual background using background apps on various devices. For example, users can try ManyCam on a PC and Chromavid on phones. However, EaseUS RecExperts can help you with customized backgrounds using the webcam recording feature and green screen.
Conclusion
Though the market offers tons of video editors that can change or replace the video background, this write-up covers the most efficient ones with which you can achieve high-quality output. However, it is better to set the background and all other settings while recording videos firsthand.
If you want to create spectacular videos, EaseUS RecExperts is the best option. It lets you record videos with a green screen to achieve a customized background. So you can record a webcam with or without the screen, according to your demands.
About the Author

Melissa is a sophisticated editor for EaseUS in tech blog writing. She is proficient in writing articles related to multimedia tools including screen recording, video editing, and PDF file conversion. Also, she's starting to write blogs about data security, including articles about data recovery, disk partitioning, data backup, etc.