
Table of Contents

About the Author

Related Posts

Best Audio Recording Software
PAGE CONTENT:
One of the primary reasons why many people do not like to use extensions is Privacy. While the developers follow the guidelines, not everyone trusts them. Apart from this, there are other reasons, e.g., favoring built-in tool even if it is not feature-rich, technical limitations, and the impact of extension on the browser.
In this post, we will share how you can use the screen capture feature on Chromebook using a keyboard shortcut, full-screen recording, and how you can save and edit it later. All of this uses the native features of Chromebook.
Use Screen Capture Feature on Chromebook
Chromebook offers an excellent in-built recording feature to take a screenshot on a laptop. Irrespective of your expertise, you can easily use the Screen Capture feature. Take a look at how you can use this highly efficient tool.
Step 1: Go to the Quick Settings panel. Select the Screen Capture icon. 
Step 2: Choose the gear button. Turn on the microphone for audio recording.
Step 3: Now, go to the video option for screen recording. There are three modes: Full Screen, Partial Screen, and Window. 
Step 4: Select the red icon on the left part of the screen to stop the recording.
 Note:

It is important to note that the in-built tool supports the WEBM format. But video converters are needed for other formats like Flv, Avi, or Mp4.
Screen Record on Chromebook with Keyboard Shortcut
The easiest way to screen record or screenshot is to use keyboard shortcuts. Instead of finding where the best free screen recorders are, you can quickly launch them. Chromebook allows you to use key combinations to record the screen on Chromebook. Here are the steps you need to follow.
Step 1: Press Shift + Ctrl + Show Windows.
Step 2: Click on the Chrome OS snipping tool button.
Step 3: Now, you need to choose – Record the Full Screen, Record a Partial Screen, and Record a Window.
Step 4: Click on Stop Recording when you want to end the screen recording.
Once the recording is complete, the video will be saved in the Downloads folder. You must move the video to a safer location than this folder. However, you can permanently delete the recording if you don't need it forever.
Record Full Screen on Chromebook
Do you want to record the full screen on Chromebook? With the full-screen feature, you can click to record the part of the screen to start. In that case, check out the steps listed below.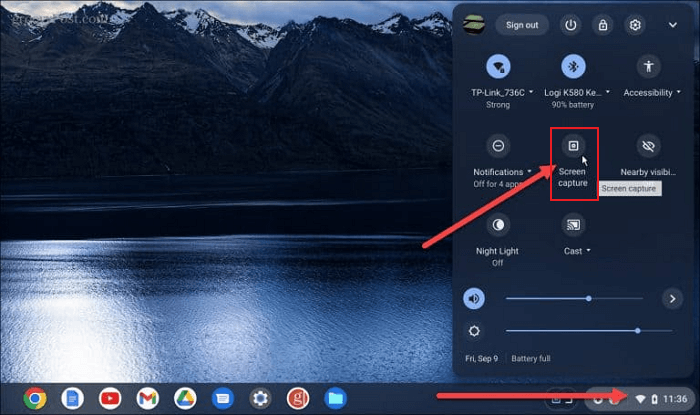 Step 1: Open the Quick Settings panel. Click on the arrow present in the top-right part of the menu bar. 
Step 2: Select the Screen Capture button. Wait for the Screen Capture toolbar. Click on the video icon for screen recording. 
Step 3: Here, you need to select the Full Screen option.
Step 4: To do an audio recording, click the gear icon. Turn on the Record microphone option. 
When using full-screen recording, hiding sensitive data from Chromebook or keeping it closed is essential. While most of the advanced tool allows you to hide part of the screen, it will take extra effort to blur that information, and then you will need to give it more time to render it.
Record A Specific Window on Chromebook
Another exciting feature of the screen recording tool is the window. With this feature, you can click the area or window of the screen you want to record. Check out the steps you need to follow in recording a specific application or window on Chromebook.

Step 1: Select the clock icon on the bottom-right part of the screen. Choose Screen Capture. Now, the screen capture toolbar appears. 
Step 2: Click on the Video icon. Choose Window. Click on the gear icon. 
Step 3: Select the Record button to start recording. Press the red Stop button to end the recording. 
After keyboard shortcuts, the toolbar is the most helpful. It floats around and gives you quick access to recordings or screenshots. Different modes are available, such as full screen, window, or any particular region. Lastly, the settings icon can help you configure or change recording features, making it super useful for those who need to configure things each time.
Bonus tip. A Chrome Screen Recorder on Win/Mac
An excellent Mac and Windows screen recorder is EaseUS RecExperts. It is a highly professional and reliable screen recording tool that can be used to record anything you want on your screen.
With this software, you can screen capture Chrome and opt for full-screen recording. Besides, you can utilize other features such as multi-screen recording, selected region recording, schedule recording, and more!

Features:
Hassle-free audio recording from the microphone or system
Schedule recording at your convenience
Easy recording of encrypted videos
Trim, auto-split, and stop recording
Record 2D/3D gameplay highlights with zero lags
Download this software and start recording right now!
One of the significant advantages of using professional recording software is that you always get more than the built-in features can offer. You can record, edit, schedule, and with zero lags, they can be used almost anywhere.
Screen Record on Chromebook without Extension FAQs
Opting for screen recording on Chromebook without extension is easy and hassle-free. Read the questions and answers below listed to gain more knowledge.
1. Is there a way to screen record on Chromebook?
Yes, there is a way to screen record on Chromebook. Press Shift + Ctrl + Show windows. At the bottom, you will find the Screen record button.
2. How do I record my screen on my Chromebook for free?
To record your screen on the Chromebook for free, you need to look for the clock icon. Now, press the Screen Capture option. You will come across multiple options like Fullscreen, Partial screen, and Windows.
3. How do I record my screen with restricted software?
To record your screen with restricted software, you can use EaseUS RecExperts. It is an efficient, reliable, and easy-to-use recording software.
Conclusion
Do you want to know how to screen record on Chromebook without an extension? You can use keyboard shortcuts or follow simple steps to record your screen. Moreover, you also have options such as full screen, partial screen, and Windows. 
If you are looking for a reliable Chrome screen recorder for Windows and Mac, you can choose EaseUS RecExperts. The software is efficient, user-friendly, and comes with various features. Try EaseUS RecExperts now!
About the Author

Melissa is a sophisticated editor for EaseUS in tech blog writing. She is proficient in writing articles related to multimedia tools including screen recording, video editing, and PDF file conversion. Also, she's starting to write blogs about data security, including articles about data recovery, disk partitioning, data backup, etc.