
Table of Contents

About the Author

Related Posts

Best Audio Recording Software
Screen recorder is an application that allows users to capture and record activity on their mobile device's screen. And the good thing about these apps is that they are also available in APK formats for Android. The recorded footage can be edited, trimmed, and shared. As mobile gaming has become increasingly popular, the need for screen recorder APKs has grown. They can use these apps to record and share their gameplay with a large audience.
From creating tutorials to recording video calls and live streaming, screen recorder APKs are a must-have for anyone looking to elevate their mobile experience. This article will provide information on the Top 10 Screen Recorder APKs in 2023. So, if you are curious about the top 10 Screen Recorder APK, stick with us!
Looking for some of the best screen recorders for your Android device? This section is for you. Below is a list of the top 10 screen recorder APKs in the market based on their popularity, ease of use, and features.
1. DU Recorder
Topping the list with its immense range of features and easy-to-use interface, DU Recorder is a popular free Android screen recorder. This app lets you capture your screen activity, including apps, video games, etc. Later on, you can edit the video with its built-in editing tool. Its features include high-quality recording, picture-in-picture mode, live streaming, etc.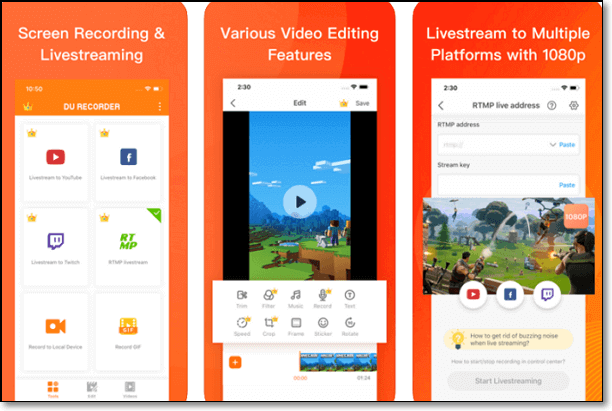 Pros:
Built-in video editor tools
Supports various screen resolutions, frame rates, etc.
Simultaneously record from front and back cameras
Cons:
A limited number of editing options
Doesn't allow recording audio from external audio devices
2. Mobizen Screen Recorder
Mobizen Screen Recorder is a reliable and user-friendly Android app that lets users record screens with audio, video, and screenshots. It offers a variety of recording settings, such as resolution, frame rate, and editing tools to personalize the recordings. Overall, it is a good option for casual users looking for a simple, easy-to-use screen recording app.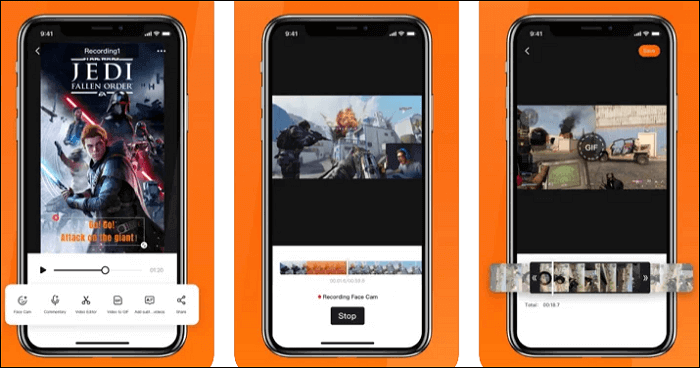 Pros:
Records games and apps at high frame rates without root access
Allows recording to be saved on the cloud account
Friendly and easy-to-use interface
Cons:
Limited to MP4 video format
Limited functionality for non-premium users
3. ilos Screen Recorder
The ilos screen recorder provides a flexible and powerful solution for creating high-quality screen recordings, making it ideal for creating instructional videos, recording presentations, and capturing gameplay. It enables high-quality screen, audio, and record webcam video and includes a built-in video editor.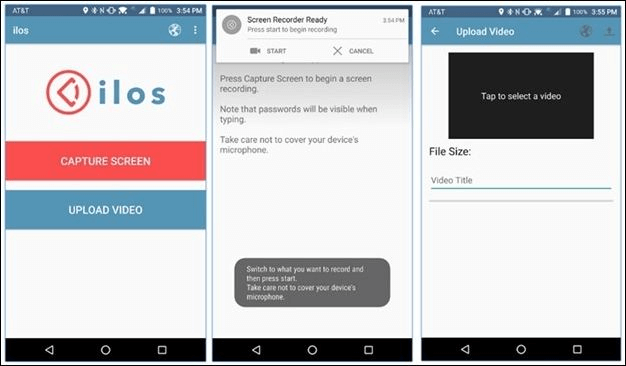 Pros:
Multiple recording modes, including full-screen and regional recording
Customizable hotkeys for quick access to recording controls
Allows users to record at a high frame rate
Cons:
Limited export options
Limited editing features comparatively
4. AZ Screen Recorder
AZ Screen Recorder is a versatile Android app for capturing screen recordings, audio, and screenshots. It offers multiple recording modes and video editing tools and can save recordings on cloud storage, making it incredibly easy to share them with others. It is a great option for making an instructional video with screen recording, recording a gameplay, and capturing memories on Android devices.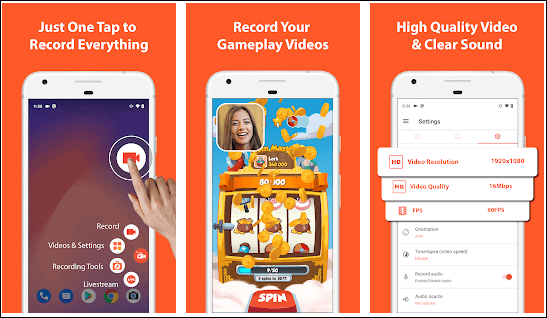 Pros:
Records in high definition, with a resolution of up to 1080p
An overlaying moveable window to record the face cam alongside the screen
No watermarks and time-constrained recording
Cons:
5. ADV Screen Recorder
ADV Screen Recorder is a screen recording app for Android devices that allows users to record their screen and audio and share the recordings with others. It offers a variety of recording features that helps users to record according to their requirements.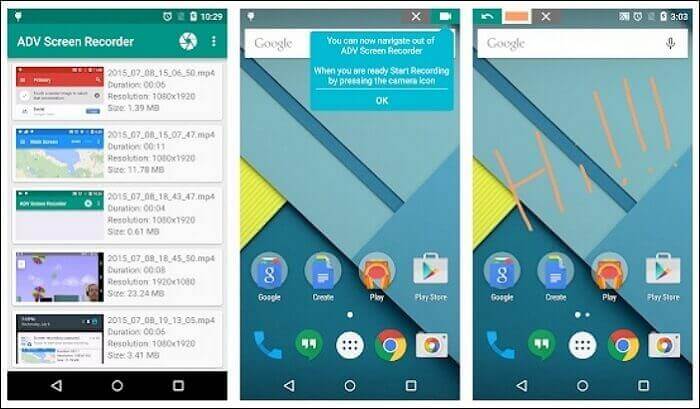 Pros:
Allows the option to pause while recording
Support for recording audio from microphone and device
Support for recording in different resolutions and frame rates
Cons:
Compatibility issues with some devices
May have in-app purchases for certain features
6. Super Screen Recorder
Another recorder in the list on the top 10 is the super screen recorder. It is an efficient and smooth screen recording application that allows one to record full-screen and record the part of the screen with audio and face cam. It is available on android without the need to root the device.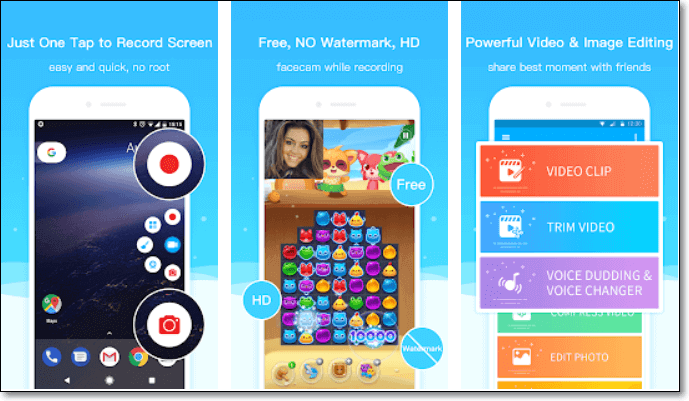 Pros:
Supports multiple export options such as MP4, AVI, WMV, MOV, and more
Scheduled recording for capturing a specific event or activity
Robust interface with various resolutions and frame rates
Cons:
Users are not able to record programs that use hardware acceleration
It has in-app purchases
7. Vidma Screen Recorder
Vidma is a versatile and feature-rich screen recording software with advanced options in its free version. Users can choose from multiple recording modes and customize resolutions up to 1080p. Unique features like shake to stop recording are also available. With Vidma, you can create high-quality professional videos for tutorials, presentations, and demos.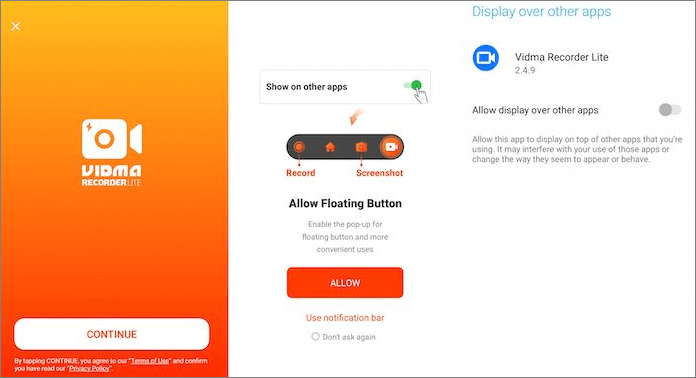 Pros:
Allows to record both internal and microphone audio
Supports multiple formats such as MP4, AVI, WMV, and more
Option to add Annotations and cursors effect is also available
Cons:
Compatibility issues on some mobiles
May have in-app purchases for some of its advanced features
8. Screen Recorder V
Screen Recorder V is a powerful screen recording app that offers a variety of settings and options to help users create high-quality recordings that are tailored to the specific requirements of the users. Its wide range of customization options, advanced features, and ability to share videos on social media platforms makes it a popular choice among users.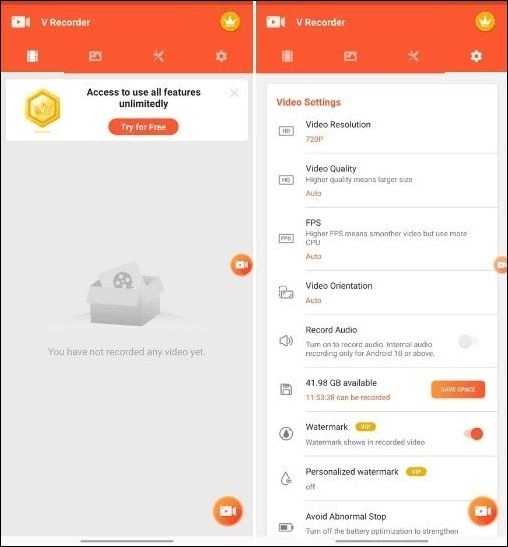 Pros:
No root access is required
The floating control window makes it easier to control the recording process
Allows users to schedule their recordings in advance
Cons:
Interoperability on certain mobile phones
Contains Advertisements
9. Omlet Arcade
Omlet Arcade is a premier choice for mobile gamers looking for an app to record streaming videos or their gameplay. It allows users to create high-quality gameplay videos, which they can share with friends and the gaming community. Users can also use the app to create custom overlays, add filters, and use various tools to enhance their streaming experience.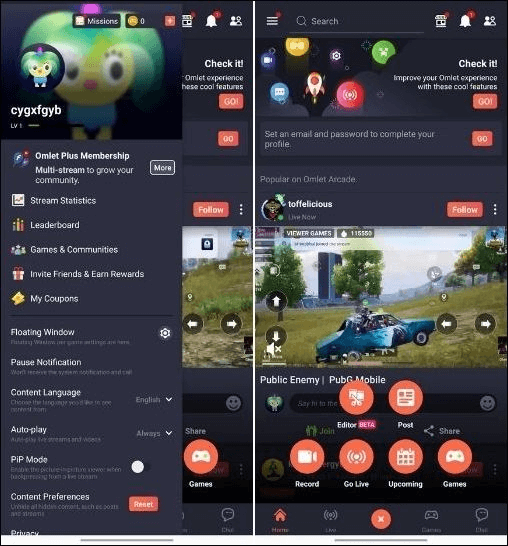 Pros:
Seamless integration with popular platforms
Allows users to record their gameplay while recording their face cam or reactions
Allows users to schedule their recordings in advance
Cons:
Limited customization options for streaming settings
It contains in-app purchases
10. Apowersoft Screen Recorder
Apowersoft is a unique and advanced screen recording app that offers a wide range of options for capturing high-quality video recordings. Additionally, it allows users to customize the bit rate and frame rate to suit their specific needs. This level of customization allows users to create professional videos for tutorials, presentations, and demos.
Pros:
Allows users to record screens at resolutions up to 1440p
User-friendly interface with a well-organized layout
Allows users to incorporate multiple webcam streams in their recordings
Cons:
Limitations on recording internal audios on Android 10 and above
Some of its advanced features are paid for
FAQs about Screen Recorder APK
After going on and on about the best screen recorders APKs out there, you may have some questions, and you'll find their answers here:
1. Which is the best screen recorder APK?
There are multiple screen recorder apps available out there. Each app comes with its advantages and shortcomings. Ultimately, the best screen recording app for you will depend on your specific needs and preferences. The above section includes a detailed analysis of the same.
2. Is there an inbuilt screen recorder on Android?
Yes. Inbuilt screen recorders in Android 10 and above allow you to capture any content on your screen, including some restricted apps. However, Android 10 and older versions have built-in screen recorders. Users can use third-party apps to record screens.
3. How do I secretly record my computer screen?
In Windows 10, a newly introduced Game Bar feature is available for secretly recording your PC screen. To use Game Bar, follow the steps below:
Step 1: Press "Windows Logo Key" + "G" to open Game Bar.
Step 2: After that, click "Capture" and then click "Record" to start capturing your screen. The recording can also be initiated by pressing "Windows Logo Key" + "ALT" + "R."
Step 3: After recording, tap "Stop Record." The recorded file will be saved on your PC.
Conclusion
To sum up, there are various options for screen recorder APKs. Each app has unique features, limitations, and advantages that stand out from others. In this article, we have highlighted the Top 10 Screen Recorder APKs in 2023 to provide you with the finest list of options. Each of these apps has been thoroughly researched and evaluated to ensure they are among the best in the market. It's recommended to test and try out a few apps before making the final decision to ensure that you have chosen the best fit.
About the Author

Melissa is a sophisticated editor for EaseUS in tech blog writing. She is proficient in writing articles related to multimedia tools including screen recording, video editing, and PDF file conversion. Also, she's starting to write blogs about data security, including articles about data recovery, disk partitioning, data backup, etc.