
Table of Contents

About the Author

Related Posts

Best Audio Recording Software
Google Meet is a video-communication service developed by Google, mainly used for online meetings or classes. Because of the COVID-19 pandemic, it has become popular among the students, the business community, and the academic symposiums, as it allows users to present and share the screen with others. 
If you are new to Google Meet and want to share your screen with others in this app, you can stick around here to learn some tips. This page will walk you through the steps to share the Google Meet screen on both desktop and mobile devices.
How to Share Screen on Google Meet in Desktop
If you want to share screen in Google Meet on PC or Mac, then this part is right for you. Let's dive into it!
Step 1. Go to Google Meet's official website in your browser, then click "New meeting" > "Start an instant meeting" to begin a new meeting. Next, invite other people who you want to share the screen with.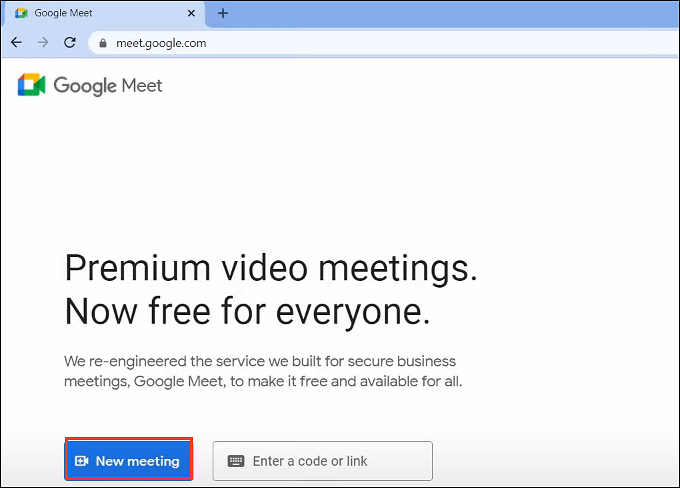 Step 2. Go down to the bottom, and click on the "Present now" button that looks like a box with an arrow. 

Step 3. Next, you will see three options: Your entire screen, A window, and A tab. You select the right one according to your needs. Here we choose the entire screen as an example.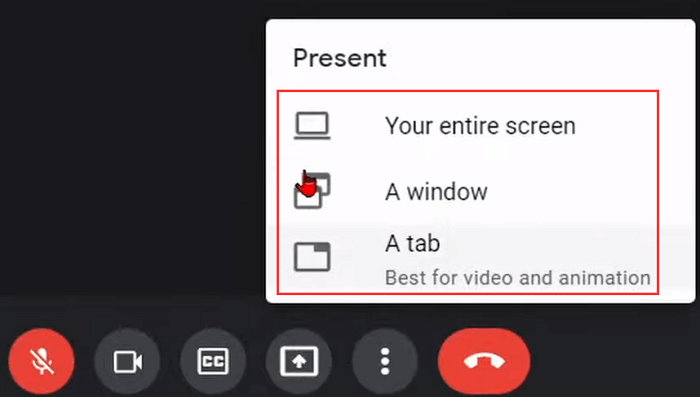 Once chosen, you will see options for selecting if you have multiple monitors. Select the one you want to share, and click "Share". Keep in mind that everything on your screen will be shared.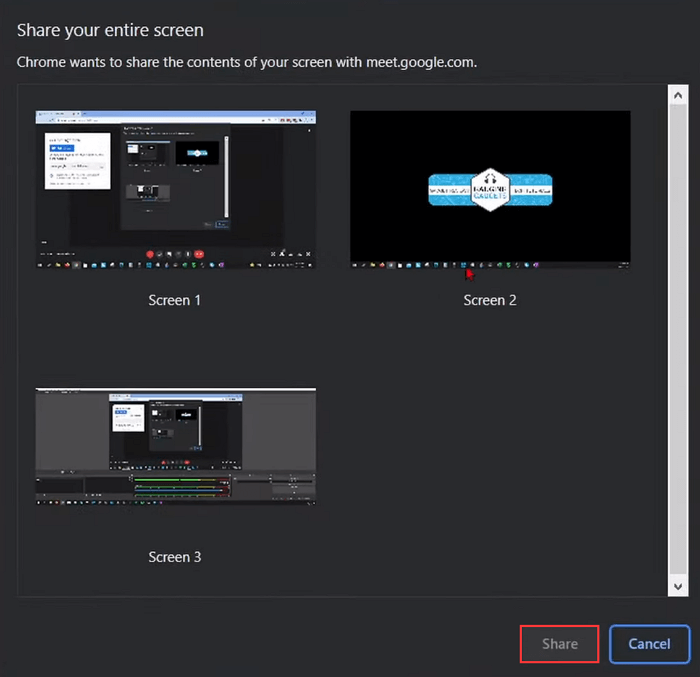 Step 4. (A window) If you choose to share with a window, you also need to select the application window on your screen, and then click on the "Share" button.
Step 5. To end your screen-sharing activity, click "Stop sharing" on the top toolbar.

Read also: How to Record Google Meet without Permission
How to Share Screen in Google Meet on iPhone
For iPhone users, it is also easy to share screens on Google Meet:
Step 1. Open the Google Meet app on your iPhone, then create or join a Google meet.
Step 2. Once you join a meeting, tap on these three dots at the bottom and choose the "Share screen" option.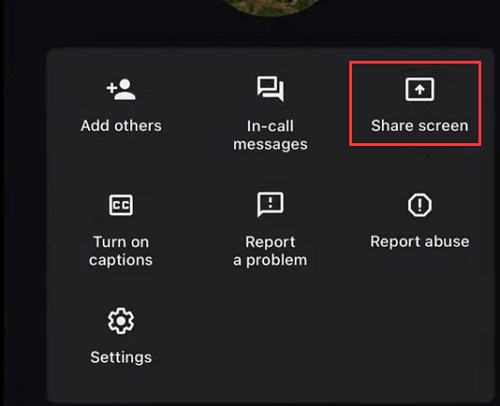 Step 3. Then you will be presented with a screen broadcast dialog box. Just select the app you want to share the screen, and press "Start Broadcast".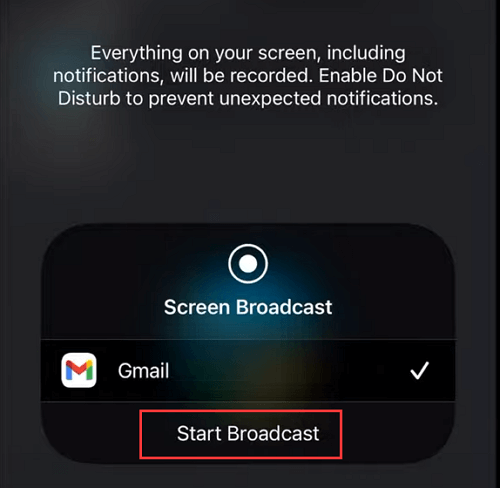 How to Share Screen Google Meet on Android
Most users use Android phones instead of iPhones, so it is important to learn how to share screens in Google Meet on Android. Here are the steps:
Step 1. Create or join a Google meeting on your Android phone.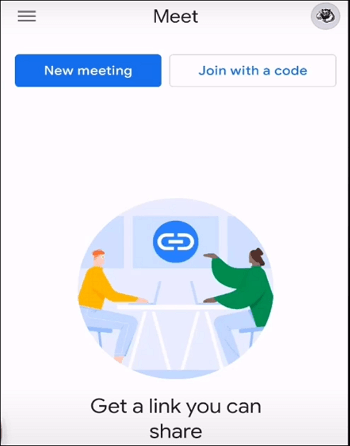 Step 2. Tap on the icon emblazoned with three vertical dots located in the bottom right corner of the screen, and then select the "Share screen" option.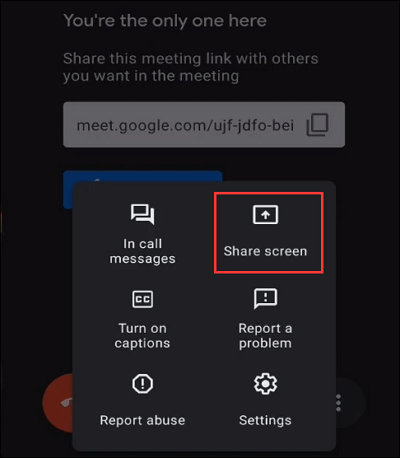 Step 3. Tap "Start sharing". Next, a pop-up may appear explaining the risks of sharing your screen with others, and you just select "START NOW" to confirm.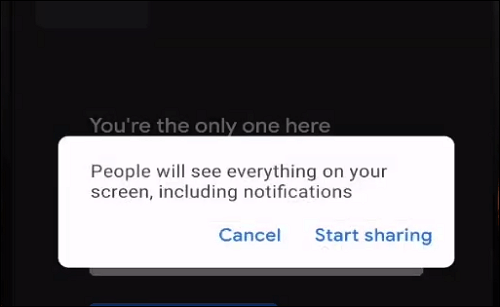 Share Screen on Google Meet With Audio [Free] - Best Way
When it comes to sharing Google Meet screen with audio, the easiest way is to use a screen recorder to capture the content you will share. EaseUS RecExperts is such a lightweight screen capture software that can run perfectly on both Windows and Mac.

This screen recorder lets you capture your screen in different modes with simple clicks; for instance, you are able to record part of your screen, the entire screen, or even record multiple screens simultaneously if there is more than one monitor connected. What's more, it also offers you options to capture the audio while doing screen recording activities, like the microphone sound, system audio, or both. No matter what you are going to catch a video conference, streaming video, or online class, you can always get the task done by using RecExperts.
In addition to that, there are a lot of other highlights you can enjoy:
☆☆☆ 

No Time Limit & No Watermark:

There is no time limit for your recording, which means you can capture as long as you want. Most importantly, your recording will not contain any watermark, even if you are using the free version.
☆☆☆ 

 Noise Reduction

This screen recording software offers the noise reduction feature. Once you enable it, this software will automatically reduce or remove the background noise while doing a screen or audio recording activity.
☆☆☆ 

 Record Screen in High-Quality without Lagging

Using this software, you can record high-quality videos at high quality up to 4K resolution. Besides, it supports GPU acceleration technology, allowing you to capture the screen without lag, even on a low-end PC.
☆☆☆ 

 Multiple Output Formats

Once recorded, you can save your recordings in various formats:
Video formats: MP4, AVI, MKV, FLV, MOV
Audio formats: MP3, AAC, WAV, OGG, WMV, FLAC
Image formats: PNG, GIF
☆☆☆ 

  Editing Tools for Recordings

This screen recorder also provides some basic tools for editing. Here, you can trim recorded files or add opening titles or closing credits to your recordings.

How to Record Screen on Google Meet for Sharing:

Step 1. Go to the meetings that you want to record. Then, launch EaseUS RecExperts on your devices. Choose the "Full Screen"  recording mode or select the recording area in the "Region" mode.

Step 2. Choose to record the system sound, microphone sound or none by clicking on the according buttons. When it's time to start recording, click on the red "REC" button to begin.

Step 3. If you need to pause the recording, click on the white double vertical bar. To end the recording, click on the red square sign. You can also use the hotkeys "F10" and "F9" to pause or stop recording.

Step 4. After recording, you can view the meeting videos in the pop-up recording list.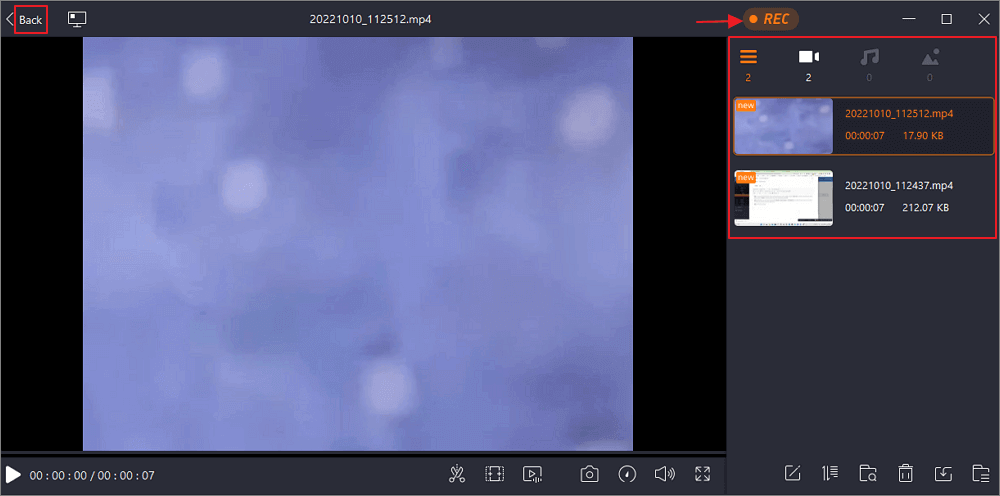 The Bottom Line
Whether you are a desktop, Android, or iOS user, you can always find the right solution to share screen on Google in this post. Moreover, we offer an alternative to complete the task - EaseUS RecExperts. This program will help you capture anything on your screen, then you can share it with your friends or colleagues.
FAQs About Google Meet Share Screen
Below are some questions related to sharing screen on Google Meet, and you can take a look for a deep understanding.
1. Why can't I share my screen in Google Meet?
You may use an outdated version that might have some compatibility issues preventing screen sharing. So, you'd better update the Google Meet app and try it later.
If you use the Google Meet in the browser, you can try to update your browser or try another one like Firefox, Chrome, etc.
2. Does Google Meet have screen sharing?
Yes. You can find the share screen option in your Google Meet app, and you can follow the tutorial mentioned above to enable this feature.
3. How do I share screens on Google Meet and see participants?
Actually, Google Meet does not allow presenters to see other participants during the screen-sharing session. But if you insist, you also can get the task done with an extra monitor.
About the Author

Jane is an experienced editor for EaseUS focused on tech blog writing. Familiar with all kinds of video editing and screen recording software on the market, she specializes in composing posts about recording and editing videos. All the topics she chooses