
Table of Contents

About the Author

Related Posts

Best Audio Recording Software
Quickly jump to what you want:
Whether we are shooting a YouTube or any podcast, we always try to place the perfect background for our content to make it more interactive and understandable for our viewers. It is one task to organize our content and another to create video content to excite and engage viewers.
Today, we will discuss a few video background changers, you can use in your video editing to compile visually engaging content.
Video Background Changer App & Online
Here we give you the selected 10 video background apps and online tools. Read the basic information about them and choose the one you like.
#1. Final Cut Pro
Final Cut Pro is an Apple Product and is one of the most popular and efficient Windows 10 video editors used in the market. It can perform many tasks, from video editing and synchronizing the audio and video to changing the background.
Like every apple product, this comes with many features and processing speeds. The software can process 4k and 8K resolution videos of big sizes in a short time.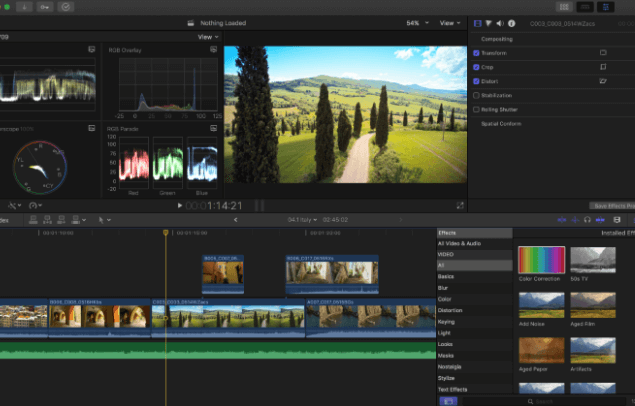 Pros:
Professional video editing software
Fast Video Processing
Multiple file formats, features, and many more
Cons:
Complicated Interface, takes time to learn the process
Steep learning curve
#2. VSDC Free Video Editor
VSDC Free Video Editor application is a multi-purpose video editor. You can add or remove background from video, trim, edit, add audio effects, etc., using this tool.
This tool has a robust multi-chroma key to get the desired background. The simple user interface lets even novice users edit the scenes quickly.
Pros:
Simple and intuitive UI
Supports multiple codecs and video formats
Excellent multi-chroma key
Cons:
The Paid version is a bit too pricy
Limited template options to customize the background
#3. Video Background Changer
The Video Background changer is an Android-based application available for free on the Google Play store. It allows the users to change the background in real-time, with ready-made templates matching your content.
It also offers consolidated images, solid colors, and different features to customize and change the background.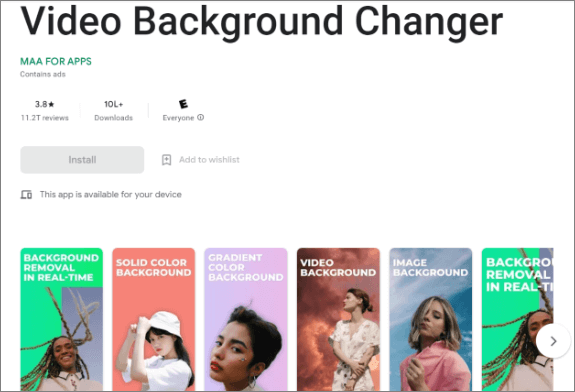 Pros:
Simple User Interface
Real-time background-changing options
A lot of customization options
Cons:
It is a free application, so contains lots of ads
Multiple users have reported audio issues
#4. Movavi Video Editor
Movavi Video Editor is an AI-based tool, which uses AI to automatically key out the background and edit it. Along with video editing and background editing, it also offers multiple other functionalities like screen recording on Windows 10, video suite, etc.
The professional version is by far the best one with a lot of excellent features and uses AI to upscale the videos to make them visually appealing.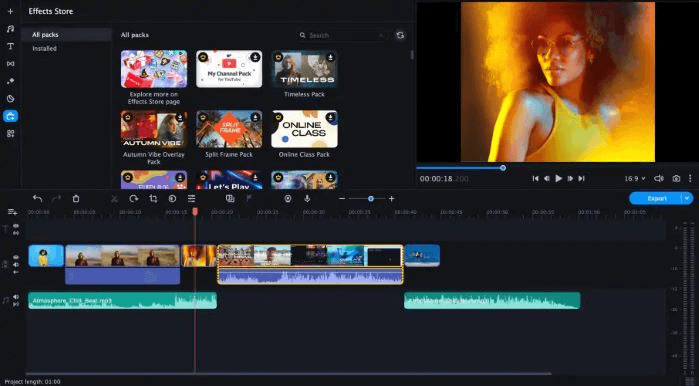 Pros:
Excellent Chroma Key to cut out the background
User-friendly and simple to understand the features
Cons:
Some functions are only available in the paid version
Takes time to render huge files
Not available for Mac and other OS
#5. Photoshop Pro
Photoshop Pro is another popular tool used by many video industry professionals. Developed by Adobe, this software allows users to drag new backgrounds of various templates onto the video timeline and adjust them according to their preferences.
This is also useful for people who love to edit huge video files with less processing speed.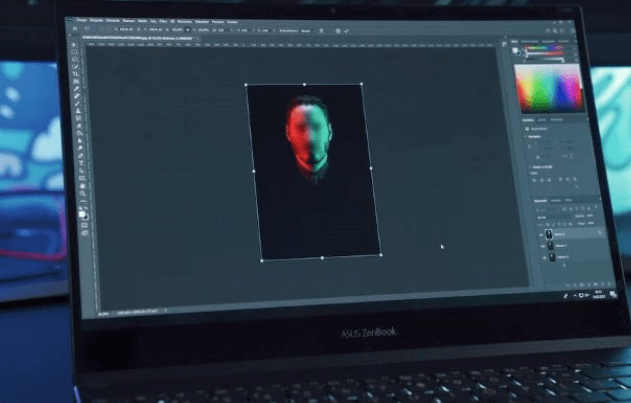 Pros:
Offers advanced editing features
Fast Processing and high-quality videos up to 4K and 8K resolution
Ability to edit video layers
Cons:
The paid version is very expensive
Complex UI and not beginner friendly
#6. Kine Master
Kine Master is another easy-to-use app that allows beginners to remove video backgrounds to make them more appealing to the audience. This software is available for Android and IOS users, primarily suitable for content creators and youtube videos.
The Chroma Key is specially designed to suit small-scale videos for youtube, Instagram, and Facebook, which also increase user engagement rates.
Pros:
Allows multi-layer editing at once
Supports various media formats
Creates high-quality videos
Cons:
#7. Chromavid
The Chromavid is a chrome key-based video background changer to add and replace video backgrounds. It is available on both Android and IOS.
As it is wholly based on the chroma key, you can change the background in real time, configure the settings, and the software automatically keys out the background and does the job.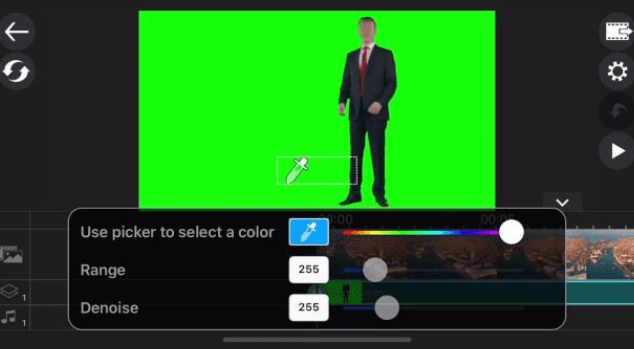 Pros:
Unlimited Video recording
Very affordable
Real-time Chroma Keying
Cons:
The free version comes with a watermark on it
The background cutout on the video cannot be replaced
#8. Kapwing
Kapwing is an online background removal that uses AI technology to detect and remove the background automatically. It is entirely a web-based application, and you can use it to edit without having to download the software on your desktop.
You can adjust the threshold to remove or render the small portions further.
Pros:
Completely Free
Exclusively made for background removal with advanced AI technology
Automatically detects and removes the background
Cons:
Need a strong internet connection, as it is completely online
No support for batch processing
#9. Unscreen
Unscreen is a unique drag-and-drop background editor which completes the whole process in just a few clicks. All you have to do is upload the video and use the tool to edit the clip into any media format.
Along with static backgrounds, you can also use GIFs, transitions, and other videos to make your videos more interactive and engaging. This is free and allows users to download the final videos without limitations.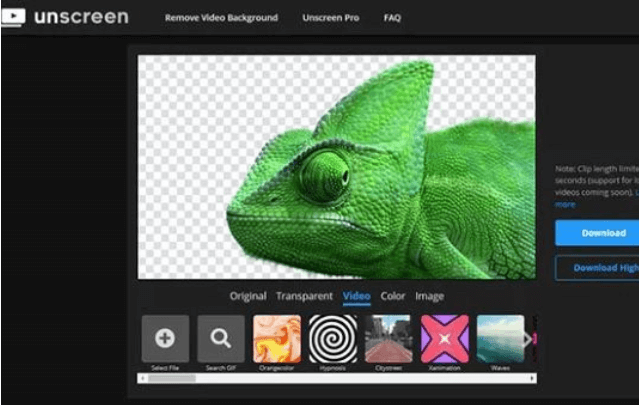 Pros:
You can export videos in full HD resolution
Supports multiple video formats uploads and downloads
Enhanced effects and transitions
Cons:
You have to pay to remove the watermark
#10. BeeCut
BeeCut is another highly rated proper tool if you want a simple and effective video editing tool to remove backgrounds. It is available on Windows, Mac, Android, and IOS.
The simple user interface allows users to cut out the background and change it as per their requirements. You can also overlap multiple video layers and create visually appealing video backgrounds from scratch.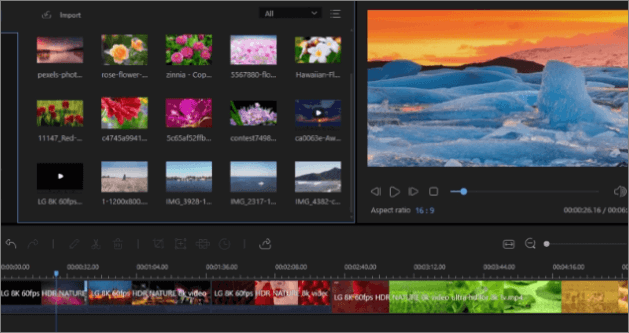 Pros:
An efficient software, that processes videos in less time
Simple and intuitive user interface
Offers complete video optimization
Cons:
The paid version is costly
Bonus tip. Change Video Background During Recording
EaseUS RecExperts is a popular Mac and Windows screen recorder with many excellent features. It is primarily known for its screen recording features, but what makes it stand apart from other in terms of background changing is its ability to change the background while recording the video. This makes your editing process more manageable and straightforward than other tools.
The tool implements advanced technologies to provide various features to remove and add or replace the background for gameplay, youtube videos, live streams, etc. It supports multiple file formats, background templates, and excellent chroma key infused into the technology to key out the requirements and refine your background.
Key Features of EaseUS RecExperts:
Changes video background during the recording itself
Record screen and webcam easily and quickly
A value-added video editor and video cutter for free
Allows users to schedule recordings and capture screenshots
Processes 4K UHD videos up to 144 fps in multiple formats
Download it to enjoy the easy and smooth screen recording!
Video Background Changer FAQs
Here are some of the most frequent FAQs asked on the topic. If you have similar queries hope this will help you.
1. How can I change the background in a video?
Many video background changers are available online to change your video background to your desired one. The tools key out the unwanted background part of your video and replace them with the background of your choice.
Suppose you want to do something other than doing this whole work after recording a video. In that case, you should use EaseUS RecExperts, which only changes the video background during recording.
2. How do I change the background of a video without a green screen?
Generally, we see people removing and adding different backgrounds using green screens. Still, if you want to change the background of videos without a green screen, you can use AI-powered background changers to key out the unnecessary part and add a visually appealing one.
You can check out AI-powered tools like Kapwing and BeeCut for this.
3. How can I change the background of a video online for free?
Many free online tools are available on the market for free. Tools like Kapwing, Chromavid, and Unscreen are entirely online, and you can edit and change your video backgrounds without downloading the application.
You must upload the clip, edit the backgrounds, and download the file in the required format. A downside with free tools is they may add the watermark to your final videos.
The Final Verdict
An authentic and visually engaging video will attract users' attention. Be it to remove a green screen or remove background from videos, there are a lot of video background changers to do this. Factors like chroma keying, transition effects, and templates play a part in selecting those tools.
But if you are recording a video for Youtube, TikTok, or any social media platform, if you want to change the video background during recording, only you should choose EaseUS RecExperts to make your editing process much more manageable.
About the Author

Melissa is a sophisticated editor for EaseUS in tech blog writing. She is proficient in writing articles related to multimedia tools including screen recording, video editing, and PDF file conversion. Also, she's starting to write blogs about data security, including articles about data recovery, disk partitioning, data backup, etc.