
Table of Contents

About the Author

Related Posts

Best Audio Recording Software
A video file that has been stored in the Matroska multimedia container format is referred to as an MKV file. Video, audio, and pictures may be included inside an MKV file. As a result, MKV files are frequently used for the purpose of storing shorter video snippets, as well as short films. 
You may trim MKV to fix any faults in your video, add more oomph to it, or merge many movies into one. Cutting the videos will give you control of the footage, and you can save the parts that are meaningful and trim the rest. Additionally, the vast majority of free video splitters cutters are intuitive to use and are capable of cutting HD video.
Here are 6 of the most reliable MKV cutting tools that can help you edit according to your preference.
PAGE CONTENT:
Trim MKV with EaseUS RecExperts
EaseUS RecExperts is simple and user-friendly screen recording software that can record the whole screen as well as the camera footage in real time. It is a professional screen recorder with many features and has a small file size for efficiently producing polished films on your computer.
You may document what's happening live on your full screen or even just a few particular Windows. You can also set up a scheduled recording to periodically record your camera and screen at the set time.
Features of EaseUS RecExperts:
Now, download EaseUS RecExperts from the button below and trim MKV with it.
Step 1. Launch EaseUS RecExperts and click "Recordings" to open the built-in video editor.

Step 2. Click "Import" on the bottom right corner, then add your target video file from your local folder.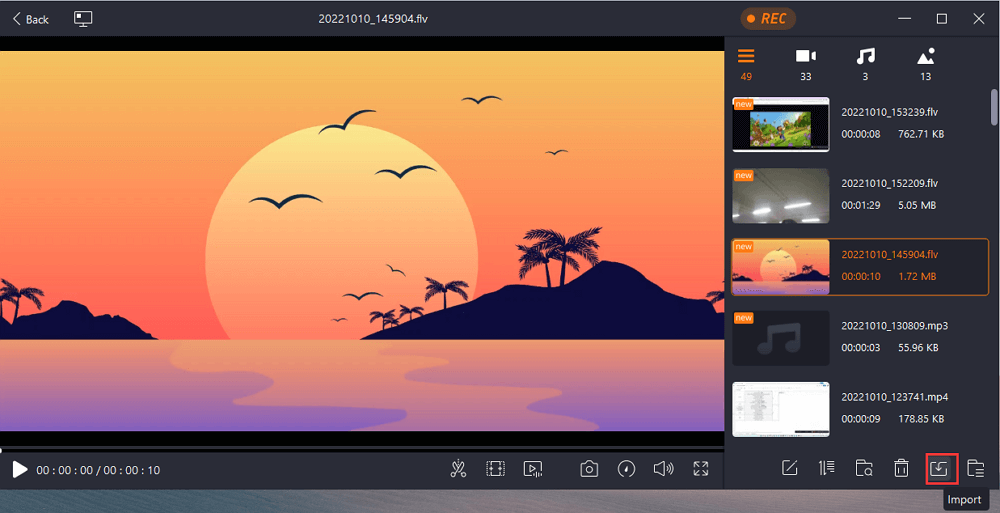 Step 3. Click on the scissor icon to trim the video. Here you can even trim the video frame by frame.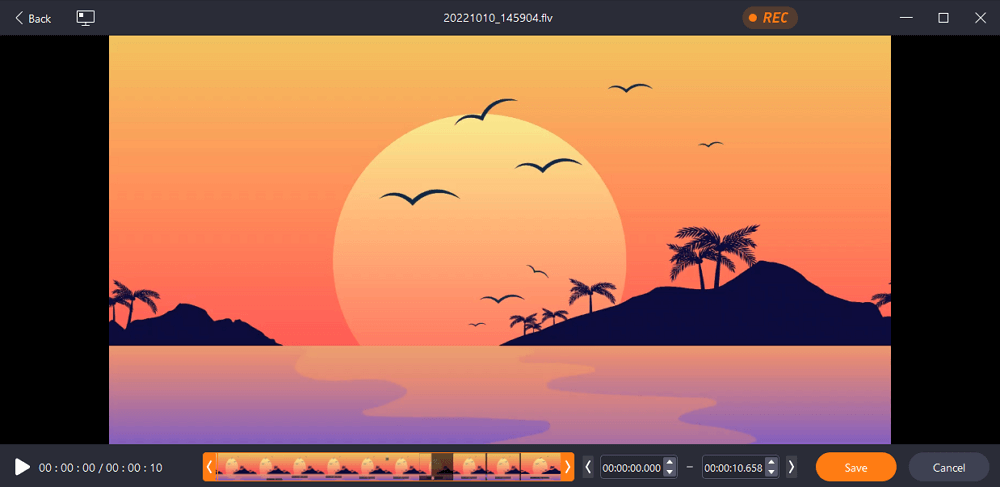 Step 4. Finally, click "Save" and enter the file name to export the edited video.
Cut MKV with iMovie
Apple released the free iMovie program for Mac users. It contains all the necessary features, like elegant themes, a strong chrome-keying tool, wonderful movie layouts, and much more.
Additionally, iMovie features a lovely, straightforward interface that will make your movie editing experience enjoyable. If you employ iMovie to trim MKV or trim AVI files with simple clicks.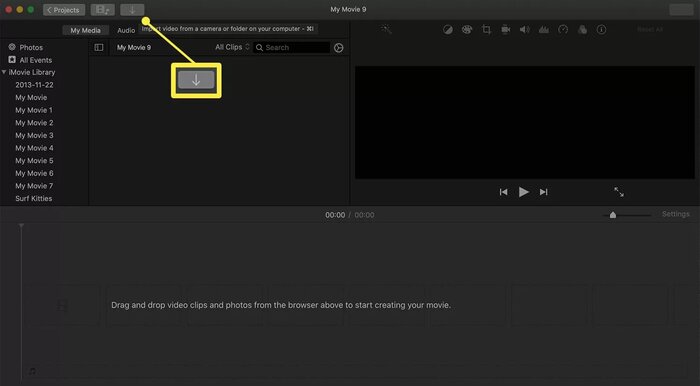 Pros 
Offer a user-friendly design
It is easy to share their results
Support built-in special effects
Cons
Some MP4s are not compatible with iMovie 
Advanced funtions are not free
The following steps will help you easily trim MKV using iMovie.
Step 1. First, Download and install iMovie on your Apple computer or iOS device.
Step 2. Secondly, find the MKV formal film you want to cut in the "Projects" view, and then choose it to begin editing it.
Step 3. Now, replay the clip in the editor after the film has been imported into iMovie. The bottom portion of the user interface will be where you may access this particular option of trimming the MKV clip.
Step 4. Next, you should stop the movie at the point where you want to cut it and then use the edit slider to determine how long the trimmed video will be.
Step 5. Lastly, choose the portion of the movie that you wish to cut off, and then hit the "Command" key together with the "B" key on your keyboard. This will cut the video down to size according to your preference.
Trim MKV with Flixier
Flixier makes it simple and quick to modify MKV files, and it does all of this without requiring you to download or set up anything on your PC. Flixier is much more than just a video editor that you may use online.
It is a feature-packed online free video trimmer that you can employ to trim and chop your films, as well as add graphics, motion graphics, and transition effects.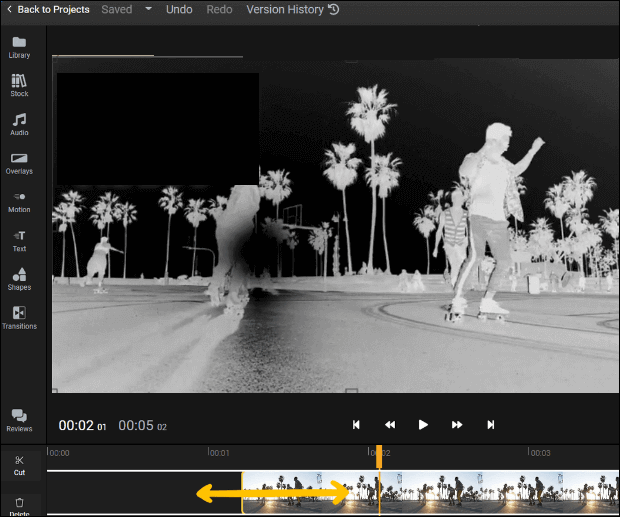 Pros
Process any video in less than 60 seconds
People can leave time-based comments
Access to the cloud storage provided by Flixier
Cons
Very few readily available templates
Room for improvement in color grade features
Here are the steps to trim MKV with Flixier.
Step 1. First, log in to the Flixier account and choose "Import" to add the MKV videos to the Flixier collection so that you may cut your videos there.
Step 2. Now, double-click on your clip in the Library to include it in your timeline after developing a new project. You may either use the "Cut" option to edit the MKV files online or drag its borders in the timelines to trim the clips.
Step 3. Finally, following your completion of cutting and editing, click "Export" to begin the rendering procedure. In less than 3 minutes, your clip will be generated, after which you may download it to your desktop.
Split MKV with AceThinker
AceThinker is a one-of-a-kind best free video editor for PC that can be used for creating presentations, customizing videos, preparing study materials for teaching, and much more. 
It is undoubtedly an excellent program for quickly editing MKV clips is AceThinker Video Editor Premium. Both the Mac and Windows platforms were purposefully considered in the creation of this video editor. It includes a variety of editing tools, including cut, trim, edit, spin, etc.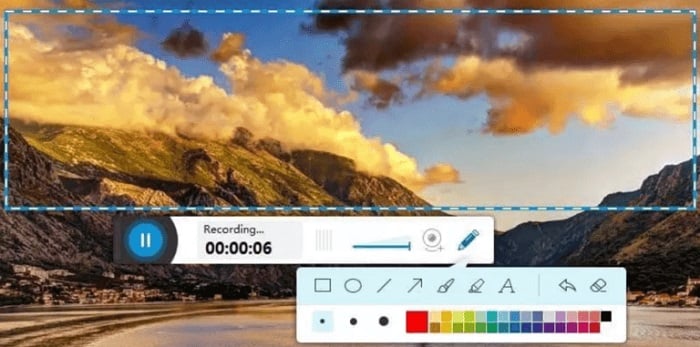 Pros
Support Japanese, English, French, and German, etc
Support Wii, Xbox, iPhone, Samsung, LG, and Huawei files
Remove extraneous video distortion
Cons
Latency may happen for some reason
It is not configured for mobile devices
Follow the steps below to cut MKV using AceThinker. 
Step 1. Firstly, to install, choose one of the "Download" tabs listed based on your operating system. Run AceThinker Video Master after installing it on your computer. Register on the tool to move forward.
Step 2. Now, to upload the files, you wish to modify, click "Add Files" on the interface and choose "Add Folders". Alternatively, you might just drag the music and video files into the program. Then select the video you want to cut, and then click on the "Cut" icon.
Step 3. Next, you may drag the cutter on the toolbar to remove any video segments you don't desire from the final product, or you can input the beginning and end times directly from the durations bar. 
Step 4. Lastly, after choosing the elements you wish to include in the clip, hit "Save". If you want to combine all items into one, you may click "Merge into one" from the "Cut" window. Download the file to your PC if you like the improvements.
Cut MKV with Avidemux
Avidemux is a non-linear video editor and multimedia file encoding freely available software program. It is designed to be a basic tool for rudimentary visual data processing that enables users to perform basic things in an uncomplicated manner. 
Because it works with so many different formats, Avidemux is quite profitable. Even individuals with low editing knowledge who want to clip videos and alter the same by adding ghost effect video may get by with it.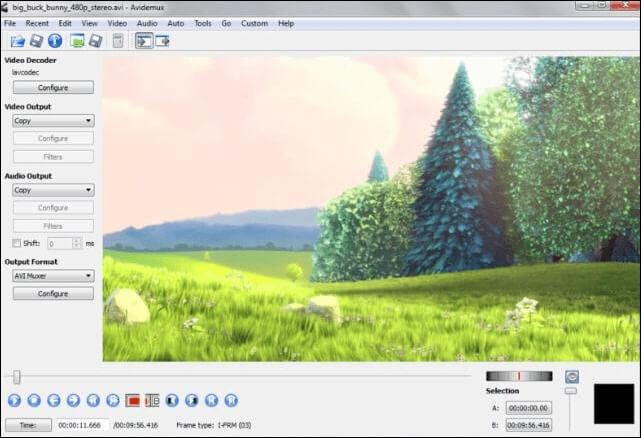 Pros
Accessible to users of Mac and Windows
Support MKV, MPG, MP4, FLV, and AVI, etc.
Offer several great encoding choices
Cons
It takes time to learn the interface
Lack of inventive effects and suitable transitions
Following are the steps to trim MKV using Avidemux.
Step 1. Initially, you should initially set up Avidemux on your PC before you can clip and edit video in it. To upload your film to it, launch the program and choose "Files" then "Open" or hit the "Open Video" button. Or you can drag the movie to the main screen.
Step 2. Next, watch the clip first. Drag the timeline slider to the beginning of the video section you wish to clip and choose the "Edit" > "Set Marker A" button underneath the timeline. Move the timeline slider towards where you wish to stop the trimming activity and choose "Edit" > "Set Marker B". After setting the start and finish times, pick "Cut" from "Edit" to cut the indicated video section.
Step 3. Finally, after the trimming procedure is finished, choose a file type in the primary screen's left sidebar. It is advised to use the same type of source video as the output format. In order to export the chopped video, choose the target file and then click "File" > "Save".
Split MKV with Bandicut
MKV video files may be edited, divided, and combined without sacrificing quality. Additionally, you may quickly convert MKV to MP4 for any phone or smart pad or share a specific segment of the film on YouTube.
With the help of the simple-to-use MKV video cutting tool Bandicut, you may swiftly cut segments of a video while preserving the integrity of the original. Let's check its pros and cons.

Pros 
Simply combine different movies into one
Swiftly cut out the unnecessary portions of a movie
Support hardware-accelerated H.264 encoders
Cons
A watermark in the free or trial version
Only accessible to Windows users now
Here are the easy steps to edit MKV files using Bandicut.
Step 1. First, select the "Cut" option on the sidebar to add your MKV video to Bandicut after downloading, installing, and starting the application on your Windows system.
Step 2. Secondly, you have two options for setting the start and finish points of your divided MKV file: either choose manually on the left side of the computer screen or just by dragging the slider underneath the main window. Additionally, you may add additional edit tracks by tapping the "Merge Segments" icon after tapping the "+ Add Segment" option in the bottom-right corner of the "Cutter Segment List".
Step 3. Now that you have clicked the "Start" option in the bottom part of the home screen, you must select a merging style, an output format, and other options. After that, you may select the "Start" button once again to begin cutting and splitting MKV movies.
FAQs about Trimming MKV Files
In this part, we will show you some questions and their answers related to cutting a MKV.
1. How do I split a large MKV file?
You can do it with Bandicut. Just follow the steps below:
1. Download and launch Bandicut, click the "Split" button and open your MKV file.
2. Choose the split method, and click the "Apply" button.
3. Click the "Start" button to initiate the video splitting.
2. How do I trim MKV files on Mac?
Since many MKV trimmers support only the Windows system, if you want to cut a MKV file on Mac, you will need EaseUS RecExperts. Just follow the steps listed in the content above to do that.
Conclusion
As you must've realized that there are plenty of options to cut MKV files online and offline, you can choose the tools you prefer the most. We suggest using EaseUS RecExperts because it is a two-in-one option. You can screen record everything and edit the MKV files with this one tool. While we can suggest you the best tools, it is up to you to choose the best one. 
About the Author

Melissa is a sophisticated editor for EaseUS in tech blog writing. She is proficient in writing articles related to multimedia tools including screen recording, video editing, and PDF file conversion. Also, she's starting to write blogs about data security, including articles about data recovery, disk partitioning, data backup, etc.