
Table of Contents

About the Author

Related Posts

Best Audio Recording Software
Many gamers attract viewers by recording and streaming their gameplay online. These recordings help them stream their game expertise and preserve epic gaming moments. And there are tons of game recording software available online, and choosing can be the most significant task, as some want to record the game at high fps, some prefer recording both the desktop and microphone audio, and some want to record the screen and webcam, and others want to export the files in a different format. Given that, this post will discuss 5 top game recorders for Mac with their key features in detail so that you can choose the most suitable game recorder based on your needs.
#1. EaseUS RecExperts - Recommend
EaseUS RecExperts is a professional Mac screen recorder. It also works well for people who want to record youtube videos, online tutorials, and more. It offers all-around recording from the full-screen, multi-screen, and selected region recordings. The lightweight tool allows you to schedule recording to start and stop automatically. Along with a screen recorder, you get a built-in video editor to edit your videos as per your needs, a screenshot tool to capture game achievements, and a media player.
The best part about this tool is it allows you to film yourself with a webcam, that is, picture-in-picture using a webcam, making streaming gameplay more interactive.

Key Features of EaseUS RecExperts:
Compatible with both Windows and macOS
Allow you to record almost all 2D/3D gameplay in high quality
Export recordings in various formats
Support recording 4K UHD videos up to 144 fps
Download the EaseUS RecExperts for Mac for unlimited recording with no watermarks and the best output quality to stream and record your gameplay without lagging.
#2. OBS Studio
OBS Studio, abbreviated as Open Broadcaster Studio, is a free open-source and cross-platform tool for recording and broadcasting. This open source screen recorder is supported on macOS, Windows, and Linux. The tool offers real-time capture of your computer display for recording and broadcasting with composition and encoding settings supported by advanced video and audio codecs.
It allows video editing and sound mixing with excellent high-end filters like noise impression, gain, and noise gate. You can even set up hotkeys to record in various video exporting formats. The platforms offer premium features and simple UI and are the most popular gaming twitch gamers.
Key Features of Open Broadcaster Software:
A premium software tool to record video and audio in real-time with mixing capabilities
The ability to collab with other applications and plugins helps you enhance its functionalities and performance
Offers powerful configurations, personalization options, an unlimited number of scenes, and more
Set up Hotkeys to invoke functions easily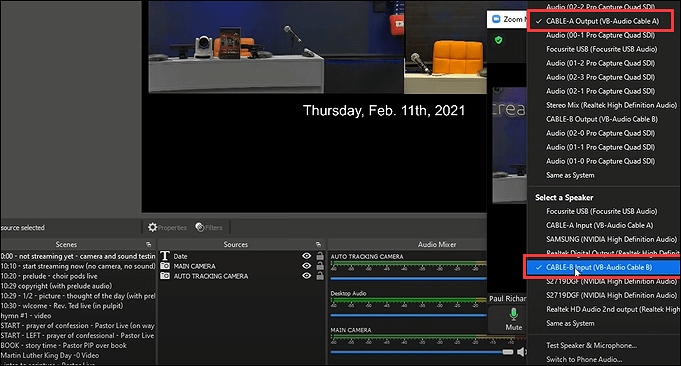 #3. Movavi Screen Recorder
Movavai Screen Recorder is an easy-to-use screen recording tool for Mac and Windows users. It allows you to record videos with the whole screen, a specific tab, or window, select any part, screenshot images, and videos with customizable audio quality and 4K UHD recordings.
The screen and video recorder can accelerate the conversion of output videos with the help of video cards from top manufacturers. You can export and share the files in MP4, AVI, MOV, MKV, or even turn them into GIFs. When done, you can upload the videos onto YouTube, google drive, and share them through Whatsapp and telegram.
Key Features of Movavi Screen Recorder:
Customizable screen areas, schedule recordings, webcam, and effects are built into the tool
Inbuilt screenshot tool and editors to add annotations like texts, effects, shapes, and lines
Multiple important and sharing options in various formats
You can refine and separate the audio files from the output file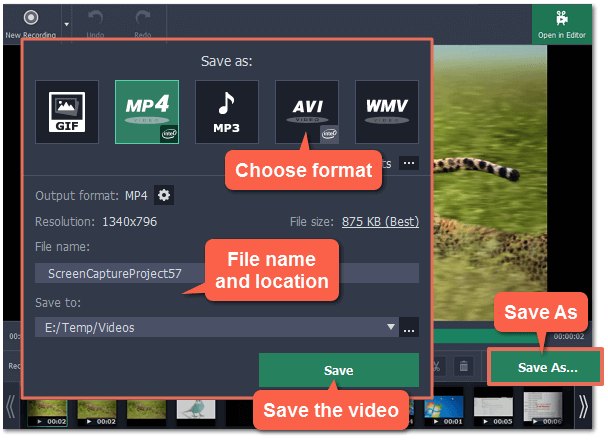 #4. ScreenFlick
The ScreenFlick, specially made for MacOS, is a high-performance screen recording tool for gamers and other professionals. The tools offer fluid motion graphics of up to 60 fps with excellent performance, authentic audio, and a wide range of video recording options. The tool provides time-lapse editing of all your videos to compress hours of content for previews. 
Screenflick program is an excellent utility for software trainers and recorders, as it allows you to display keyboard commands and mouse clicks to personalize your actions while recording. Unlike other tools, you can record once and compress the file into various resolutions, qualities, and separate audios with a lot of flexibility.
Key Features of ScreenFlick Screen Recorder:
Personalizes the movements based on the utilities of keystrokes and mouse clicks to adapt to the user
Offers use of full-resolution o retina display to record UHD videos up to 60 fps
Excellent exporting options with a wide range of supported formats
The ability to remotely control the application over your mobile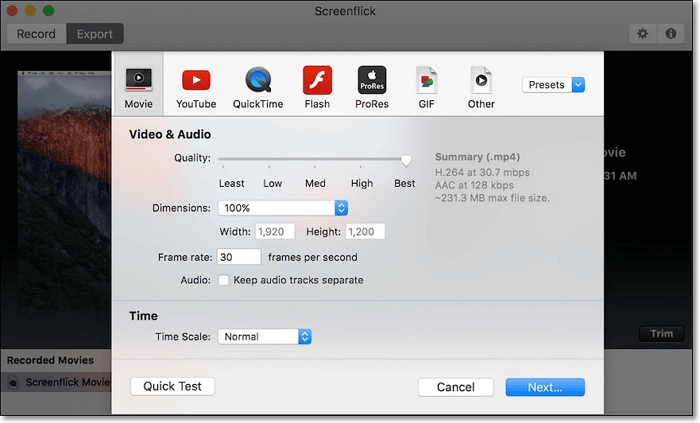 #5. Camtasia
Camtasia is another excellent tool if you want to record your action-packed gaming sessions. Along with recording, the tool offers editing options like transition, effects, and annotations like texts, lines, etc., to enhance your video quality and make it more appealing. It is supported on both Mac OS and Windows.
The tool comes with many customizable options regarding video and audio quality and resolutions. Camtasia is a feature-rich video editor that competes with all premium editors in terms of features, functions, and various options.
Key Features of Camtasia Mac Screen Recorder:
Allows users to record full-screen, select region, and multi-screen along with audio and video
Offers interactivity with the help of annotations on videos to engage users
Comes with a lot of audio options like noise removal, gain, pitch, and compression
Loads of templates for different video requirements to create videos instantly

The Final verdict
You cannot choose the top game recorders for Mac because it depends on many factors, just as discussed in the introductory paragraphs. From recording the audio, video, and webcam and editing the files to finetuning the final video file with high resolution, fps, and no watermarks. A user needs to consider all these factors to select the screen recorder that suits the game and his requirements. We have curated a list of the top 5 game recorders for Mac, and you can go as per your requirements. The editor's choice is the EaseUS RecExperts if you are a beginner and need a well-balanced screen recorder with advanced features.
Game Recorder for Mac FAQs
Here are some of the most frequent FAQs asked on the topic. If you have similar queries hope this will help you.
1. Can you record games on Mac?
The macOS system has an application called QuickTime Player, which you can use to record your computer screen. After recording the screen, the app saves the file. You need to open that recording and save it on your Mac.
The step to record games on Mac using QuickTime Player:
1. Open the QuickTime Player app, File > New Screen Recording, opens the screenshot, and display the tools.
2. You can choose what you want to record from the displayed options to configure.
3. Click Record to start the recording and stop recording on the menu bar widget to end the recording.
2. What is the best game screen recorder for Mac?
Many applications or online tools are available for screen recording on Mac. Selecting one is a bit of a task because it depends on many factors. But here is a list of popular and best game screen recorders for Mac:
OBS Studio
EaseUS RecExperts
Camtasia Studio
Capto
Wondershare DemoCreator
3. How do YouTubers record gameplay on Mac?
Many tools are available for YouTubers to record gameplay on Mac. The most popular ones ate OBS Studio for screen recording and broadcasting. Many even use Twitch to live directly stream their gameplay and watch others. They choose the screen recorders based on the type of game and the requirements they need for that game.
About the Author

Jane is an experienced editor for EaseUS focused on tech blog writing. Familiar with all kinds of video editing and screen recording software on the market, she specializes in composing posts about recording and editing videos. All the topics she chooses