
Table of Contents

About the Author

Related Posts

Best Audio Recording Software
In recent years, more and more people are working and learning online due to the pandemic. Under this circumstance, online meeting platforms like Zoom are getting increasingly popular. And some of them need to record the lecture or conference for later use. Sometimes, the recordings can be too long to be saved or sent. Therefore, many people wonder if they can edit the recordings as they want.
Well, the answer is yes. In fact, Zoom itself enables its users to make simple modifications to the recorded videos. However, there are many limitations. If you only need to make small changes to your recordings, you may use the Zoom function. If you need to change the videos a lot or make delicate changes, you may try some screen recorders free download.
Suppose you don't know how to edit a Zoom recording, no worries. In this article, we give you some tutorials on editing a Zoom recording with Zoom and with other tools. We even give you a tool that can record Zoom and edit the recording at one time. Just read ahead and choose a way that suits you.
What Editings You Can Do to a Zoom Recording
Zoom only supports simple changes to the recordings, more specifically, trimming the videos. Can't meet your demands? Well, let's see what else you can do to amend your recordings.
Cut or Trim Recorded Videos at Anywhere
If you recorded the whole meeting, but there is much useless content, you may need to cut down the unnecessary parts. After cutting, the video will keep only the meaningful parts for later use, which will save a lot of saving space for you. With a proper tool, you can cut the video from anywhere.
Clean Up Audio and Video
No matter how hard you try to record the video in a quiet environment, it is likely that there are unexpected noises in your recordings. But there is no chance of recording it again. What should you do? Well, Video editing programs provide audio editing features to remove pops, hisses, and other background noise. Then, you can get a video with no noise in it.
 Tips

Video editing tools can only cancel noise after recording, which will take more time to edit the video. To save time and energy, you can cancel noise during recording with EaseUS RecExperts.
Add an Intro and an Outro
If you need to edit the recording and send it to others, say, record a lecture and make it an excellent course video, you may add an intro and an outro to the recording. For example, you can add the self-introduction as an intro and insert quizzes as an outro. While Zoom won't let you add this type of effect, you may add a customized intro and outro to your video files with a video editing program. 
Add Subtitles
Subtitles make your video content accessible to a broader audience. Because after adding subtitles, those who are hearing impaired or don't speak your language can still engage if the recording has subtitles. 
Add a Watermark
If you want to share your video content online, thousands of people may watch and learn from your video. In case somebody uses your intellectual achievements as his or her own, you may add a logo or watermark as a claim of ownership. Since Zoom won't let you do this, you can also do it with a video editing program. 
Share Your Zoom Recording
After editing the recording, you may save it to your device, or you may want to share it directly. If you choose the latter, you may use a video editing program since Zoom can't help. Some video editing programs give you the ability to share your videos right on Facebook and other social media sites once you finish editing.
How to Edit a Zoom Local Recording
Zoom allows you to edit local recordings. If you use the program's trimming feature, you can cut video content from the beginning and the end of your local recording. If you need more delicate editing, you will need a video editor. Here we will show you how to edit video length using Zoom's trimming feature: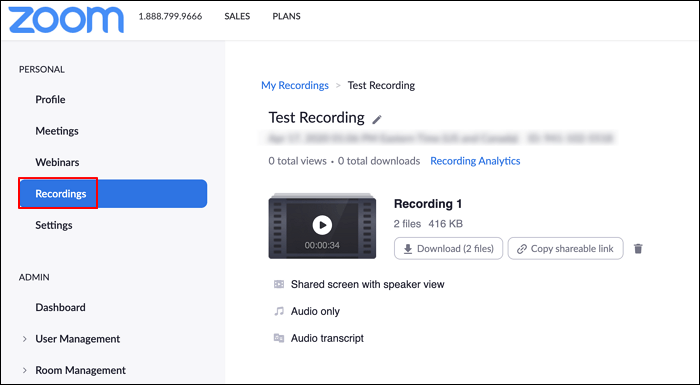 Step 1. Sign in to your Zoom account and choose "Recordings" from the left menu. 
Step 2. Locate and select the recording you'd like to edit, and click "Play" on your recording's thumbnail. 
Step 3. Now the video viewer and editor will open, and you can click on the scissors icon in the lower right corner of the viewing screen to cut the video.
Step 4. Drag the arrows on the progress bar to where you'd like your new recording to begin and end. After editing, click on "Save" to save it to your device.
How to Edit a Zoom Recording in the Cloud
In fact, you can also edit a recording in the cloud. Zoom calls are stored in the cloud and can be edited. That is to say, you can make cuts from the beginning and end of a Zoom video file using the program's trimming feature. If you want to trim the video in the cloud, just follow the steps above. If you need more, please find video editing software instead.
All-in-one Tool to Record Zoom and Edit Recordings
From the content above, you can see that Zoom can only give you limited permissions in editing a Zoom video recording. If you need to do more, a video editing program is necessary. However, if we change our way of thinking, it should be easier. We can find a tool that can show you how to record a Zoom meeting and edit the recording afterward. In this way, we don't need to shift from Zoom to a video editor.
If you think it works, EaseUS RecExperts is just what you need. As screen recording software, it can record the full screen or part of the screen running a Zoom meeting, along with system and microphone audio. All you need to do is to record Zoom with it and edit the recording using its inbuilt video editing functions. Let's check its main features below:
Features related to record and edit Zoom recordings:
Record Zoom screen with the audio
Choose to record audio on Windows 10
Cancel noise during recording process
Record quietly without muting the recorded video
Edit the recording with a built-in editing function
Now, download EaseUS RecExperts by clicking the button below and follow the steps below to record and edit a Zoom recording.
Step 1. Go to the meetings that you want to record. Then, launch EaseUS RecExperts on your devices. Choose the "Full Screen"  recording mode or select the recording area in the "Region" mode.

Step 2. Choose to record the system sound, microphone sound or none by clicking on the according buttons. When it's time to start recording, click on the red "REC" button to begin.

Step 3. If you need to pause the recording, click on the white double vertical bar. To end the recording, click on the red square sign. You can also use the hotkeys "F10" and "F9" to pause or stop recording.

Step 4. After recording, you can view the meeting videos in the pop-up recording list.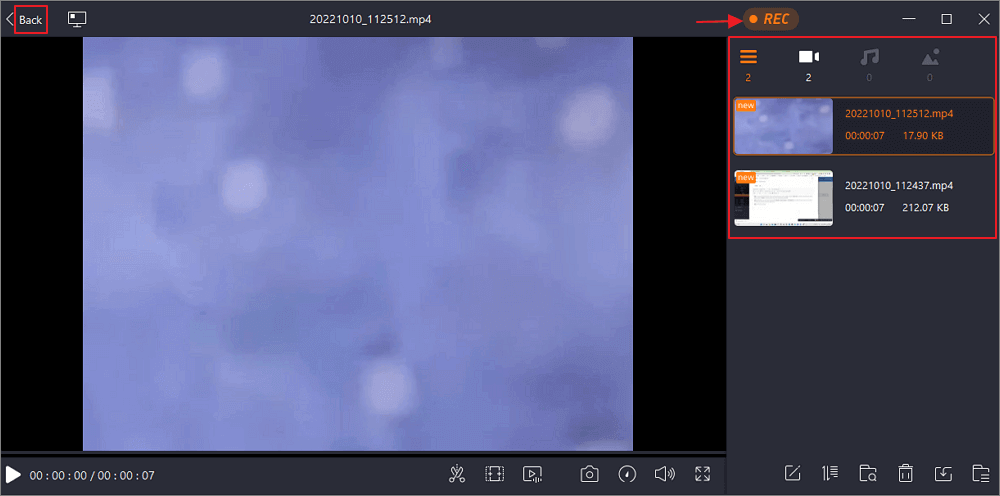 Conclusion
From the content above, you can edit a Zoom recording with Zoom, but it only offers limited functions. For Windows and Mac users, we suggest you download and use EaseUS RecExperts to record and edit Zoom recordings since it is straightforward to use and can cover most of your needs. What are you waiting for? Just download it from the button below and use it to edit your Zoom recordings.
About the Author

Melissa is a sophisticated editor for EaseUS in tech blog writing. She is proficient in writing articles related to multimedia tools including screen recording, video editing, and PDF file conversion. Also, she's starting to write blogs about data security, including articles about data recovery, disk partitioning, data backup, etc.