
Table of Contents

About the Author

Related Posts

Best Audio Recording Software
With the development of one-to-one teaching trends and COVID-19, screen recorders that can be used on computers are urgently needed. If you don't know how to screen record on Chromebook, this post is right for you.
Here we are gonna show you how to capture screen on Chromebook with its built-in recording tool, plus, there are also some Chromebook screen recorder extensions available if you need.
How to Screen Record on a Chromebook [No Installation]
Actually, there is an inbuilt screen capture tool on your Chromebook, which makes it easy to record Chromebook screen with no extra software required. With its help, you are able to tasks screenshots and record videos on Chromebook without any hassle. Now, let's take a look at how to find and use it for screen recording.
Step 1. Unlock your Chromebook and click in the bottom right-hand corner to choose the "Screen Capture" option.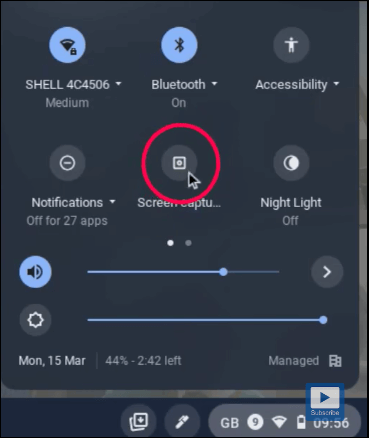 Step 2. Then you can see a toolbar where you can start taking screenshots or capturing videos. Also, it offers you options to select a full screen, a window, or a specific area flexibly.

Step 3. Select your desired recording mode, and next click on the "Record" camera button on your screen to start the recording.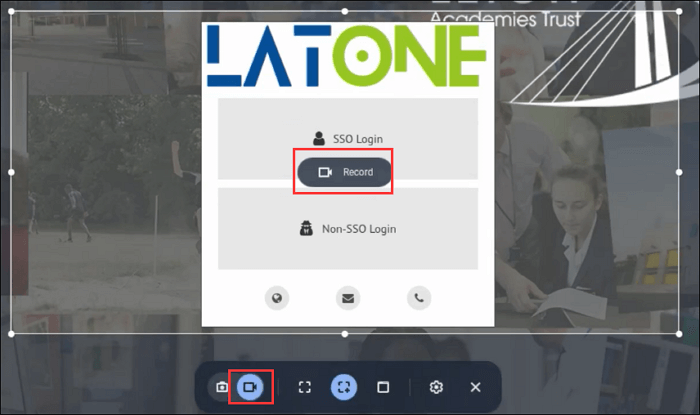 Step 4. Once done, click the "Stop" icon. Finally, you can click on the notice window appearing on the right bottom corner to find your recordings.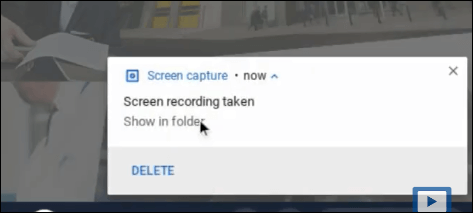 Top 3 Best Free Screen Recorder for Chromebook No Download
Apart from the built-in recording tool, there are many free extensions that can record the screen for you. We selected three effective screen recorder for Chromebook. If you want to use them to record the screen on your Chromebook, you may follow the steps after the description of each extension.
Top 1. Nimbus
Nimbus can record videos from your Chromebook screen to make a screencast and can record a video of another active program or a webcam. You may customize the video screen resolution and frame rate, annotate the video with various shapes, including arrows and rectangles, or upload the screencast either to Nimbus Note or to your computer. Besides, you can also record audio on Chromebook using it.
The video settings allow you to adjust quality with Nimbus allowing as much as 4K in quality. Besides, it can run on your computer without an internet connection.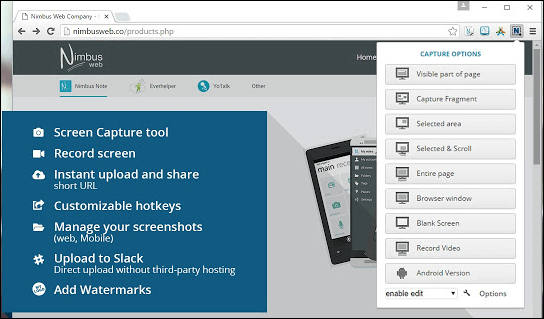 Step 1. Open Chrome Web Store, enter Nimbus in the search box.
Step 2. Add Nimbus Screenshot & Screen Video Recorder to Chrome by clicking the blue "Add to Chrome".
Step 3. Launch the extension, click "Record video". You can customize audio and video settings on the next page.
Step 4. Click "START RECORD" to launch the recording. If you want to pause or end the recording, just click the extension and choose "Pause" or "Stop Recording".
Top 2. Screencastify
Screencastify might be a good choice for you to record the screen on Chromebook because it doesn't watermark the free recordings, and the five-minute limit on free recordings should be enough for most of us. This Chromebook screen recorder extension is available in both free and paid versions. The icon upon download shows up at the top corner in a film strip image.
When recording, you can choose between screen casting what is inside the tab and recording the full desktop mode. There is also a choice of screen resolution, audio recording, and embed webcam, which allows you to record yourself at the same time as the information on your computer screen.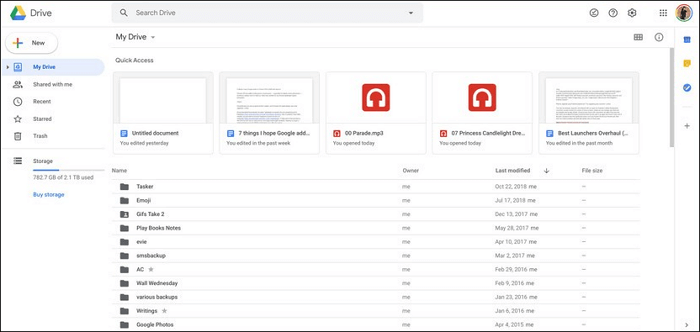 Step 1. Tap "Add to Chrome" on Screencastify's Chrome Web Store listing.
Step 2. Tap the Screencastify icon in the top right corner of your Chrome browser to launch it. Sign in with a Google account.
Step 3. Tap the Screencastify icon in the top right corner of your Chrome browser again and tap "Record".
Step 4. Choose to record "Your Entire Screen" to record the entire display.
Step 5. When you're done recording, tap the "Stop" icon in the recording controls at the bottom of the screen.
Step 6. Name the video you recorded and close the tab to let Screencastify finish processing the video and saving the video to Google Drive.
Top 3. Loom
With Loom, you can record your screen, voice, and face to create an instantly shareable video on your Chromebook. You can record for up to one hour with this app - making it by far one of the most generous recorders when it comes to recording time. You will download it from the Chrome Store and use your Google Account to sign it.
It has the same two options as the others, allowing you to either record the tab or the whole desktop. Before recording, you may adjust the settings, and then you hit the "Record" button. We prepared a tutorial for you.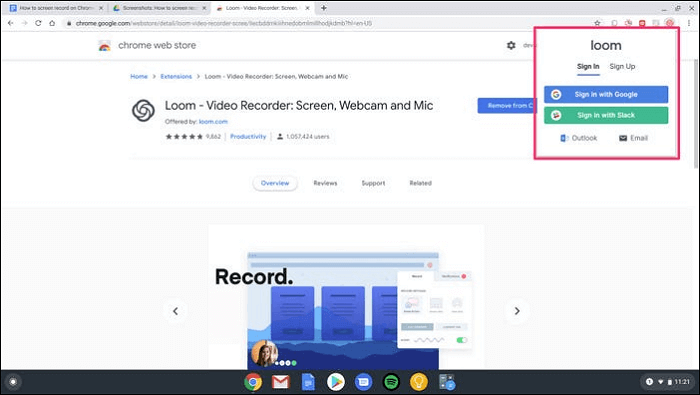 Step 1. Open Chrome Web Store, enter "loom" in the search box.
Step 2. Add Loom to Chrome by clicking the blue "Add to Chrome" button.
Step 3. Launch the extension, log in, agree to the terms of service, and set up your account.
Step 4. Open a new window, then click the "Loom" icon again.
Step 5. Allow the extension to use your camera and microphone and set up the recording as desired.
Step 6. Click "Start Recording" and wait for the process.
Step 7. To end the screen recording, you need to click the green check-mark located in the bottom-left corner of the screen.
Bonus: Best Screen Capture Software for Windows & macOS
Besides Chromebook, most of you mainly use PC, laptop, or Macbook for work or study. No matter what use, you can always rely on EaseUS RecExperts to start your screen recording activities anytime.
This professional screen recording software is full-featured. It can record part of screen or the whole screen on your computer, record audio (microphone or system sound), and record webcam (more than one webcam supported) for you.
If you are a game player who wants to keep your operations in the game as a souvenir but have no idea about how to record gameplay on pc, this program can help you solve this problem. Dedicated to helping novices make professional-looking recorded videos with easy steps, this screen capture software is quite easy to use for all users.
EaseUS RecExperts
Run smoothly on both Windows and macOS computers
Enable to record streaming video, Internet radio, or high-quality gameplay with ease
The schedule recording feature is available 
Allow taking screenshots anytime with one click
Export recordings in more than 10 formats
Conclusion
To sum up, there are many extensions that can record the screen on Chromebook for you. All you need to do is to choose one. However, for all Windows or Mac users, especially for those who don't have much experience in screen recording, we strongly recommend you download the full-featured and lightweight software - EaseUS RecExperts by clicking the button below.
About the Author

Jane is an experienced editor for EaseUS focused on tech blog writing. Familiar with all kinds of video editing and screen recording software on the market, she specializes in composing posts about recording and editing videos. All the topics she chooses