
Table of Contents

About the Author

Related Posts

Best Audio Recording Software
Sometimes you may need to record what is happening on your screen for some reason. Although there is plenty of screen recording software on Windows and Mac, a free online screen recorder is more appropriate for people who want to record their screens with simple clicks.
Fortunately, you can easily find many online screen recorder tools to record your screen right from your web browsers. This post lists some of the best online free screen recorder software for you to try out.
Top 10 Screen Recorder You Cannot Miss:
Top 1. ScreenApp 
When you talk about the best free screen recorder, ScreenApp tops the list. That is due to all the features that it provides despite being in a limited browser-based environment.
With this online screen recorder, you can make recordings of your computer screen using various web browsers, including Chrome, Firefox, and Opera. 
The tool requires no payment, and it helps you record full screen on Windows 10 and Mac for free. Once you have made your recordings, you can save them to your computer.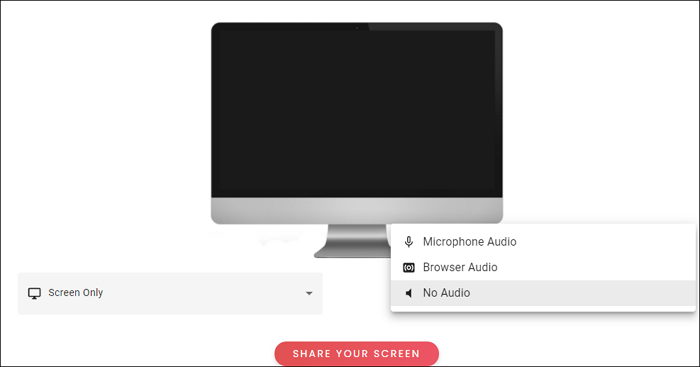 Pros:
Quickly record your computer screen
Custom record area selection
Video editing options
Cons:
Take time to download the recordings
Sometimes not fully work in other browsers
Top 2. Clipchamp 
Clipchamp provides you with all the tools you need to work on your design ideas, and one of these tools is an online screen recorder. Using this tool, you can record your computer's screen and edit the recording right inside your browser. This way, when you download the file, you do not need to make any further changes to it.
It is actually a time-saving tool, and you are highly recommended to use it if your schedule is too busy.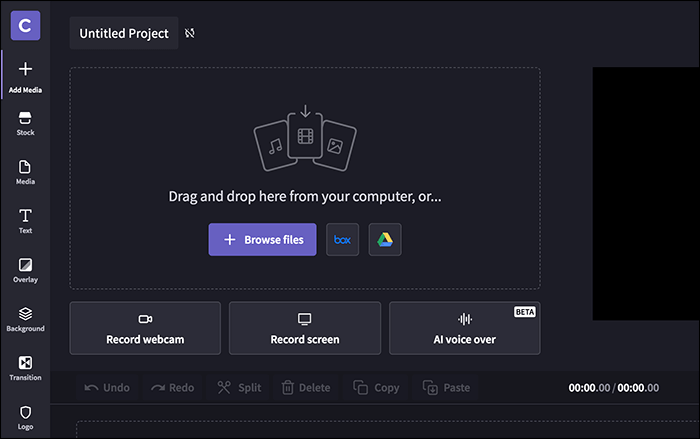 Pros:
Record and edit screen recordings right in the browser
Work with services like Giphy and Storyblocks
Custom screen selection for recordings
Cons:
There is a 30 minutes limit on the recording
You cannot record system sound with your screen recording
Top 3. Screencast-O-Matic 
Screencast-O-Matic is an all-purpose tool to help you make screen recordings online using your browser. With this tool, you can make screen captures for your educational courses, work tasks, and even personal videos if you want to do that.
This online tool comes with several features built into it. There is an option that enables you to record screen and webcam simultaneously.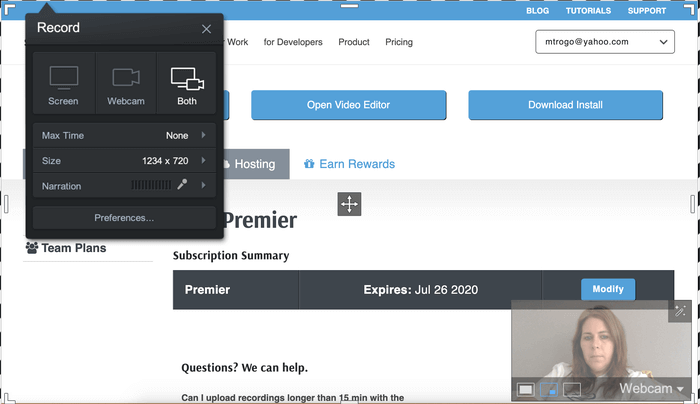 Pros:
Webcam recorder free online
Add a webcam overlay to your screen recordings
Record and add voice commentary to your videos
Many customization options
Cons:
Require high-speed Internet to use the tool
You cannot record your entire screen in the free version
Top 4. Veed 
Veed is actually an online video editor, but it has a feature to let you record your screen online. It also has other tools like GIF Editor, Video Converter, Teleprompter, and more! You can utilize those features to capture the contents on your screen, and you can even record computer audio and screen synchronously. Once you head to Veed's site, you will find that it offers various layout options to choose from.
You can pick the layout that works for your specific project and use it for your recording. There is an option to record videos from your webcam as well, and you can add those videos to your screen recordings. Once the screen recording is done, you can edit it in the same tool.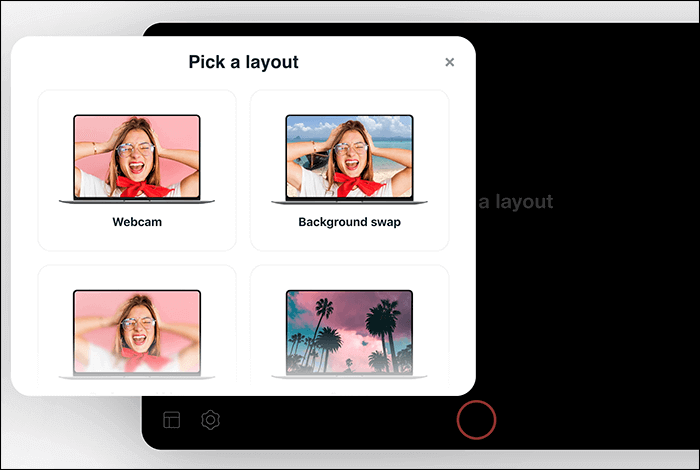 Pros:
Full screen recorder online
Neat and clean user interface
Multiple recording layouts are available
Customizable recording options
Cons:
The free version adds a watermark to your recordings
There is a limit of 10 minutes in the free plan
Top 5. Loom 
If you have ever looked for an online screen recorder, Loom has likely appeared in your search results. There are many features that this online tool has to offer, and you can utilize many of those features to make your screen recordings from your web browsers. It is quick and easy to set up this tool in your browser.
Once you are past the setup screen, you can start recording your screen. You can choose to record your webcam as well, in addition to recording your screen. There is an option to either record your entire screen or your current tab. It is optional to include audio in your recording files.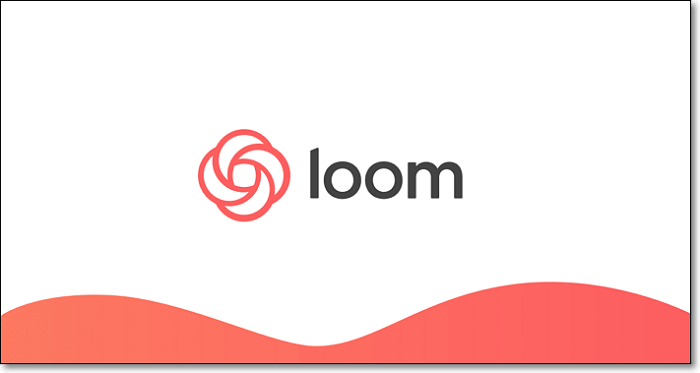 Pros:
Extremely easy to use interface
Quick and easy editing of your recordings
Specify a custom size for recording
Cons:
The option to blur information in your recordings is not available
Issues with the quality of your audio
Top 6. Screencastify 
Screencastify simplifies the entire process of online screen recording for you. This extension helps you to get started with your screen recording times in an instant.
All you need to do is get this tool added to your browser, click on an option, and your screen starts to get recorded. All of that happens in under a minute.
Pros:
Work in offline mode as well
Record your webcam as an overlay to your screen recording
Quickly and easily share your recordings
Cons:
Issues with recording screens that are not part of your browser window
The editing options are not that great
Top 7. Nimbus Capture 
Nimbus Capture is built on the base that you should not type when you can actually show someone your screen. With this easy-to-use online screen recorder, you can easily and quickly record any part of your screen in no time.
The tool works across all major browsers, so compatibility is not an issue here. You can even annotate your screen recordings to explain further what you are trying to say.
It helps record websites as well. When you have finished making a screen recording with this tool, you can share that recording online using easy share options.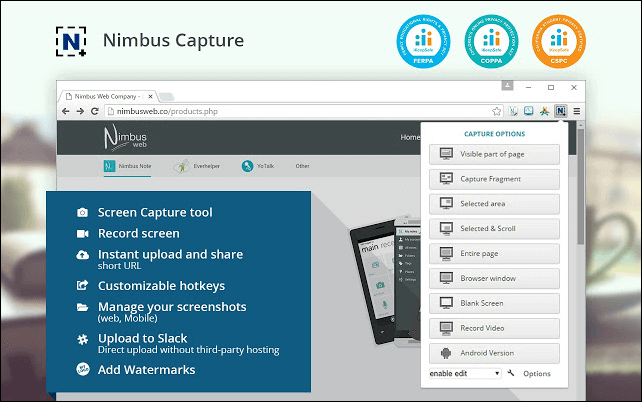 Pros:
Available for multiple web browsers
Add annotations to your recordings
Trim and crop your recordings
Cons:
Basic editing capabilities
Fewer video formats supported
Occasional crashes
Top 8. Bewisse Screen Recorder 
Bewisse Screen Recorder is a tool that helps you capture your computer screen and save that as a video file right on your machine. All of your recordings are saved locally, and the privacy concerned geeks out there will actually like this.
This tool is based on a simple approach to making it easier for you to record your screens. It does not add a watermark to your videos which is a big plus. On top of that, you can upload files directly to Google Drive if you want to share your videos with other people. 

Pros:
Record your screen without any sign-up or log-ins
No watermark is added to your recordings
Directly upload files to your cloud storage
Cons:
Support Google Drive as the cloud storage only
There is no direct link to share your recordings
Top 9. Hubcap 
What sets Hubcap apart from the others is how easy it is to work with this online screen recorder. It claims to be the first tool that helps you record your screen without installing anything at all on your machine.
It looks straightforward and basic, and all you need to do is configure a couple of options, and you are good to go. Basically, you need to tell the app what you want to record, whether your screen or webcam, and it records accordingly. It then provides you with a link to share your screen capture with whoever you want. 
Pros:
Straightforward video capture software
Free recording hosting for two weeks
A secure link to share your screen recordings
Cons:
No editing features
You can only record for up to five minutes in a video
Best Recommendation – EaseUS RecExperts 
People would prefer a free online screen recorder no download to save time downloading and installing the software. What if we told you there is a program installed in no time and works just as fast as an online screen recorder?
EaseUS RecExperts, a software tool that allows you to record your computer screen using various ways. This tool comes preloaded with many features to ensure you can record your screen exactly the way you want. Besides letting you record your screen, it helps you record webcam and sound and something you would like to do.
Key Features:
Lightweight and easy to use screen recorder
Customize the area of your screen that you wants to record
Enable you to record audio on Windows 10 (both system audio and microphone)
Record from your attached webcam
Schedule recording and start recording automatically
Extract audio from the recorded videos automatically in seconds
Although an online tool runs off of your web browser, it still uses your computer's resources. Some tools sometimes end up using too many of your resources, but this one ensures that only a small and required number of resources are used. This prevents your computer from becoming slower.

How to Record Video on Windows 10
How to use this all-in-one screen recorder on Windows 10? This post offers you a tutorial to capture the screen on Windows 10 with it. Click to know more.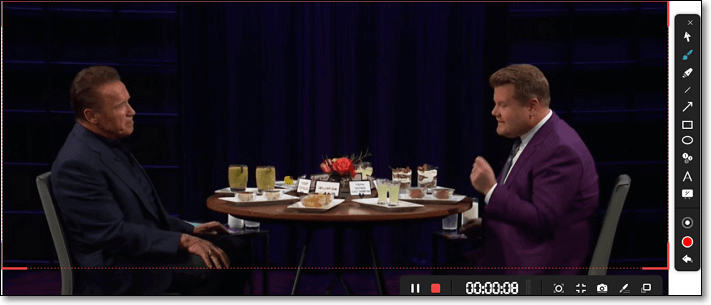 Conclusion
With so many free online screen recorders out there, you should not miss out on using them for your recording tasks.
However, you should consider EaseUS RecExperts as well, and that is because it is as quick and fast to use as any other online tool. Most of these online tools will work on both Windows and Mac machines, so you are covered regardless of your operating system.
About the Author

Melissa is a sophisticated editor for EaseUS in tech blog writing. She is proficient in writing articles related to multimedia tools including screen recording, video editing, and PDF file conversion. Also, she's starting to write blogs about data security, including articles about data recovery, disk partitioning, data backup, etc.