
Table of Contents

About the Author

Related Posts

Best Audio Recording Software
Rel
Updated on Mar 07, 2023|
min read
Finding the best webcam recorders with all the advanced features, mobile-friendly UI, and cloud storage?
You've landed in the right place. With online meetings becoming a thing now, webcam recorders are the need of the hour. However, finding the best webcam recorder can take a fair chunk of time and effort. 
To save you the hassle, we've listed the 5 best online webcam recorders rated for their ease of use. All our recommended screen recorders promise high-definition recordings with crystal-clear quality and comfort. Also, we recommend an offline screen recorder EaseUS RecExperts, that integrates powerful functions that online software does not have.
1. ChipChamp 
Nothing beats the quality of a powerful screen recorder like ChipChamp. As a fairly affordable screen recorder, it lets you record, edit and save recordings the way you want. 
With its built-in editing tool, you can customize the recording by adjusting it to the desired length. The start/stop feature makes this screen recorder even more desirable, while the variety in resolutions and aspect ratio satisfies all our recording needs.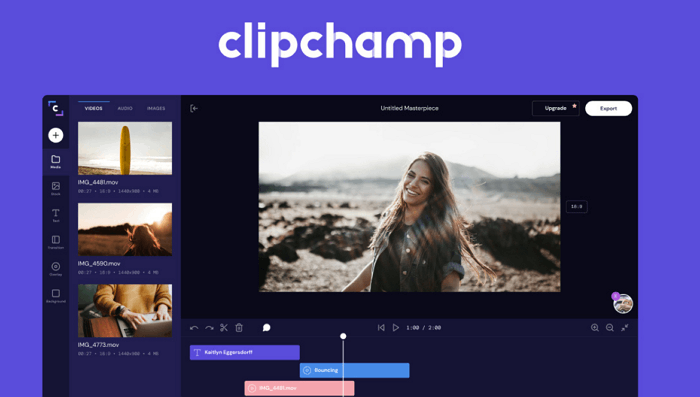 Features
With flexible screen recording options, it lets you capture any screen on Windows or Mac in just a few minutes. The best part? You can record for nonstop 30 minutes without any interruptions. Whether you want to resize and customize the layout or add an element of personal branding, it lets you create clear and catchy branding assets with text, logos, and watermarks of your desired font, colors, and sizes. 
Pros
Easy to use
High-quality recordings
Versatile
Cons
Doesn't cut background noise 
Have ads in free versions
Lacks a good quality microphone
Pricing
| Free Version | Monthly | Yearly |
| --- | --- | --- |
| $0 | $9.22 | $94.40 |
2. Veed.IO 
What's better than a screen recorder with the simplest user interface? Designed for both personal and professional use, Veed.IO makes screen recording a breeze. From recording to editing, it covers everything required to get the finest quality recorded screens. Whether you're using a desktop or mobile, Veed.IO makes it easy to record, save, and share your webcam videos within seconds.
Adding to that, it also allows customization of added filters, transitions, and test overlays of your choice. So ditch those headache screen recorders with VeedIO - your friend in need.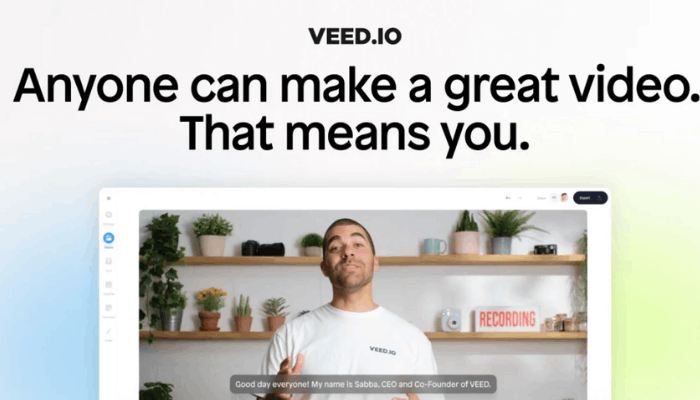 Features
Whether you want to add subtitles and translations or record, stream, and edit in one place, Veed.IO is all you need. It offers a wide range of customization offers to edit and publish only polished videos with desired backgrounds, colors, and templates. 
Pros
Cost-effective
Time-saving
Shareable
Cons
Some tools may have a time limit for recording. 
Audio quality can be poor in some tools. 
Watermark on free versions of some tools.
Pricing
| Free Version | Basic | Pro | Business |
| --- | --- | --- | --- |
| $0 | $12 | $24 | $59 |
3. Screen Capture 
Tired of ditching screen recorders with limited cloud storage? No longer now. 
With screen capture, you can expect a wide space for cloud storage. 
Known for versatility, it offers an impressive range of features to customize your recorded videos with images, filters, texts, and whatnot. In short, it's the perfect screen recorder for professional use.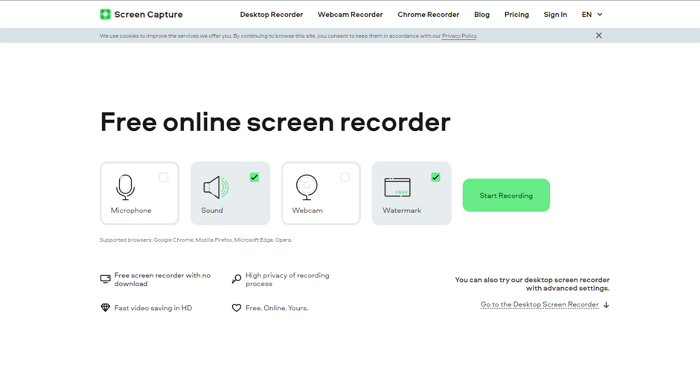 Features
With an extra microphone, you can record any of your favorite music along with a free screen recorder with no download. The webcam helps you capture your face while recording, experiencing fast video saving in HD. 
Pros
Convenient for remote work or collaboration
Good for creating tutorials or demos
Ability to record audio and video
Cons
Video quality can suffer with a slow internet connection
Video size can be large, taking up significant storage space
Video editing features may be limited in some tools
Pricing
| Free Version | Monthly | Yearly |
| --- | --- | --- |
| $0 | $9.95 | $39.95 |
4. Flixier
Sharing screen recordings is often a hassle, but not with Flixier. As a professional screen recorder, it lets you record high-quality videos and edit them as per your need. 
In addition, Flixier also offers easy integration with other channels to share recordings with anyone in just a few clicks. Whether you're a student or a content creator, Flixier is the perfect stop for sharing your recorded videos easily.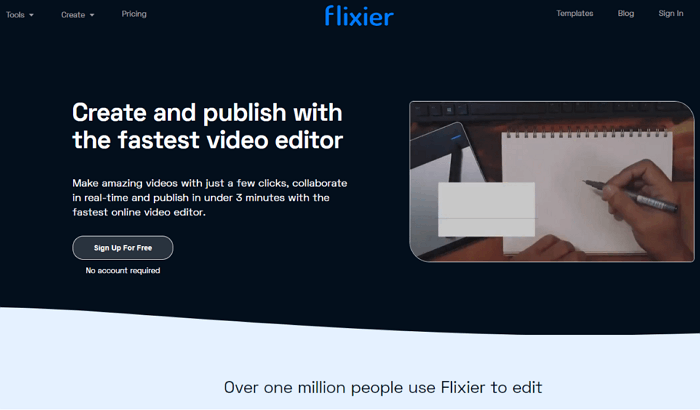 Features: 
With the real-time collaboration feature, you can choose from 50+ different transitions yet include any video effects you want. Not only do you get the option to create recorded videos with motion graphics but also share your video to any social media channel you want. 
Pros
Cost-effective
High-quality recordings
Helpful in recording online classes or lectures
Cons
Technical issues or crashes can occur
Limited storage space in some tools
Privacy concerns with data access and collection
Pricing
| Free Version | Pro | Business |
| --- | --- | --- |
| $0 | $14 | $30 |
5. Webcamera.io 
Looking for a screen recorder with the facility of a webcam? You've landed in the right place. 
Not only screen recording, but you can also access the camera feature to record live expressions in HD quality. From video to audio, it supports both formats and makes screen recording fun, especially with the customization features. 
With the powerful features of Webcamera.io, seamless integration, and exceptional customer support, you can't go wrong with this free online webcam recorder.
Features: 
Webcamera screen recorder brings you a wide range of flexible settings, adjust volume, decrease echo, and much more. Whether you want to record long videos or save your output video file, a web camera screen recorder gets you covered. 
Pros
Suitable for creating tutorials or demos
Cost-effective
Easy to use
Cons
Limited features in some tools
Compatibility issues with specific systems or hardware
The learning curve in some tools
Pricing
| Free Version | Monthly | Yearly |
| --- | --- | --- |
| $0 | $10 | $20 |
Bonus Tip: Best Offline Webcam Recorder for Windows/Mac
It's hard to find a screen recorder that ticks every box from quality to storage, but your hunt stops here. Introducing EaseUS RecExperts - the perfect screen recorder for all your perfect captures. Whether you want to capture a small region of your PC or record the entire gameplay in 2D/3D quality, EaseUS is the perfect stop for you. 
As an offline webcam recorder, it offers all the features of full-fledged software that online webcam recorders do not have. It provides unlimited time recording with schedule recording, auto-stop & auto-split features, and many other advanced features. 
With the help of EaseUS RecExperts, you can record Twitter spaces, gameplay, webcam, zoom, and so on with audio on Windows and Mac. Also, you can use the editing function EaseUS RecExperts offers to trim Snapchat, Tiktok, or other short videos.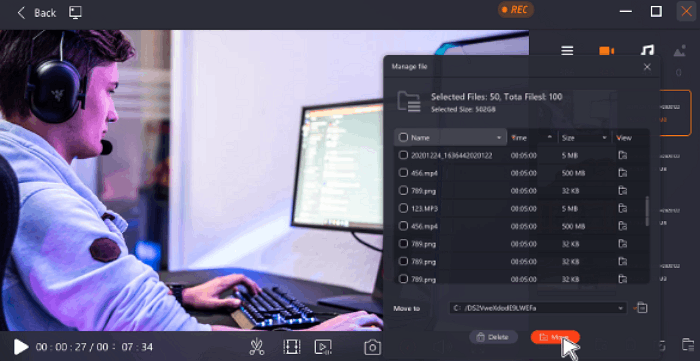 Features: 
What sets EaseUS from other screen recorders is the impressive quality it possesses. Unlike others, it gives you a 3-in-one feature with a webcam, microphone, and smart sharing. Not one or two, but EaseUS can help you save recordings to 10+ formats from MP4, MOV, AVI, FLV, MKV, MP3, AAC, WAV, OGG, WMA, FLAC, etc.
In short, it's the best webcam recorder with the added convenience of a webcam and microphone.
Pros
Easy to use
Save into 10+ formats
High-quality output
Fully secure
Automatic Recording
Cons
Need to download and install
Lacking more video editing function
Pricing
| Free Version | Monthly | Yearly | Lifetime | Business |
| --- | --- | --- | --- | --- |
| $0 | $19.95 | $39.95 | $69.95 | $99.95 |
Here is the tutorial for you to record webcams with great ease.
Step 1. First, install and open EaseUS RecExperts, then choose the webcam option on the left panel.

Step 2. Select the camera device you want to capture, and adjust some settings, including sound source, resolution, orientation, and more.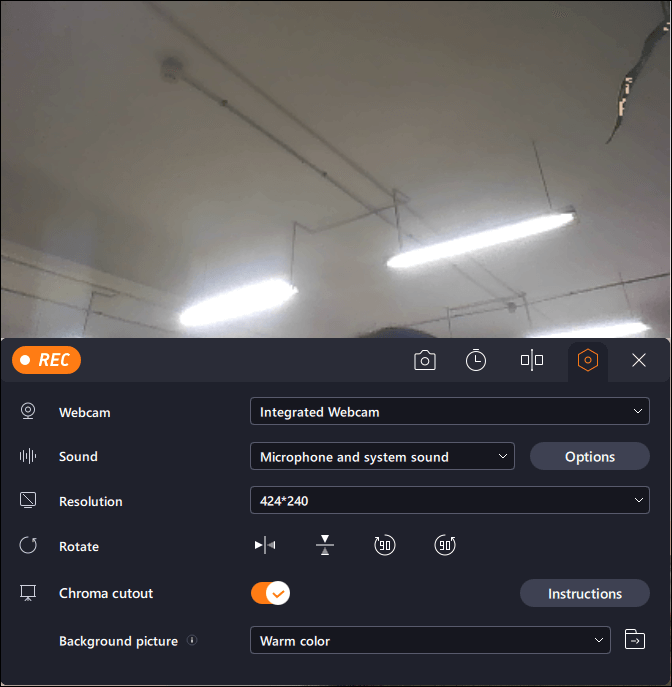 Step 3. Build a green screen background, enable the Chroma cutout feature on the bottom, and ensure the subjects and background are in the range of the camera preview. Next, you can customize your background effortlessly.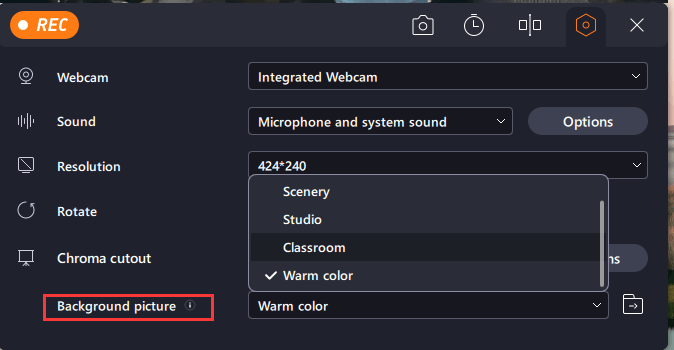 Step 4. At last, click on the REC button to start recording your webcam video with a virtual background.
Conclusion 
Having a professional screen recorder comes with a great sigh of relief. In this article, we tried to cover 6 top screen recorders and choose the best one for your screen capture. 
Whether you're recording a video call, creating content for your social media, or capturing special moments, the best online webcam recorder has covered you. Backed by advanced technology, they allow you to enjoy hassle-free recording with just a few clicks. 
But if you want to have the best screen recording experience, EaseUS RecExperts will be the right answer for you to download it on your PC.
FAQs
1. How can I record a video online?
Recording a video online is easier than it sounds. All you need is a reliable webcam screen recorder to start recording like a pro in no time. In general, there are four feasible ways to record a video online. 
Method 1. Using a webcam recording software: Whether free or paid, there are dozens of the best webcam recording software available online that you can download to record videos directly from your webcam.
Method 2. Online video recording tools: Some websites offer video recording services directly from your browser. You don't need to download any software. You can go to the website and start recording.
Method 3. Screen recording software: If you want to record a video of your screen, you can use screen recording software like EaseUS RecExperts.
Method 4. Mobile devices: If you have a smartphone or tablet, you can use the built-in camera app to record videos.
Regardless of the method you choose, make sure to check the quality settings and adjust them as needed to ensure you achieve the best results possible.
2. What is the best online recorder?
The best online recorders can vary depending on your specific needs and requirements. However, some popular options include the following:
No 1. ChipChamp
No 2. Veed.IO
No 3. Screen Capture
No 4. Flixier
No 5. Webcamera.io
About the Author

"Hi readers, I hope you can read my articles with happiness and enjoy your multimedia world!"