
Table of Contents

About the Author

Related Posts

Best Audio Recording Software
Page Content:
If you're a fan of gaming, there's a good chance you've heard of the Diablo series. The latest installment, Diablo 3, has been out for a while now, and many gamers have been eager to get their hands on it. If you're one of those gamers or if you're just curious about what all the fuss is about, this guide is for you. In it, we'll share with you some excellent game recorder for PC, and walk you through the basics of how to record Diablo 3 gameplay so that you can share your experiences with others or simply keep track of your progress. Let's get started!
Method 1. Record Diablo 3 Gameplay with EaseUS RecExperts (PC/Mac)
As an excellent Mac and Windows screen recorder, EaseUS RecExperts makes it easy to complete almost all recording tasks, like recording streaming videos, making video tutorials, capturing video conferences, etc.
Aside from that, this screen recorder recently offers a new and professional game recording mode, which helps you capture all popular 2D/3D gameplay in high quality with a few clicks, including recording Diablo 3 gameplay. Before recording, this software allows you flexibly to adjust some settings for your recording, including but not limited to video resolution, FPS, audio bitrate, and more. Plus, you can also record gameplay and face or add a narration simultaneously to enrich the clips during recording. Last but not least, there will be NO watermark on your recorded videos, as it is also a screen recorder without watermark!
Key features:
Works as an unlimited screen recorder that lets you record as long as possible
Built with a media trimmer to cut down unwanted parts of your recordings
Provide a schedule recording feature to start or stop recording automatically
Let you screen record Netflix, Amazon Prime, Hulu, etc., without a black screen
Now, let's check how to use EaseUS RecExperts to record the Diablo III game on PC/Mac:
Step 1. Launch the gameplay that you want to record. Next, open EaseUS RecExperts and click on the "Game" button on the left.

Step 2. Click on the "Select Game" option to choose a Game Window or Game Process. Then, you can enable the audio and webcam recording if needed. When all are done, click the big REC button to start the gameplay recording.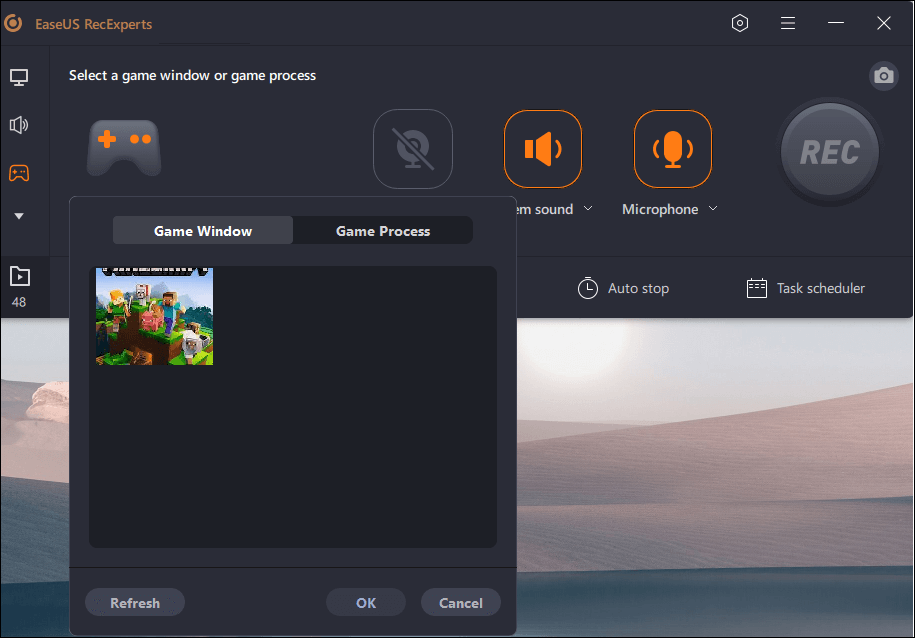 Step 3. A floating toolbar will appear, and you can pause or stop the recording. Besides that, the camera icon enables you to take a screenshot, and the timer icon lets you stop the recording automatically.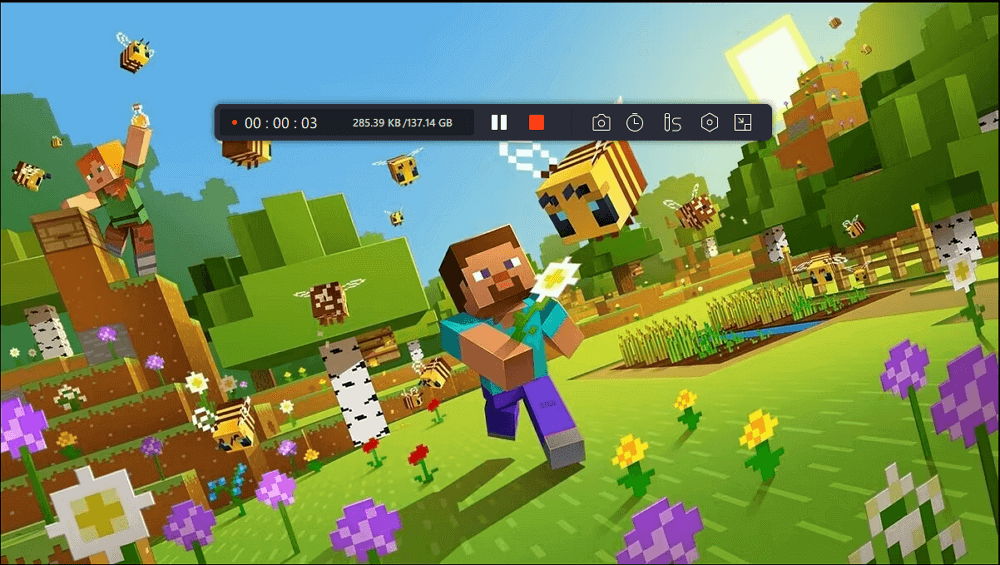 Step 4. After saving the recorded gameplay video, a media player will pop up. It gives you a built-in tool to trim the recording, extract audio from the video, and add an opening & ending part. You can find the tool at the bottom of the player.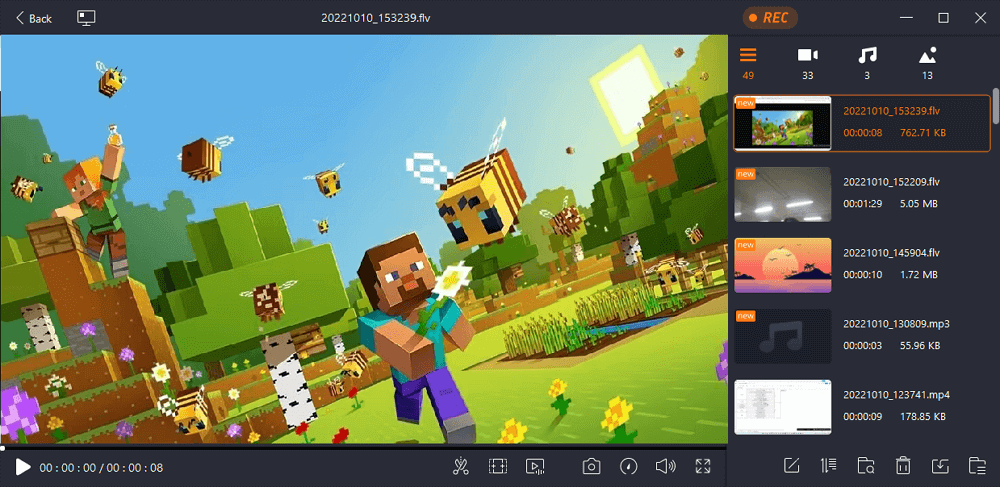 Method 2. Record Diablo III Game with OBS Studio
OBS Studio is a powerful open source screen recorder for recording gaming footage. It offers a variety of features that make it an excellent choice for gamers who want to capture Diablo 3 gameplay or other games. One of the most useful features is the ability to record at up to 60 frames per second, and this high frame rate ensures that your recordings will be smooth and informative.
In addition, OBS Studio allows you to record directly to your hard drive, which means that you won't have to worry about losing any footage if your computer crashes. Finally, the software is free to download and use, which makes it an extremely cost-effective option for gamers. OBS Studio is definitely worth considering if you're looking for a reliable and feature-rich game recording tool.
Here's how to record Diablo 3 gameplay in OBS Studio:
Step 1. Launch OBS Studio on your computer, then click "Setting" to adjust some parameters for your recording and output file based on your needs.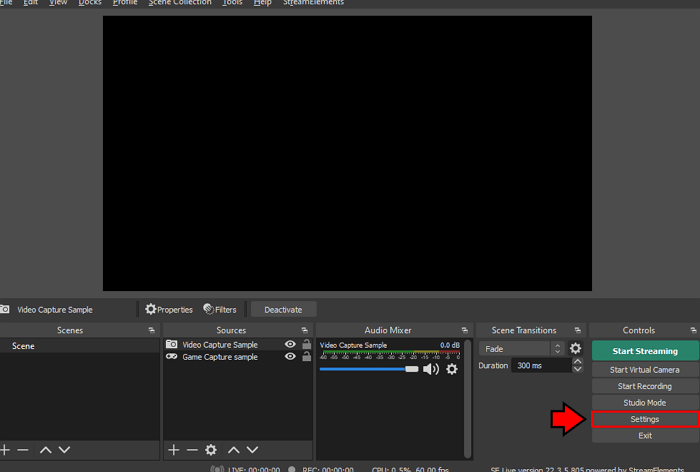 Step 2. Next, go back to its main interface and click the plus icon in the Source tab to choose the Game Capture option.
Step 3. Choose your desired gaming odes displayed on your screen. Once done, you can launch and play Diablo 3 gameplay.
Step 4. When you are ready, click "Start Recording" to begin the game recording.
Method 3. Capture Diablo Gameplay via Medal.tv
Medal.tv is a gaming video platform that enables gamers to record, share, and discover their best gaming moments. It's simple to use - just hit the "record" button while playing your game, and your footage will be automatically saved. You can edit your videos, add annotations, and share them with the Medal.tv community or on social media. In addition to game recording features, it also enables you to live-stream your gameplay, create highlights, and join or create gaming leagues. Whether you're a casual gamer or a professional esports player, Medal.tv has something for you.
Check out the following steps to capture Diablo gameplay highlights:
Step 1. Download and install Medal.tv on your computer. Next, set the resolution, hotkey, and length for your Diablo 3 gameplay recording.
Step 2. When ready, you can click the hotkey you set before to start the recording.
Step 3. Once done, you can post the game clips to Medal.tv and share your link directly to any of your socials.
Method 4. Record Diablo 3 Gameplay using Bandicam
Bandicam is a game recording program that allows you to record your gameplay in high-quality video. It has an intuitive and easy-to-use interface, and it can capture your gameplay in both full-screen and windowed mode. You can also choose to record your microphone input so that you can add commentary to your videos.
This software also has an encoding feature that allows you to compress your video files to occupy less space on your hard drive. In addition, Bandicam provides a screen capture function that lets you take screenshots of your gameplay. You can also use the hotkeys to control the recording process, which makes it very convenient.
A step-by-step guide to using Bandicam to record Diablo 3 gameplay:
Step 1. Download Bandicam from its official website, then open it.
Step 2. Choose the "Game Recording Mode" from the top toolbar, and click "Yes" in the "User Account Control" window.
Step 3. Next, open the Diablo gameplay, and a green-colored number appears in the top-left corner.
Step 4. At last, click the Record button to start your gameplay recording.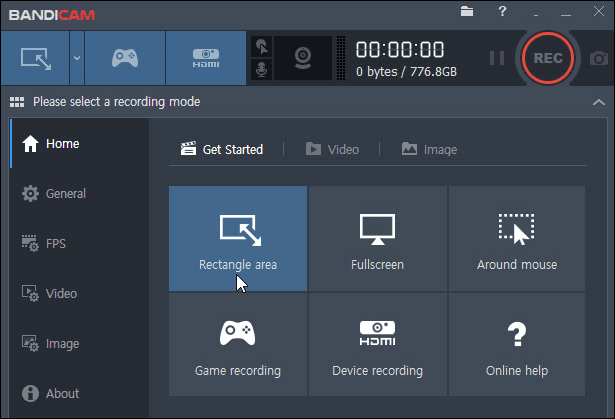 Conclusion
Thanks for reading our blog on how to record Diablo 3 gameplay. We hope you found the information helpful and that you'll try out EaseUS RecExperts. Recording your gameplay is a great way to improve your skills, show off your mad moves to others, or just have fun reliving epic moments. Please let us know if you have any questions about using the software or suggestions for future posts.
Record Diablo III Gameplay FAQs
1. Is Diablo 3 harder than 2?
Actually NO. Diablo 2 is not harder than Diablo 3. Diablo 3 actually has a scaling endgame which adds an increasing amount of difficulty. Diablo 2 ends at 85. Diablo 2 has less customization than Diablo 3
2. How many hours of gameplay does Diablo 3 have?
When focusing on the main objectives, Diablo III is about 18 Hours in length. If you're a gamer striving to see all aspects of the game, you will likely spend around 159 Hours to obtain 100% completion.
3. What is the easiest way to record gameplay on PC?
The easiest way to record gameplay on PC is to use Xbox Game Bar, which is a built-in game recorder for PC. Just press the Windows icon + G to start your recording.
About the Author

Jane is an experienced editor for EaseUS focused on tech blog writing. Familiar with all kinds of video editing and screen recording software on the market, she specializes in composing posts about recording and editing videos. All the topics she chooses