
Table of Contents

About the Author

Related Posts

Best Audio Recording Software
PAGE CONTENT:
Yahoo Messenger is a great source of communication for people to talk and interact online. One of the oldest internet communication platforms. Almost everyone born before the 2010s might have used it at some point in life to text, voice call, and video call.
And sometimes, you may want to record Yahoo videos to preserve family, friends, or loved ones' videos. In this article, we will discuss some of the best tools to record yahoo videos available on the Internet.
Record Yahoo Video with a Screen Recorder
You can use a professional Mac and Windows screen recorder like EaseUS RecExperts to record your laptop or desktop screen while on the call.
EaseUS RecExperts is a recording tool with exclusive features adopting the leading screen recording technologies. The tool implements advanced technology to provide various modes to record a gameplay on PC, youtube videos, and live streaming.  
The process can be done in simple three steps supported by all windows versions, and a robust Mac variant is also available. You can edit a Zoom recording and add effects to them to make them more visually appealing.
Key Features of EaseUS RecExperts:
Support all-round and selected region recordings
Record webcam and audio along with the screen
Offer a value-added Video editor and video cutter
Allows users to schedule recordings
Records 4K UHD videos up to 144 fps in multiple formats
Now, you can download this software and start recording Yahoo videos!
Step 1. Launch EaseUS RecExperts. Choose a recording mode from "Full Screen" or "Region". To get a better experience, we suggest you choose recording the full screen.

Step 2. Mostly, you will need to record the system sound when recording a video. Just click on the speak sign to select it. You can also tick the "Record silently" function, so that the recording process will be muted without muting the recorded video.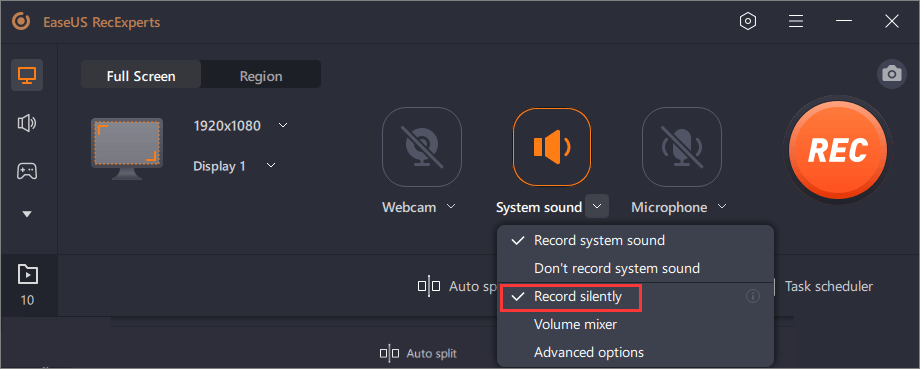 Step 3. After these settings, you can press the red "REC" button to start recording. If you want to pause the recording, click on the white "Pause" button; to end the recording, click on the red "Stop" button.

Step 4. After recording, the recording list window will open. Here you can view, split, delete, manage your recorded videos.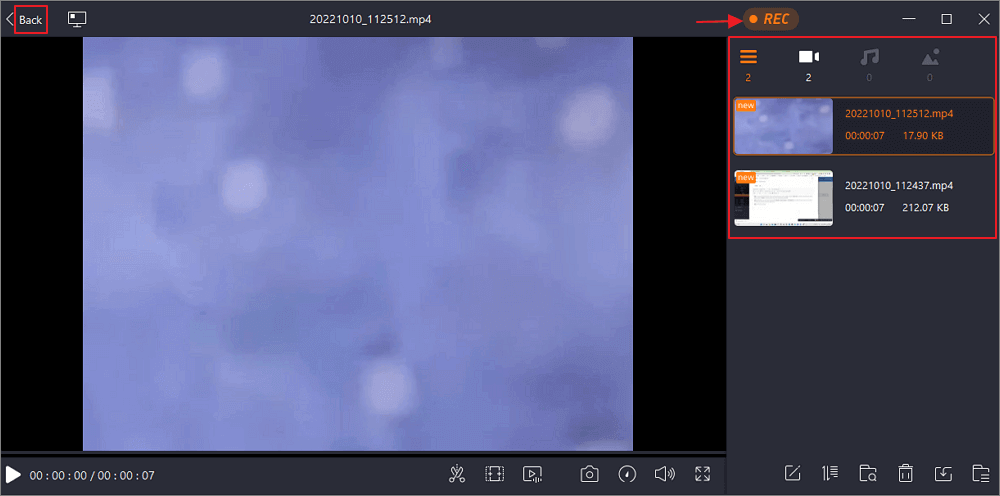 Record Yahoo Video with Game Bar
There is a built-in tool on Windows OS (Xbox Game Bar), thick offers basic recording settings for its users to record their screen. Originally designed to record gameplay on the Windows OS, but also a desktop screen recorder.
The Screen Recording tool is a default tool with the Xbox on Windows 10 and 11. With many updates to these features, you can take screenshots and edit your recordings on your system effortlessly.

Steps to record your Yahoo video on Windows OS with Game Bar:
Step 1: Open the "Yahoo Messenger" application and call your counterpart.
Step 2: To invoke the Game bar dialog, Press Windows + G at a time.
Step 3: A prompt asking the permission will appear saying "Do you want to open Game Bar?" check the "Yes, this is a game" checkbox to launch the game bar.
Step 4: You can either click on the Start Recording Button (Red button on the widget at the bottom) or Windows + Alt + R to start capturing the screen.
Step 5: You can use the Red Dot on the floating widget to stop the recording. If the widget disappears, press Windows + Alt + G to bring it back.
You can find the recorded videos under the captures subfolder or the Game DVR menu in the Xbox app. You can personalize your recording preferences under the Settings > Gaming > Captures section.
Record Yahoo Video with OBS Studio
The OBS Studio is an open-source screen recorder for screen recording and broadcasting. This is one of the most popular recording programs available and is completely free and compatible with Windows, Android, Mac, and Linux. Many YouTubers and Twitch streamers use this to record their videos.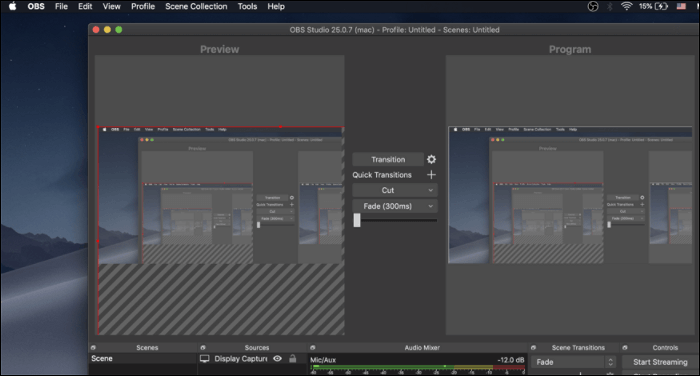 Steps to record screen with OBS:
Step 1: Install the application from the official website of OBS Studio.
Step 2: Launch the application on your PC. The OBS will auto-add a Scene on the interface, but if you do not see one, you can click on the + icon. You can find the + (Plus) icon within the interface at the screen's bottom left corner, which reads Scenes.
Step 3: To Specify your Screen Recording settings, look at the Scenes box and click on the + icon to see a menubar. Choose the Display Capture option, and a pop-up window appears. Add a title, and click OK.
Step 4: Choose the capture method. You must select the capture and display methods in the next window pop-up. You can also choose whether to show the cursor on your recording. 
 Notice:

If using multiple monitors, select the appropriate display you want to record and click Ok.
Step 5: Navigate to Settings at the bottom right of your screen to select the output folder. A new window appears, click on the Output icon in the menu. In the Recording Box, you need to choose where to save your output file under the Recording path. Now, Browse and select the destination.
Step 6: Once you have configured all the settings required for recording the screen. You must click the Start Recording button on the OBS Studio record screen. You can find this icon on the lower right of your screen below the Start Streaming button.
Once you are done, you can stop the recording, and the file will be saved to your destination.
Record Yahoo Video FAQs
Here are some of the most frequent FAQs asked on the topic. If you have similar queries hope this will help you.
1. Can I record a video off the Internet?
Yes, you can record a video off the internet while you are on it using an online or desktop screen recording application. You can use an advanced tool like EaseUS RecExperts with an easy-to-use interface and excellent features to get the job done.
2. How do I record a video from a website?
To record a video from a website, download a professional screen recording tool like EaseUS RecExperts and follow the steps below:
Step 1: Open the screen recording tool and navigate to the websites you want to record on the internet.
Step 2: Select the region or whole screen to record.
Step 3: Start the recording and stop it whenever you get your desired video.
Step 4: Process the Video and save it.
3. How to record video call in Yahoo Messenger?
You can record a video call in Yahoo Messageer using a professional screen recording tool like EaseUS RecExperts, or you can also use the Xbox GameBar to record your screen. You can refer to the article to know the detailed steps to screen record.
The Final Verdict
Videos are a great way to revisit cherished memories without friends and family. Yahoo Messenger offers users to video all their dear ones. To preserve beautiful moments and to record yahoo movies, you can screen your video calls with the help of professional tools like EaseUS RecExperts or the inbuilt recording tool Xbox Game DVR on Windows OS.
If you find this article helpful, share it with your friends and leave a comment about it. If you have any queries regarding the topic, feel free to ask them in the comment box, and do let me know of the future issues you wish to see articles from EaseUS.
About the Author

Melissa is a sophisticated editor for EaseUS in tech blog writing. She is proficient in writing articles related to multimedia tools including screen recording, video editing, and PDF file conversion. Also, she's starting to write blogs about data security, including articles about data recovery, disk partitioning, data backup, etc.