
Table of Contents

About the Author

Related Posts

Best Audio Recording Software
PAGE CONTENT:
Video content is popular among content creators for social media platforms like YouTube. And screen and webcam recordings are the industry trend while creating tutorials or video presentations.
A good screen and camera recorder can make it simple and easy to record your screen content and your figure explaining the content shown. Therefore, if you work in industries like education, games streaming, or media content creation, the great tools in this article are available to you. 
Best Screen and Camera Recorder for Windows and Mac
When it comes to recording screen and webcam, you can never miss EaseUS RecExperts. With this tool, you can record the screen along with a inbuilt camera or an external camera. The recorder will record videos in the quality same as what the camera offers. So you don't have to worry about the video quality.
This Mac and Windows screen recorder records the screen and camera with one click on the red "Rec" button. And all you need to do is view the video afterward. Moreover, it can record system audio and microphone sound if you need to.
With this tool, you can record Zoom, Teams, and other online meetings that can play on a computer. Also, you can use it to record online lectures and even make notes during recording. Check what else it can do for you below.
Main Features:
Play WAV files and other multimedia files with one click
Make notes when recording online lessons and tutorials
Record the screen, webcam, and mic at the same time
Save the recorded videos in HD quality
Record Google Meet online meeting for later review
Screen and Webcam Recorder Extension
In this part, you can find some extensions that can be used to record the screen and camera at the same time.
Tool 1. Screen & Webcam recorder
This Chrome extension is often used to record screen, camera, and audio in the meantime. It supports all types of screen recordings for free with unlimited usage. All you need to do is to allow screen recording from your Webcam and Desktop. And then, you can start recording without a hassle.
This tool offers three modes of recording. They are "Entire Full Screen of Desktop", "Single Tab", and "Active browser". You can now control the quality of the recorded videos in 480p, 720p, or 1080p. After recording, you can generate a link to the recording to share and access the file. The video will be saved in MP4 and WebM formats.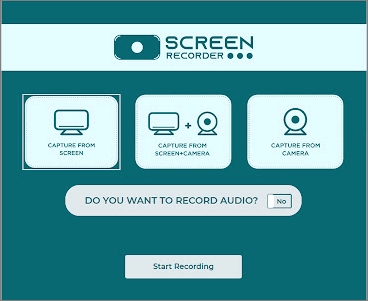 Pros
It is free to Use
No lag during screen recording
Support audio recording with a webcam
Cons
The file link comes to the dashboard only when a user generates it
Can't see the control bar when recording the full screen
Tool 2. Loom – Screen Recorder & Screen Capture
With the Loom extension, you can record your screen and camera with one click and share the recording with a link. Loom has a desktop screen recording tool and many people like it. Now, it gives its users an extension to help users record the screen and webcam without downloading anything. 
With this tool, you can record your screen, camera, microphone, and record audio when screen recording with a simple click. After recording, it will automatically save videos to the cloud for later sharing. Moreover, if someone views, reacts, or comments on your video, you will be notified. You can even manage your Loom video library across devices.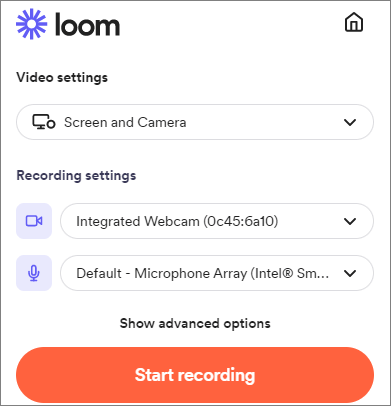 Pros
Record in 720p, 1080p, 1440p, and 4k HD
Record the screen, camera, or both for free
Store your videos in the cloud
Cons
Sometimes it can be too buggy
The hovering button that sticks to the side of the browser can be annoying
Tool 3. Tella for Chrome
The last screen and camera recorder extension we want to introduce to you is Tella for Chrome. You can record full screen on Windows 10, record the camera, or record both at the same time if you want. You can start recording a video anywhere on the web with two clicks. and the recordings will be saved to your Tella account in real-time.
to share your video instantly, you just copy the link and send it to viewers. You can use Tella for demos, tutorials, presentations, and updates. Tella for Chrome has you covered.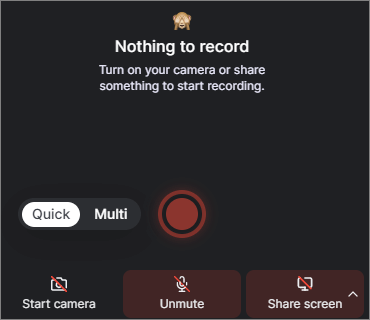 Pros
Record multiple clips in one go
Create dynamic videos quickly and easily
Users can add backgrounds and change layouts
Cons
Some functions are not for Starter users
The Pro version is not cheap
Screen and Webcam Recorder Online
Now, we will give you some online tools so you can record the screen and webcam at the same time without downloading software. If you want to finish the recording on a browser, you may choose a tool from this part.
Tool 1. Clipchamp
Clipchamp is the first online free screen recorder for Windows 10 we want to introduce to you. Using this tool, you can record your screen and edit the footage in a single browser. This could be the easiest way to record a video in a short time.
Although it is a screen recorder, Clipchamp also offers many professional editing tools apart from screen recording features. For example, you can trim and clip your recordings, or add interesting filters and overlays to enhance your recorded footage. All in your control. Check its pros and cons below.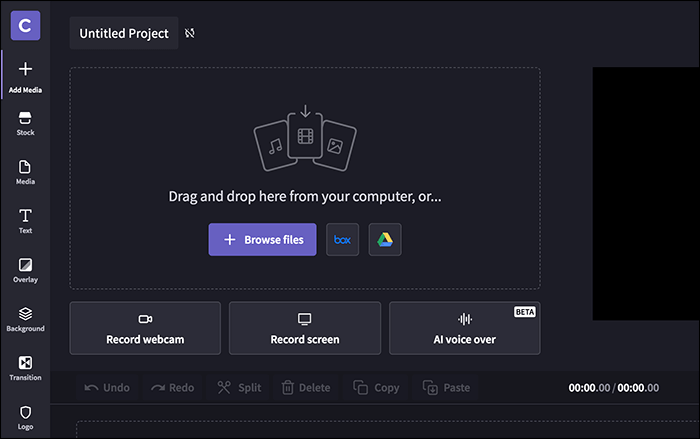 Pros
No downloading or switching between programs
Capture both the system and microphone audio
Offer basic editing features
Cons
Has a 30 minutes limitation while recording
The recording may be jammed
Tool 2. Screen Capture
The last tool and also the second online screen and camera recorder is Screen Capture. This is a recommendable and easy-to-use voice recorder in Windows 10 that allows you to choose from the recording modes. Also, you can in fact use it to record the screen and webcam online. You can choose to record the microphone, system sound, webcam, and a watermark. Just click on the icons to turn them on or off.

Pros
Record all the sound including internal audio and the mic
Record the screen along with a camera
Record and manage the recordings online
Cons
The feedback speed depends on your internet stability
You can' start recording without internet connection
Screen and Camera Recorder FAQs
Check the questions below to get answers.
1. Can I record webcam and screen at the same time?
Yes, all you need to do is to find a recorder that can record the screen and your webcam at the same. All the tools recommended in this article can help you with this.
2. How do I use screen and webcam recorder extension?
Follow the steps below to use the screen and webcam recorder extension.
1. Install the screen recorder extension from the store.
2. Open the tool and choose from the 3 options provided based on your preference.
3. Select the elements you want to record, screen, audio, or webcam. Then click "Start".
4. Click again to stop the recording.
3. How do I record my screen and webcam on Windows 10?
You may download EaseUS RecExperts and follow the steps below to record the screen and webcam on Windows 10.
1. Launch this recorder, and select the little webcam icon by clicking the down-arrow button on the left panel.
2. Click on the "REC" button when you are ready to start your webcam recording. To end the recording, just click on the red square icon.
3. After recording, the tool will lead you to preview the recorded videos.
Conclusion
From the content above, you may see there are many tools that can be used to record the screen and camera at the same time. However, all tools used online can't help you when you have no internet connection. Therefore, the safest way is to download and use an offline recorder. EaseUS RecExperts is the tool you need. Just download it from the button below now!
About the Author

Melissa is a sophisticated editor for EaseUS in tech blog writing. She is proficient in writing articles related to multimedia tools including screen recording, video editing, and PDF file conversion. Also, she's starting to write blogs about data security, including articles about data recovery, disk partitioning, data backup, etc.