
Table of Contents

About the Author

Related Posts

Best Audio Recording Software
Quick Navigation:
You will need a screen recorder to record your lectures, gaming clips, device tutorials, etc. Meanwhile, if you don't want to see ads or blur pixels, you would be looking for the best screen recorder with no ads; here's where we have covered you with the best ones! Be it for Windows, Android, or Mac, you will find one for each device. All of these recorders are robust, with clearer graphics and sounds.
Top 7 Screen Recorder No Ads for All Platforms
We have carefully handpicked and selected the best screen recorder in the no-ads category. While choosing one, you would wonder what's so exceptional about these screen recorders, making them stand out! Let's check them out. 
1. EaseUS RecExperts
Best for Vlogging, tutorials, and gameplay. It is especially suitable for content creators who need a reliable, feature-rich screen recorder. 
How about a screen recorder that seamlessly captures videos with no ads and excellently nails multipurpose applications? If yes, then EaseUS RecExperts is the perfect one for you! The tool is efficient if you want to record online lectures, 2D or 3D gameplay, tutorials, voice-overs, or similar. Things become more straightforward as it has a media player and editor inbuilt. 
Besides, you can record for unlimited time and even schedule recording. You can choose whether to record full screen or only select parts. Furthermore, it can also record multiple screens. The best part is that you can also edit while recording screen recording. It even supports auto-stop and auto-split features. You can also add custom backgrounds to your screen recordings. 
Pros
4K UHD quality 
Available for Mac and Windows
Robust performance 
Seamless recording 
Inbuilt screenshot feature
Cons
Some features are only available in the Pro version
2. Screen Recorder: Chrome Extension
Best for those who do not want to install software and work across multiple platforms. Since this works on a browser, it is available everywhere.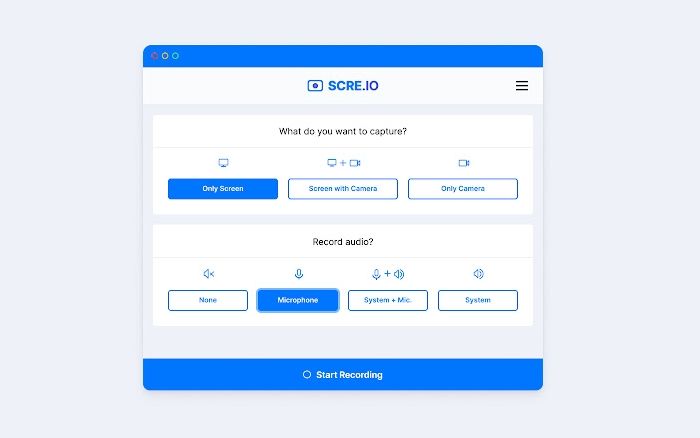 Screen Recorder is a free screen recorder Chrome extension that allows you to record your screen, audio, and webcam. It can be used to create videos for sharing and collaboration or to capture your screen activity later. It is easy to install and use and can be used for both Windows and Mac systems. This extension does not interfere with the browsing activity and serves no ads.
Whether you're creating tutorials, demos, or other types of videos, you'll be able to record with excellent quality. Plus, the extension's user-friendly interface is intuitive and easy to use, meaning you'll be able to get started with recording right away. It has an autosave feature that automatically saves your recordings after a crash or if you close the browser window. This makes it easy to recover your recordings if something goes wrong and ensures you don't lose any of your work. 
Pros
Record video from your camera or capture it directly from your screen
Record audio from the microphone and system together
Warning before permanently deleting an unsaved video
Cons
No option to set the resolution of the video
It only works on the browser
3. Flashback Express
Best for computer novices as it is a limited feature tool with fewer options to configure. Hence those who do not want to change or need a lot of customization, its suitable for them.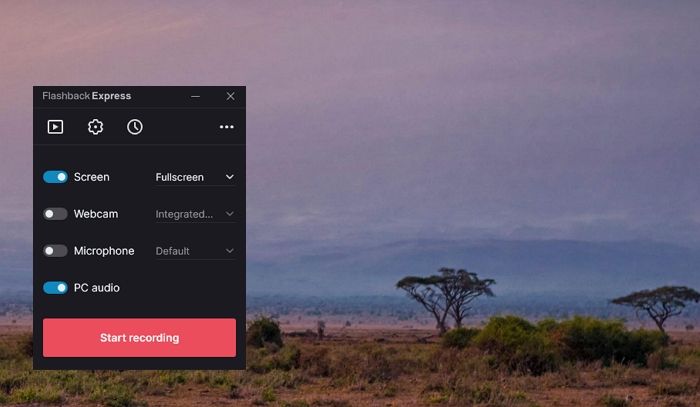 When you are looking for a powerful screen and video recorder which doesn't require a graphics card to run, then Flashback Express works. Also abbreviated as FBX, it can do screen recordings for several purposes, mainly for gamers, and show no ads. You can trim footage to exclude breaks, alter sounds by adding music, etc. So, it's perfect for you if you are a gamer and YouTuber sharing your gameplay. Be it captioning, adding arrows, recording commentaries sooner or later, or music, its editor lets you do it all. 
It ensures high quality and saves files in a format that is easier to upload. Even though it's for gaming, it does not lag in performance. You can also add rich Fx effects, stickers, sounds, and GIF files. 
Pros
Has advanced settings for recording game-clips
Easy to use
No watermarks
Cons
Need paid plan to avail all features 
4. Movavi Screen Capture Studio
Best for Windows users looking for software that offers quick options upfront. The recording interface offers quick controls, which is useful.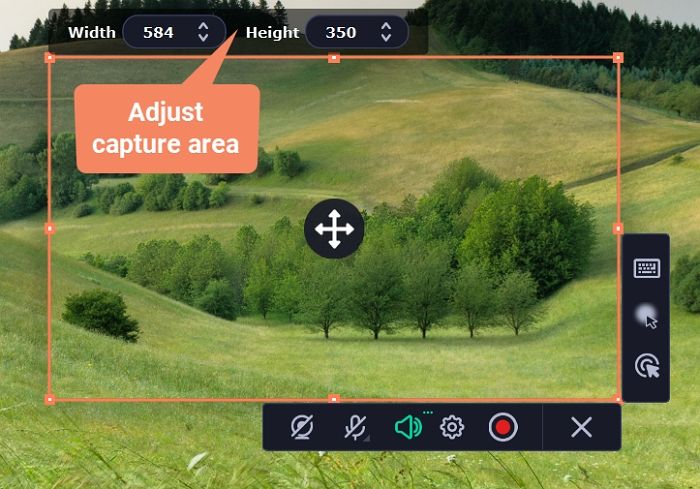 Are you looking for a no ads screen recorder that works well on Windows and Mac? If yes, then Movavi Screen Capture Studio is a must-check! You can capture screen recordings and screenshots too. It captures videos by default in MKV format, which provides superb quality. The best part is that there are no ads throughout the experience.
Further, you can convert the recording into a desirable form. It lets you export in your preferred format and converts instantly during export. Be it PNG, JPG, JPG, MP4, GIF, and lots more. You can export to Google Drive, YouTube, Whatsapp, and Telegram within a few clicks. It has inbuilt export options for all these platforms. Movavi boosts video processing speed up to 400%, which provides a smooth and powerful recording. It's all because of its Intel Hardware acceleration. 
Pros
Affordable pricing 
Instant Screen Capture edits
Numerous export formats and options
Minimalist interface 
Can schedule screen recordings 
Cons
Not for Linux
Cannot access previous recordings directly in the software 
Negligible features in the free version 
5. NVIDIA Shadowplay
Best for high-end gamers who find third-party screen recorders underwhelming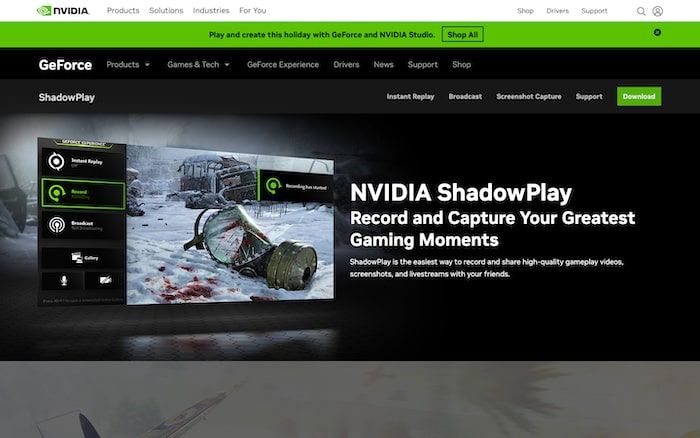 Are you looking forward to capturing the finest and most incredible gaming clips with a blazing-fast FPS? When you have a graphics card, you need a perfectly optimized screen recorder without ads! In such a scenario, NVIDIA ShadowPlay is a must-check on your list. You can instantly capture recordings and share them on Twitch. 
However, you must have an NVIDIA graphics card installed on your device to use it. Its fantastic 4K quality and ultra-clear sounds are always a plus point. You can also record 15 seconds GIFs with it. It has an automation tool that captures the best recordings and great scenarios of any game by itself. 
Pros
Robust performance 
The keyboard shortcut for instantly beginning recording with the Alt+Z shortcut
Cons
Sharing recordings while in-game is not smooth
Compatible with devices using NVIDIA graphics card
6. Screen Recorder- X Recorder
Best for recording mobile tutorials, especially for those who find the native Android screen recorder not up to date.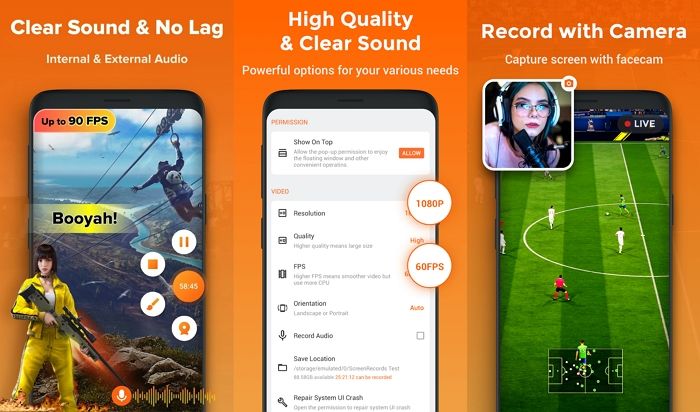 When you want to capture screen recordings on your mobile, Screen-Recorder- X Recorder works best for varied applications. You can record as long as you want. Besides, the best part is that you don't have to root your Android to use it. Moreover, with sharp pixels and clear graphics, you can use it for recording tutorials and sharing them with your friends. It does not give any watermark in the recordings. Moreover, it adds an overlay in your quick panel. 
Furthermore, it adds a floating camera icon and instantly begins recording. It also has an inbuilt feature, using which it can capture screenshots. It has an inbuilt video editor using which you can trim videos, exclude a section, and add music. 
Apart from regulating its speed, it lets you export videos in the desired form ranging from 240p to 12 Mbps. Using its float menu, you can quickly start, pause, resume or stop recording. You can choose to record with background sound, without background sound, and even without screen sounds. 
While mobile apps are known, but this Android screen recorders make sure the experience is good by serving no ads.
Pros
Let you customize the floating ball icon
Customizable video resolution 
Cons
The recording does not begin instantly. A Countdown timer puts a 3-second delay 
It does not let you record Zoom meetings 
7. Screen Recorder
Best for mobile gamers who want to showcase their gameplay on YouTube or any other social media and need lag-free game recording.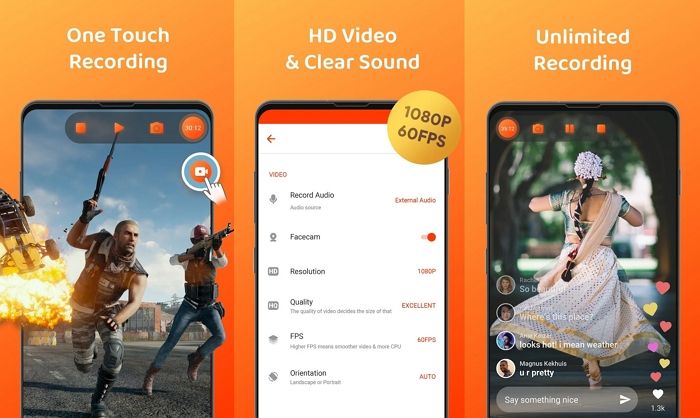 Are you a mobile gamer looking for a screen recorder without ads? If yes, then the Screen Recorder is apt for you. It records videos in HD video quality. Plus, it does not add a watermark, and there are no ads to the recording, which is a plus point. 
You can also record lecture videos using it. It's free to download and use. Screen Recorder immediately starts recording the screen without any delay or countdowns. Thus, it does not lag and has a minimalist interface with a clean UI. Be it customizing video quality, frame rate, or adjusting resolution, you can do it all. You can capture for longer hours. Plus, its video size is not that good, which makes it easier to export and share. 
Moreover, the best part is that the videos you record are end-to-encrypted. It ensures that Vidma does not access them. All videos are stored only on your device unless you share them. You can control recording speed and even mode the volume of sounds and audio. What we like the most about it is that the record button is invisible in the clips. 
Pros
Hidden screen recording 
HD video quality 
Let you record Zoom meetings 
No rooting required 
Cons
Random recording cut-offs
Wrapping Up
While searching for the best screen recorder with no ads, you would have got a list of the top 7 ones under the category. We recommend EaseUS RecExperts as it has a comprehensive set of features with sharper pixels, clear sounds, and an embedded powerful editor. Besides, it is friendly both for computer novices and experts. It has a seamless recording with no lag. The tool is the best for editing and recording simultaneously or multi-screen in 2D or 3D. 
Screen Recorder No Ads FAQs
You would have specific queries related to screen recording, and we have attempted to answer them all!
1. What do YouTubers use to record their screen-free?
OBS is a powerful screen recorder for vloggers and streamers. The open-source platform lets YouTubers record at no cost and has various functions. Moreover, it's easy to use, so YouTubers do not face any hassle throughout. After screen recording, it can stream on Twitch and YouTube. 
2. Is ApowerREC screen recorder Free?
ApowerREC screen recorder is free to use; however, it does have drawbacks. It will add a watermark to your screen recordings when you record using its free version. Thus, it is unsuitable for those who want to upload screen recordings and often cover the content too. 
3. Is there any hidden screen recorder?
There are several hidden screen recorders available out there. Amongst them, BlurSPY and Vidma Screen Recorder are the most popular ones. It is because it offers high-quality screen records and does not record the screen recorder interface. However, both of these are available for Android phones only.
About the Author

Jane is an experienced editor for EaseUS focused on tech blog writing. Familiar with all kinds of video editing and screen recording software on the market, she specializes in composing posts about recording and editing videos. All the topics she chooses