
Table of Contents

About the Author

Related Posts

Best Audio Recording Software
Have you ever had this problem: a course of some program you want to share with friends, but you do not know how to share your computer screen. For this problem, here come a lot of screen-sharing apps. On this page, I will show you the top three computer screen recorders on Windows and online. You can also use them in working to have an online meeting with your colleague for these programs.
How to Share Screen with Another Computer for Free
This part will walk you through the steps to do remote screen-sharing activities with friends by using some screen-sharing programs, including Join me, TeamViewer, and Screenleap.
#1. Share Computer Screen with Join me
Join me is a powerful screen-sharing software. You can use this software to hold a meeting and share your computer with your colleague.
Using this program, you can create your own personalized URL, customize your meeting background, and other more functions. And this software supports one-click screen sharing that you can easily share your computer screen. But, before you use this software, you need to create an account.
Features:
Support printing from the remote computer
Support share your computer screen
Support customize your meeting background
Support free phone call
The steps of sharing computer screen using TeamViewer:
Step 1. Open this software on your computer.
Step 2. Select the "Start a Meeting" button and click the "Start" to start recording your computer screen.

Step 3. If you want to share your computer screen with your friends, you just need to copy the link to send to your friends that they will see your screen by the link ID.
Step 4. When you finish recording, just close the recording windows that you can stop recording.
#2. Screen Share with Others using TeamViewer
TeamViewer is one of the most popular third-party software for remote screen sharing. With its aid, you can share the contents of your screen with another computer. Besides, this desktop sharing software allows the recipient to not only view the material but also watch as the user interacts in real-time.
What's more, you also can use it to transfer files between connected PCs, conduct web conferences, and make online presentions without any hassle. 
Features:
Compatible with almost all desktop and mobile platforms
Leave sticky notes on remote computers
Black screen for private remote access
A step-by-step guide to screen share with TeamViewer:
Step 1. Install TeamViewer on the computer you want to start a connection from, then install it on your target computer.
Step 2. Enter your connection partner's ID and password on the outgoing device, then you control or share the screen.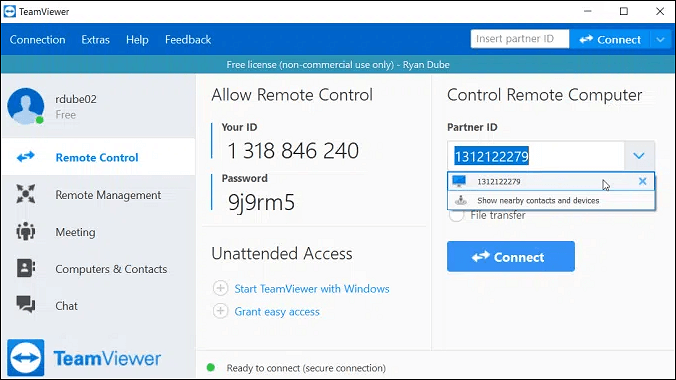 #3. Share a Screen with Screenleap
Screenleap is an online screen recorder. This software is easy to use, when you open this website and click some buttons, then you can record your screen. And this software also easy to share when you create a recording window and paste the link to send your friend that your friend will see your computer screen recording on their screen.
Using this website, you even do not need to create an account that you can use this program. But, this program allows you free to record 40 minutes per day and limit share to eight viewers. If you want to record more time snag want to share more viewers, you need to pay for it to use.
Features:
Support sharing from Windows, Mac, iOS, Android, and any other system
Support sharing screen with thousands of people
Support holding webinars
The steps of sharing computer screen using Screenleap:
Step 1. Launch this website, and you will see the "Share your screen now!" button in the middle of the main screen. Click it to start recording.
Step 2. Before you start recording, you can choose to record the full computer or windows. Select one and click the "Share" button to allow this website to record your computer screen.
And you also can share the screen recording with your friend or colleague by copying the link.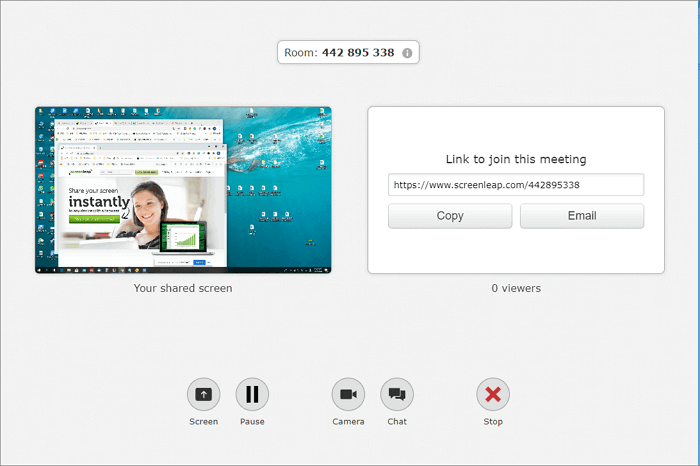 Step 3. When you finish recording, click the "Stop" button to stop recording your screen.
Screen Sharing with Powerful Screen Recorder - EaseUS RecExperts
Apart from the professional screen-sharing programs, there is another way to share the content on your screen, and that is to record it with some screen recording software like EaseUS RecExperts.
Whether you want to share a video, an image, or even a presentation on your computer screen, you can always use EaseUS RecExperts. This software enables you to record any area on your screen with simple clicks, and you can flexibly choose to capture full screen or record part of screen. Besides, it also provides some other advanced features. For example, it will stop or split the recordings at a specified time or file size that you set.
EaseUS RecExperts
Support capturing screen, audio, and webcam
The schedule recording feature is available
Enable to take screenshots before, during, and even after recording
Offer some editing tools
Run smoothly on both PC and Mac
How to screen record your computer for sharing:
Step 1. Launch EaseUS RecExperts on your computer. Before recording, you can choose from two recording modes. To record the whole screen, choose the "Full Screen" mode; to record a part of the screen, select "Region".

Step 2. You can also choose to record the screen with your webcam, system sound, microphone. Just click to select them. You can also set auto split, auto recording with various functions on the interface.

Step 3. Then, click on the red "REC" button to start recording. To pause the recording, click on the white double vertical bar; to end the recording, click on the red square sign. They are located on the menu bar appearing on your screen.

Step 4. After recording, you will be led to the recording list. Here you can view, split, extract audio, take screenshots, ans manage your recordings, etc. To start a new recording with previous settings, click on the "REC" button on the top of the window.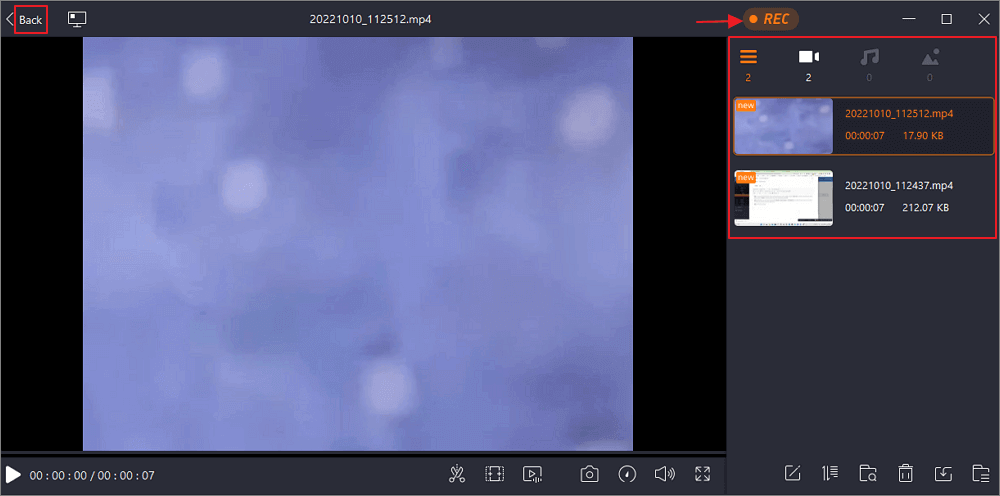 When you finish recording the video, you can save the video file on your computer and send the file to your other people.
Conclusion
To sum up, we are talking about the best three computer screen sharing software on this page. You can choose the one you need that according to your need. But here, if you want to share and save the content on your computer, we still suggest you choose EaseUS RecExperts - an all-in-one screen recorder. Try it, and it will never disappoint you.
About the Author

Jane is an experienced editor for EaseUS focused on tech blog writing. Familiar with all kinds of video editing and screen recording software on the market, she specializes in composing posts about recording and editing videos. All the topics she chooses