
Table of Contents

About the Author

Related Posts

Best Audio Recording Software
One thing that can turn people off when watching your content is the noisy sound. Therefore, you must use a good software tool to capture sound clearly. Whether you are producing a video or a music track, make sure that your sound quality is good. You can achieve this by using good quality software for your task.
On the Internet, you are going to come across tons of tools that help record sound on computers. However, when they are put into practice, they often fail to produce crystal clear sound for your tasks. If you are fed up with using such tools, this post introduces the best sound recorder software free download.
You may be interested: Best Tutorial Software Examples Free Download
Best Sound Recorder Software for Windows
For Windows users, these 5 sound recorders can help record your music in the best quality.
Top 1. EaseUS RecExperts
Among various recorders in the market, EaseUS RecExperts records audio with minimum hassle and high quality.
It certainly meets all your expectations. From being able to help record sound from various sources to let specify custom settings, this tool has everything that you would ever need for sound recording tasks on your computer. You can use the tool to record from your system sounds, external mic, and so on.
Also, there are various configurable options that can ensure your sound recordings are exactly the way you want. If you are interested in this software, click the following button to download it and have a try.
Key Features:
Multiple sources for sound recording
Record sound from computer and microphones simultaneously
Capture the screen, audio, webcam, and gameplay
Take a screenshot for the desired area of the screen
Customize the hotkey for various options
How to Record Sound with EaseUS RecExperts:
Step 1. Launch EaseUS RecExperts on your computer, and click "Audio" (looks like a speaker) on the left side of the main interface.

Step 2. To record the internal audio, you need to select the "System sound" option on the next window. You can adjust the volume by clicking on "System sound" > "Advanced options".

Step 3. Next, click on the red "REC" button to begin your recording. While recording, you can pause or stop the recording by clicking on the according buttons.

Step 4. Once done, you can find the recordings in the pop-up recording list window.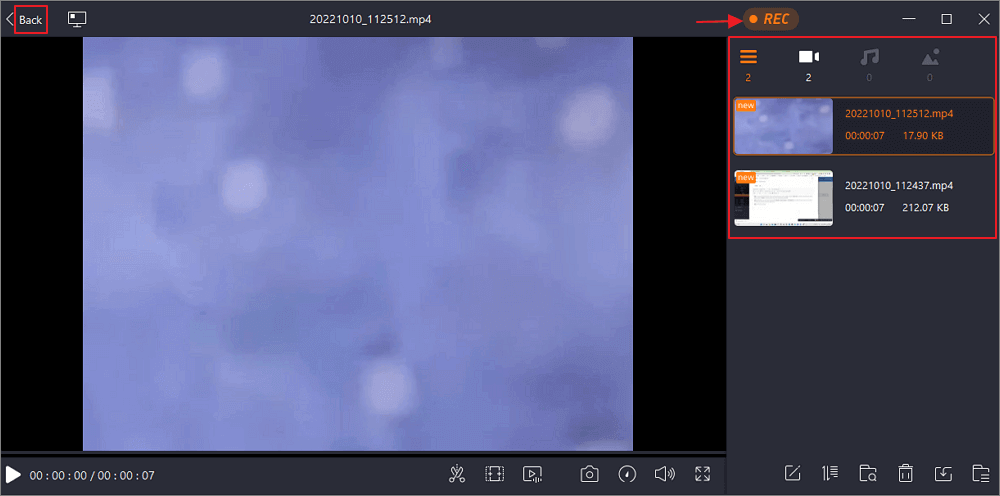 Top 2. Voice Recorder
Microsoft has added new features to its Windows 10 operating system. If you have been using this system for some time, you have likely noticed a new app called Voice Recorder. This built-in app on PC allows recording sounds without installing any third-party apps. 
Voice Recorder comes preloaded on Windows PC and you can use it to make your sound recordings with ease. With this app, all you need is to click an option to start your sound recording.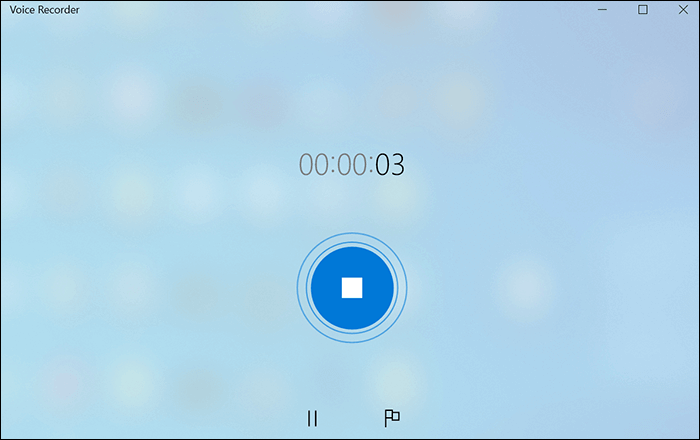 Pros:
A built-in app so no installation is required
No privacy concerns as the app come from Microsoft
Easy to use interface
Cons:
Not many editing tools are included
No support for many audio formats
Top 3. Audacity
Audacity has been around for many years, and if you have ever recorded or edited sound on your computer, it is highly likely you have used this tool. This tool comes with features to help record your voice and sound on computers. It is multi-platform and so it runs on many operating systems including Windows.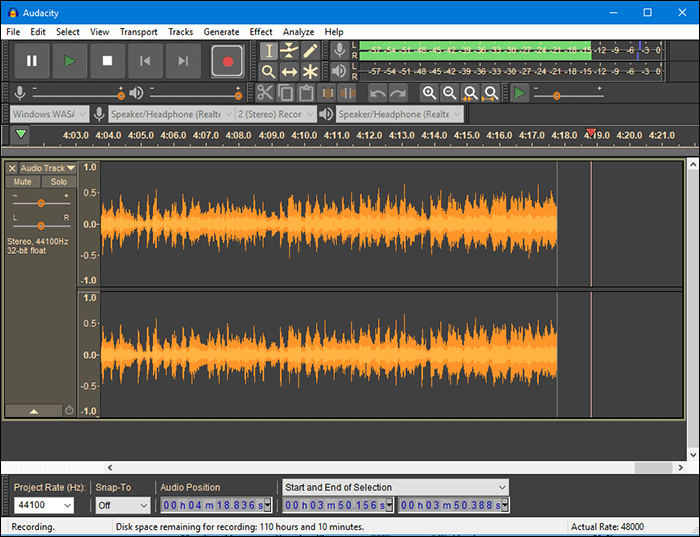 Pros:
Free and open-source
Many recording and editing options
Cons:
Overwhelming dashboard for new users
Certain features use paid plugins
Top 4. WavePad
While WavePad is more of a sound editing tool, it certainly has all the features that you need to make any kind of sound recordings on Windows. Whether you are looking to record your instrument's sound or your sound, you can do that fairly easily using this tool. It has several editing tools available to perform post-production tasks.
This is a full-package program that has everything to record and edit your sounds. You can record your sound, add effects to it, remove unwanted parts from your sound files, and save your recordings in various popular audio formats. It does not end there as it has dozens of other features to make your life easier.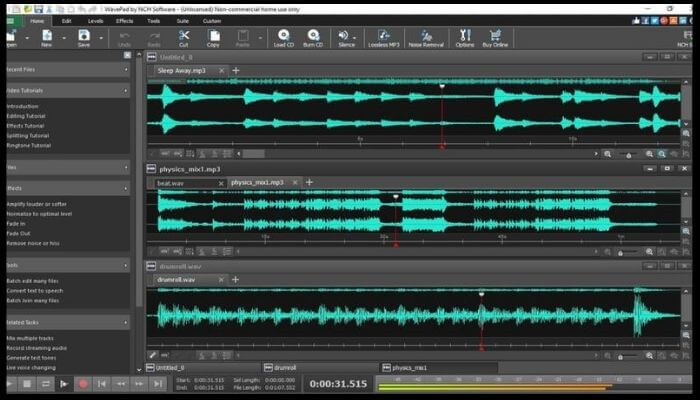 Pros:
Capture your sound with ease
Tons of editing tools are included
Most popular formats are supported
Cons:
Editing tools are a bit difficult to use for new users
The user interface could be improved
The free version has limitations
Top 5. Wavosaur
If you have used Audacity, you might find Wavosaur to be an identical program. It helps provide all the tools that you need to record and edit sounds under one roof. Because of that, it has a ton of editing tools.
You can find many options to record sounds. Once you have done that, you will find the options to analyze and process recorded sounds. This is where you remove unwanted parts from your sounds, fix issues with them, remove noise, and perform many other tasks. When you have done that, your sound is ready to go live.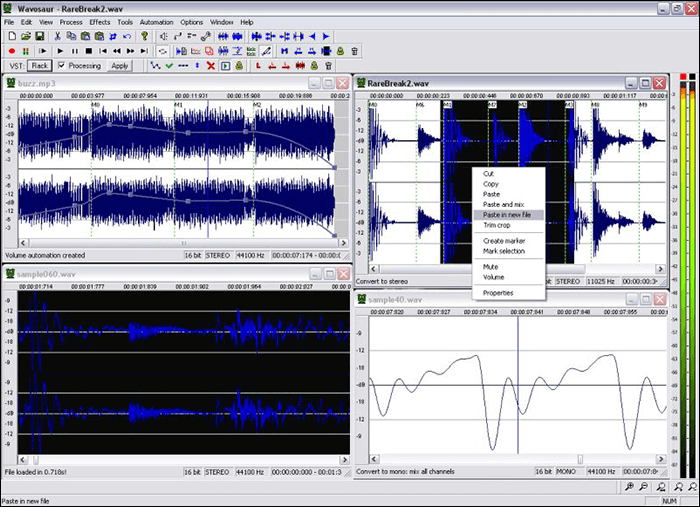 Pros:
A multi-purpose tool to record and edit sounds
Many options for processing sound files
Support for plugins
Cons:
Old interface
Irregular updates
Best Sound Recorder Software for Mac
Do not worry if you are finding it hard to get a good sound recording software tool for Mac. Follow this part. 
Top 1. QuickTime Player
Unless you want to get a third-party app to record sound, you can stick to the built-in tool on Mac. Your Mac already has a tool that can capture voice and it is called QuickTime Player. You might recognize this app as a media player but it is much more than that. It can help capture voice and sounds on Mac. All you need is to launch it and select an appropriate recording option.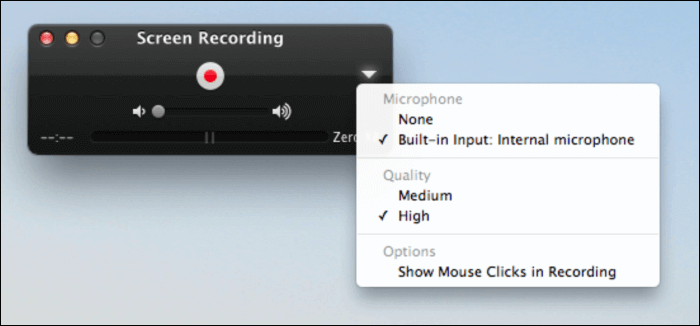 Pros:
Quickly and easily record sounds on a Mac
Live file size of your sound recording
Cons:
A very limited number of editing options
Cannot record internal audio on Mac
Top 2. Ardour
Ardour is an open-source program for your digital sound recording and editing tasks. It works across several platforms, which has both recording and editing features, and is fairly easy to use. You can connect an external mic and other devices to your computer to record sound. 
On the editing side, you have several features to use. You can perform all the basic functions like copying, pasting, and trimming your sound recordings. It has some advanced features as well like transpose and quantizes to help with your recordings. All in all, it is a good tool to have for your sound recordings.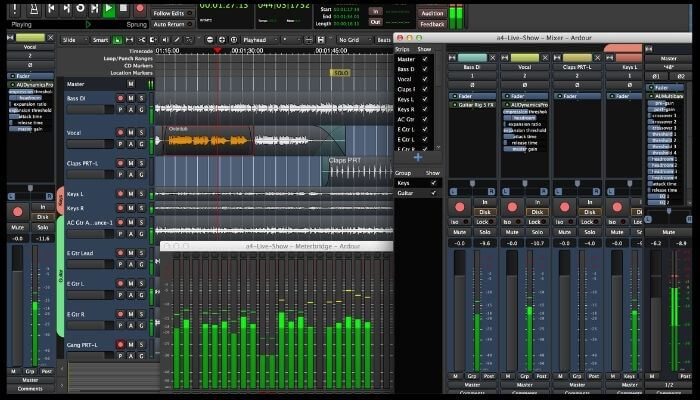 Pros:
Use most hardware sound recording tools
Configurable sound recordings
Unlimited tracks
Cons:
Consume too much of your memory space
The learning curve is required for most tasks
The user interface could be a bit more organized
Top 3. Ocenaudio
Ocenaudio is for those who prefer a simple editor that does not require much discovery to use various tools. It has many more features than you would find in a regular sound recording tool. This tool runs on almost all popular platforms including Apple's macOS.
With Ocenaudio, you can capture sounds from various sources. Then, you can add effects to sounds. You can view these effects in real-time on your screen. If you are someone who prefers precision-level editing, there are multi-selection tools in this app for those tasks. It is also a good program for editing large sound recordings.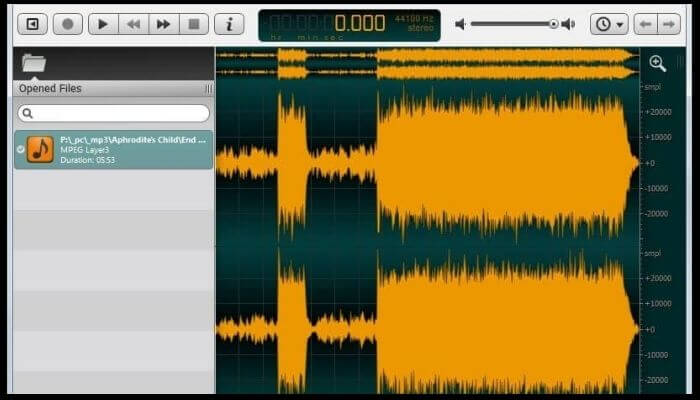 Pros:
One-click to record your sound
Multiple editing tools
Comprehensive spectrogram
Cons:
The user interface could display more useful features
Lack of multi-track editings
Support for mono files only
Top 4. GarageBand
GarageBand is an extremely powerful and feature-rich program that meets and even exceeds your sound recording and editing needs. From having a powerful set of features to the tight integration with your Mac, it is simply one of the best apps you can ever get to record sound and tweak it on Mac. This app is available for iOS handheld devices as well.
With this app, you can connect many instruments to your Mac and start recording your sound. After you have done that, you have a plethora of features to edit your sound exactly the way you want. You are introduced to some of the industry-leading features to enhance and improve your sound recordings.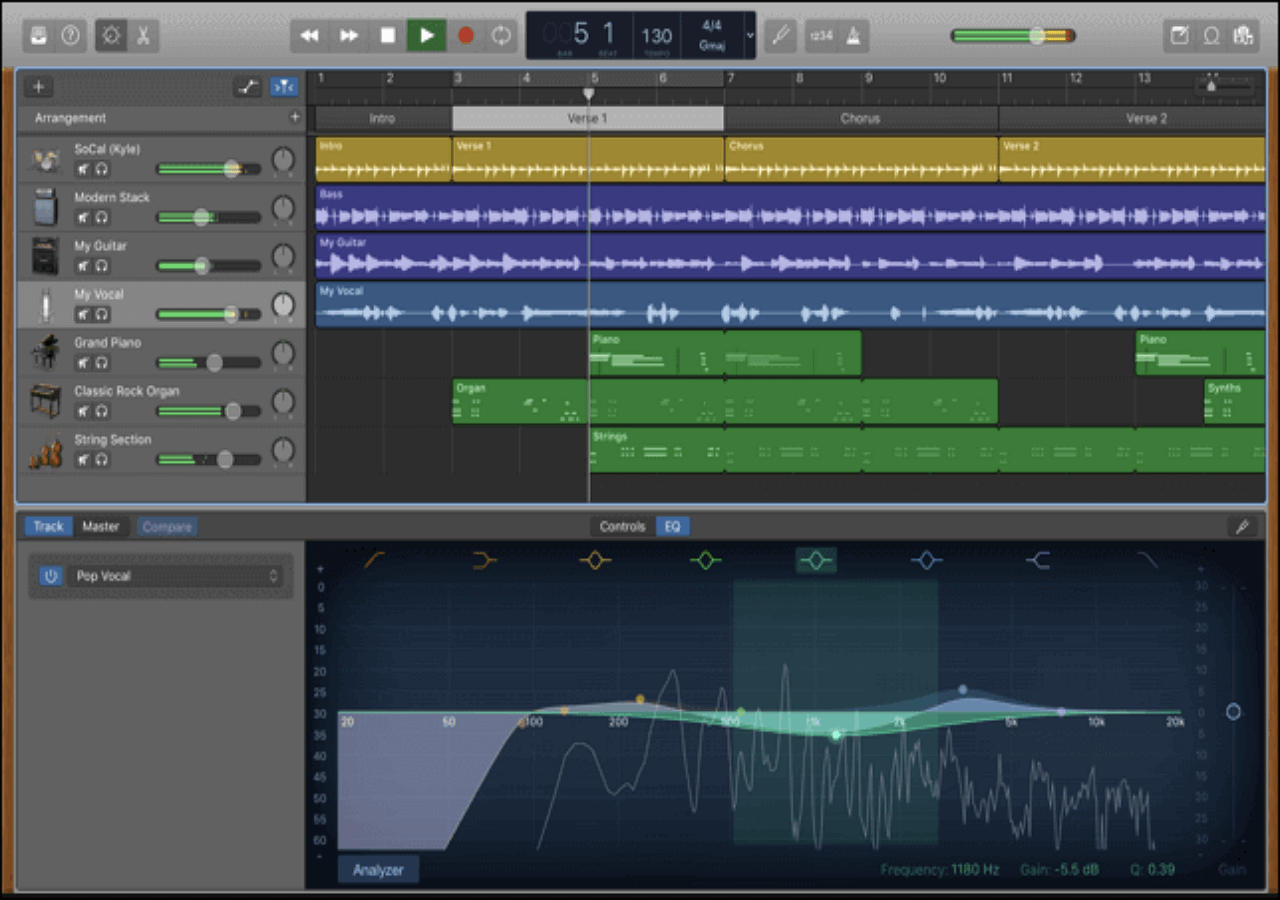 Pros:
All recording features are available
Support for external devices
Work natively with macOS
Cons:
One track can only have two layers of effect
Consume too much of your computer power
Extremely overwhelming for beginners
Conclusion
Sound recording software tools are a dime a dozen but you need to make sure that you pick the right one. If you are using Windows, EaseUS RecExperts is a good choice, thanks to its powerful set of features and ease of use. 
About the Author

Melissa is a sophisticated editor for EaseUS in tech blog writing. She is proficient in writing articles related to multimedia tools including screen recording, video editing, and PDF file conversion. Also, she's starting to write blogs about data security, including articles about data recovery, disk partitioning, data backup, etc.