
Table of Contents

About the Author

Related Posts

Best Audio Recording Software
AVI stands for Audio Video Interleave, a popular video format created by Microsoft. There are many reasons that we want to trim AVI files, the files contain unwanted or unnecessary elements, or the file is too large to store on devices or share with friends. So how to cut out the unnecessary parts of the video without quality loss?
In fact, a video trimmer can do the task without a hassle. Nevertheless, it may not be easy to find an ideal AVI video cutter. If you are just on the way to looking for it, you have come to the right place. Read ahead to see how you can trim AVI files with detailed steps.
PAGE CONTENT:
Part 1. Trim AVI Files with EaseUS RecExperts
EaseUS RecExperts is usually seen as screen recording software. But do you know that it can also be used to make simple changes like trimming the recordings and speeding up video playback? With this tool, you can easily trim AVI files frame by frame. No professional skills are needed.
Of course, as a screen recorder compatible with both Windows and Mac computers. It is capable of recording things on your devices. For instance, record full screen on Windows 10, record Google Meet, record webcam and record microphone, etc.
Download it from the button below and follow the steps to trim AVI files with it.
Step 1. Launch EaseUS RecExperts and click "Recordings" to open the built-in video editor.

Step 2. Click "Import" on the bottom right corner, then add your target video file from your local folder.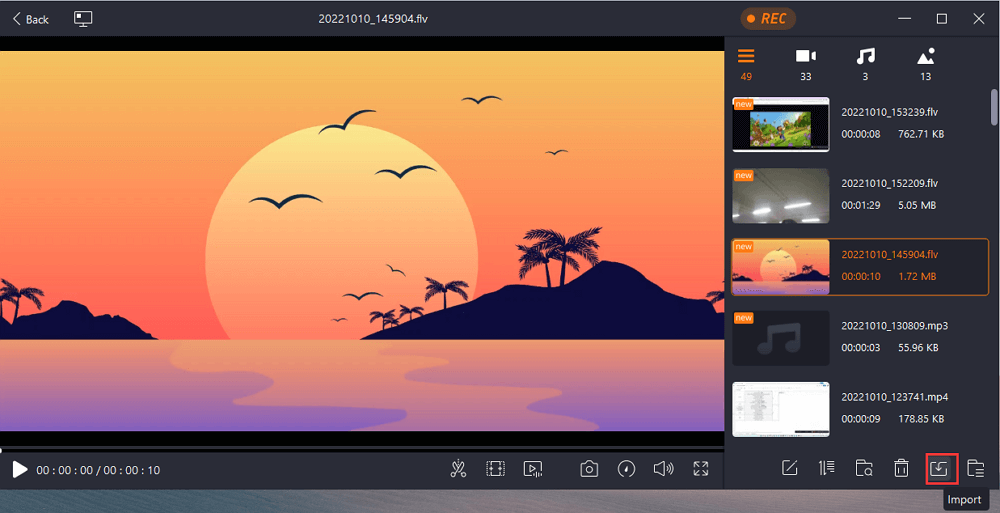 Step 3. Click on the scissor icon to trim the video. Here you can even trim the video frame by frame.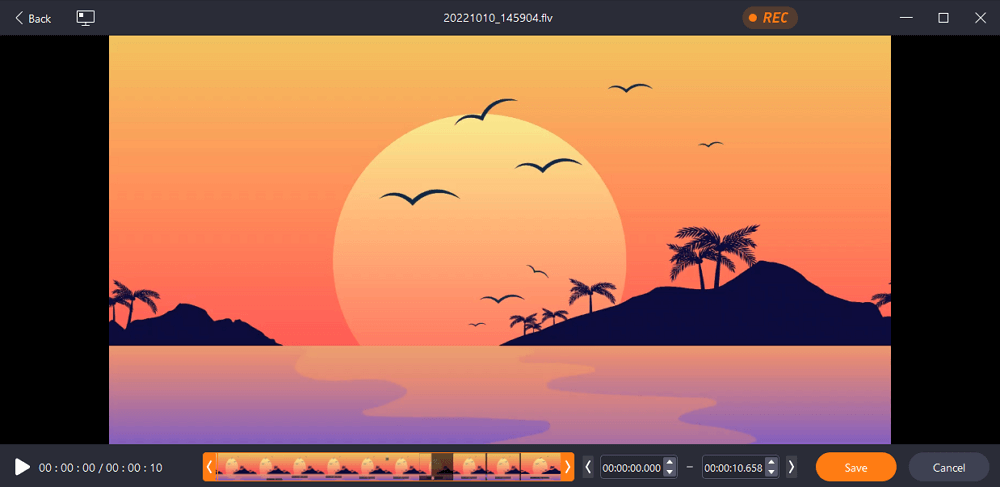 Step 4. Finally, click "Save" and enter the file name to export the edited video.
Part 2. Trim AVI with Windows Movie Maker
Windows Movie Maker is an easy-to-use video editing tool for Windows computers. It is advanced enough to enable people to make their own videos and edit them afterward. This tool helps users cut AVI files into small parts with a few clicks or trim the videos to save the necessary parts.
As a Windows 10 video editor, it also supports other video formats, including MPEG, MP2, and WMV, etc. To cut AVI videos for free on with Windows Movie Maker, you just need to follow the steps below: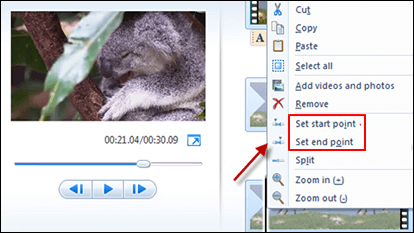 Step 1. Launch Windows Movie Maker and click on "File" > "Import Media Items" > "Import" to add an AVI file that you want to trim.
Step 2. Select the target AVI file in the timeline and activate the trimming tool by clicking "Edit" > "Trim tool".
Step 3. Set the "Start point" and "End point" and hit "Save trim" > "Save Movie" to save the trimmed AVI locally.
Part 3. Trim AVI Videos with Bandicut
Bandicut is another easy-to-use AVI video cutter program that allows you to trim videos on Windows and Mac quickly while maintaining the original quality. You can cut AVI videos by selecting the start and end points.
Suppose you'd like to upload and share your trimmed AVI files to social platforms like YouTube, Vimeo, Facebook, etc. Bandicut can also help. Now, let's check how you can trim AVI videos with it.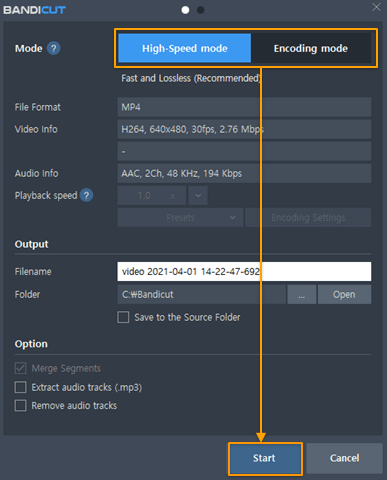 Step 1. Download Bandicut and install it on your device.
Step 2. Launch the Bandicut AVI cutter and click the "Cut" option to import the AVI file that you want to cut.
Step 3. Set the start and end points of the portion you want to save, and click on the "Start" button.
Step 4. Click the "Start" button to initiate the trimming process. After that, you can save the AVI to your computer.
Part 4. Trim AVI with Flixier AVI Trimmer
If you need a quick and easy way to trim AVI videos, Flixier AVI Trimmer is a choice. As an AVI splitter, this online tool makes it easy for anyone to trim, cut, crop, or split AVI files. You don't even need to download or install anything on your computer in order to use it. All you need is a stable internet connection.
To trim the AVI file, you just need to drag and drop the file to it and wait with patience. The trimmed AVI video will be processed in just a couple of minutes. Besides, you can add text and images to a file, combine multiple clips together or even generate subtitles. Check the tutorial to trim AVI with it.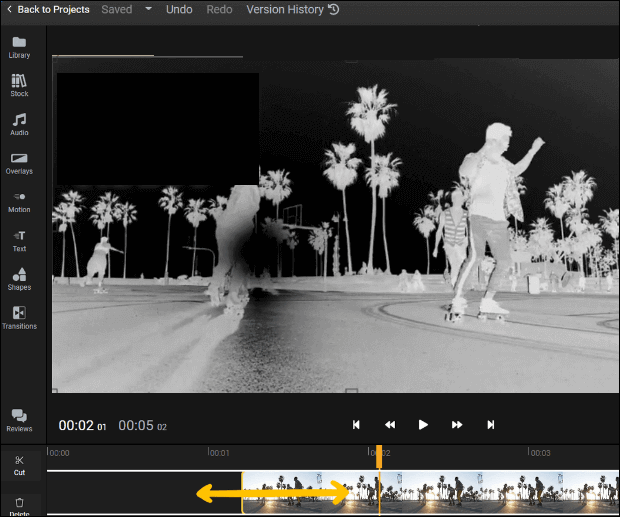 Step 1. Go to the official website of Flixier AVI Trimmer. Click on "Choose Video" to select an AVI file. You can also drag your videos to it. Or, you can click the "Import" button to import from cloud storage services like OneDrive, Google Drive, or Dropbox.
Step 2. To trim your AVI video, simply drag on its edges in the timeline, and then press the "Cut" button or S key on your keyboard to start.
Step 3. Click the "Export" button and then click on "Export and Download". The tool will take a few minutes to process and download your video to your computer.
FAQs about Trimming AVI Files
We selected some questions people asked to list them here. Let's check them one by one.
1. How do I split AVI files into parts?
You can use the tools we give you in the article to split AVI files into parts. Let's take Bandicut as an example. Just follow the steps below:
1. Download and start Bandicut, click the "Split" button and open an AVI file.
2. Choose the split method, and click the "Apply" button.
3. Click the "Start" button to initiate the video splitting. Your file will be split afterward.
2. Can AVI files be edited?
To edit your video, you will need to use a program such as EaseUS Video Editor, Windows Movie Maker, or EaseUS RecExperts(trim videos). Depending on the program, you can trim portions of the video, add elements to the file, or share it with other platforms.
Conclusion
We give you some methods to trim AVI files easily. And the detailed steps are also concluded. All you need to do is choose a tool and follow the steps to trim your AVI file. If you are a PC user, we suggest you download and use EaseUS RecExperts since it can record your screen in AVI format and trim it as you like.
About the Author

Melissa is a sophisticated editor for EaseUS in tech blog writing. She is proficient in writing articles related to multimedia tools including screen recording, video editing, and PDF file conversion. Also, she's starting to write blogs about data security, including articles about data recovery, disk partitioning, data backup, etc.