
Table of Contents

About the Author

Related Posts

Best Audio Recording Software
Are you looking for the best video trimming software for Windows 10? If so, then your search is over. In this post, we'll be exploring some of the top video trimmers available for Windows 10 users. Whether you're a novice or a seasoned pro who wants to trim video on Windows, we'll dive into all the features these programs offer to ensure you find one perfect for your needs. From intuitive interfaces and helpful tutorials to cutting-edge capturing capabilities, let's take a look at what each program has to offer!
#1. EaseUS RecExperts
While speaking of Windows 10 video trimming software, our first idea is EaseUS RecExperts. Coming with an easy-to-use and intuitive workflow, it lets you trim your videos in three simple steps. While trimming videos, it is worth mentioning that you can cut or trim the videos frame by frame, so that you won't miss an important moment. Besides, this program supports almost all common media file formats, which means you can cut any of your videos effortlessly.
Apart from being a video trimmer, it is also a powerful Windows screen recorder. With its help, you are able to capture anything on your screen, including streaming videos, live TV shows, gameplay, video conferences, online courses, and many more, with the original quality. All in all, this versatile software is worth trying.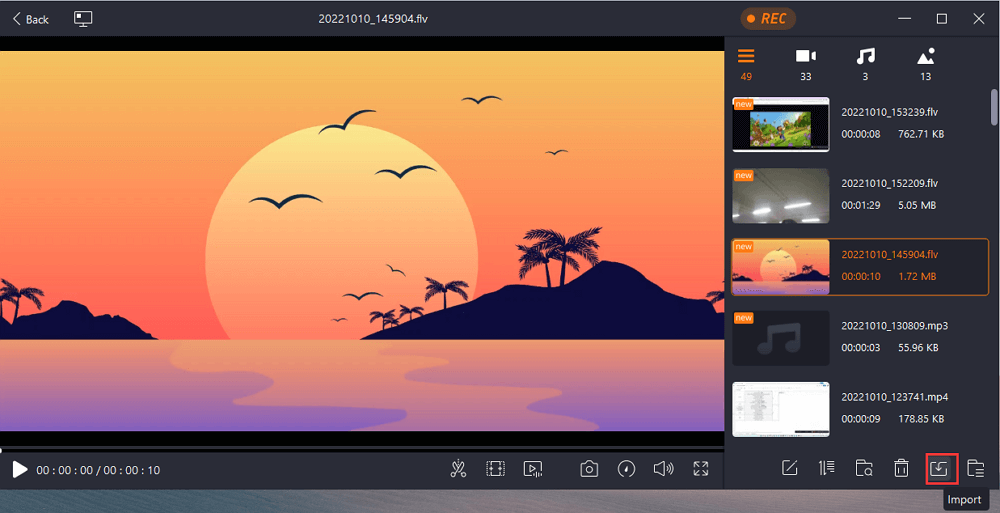 Key features:
#2. Photos App
For Windows 10 users, there is a built-in video trimming software called Photos App. It's perfect for those who want to spruce up their videos, or edit down footage they don't need into a shorter video. With this Windows 10 video trimming software, you can easily select specific video clips, trim video length, move video clips up or down, and even rotate video clips if needed. Whether you want to cut out sections of your video that are too long or refine your video by removing unnecessary frames, this user-friendly software will help make the task easy.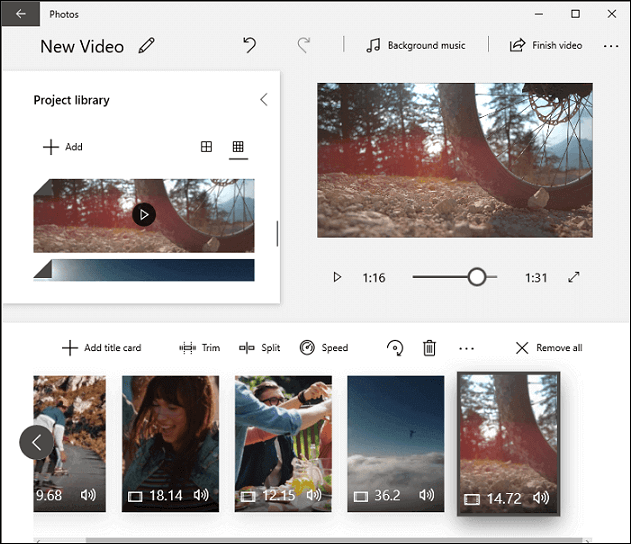 Key features:
Pre-installed and completely free
Simple and easy to use because of its friendly UI and intuitive workflow
View, organize, and share photos from your computer, OneDrive, iCloud, and other devices in a single fast
#3. Adobe Express
Adobe Express offers effective video trimming software for Windows 10 users. It is a powerful video editing tool that helps its users easily clip videos from start to finish. With its intuitive interface, you can instantly trim video with simple commands while maintaining video resolution and quality. As Adobe Express offers reliable video trimming capabilities, it allows users to adjust the video's length without having to worry about video distortion or being left with a low-quality video. Additionally, you can save your edited video in various formats so that it can be used in different applications or platforms. If you're looking for a powerful Windows 10 video trimming program, look no further than Adobe Express!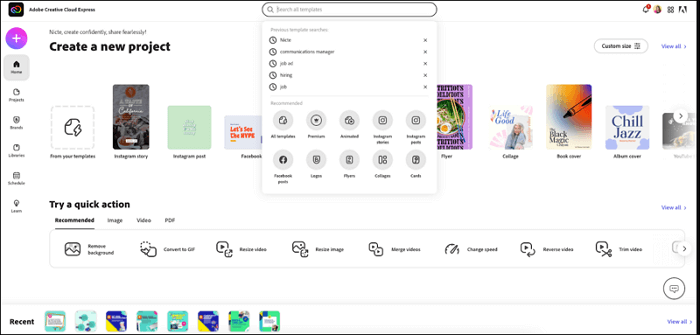 Key features:
Support trimming, cutting. merging, rotating, splitting, and a lot more features
Allow you to extract audio from video that you want to trim
Offer a built-in player to help you select segments conveniently
#4. Blender
Blender is an excellent video trimming software choice for Windows 10 users. Not only is it free, but also it is surprisingly robust, packed with essential features such as video rendering and video cutting. With a wide suite of versatile tools, you can create video projects with complete confidence - whether it's a simple video trimming task or a complex video editing job. Blender provides amateurs and professionals with all the options they need to make video editing fast and simple while delivering high-quality results.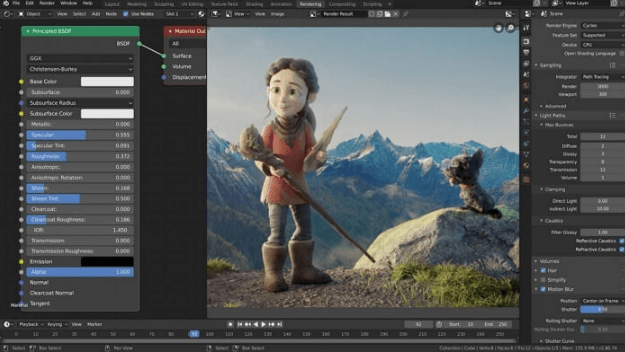 Key features:
Entirely free and open source
Compatible with Windows, macOS, Linux, Steam, and more
Provide animation support with onion skinning
Up to 32 slots for adding video, images, audio, scenes, masks, and effects
#5. Bandicut Video Cutter
Bandicut Video Cutter is the perfect video editing software for all users on Windows 10. It's designed with a user-friendly interface, allowing users to easily and quickly trim video clips with the simple click of a mouse. This Windows 10 video trimming software features various advanced features, such as splitting the video into multiple parts, cutting out unwanted parts of the video, and merging video clips together.
With this software, you can also adjust video codecs, aspect ratio, and bitrate while cutting video files without re-encoding the unnecessary video. You can even join multiple videos in any format at once! Whether your goal is to dramatically shorten or create a stunning montage out of several videos, Bandicut Video Cutter provides an easy-to-use tool for Windows 10 users to take their editing needs to the next level.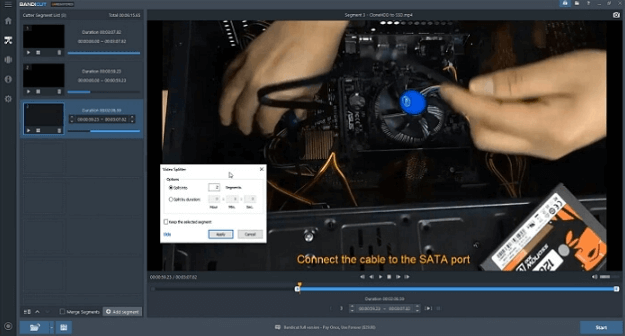 Key features:
Work well with many file formats, including but not limited to MP4, MOV, AVI, MKV, etc.
Cut specific parts of a video without re-encoding
Also allow you to cut, trim, split, and merge video files without a decline in quality
#6. Free Video Cutter Joiner
Another video trimmer for Windows 10 is Free Video Cutter Joiner. With an intuitive and user-friendly interface, video trimming is easier than ever before. The drag-and-drop video editor quickly cuts video files, allowing users to create the video they have envisioned without complicated video editing tools. Its advanced video processing engine can transcode video footage, merge multiple videos into one file, or split video clips into parts faster than ever. To conclude, With this Windows 10 video trimming software on your Windows 10 device, creating great quality videos with ease has never been simpler.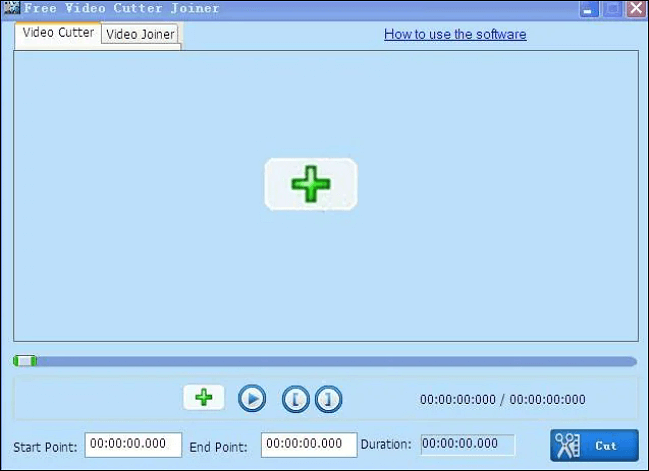 Key features:
A lightweight video trimmer for Windows 10, 8, 7, and even XP
Trim the video by clicking plus icon in the middle easily
Join or merge multiple files in a single file with a few simple clicks
Compatible with a wide range of formats, like MP4, AVI, F4V, VOB, ASF, and more
#7. Kapwing
If there is not enough space on your PC to install Windows 10 video trimming software, you cannot miss Kapwing, an online video cutter for Windows. You can use the tool in your browser directly.
Although it is an online service, it also provides users with all the tools they need to create and edit amazing video content. From basic trims to adding gifs and stickers to snipping video clips - Kapwing's suite of video editing features makes it perfect for anyone looking to spice up their videos on Windows 10. You can also access cool templates like a meme maker and text overlays for making modern video content quickly and easily.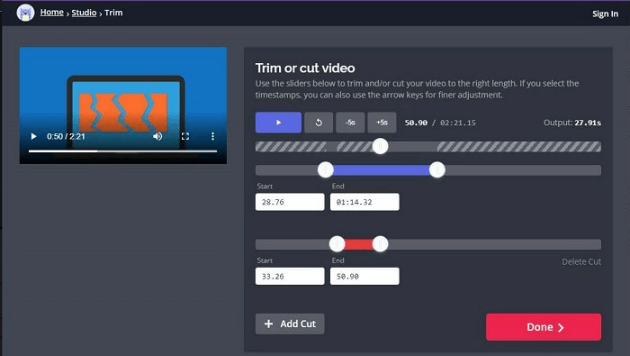 Key features:
You can trim videos with Kapwing anywhere in the world
Support uploading files from your local device or by pasting a URL
Work with apps like Google Drive, Photos, Unsplash, Giphy, and a lot more
Video Trimming Software Windows 10 FAQs
1. How do I trim a video in Windows 10?
Here is the step-by-step guide you can refer to:
Open Photos on your PC.
Import the video you want to edit. Then, click the Edit & Create button from the top-right corner, and select the Trim option.
Use the white (right and left) pins to select the part of the video you want to trim.
Finally, select the blue pin to scrub the footage to ensure you're trimming the correct section.
2. Does Windows 10 have a video trimmer?
Sure! There is a built-in video trimmer on Windows 10, and it's called Photos App. It's usually used as a tool to preview photos or videos. However, it can do a lot more than that. One of its features is that it supports video trimming, and you can use it to cut or remove unwanted parts from your videos. 
3. What is the best software to trim videos?
There are a lot of video trimmers on the market, and below are some recommendations:
EaseUS RecExperts
Kapwing
Bandicut
Blender
Free Video Cutter Joiner
The Bottom Line
In this blog post, we looked at the best video trimming software for Windows 10. We shared our top 7 picks and gave an overview of each one's key features. If you're looking for a reliable and user-friendly program to trim your videos, we recommend trying EaseUS RecExperts. It's both powerful and easy to use, making it a great option for beginners and experts alike. Give it a try today – you might just be surprised at how much you like it!
About the Author

Jane is an experienced editor for EaseUS focused on tech blog writing. Familiar with all kinds of video editing and screen recording software on the market, she specializes in composing posts about recording and editing videos. All the topics she chooses