
Table of Contents

About the Author

Related Posts

Best Audio Recording Software
Quick Navigation:
Everyone likes creative videos. But creating it ideally is a big task, and one needs to have a perfect tool in hand to create compelling videos. The rising demand for webcam recorders in the market has also raised the number of service providers, which further has increased the confusion among the people. The guide is designed to offer seamless access to one of the best eight webcam recorders for YouTube. Now, let's get started!
Top 8 Webcam Recorders for YouTube 
If recording a Webcam is your priority, then these applications are the best in the list that can help you get a quality recording.
#1. EaseUS RecExperts
EaseUS RecExperts is one of the leading screen recorder available in the marketplace that offers users the facility of capturing any region on the PC screen. The best thing about this YouTube webcam recorder is that it records the perfect audio and videos. It also includes a video editor where you can trim or remove part of the video that you don't want to be part of the final video.
Green Screen Support: You can use the Chroma Cutout feature to record video with virtual background. All you need to do is add a backdrop that covers the entire background, and you can then select to replace it with the background from the settings.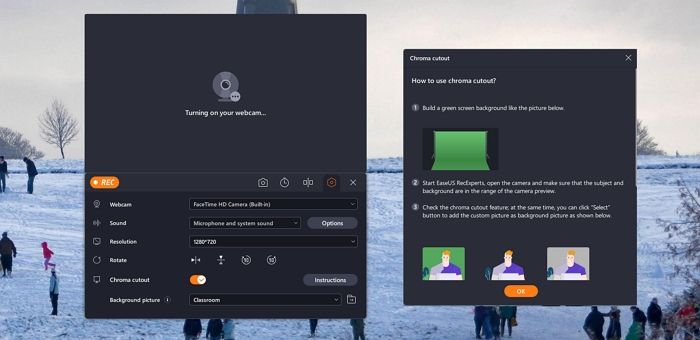 Screen + Webcam recording: It allows you to record screen and camera at the same time, and capture audio from your microphone and other audio sources. You can choose your webcam as the video source and adjust the resolution, frame rate, and other settings.
Multiple recording modes: It offers several modes, including full-screen, region, webcam, and audio-only. You can choose the mode that best fits your needs, depending on whether you want to record your entire screen, a specific region, or just your webcam and audio.
Hotkeys include a set of customizable hotkeys that allow you to quickly start and stop recordings, pause and resume recordings, and perform other actions without clicking on the on-screen controls. It is useful when you quickly want to stop webcam recording.
#2. Clipchamp
Being designed to run smoothly on Windows, macOS, and Linux operating systems, Clipchamp is another best free webcam recorder for YouTube that allows users to record videos directly. It is a free-to-use platform that lets users record videos from social media platforms such as YouTube, Giphy, and others.
Users here can edit the existing videos and add test blocks and other features using this tool. Clipchamp is a perfect way to create compelling videos without any issues.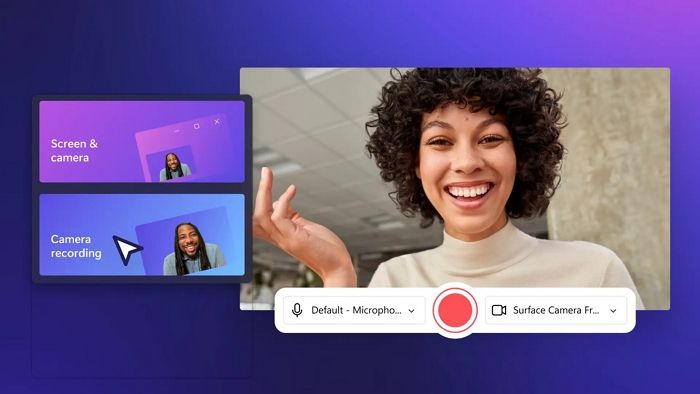 Pros:
A lot of premium features
Offers freedom of recording unlimited audio and video files
Offers users the privilege of sharing recorded videos on social media platforms
It gives users the facility of screencasting and also takes screenshots simultaneously
Runs efficiently on Windows, macOS, and Linux
Cons:
You need to signup and create an account to enable accessibility
Limited editing features
#3. Movavi
Movavi is another leading name in the Best eight webcam recorders list for YouTube. The platform offers a slick and easy-to-use interface that everyone can handle conveniently. It is a perfect platform for recording and editing videos and also provides a vast range of options for recording screencasts or capturing the webcam output.
Users here are free to select a specific area of the screen and can register or use videos from different sources effectively. Movavi includes a recording scheduler to choose the times to start and end the recordings.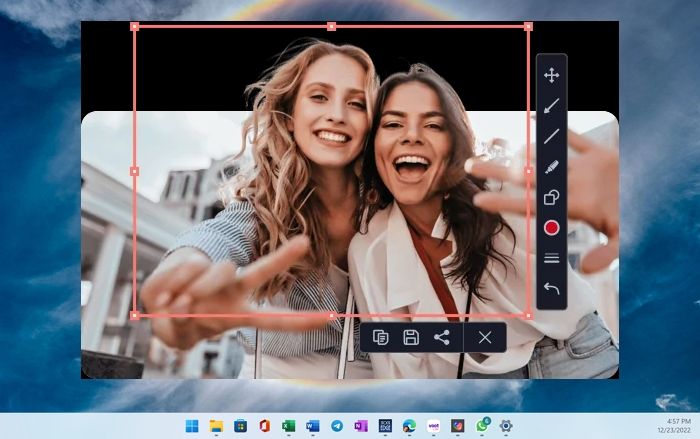 Pros:
Captures videos in high quality
Offers freedom of exporting videos
Supports multiple file formats including AVI, MP4, MOV, MP3 and different others
Excellent tool for drawing on the videos
Records separate streams for easier video editing
Offers professional video edging
Clean and clear, intuitive interface
Cons:
Pricing is a bit higher than its competitors
Missing Clip preview and option to trim before editing
#4. Yawcam
Yawcam is another best webcam recorder for YouTube that offers absolute compatibility with Windows. It is a free and simple tool that ensures seamless streaming and complete screen recording.
Yawcam is designed with a virtual interface and settings, making it a perfect choice for beginners. Immediate effects like text, image overlay, and the ability to change image quality are some of the other main things that make this tool a perfect option.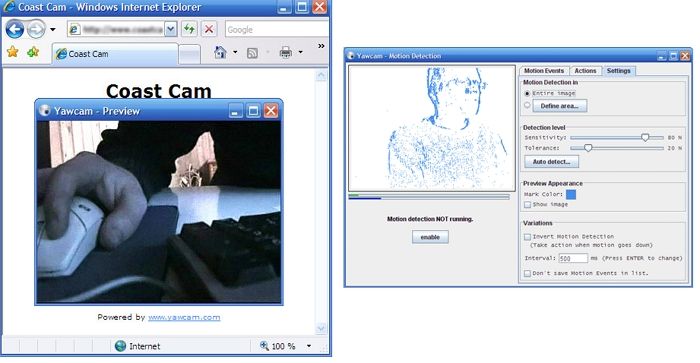 Pros:
Features scheduler for starting and stopping times for recordings
Includes motion detection recording settings
Offers image snapshots during recordings
Text and image overlays
Absolute option for beginners
Minimalist and easy-to-use interface
Cons: 
It needs Windows and Javascript installed to access 
Users report driver conflict with the software recording
#5. CamStudio
CamStudio is another excellent webcam recorder option for Windows that allows users to record webcam recordings for YouTube. It is an elementary and free camera that offers a wide range of premium features like simple editing, screen annotations, screencasting, and much more.
The tool is designed to be very simple and free to use. It is an excellent webcam for recording settings and altering the output videos' size and file type bitrate depending upon the user's requirements.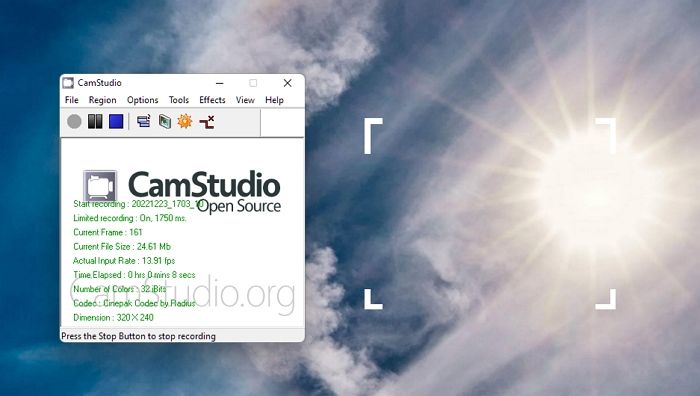 Pros:
Free and safe tool 
Offers simple editing, screencasting, and screen annotations
Consistent improvements
Straightforward interface and easy-to-understand functionalities
Absolute solution for beginners
Cons:
It uses more CPU resources
The output size is large
#6. Bandicam
Bandicam is another attractive option specially designed for Windows users that offers free and premium options to users. It is a compelling webcam for video recording where you can easily enjoy facilities like screencasting, smartphone casting, capturing Playstation gameplays, HDTV screens, Apple TV, Casting IPTV, and others.
The platform offers unlimited support to H.264 codecs and accelerates users' high-speed recording. Users of this tool can easily compress the videos while enjoying high-quality output without any hassle. The best thing about this beautiful tool is that you can upload your preferable videos to YouTube directly without any hassle.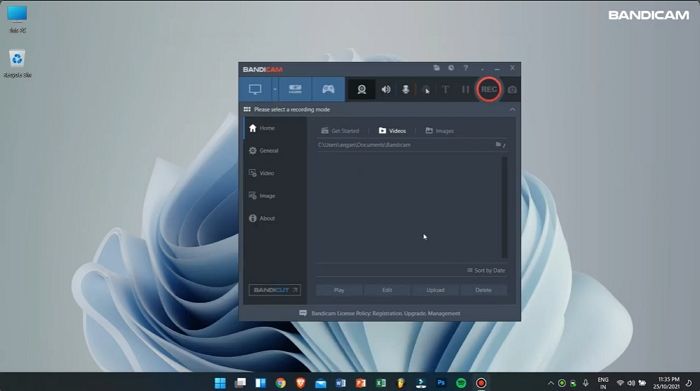 Pros:
Free and affordable tool
Offers seamless video capturing
Offers screencasting, smartphone casting
The powerful video editing tool
Secure cam recording option
Cons:
The free version comes up with limited features
UI needs an overhaul.
#7. Loom
Loom is another versatile screen recording option that allows users to capture videos from a webcam, screen, and other sources. The tool features instantly shareable video links that can be easily copied to the clipboard to ensure successful screen recording. Loom is an absolute webcam video recorder option that can be easily integrated with many applications such as Gmail, Notion, Slack, and more. The tool offers users a wide range of privacy controls and video analytics.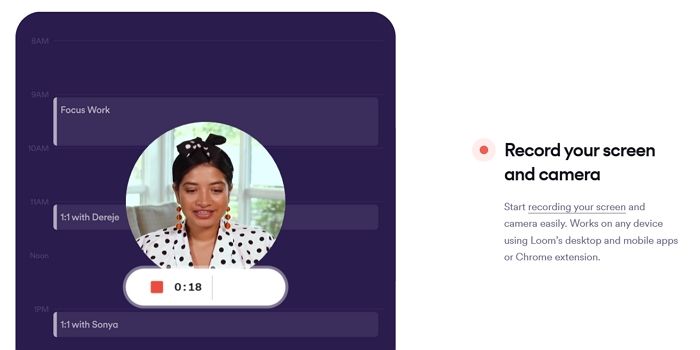 Pros:
High-definition video quality
Records your screen, webcam, and apps conveniently
It provides noise suppression for background
Offers custom recording dimensions
Comes up with mobile apps for watching, interacting, and recording videos
Analytics for finding whoever is watching your videos
Cons:
Premium plans are a bit expensive.
Slow internet connections can slow the speed.
#8. Riverside
Riverside is another one of the best webcam recorders for YouTube that offers high-quality video recordings to users. One can easily acquire 4K video resolution without hassle, and Riverside features a clean, easy-to-use interface that provides seamless production with automatic editing tools.
Adding more, an advanced AI Speaker View is also offered there that flawlessly switches to the person speaking. It is a reliable and ideal choice for recording removed videos efficiently. The tool provides local recordings, meaning all audio and video are captured straight to each person's device.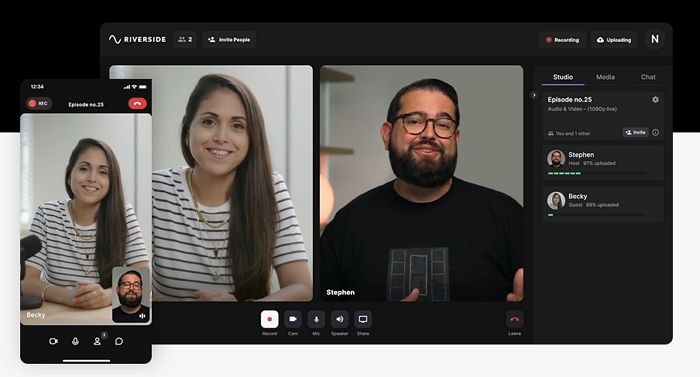 Pros:
High-quality video recording
Locally recorded tracks
Separate audio and video tracks
Live streaming and multi-streaming
Custom RTMP
Integrated Media Board
All-in-one recording and video editing platform
Cons:
The free version features limited editing tools
Watermark on exported files
Conclusion
So, Guys! These are the best eight webcam recorders for YouTube. Recording a webcam no more remains a headache now. All the webcam recorders enlisted above are high quality and work well on YouTube. We have provided detailed features and the products' pros and cons. Make sure to go through the different details before picking the best option. If you have doubts about the webcam recorders for YouTube or are eager to know more about other options, you can put your queries in the comment section. 
Webcam Recorder for YouTube FAQs
Here is the list of frequently asked questions regarding web recorders for YouTube.
1. Can I record a YouTube video on a webcam?
YouTube offers a Go Live option where you can use the webcam as the video source, and it is available both for desktop and mobile apps. Returning to the Desktop option, you can use the controls at the bottom of the screen to pause or stop the recording and adjust the volume.
2. What webcam do YouTubers use?
Some popular options among YouTubers include the Logitech C920, the Logitech C922, and the Razer Kiyo. Logitech C920 is a high-definition webcam with a 1080p resolution and a built-in stereo microphone. The C922 offers an additional 60 FPS and better videos in low light. Lastly, the Razer Kiyo offers a ring light, which can help illuminate the face. 
3. Which recorder do YouTubers use?
Some popular screen recording software options include OBS Studio, Camtasia, EaseUS RecExperts, and Captivate. Apart from these, YouTubers also use Audio recording software such as Audacity, Pro Tools, and Logic Pro. Lastly, there are recommended video recorders, including Adobe Premiere Pro, Final Cut Pro, and Avid Media Composer.
4. Can I record a video with my webcam?
Most of the Webcam's OEMs offer an application with their hardware that helps you to record videos using the Webcam. Remember that the specific steps and options may vary depending on the software you use. 
While you can use the built-in recorder in Windows, the OEM software helps you unlock features that only OEMs can unlock and hence get a better video recording experience. 
About the Author

Jane is an experienced editor for EaseUS focused on tech blog writing. Familiar with all kinds of video editing and screen recording software on the market, she specializes in composing posts about recording and editing videos. All the topics she chooses