
Table of Contents

About the Author

Related Posts

Best Audio Recording Software
Hogwarts Legacy Photo Mode | How to Take a Screenshot
PAGE CONTENT:
Hogwarts Legacy is a 2023 action role-playing game in which players can attend classes at Hogwarts School of Witchcraft and Wizardry and do other things they like. Developed by Avalanche Software and acquired by Warner Bros. Interactive Entertainment, this game has attracted a large number of loyal players.
If you have played this game, you will see the scene is designed very beautifully. Unsurprisingly, a lot of players wanted to take selfies in the game. Then, is there a photo mode in Hogwarts Legacy? How can I take Hogwarts Legacy screenshots? In this article, we will give you all the answers.
 Tip

Some people are also wondering about making a video tutorial and they want to record Hogwarts Legacy gameplay due to this reason, but we will focus on taking screenshots in this tutorial.
Does Hogwarts Legacy Have a Photo Mode?
Unfortunately, the answer is no. Hogwarts Legacy has not launched this function yet. But it is possible that the official will give players this feature in the future, maybe in DLCs.
People go to the official Twitter account of WB Games Support and ask if there's a photo mode in the game. It is replied that it doesn't support this feature now but will pass this demand to relevant colleagues. Let's wait for the good news!
How to Take a High-quality Selfie in Hogwarts Legacy
Hogwarts Legacy Photo Mode doesn't exist, can I take a selfie? Yes, you can take a high-quality selfie even without the photo mode.
To do so, you need to change some settings in your game and download a lightweight third-party tool. After that, you can take a screenshot on a laptop in a game by following the step-by-step tutorial below.
Stage 1. Turn off All HUD Elements
If you want a high-quality selfie without the interruption of unnecessary background NPC conversation subtitles and maps, you need to turn off HUDs. Just follow the steps below.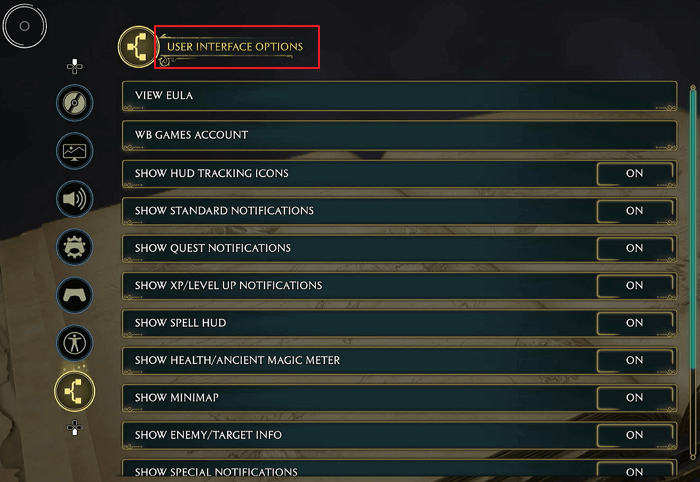 Step 1. Pause the game and go to Settings.
Step 2. Scroll down to User Interface Options at the bottom and turn off the following:
Show HUD Tracking Icons
Show Standard Notifications
Show Quest Notifications
Show Spell HUD
Show Health/Ancient Magic Meter
Show Minimap
Show Enemy/Target Info
Show Enemy Damage Numbers
Show Mount Controls
Stage 2. Take a Selfie in Hogwarts Legacy
To take a selfie in Hogwarts Legacy, you will need EaseUS ScreenShot. This is a quick screenshot taker that has unlimited features to make this task easier for everyone. It won't take up a large space because it is lightweight.
With this tool, you can capture a full screen or take a partial screenshot on Windows. Now, you can download EaseUS ScreenShot and follow the steps here to take a selfie in Hogwarts Legacy with it. The tutorial below is workable for any games that can be played on a PC.
Step 1. Double-click to launch EaseUS ScreenShot on your device.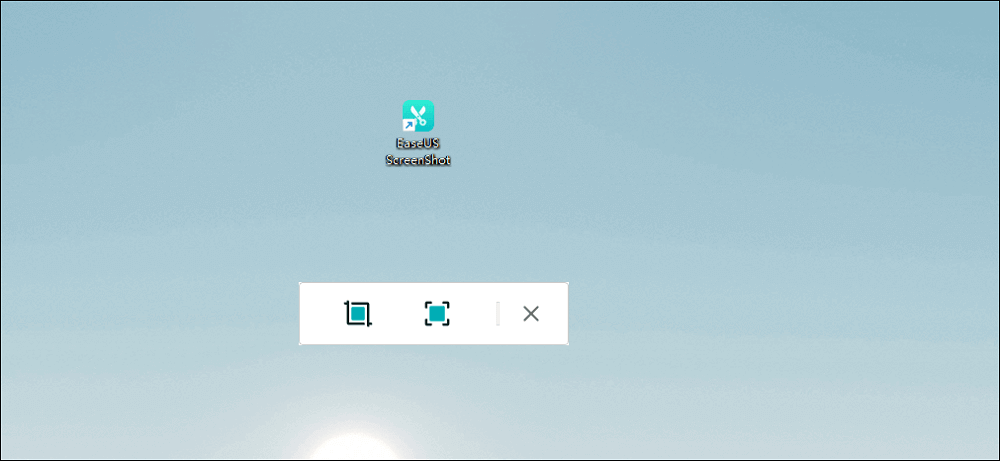 Step 2. Go to the gameplay you want to take a screenshot and choose a mode. To take a screenshot of an area on your screen, click "Rectangular screenshot" or double-click "Ctrl".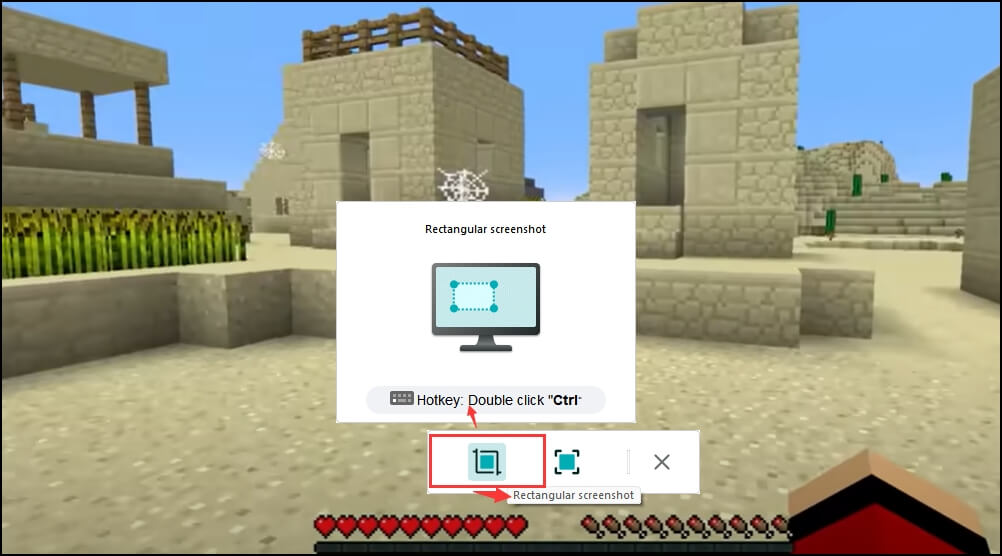 Step 3. To take a screenshot of the entire screen, click "Full screenshot" or double-click "Alt".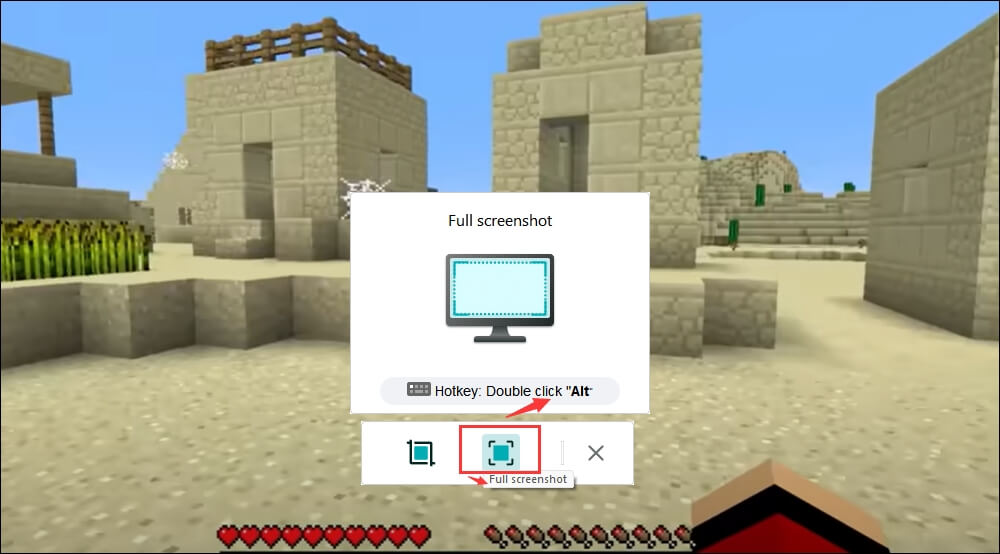 Step 4. After taking a screenshot, you can use the tools below to highlight the content, add mosaic, text, and numbers on the screenshot, or delete the screenshot. After editing, save the screenshot or copy it to your clipboard by clicking "Save" or "Copy".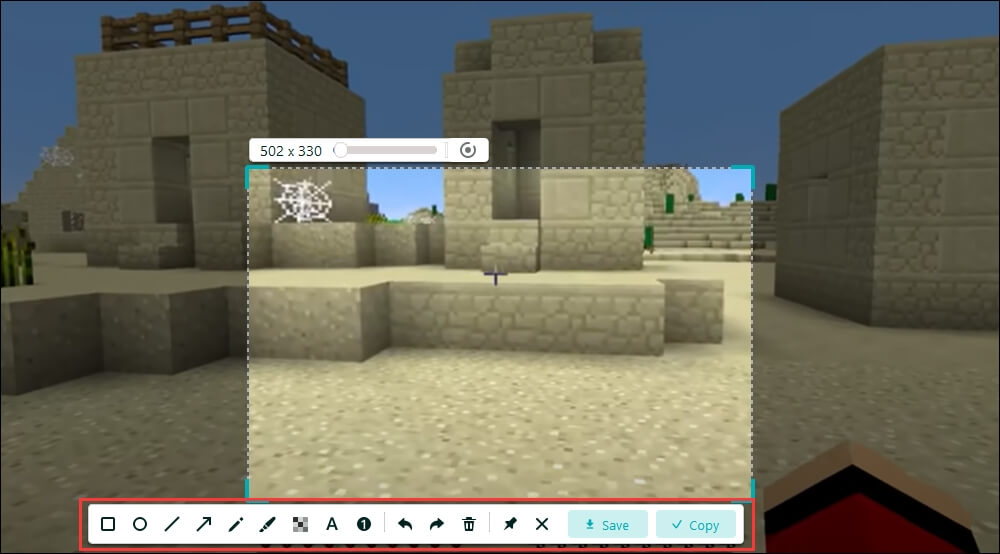 There you go! If you still have questions, you can read the FAQs part below.
Hogwarts Legacy Photo Mode FAQs
Check the frequently asked questions and their answers below.
1. Is there a picture mode in Hogwarts Legacy?
No, Hogwarts Legacy does not have a photo mode. But we give you the method to take a picture in it with EaseUS SceenShot. All you need to do is follow the tutorial.
2. Why are people boycotting Hogwarts Legacy?
It is said that people are boycotting Hogwarts Legacy because of J. K. Rowling's outspoken views on the transgender community. Some gamers have vowed not to purchase Hogwarts Legacy.
3. Can you turn evil in Hogwarts Legacy?
Yes, you can turn evil in Hogwarts Legacy if you unlock Avada Kedavra, the fatal and unforgivable curse. To do so, you will have to complete a few side quests for Sebastian Sallow, a Slytherin pupil.
4. Does Hogwarts Legacy have multiple endings?
Yes, Hogwarts Legacy has multiple endings. There's a good ending, a bad ending, and a more universal ending. And you will reach that "true" ending if you continue playing after the immediate threat is averted.