
Table of Contents

About the Author

Related Posts

Best Audio Recording Software
Pandora, one of the oldest and recognizable names in the online streaming industry, is a free radio and music platform which allows users to create their own musical works. The application is available on all major platforms such as Windows and Android. While Pandora Music, with its premium subscription, offers a way to listen to music offline, it doesn't allow one to record and convert the file in MP3 format.
However, "where there is a will, there's a way," one could convert Pandora audio files to MP3 format either with a premium or even a free account. Here are the best methods of Pandora recording on Windows or Android.
How to Record Pandora Audio in MP3 on Windows
EaseUS RecExperts is one of the most feature-packed recording applications used for multiple purposes, such as recording Pandora Music easily. One could also use it for recording voiceovers and editing them primarily. Additionally, this screen recorder supports recording videos simultaneously, in case one would like to record the video track along with the audio on Pandora.
This recording software has a fairly easy and simple user interface for beginners and first-time users. For example, you can adjust the settings easily to change the output format of the recordings. If you want to record Pandora to MP3, don't forget to customize the settings before recording. 
Key Features: 
Record Pandora to MP3, AAC, FLAC, etc.
Create and execute tasks automatically with the Task Scheduler
Extract audio from your recorded videos in one click
Compatible with both Windows and Mac
Download this wonderful video and audio recorder to record music from Pandora.
Method of Recording Pandora:
Step 1. Launch EaseUS RecExperts and choose "Audio" (looks like a speaker) from the left side of the interface. Select the sound source by clicking on the speaker sign (the system sound) or the mic sign (the microphone). Or, you can record them both at the same time.

Step 2. Hit "REC" button to start recording audio. To finish it, you just click on the red square icon to stop the recording.

Step 3. After that, the recording list window will pop up automatically. You can listen to or edit the recording with built-in tools.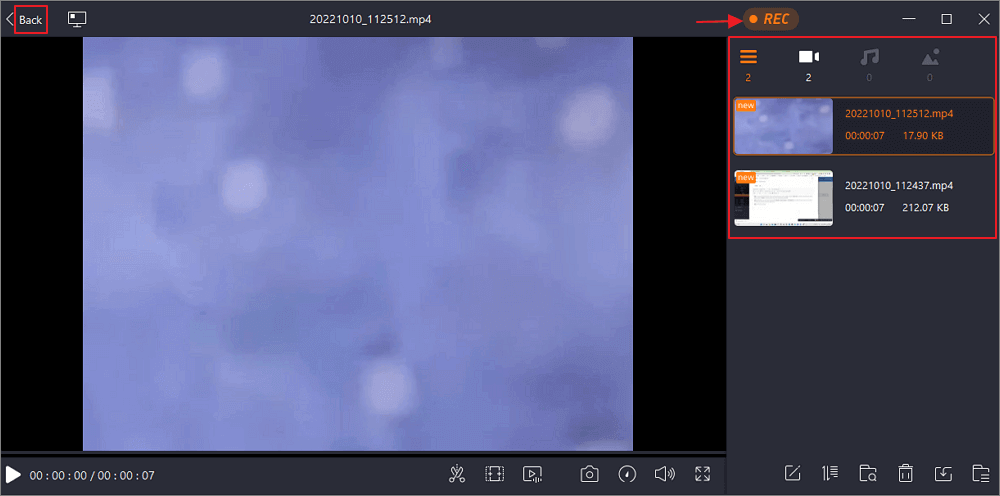 How to Record Pandora Audio on Android
Are you using an Android smartphone instead of a Windows machine? Are you worried about not having a PC to record your Pandora Music with a powerful audio recorder? Don't worry. You can use your modern-day smartphones to record and share MP3 files from Pandora Music as well, just in a few simple steps.
This method uses a feature called Screen Recorder, which is commonly available on any modern smartphone. However, if there isn't one on your phone, you can head over to the Google Play Store and download one of your choices.
How to record Pandora Music on Android:
Step 1. Launch the screen recorder application of your choice, either the built-in option or the one downloaded from the play store, grant the permissions, and allow "Screen Overlay."
Step 2. Now, open up the Pandora Music application, login with your credentials, and pull up the music track you wish to record.
Step 3. Before the audio starts playing, pull up the screen recorder's overlay, and click on the Start Recording button or icon present.
Step 4. Similarly, once the song has ended, pull up the overlay again and hit the Stop Recording icon or button present.
Once done, navigate to your internal storage, and you'll find the recording would be saved to your phone's internal storage.
How to Record Music from Pandora on iPhone
There is a built-in audio capturing tool on your iPhone, and you can record Pandora music with it directly, and you don't have to spend time downloading a Pandora recorder. Voice Memo is what you need to do that. In addition to audio capturing, this app even enables you to edit the recordings with some basic editing tools.
Although Voice Memo only offers you some basic tools, it's competent to record Pandora music. Don't hesitate to have a try.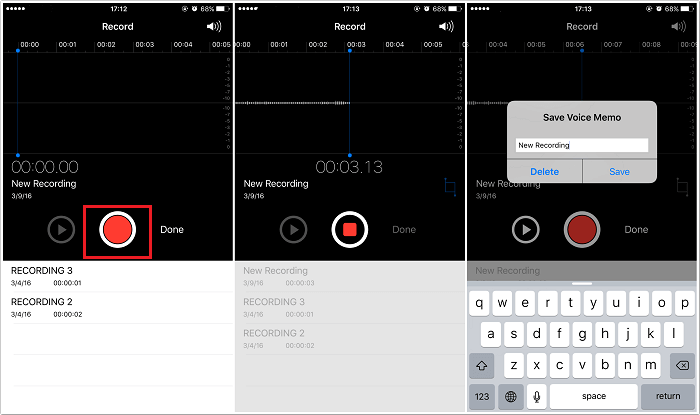 How to Record Music from Pandora with Voice Memo:
Step 1. Open the Voice Memo app on your iPhone.
Step 2. Click on the red button to start recording. Ensure the Pandora music is playing now.
Step 3. Click on the red button again when you want to end the recording.
Step 4. If you want to edit the recording, tap the three-dot icon to get the tools. 
Other Tools for Pandora Recording on PC
In this part, we will introduce three available that you can use on Windows PC. You can compare them with each other from many aspects and decide which one is the most suitable Pandora recorder for you.
Tool 1. Audacity
Given that Audacity is an open-source and free-to-use program that can run smoothly on Mac OS X, Windows, and Linux. Its elegant interface is responsive to even the most inexperienced users. Within only several minutes of fiddling, one will quickly discover a host of features and controls.
The software makes it easy to link and set up external devices, record, edit, mix tracks, and polish your work before exporting it. However, the software's main drawback is that it uses disruptive manipulation, altering the original file's real waveform, which cannot be fixed later.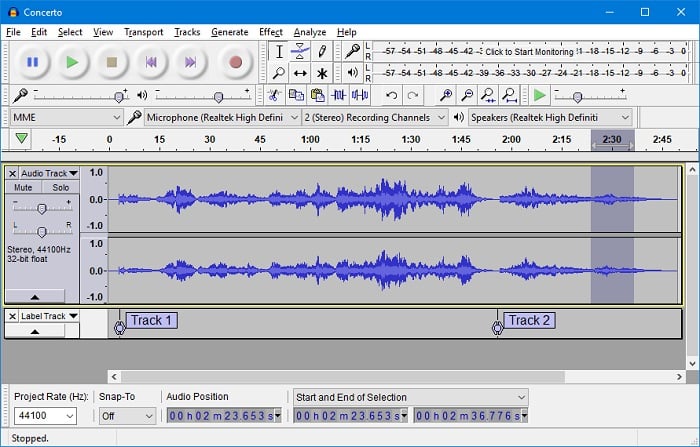 Pros:
Import and export in various file formats
Support 16-bit, 24-bit, and 32-bit files
Easy editing tools, including cutting, copying, pasting, and deleting
Cons:
Disruptive manipulation
Extra plugins are required for complete functionality
Several bugs in the program lead to instability
Tool 2.RecordPad
While RecordPad is theoretically part of a broader range of NCH Software digital audio applications, it operates as a discrete recording tool capable of handling multi-channel audio streams. It allows users to record audio from online streaming sources, line-in devices, or even computer playback.
Users can record, rip, or burn an audio with such a recording app and schedule future recordings and more. However, additional plugins are required. This software only supports WAV, MP3, and FLAC formats, unlike some applications that support many more.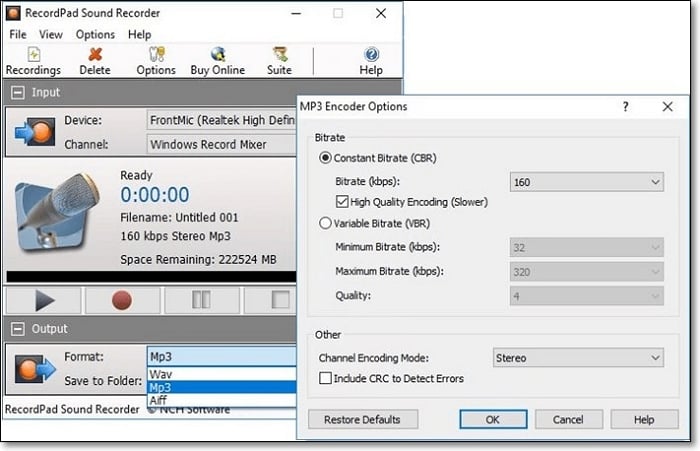 Pros:
Support recording from online streaming services
Fast navigation during playback
Cons:
Extra plugins are required
Support fewer formats than other tools
Some features are locked behind a paywall
Tool 3. WavePad
WavePad is an efficient and straightforward voice recording application that is easy enough for a beginner to use. It is compliant with a plethora of audio file formats and offers you the option of exporting files to a wide variety of audio formats. The software can blend and split audio files, modify silences, suppress or remove background noise, add special effects, and even transform a single audio file into a stereo one. WavePad comes with tonnes of effects that can be added manually or set automatically.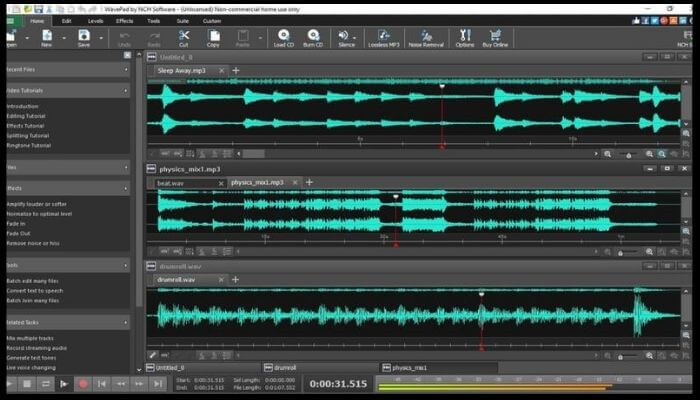 Pros:
Multi-channel recording
Text-to-speech recognition
Batch file processing
Cons:
Consume a lot of memory
Lack out of a user-friendly UI
Conclusion
All tools in this post are helpful for pandora recording. However, considering all the tools' ratings and user experience, EaseUS RecExperts forms the best choice for recording Pandora. It offers exhaustive effects to improve audio, professional-level editing tools, and the option to export the files in multiple formats. This program is highly compatible with Windows and macOS, and it's easy to use and beginner-friendly.
FAQs About Pandora Record
There are more answers to questions about recording Pandora. 
1. Can I record Pandora Music on my iPhone?
With the older versions of iOS, the screen recording application could have recorded Pandora's music. However, with the screen recorder's latest upgrades. There's a slight possibility that you may not be able to record pandora music on iOS devices. 
2. How do I rip music from Pandora?
Downloading files from Pandora and ripping them isn't possible with the free version or the paid edition. One needs to use a screen/audio recording application such as EaseUS RecExperts to rip music from the current generation.
3. Can I download songs from Pandora to my computer?
Yes, you can do so by utilizing audio recording applications such as EaseUS RecExperts on your PC. Check out the guide mentioned above. Its tools and simple interface are a bonus.
About the Author

Melissa is a sophisticated editor for EaseUS in tech blog writing. She is proficient in writing articles related to multimedia tools including screen recording, video editing, and PDF file conversion. Also, she's starting to write blogs about data security, including articles about data recovery, disk partitioning, data backup, etc.