
Table of Contents

About the Author

Related Posts

Best Audio Recording Software
PAGE CONTENT:
World Cup is football's biggest tournament and many people are crazy about it. People who used to watch World Cup are trying to find some best ways to watch games while those people new to this match are looking for a website that can watch World Cup smoothly.
If you are not aware of where to watch World Cup, no worries, we give you some websites to watch World Cup 2022 for free. You will read all the basic information about them. And you can choose a website to start watching football games.
Do you want to make more out of this great event besides watching the match? In fact, you can record World Cup Qutar 2022 for later review, edit match clips, and even make idol GIF animations to share with your friends! All these can be done in a Mac and Windows screen recorder called EaseUS RecExperts.
Websites to Watch World Cup 2022 for Free
In this part, we will give 6 streaming websites in detail that can watch World Cup 2022 for free. Let's check them one by one. And you can choose one to watch World Cup games.
1. BBC iPlayer
The first website recommended is BBC iPlayer. It is a good choice for streaming World Cup matches for free. It's unique in that it has no ads. Moreover, it broadcasts matches in 4K UHD. You can see live commentary and studio analysis are included in every game.
BBC iPlayer is compatible with most VPNs. But remember that if you want to stream every match with a UK IP address, you will need to use BBC iPlayer along with ITVX.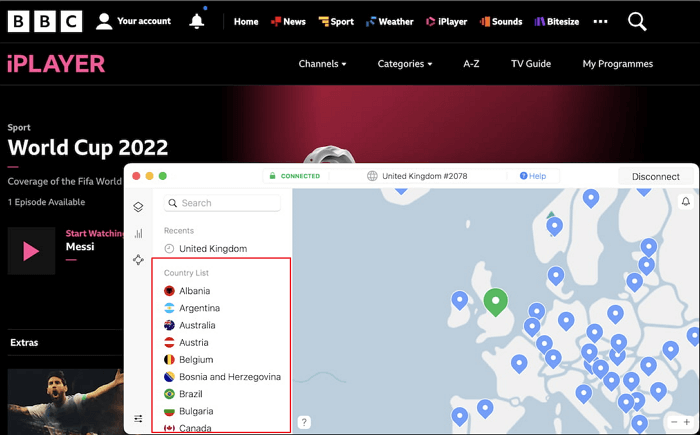 Pros:
No advertisements while watching
Streams in 4K quality
Compatible with most VPN services
Cons:
It only has 50% of games
Easy-to-use for beginners
2. Tubi
Tubi is a free streaming service provided by Fox. You can access Tubi without an account, so you don't have to worry about leaking any personal details. Although it can't broadcast any match live, you can use it to watch world cup 2022 full match replay with one click.
Also, Tubi has a dedicated World Cup channel, making it easy to find all of the relevant content. However, it is also ad-supported. It displays three minutes of unskippable ads every 30 minutes. If you can bear this, you may choose this website.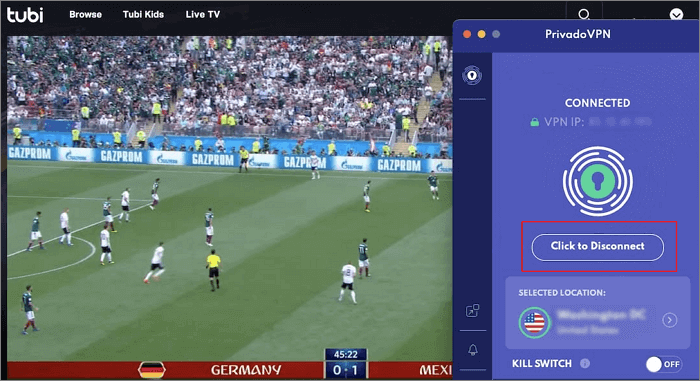 Pros:
No account or personal details required
Compatible with CyberGhost, ExpressVPN, etc.
No time limitation
Cons:
Advertisements break sometimes
No support for full HD or 4K streams
3. SBS On Demand
SBS On Demand is one of the best free World Cup 2022 streaming websites. With this website, you can watch all 64 World Cup live matches online. Moreover, it has better presenters and commentators than most services.
However, if you want to stream SBS On Demand, you will need to connect to an Australia VPN server first. And you might experience buffering and streaming issues due to the distance. However, it takes longer to load videos in the UK than in other countries.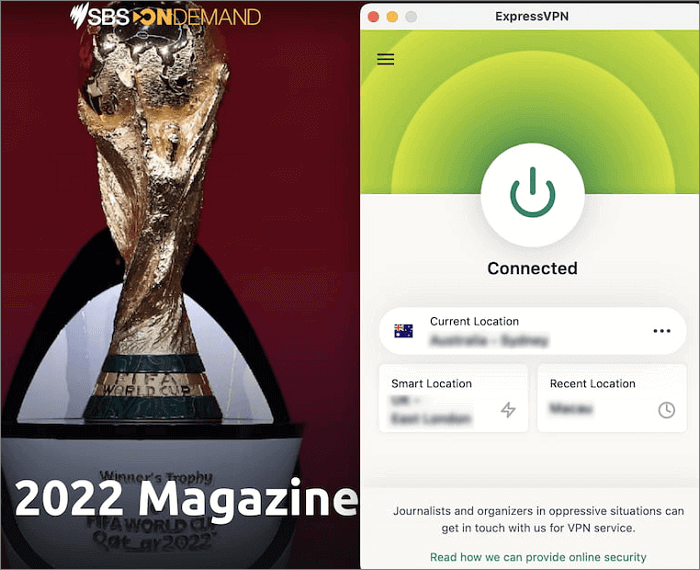 Pros:
It contains all 64 FIFA World Cup matches
Has a user-friendly interface
Compatible with all devices and platforms
Cons:
It contains advertisements
The 4K option is not supported
4. Peacock
Peacock is another excellent US-based streaming service provided by NBC. You can use it to live stream Telemundo, a Spanish-language channel with the rights to broadcast all 64 World Cup matches live, in 1080p resolution at 60fps.
Unlike other websites, this website is not totally free. It offers a free trial to its users to watch every World Cup game for free in Spanish. Also, it provides pre, mid, and post-match analysis by recognizable experts for every match.
Something to note is that Peacock is only streaming the first 12 matches for free. To stream more, you need to pay for it. If you can accept this, you can go to this website to watch World Cup 2022.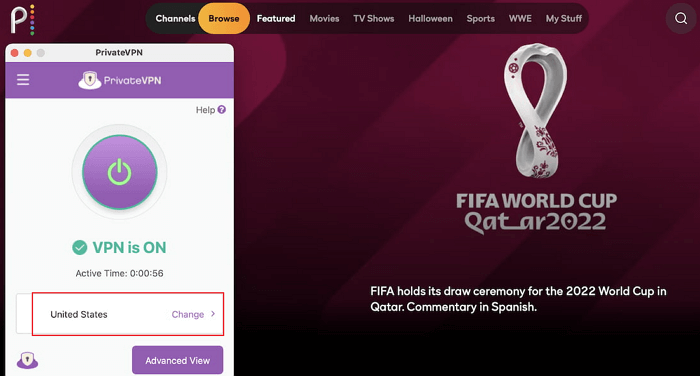 Pros:
Support recognizable commentary
It shows 12 matches for free
Live Premier League matches are included
Cons:
It is only free for 7 days
Only support the Spanish language
5. RTBF Auvio
RTBF Auvio is a good choice for streaming the World Cup for free in French. You will be able to watch content in HD without lag if you choose this tool. It has the rights to every single World Cup match, so you can legally watch every game for free on it.
Moreover, it offers an intuitive design on both its browser and mobile apps for its users. So you won't be confused when watching matches with it. The only setback is that it can't be used on Apple TV, Chromecast, or Samsung Smart TV. Check its pros and cons below.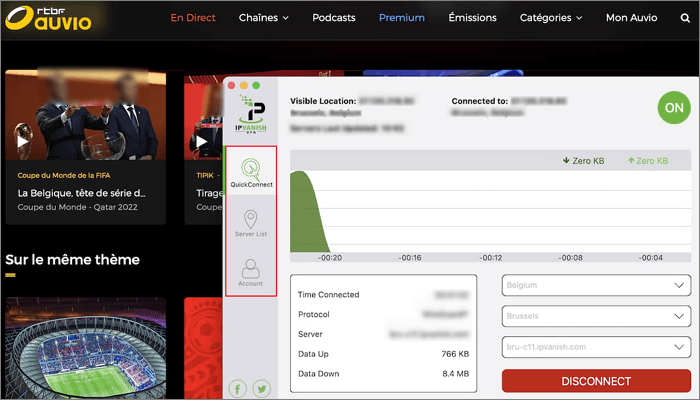 Pros:
It covers all matches
Offer an easy-to-use interface
It is easily accessed with a VPN
Cons:
Not compatible with Smart TV or Apple TV
It requires an email account
6. TDM
TDM is a straightforward website that can be used to watch World Cup. With a Macau IP address, you can stream TDM for free online. Like RTBF Auvio, it has the rights for all 64 matches.
However, the live streams take more than 1 minute to start playing, and the matches are often interrupted by buffering. TDM offers apps to watch games but they are only available on desktop and mobile, which means you won't be able to use them on your TV.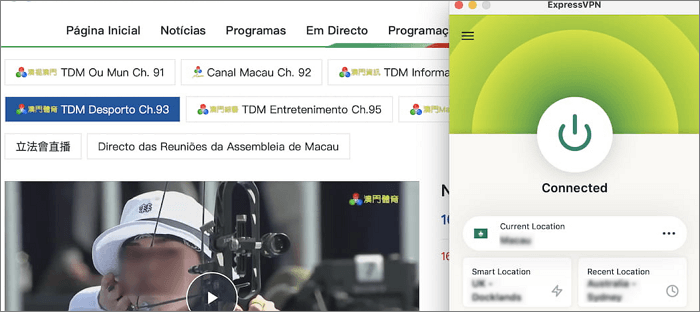 Pros:
All 64 matches are available for free
Only free in Chinese and Portuguese languages
No accounts are needed when watching
Cons:
It takes a while to load videos
Incompatible with most VPNs
FAQs about Websites to Watch World Cup 2022 for Free
In this part, we gathered some websites where you can watch World Cup 2022 for free. Let's have a look.
1. How to watch World Cup 2022 live free?
You need to check the match schedule and find a website that can play a live match. We give you a list of these websites, just choose one to start watching.
2. Where can you watch the World Cup live?
You can watch World Cup live on these websites:
1. BBC iPlayer
2. Tubi
3. SBS On Demand
4. Peacock
5. RTBF Auvio
6. TDM
3. Can I watch World Cup 2022 on YouTube TV?
Yes, you can. But you need to pay for it. The price is $64.99/mon for 85+ live channels.
Conclusion
In this article, we listed six websites that allow you to watch World Cup 2022. We have introduced them one by one. You can choose a website to start watching now. Don't miss any excellent matches!
About the Author

Melissa is a sophisticated editor for EaseUS in tech blog writing. She is proficient in writing articles related to multimedia tools including screen recording, video editing, and PDF file conversion. Also, she's starting to write blogs about data security, including articles about data recovery, disk partitioning, data backup, etc.