
Table of Contents

About the Author

Related Posts

Best Audio Recording Software
Quick Navigation:
As we all know that EaseUS RecExperts is an excellent Mac and Windows screen recorder all over the world. This software functions in almost all screen recording scenes, including but not limited to online courses, tutorial videos, video conferences, etc.
However, to enjoy more advanced features, you need to activate EaseUS RecExperts with EaseUS RecExperts License Key. And that's why more and more people are searching for EaseUS RecExperts activation code crack or EaseUS RecExperts crack on Google. But is it worth trying? Below is all the information you want to know.
How Do People Find EaseUS RecExpert Activation Code Crack?
To activate EaseUS RecExperts for free, most people usually rely on Google to find some activation code crack. And it's one of the most common ways to enter some keywords like this: EaseUS RecExperts activation code crack, or some similar expressions containing some words like free license key, serial key, activation key, and more. 
Although you can see many options on the result page, most of them are unreliable. I tried some of the cracked activation codes and failed many times. So I beg you to stop it, and do not reinvent the wheel.
Risks About Using EaseUS RecExperts Activation Code Crack
One of the most common issues about using a cracked activation code is that you cannot activate EaseUS RecExperts successfully. Apart from that, there are also other typical risks you need to know:
1. Malware/Security risk: If you use a cracked activation code for EaseUS RecExperts, it may open the end user's device to potential security risks e.g., Malware.
2. Deactivation: This could potentially leave the product with reduced functionality in the short term and unusable in the long term.
3. No Software Updates: If you activate this software with a cracked license code, this program cannot receive updates from the manufacturer, if this has been recognized as an abused key. 
4. Legal Damages: If you are found to be using software illegally activated using inappropriate keys, you may be sued for damages by the software vendor.
Take a look at these typical issues, and stop trying to find a way to activate EaseUS RecExperts with crack. The only way you can adopt it is to get the license code from its official website!
Benefits to Use Official Activation Code for EaseUS RecExperts
We strongly recommend you use the official activation code for EaseUS RecExperts, because you can enjoy the following benefits:
100% working and protection for your privacy
Free upgrades
24/7 tech support and remote consultation
30-day money-back
Legal and protected
Enjoy all advanced features without any limitation
As you can see above, there are a great many advantages of using an official activation code, why not use it? Just abandon this idea of finding an EaseUS RecExperts activation code crack!
Easy Steps to Record Screen with EaseUS RecExperts
Download EaseUS RecExperts and activate it with the official license code. Then, check out the below tutorial to start your recording:
Step 1. Launch EaseUS RecExperts on your computer. Before recording, you can choose from two recording modes. To record the whole screen, choose the "Full Screen" mode; to record a part of the screen, select "Region".

Step 2. You can also choose to record the screen with your webcam, system sound, microphone. Just click to select them. You can also set auto split, auto recording with various functions on the interface.

Step 3. Then, click on the red "REC" button to start recording. To pause the recording, click on the white double vertical bar; to end the recording, click on the red square sign. They are located on the menu bar appearing on your screen.

Step 4. After recording, you will be led to the recording list. Here you can view, split, extract audio, take screenshots, ans manage your recordings, etc. To start a new recording with previous settings, click on the "REC" button on the top of the window.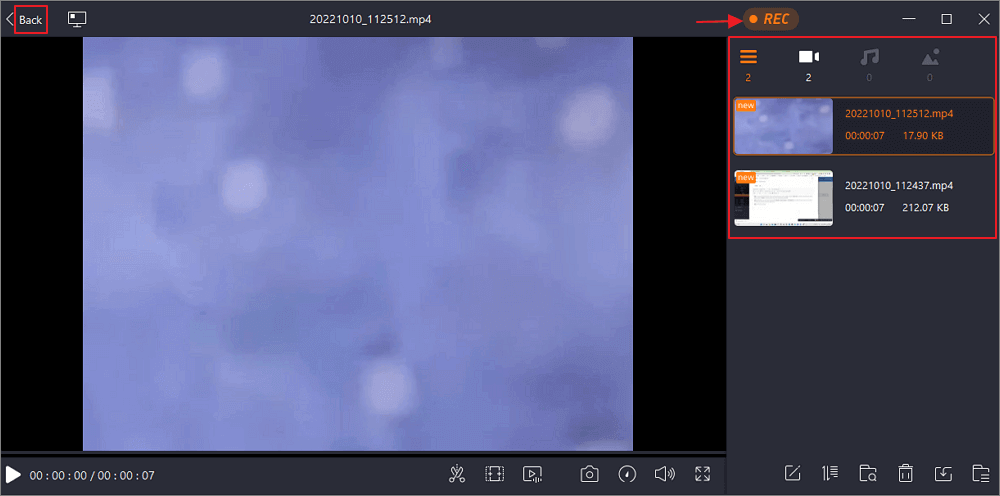 About the Author

Jane is an experienced editor for EaseUS focused on tech blog writing. Familiar with all kinds of video editing and screen recording software on the market, she specializes in composing posts about recording and editing videos. All the topics she chooses