
Table of Contents

About the Author

Related Posts

Best Audio Recording Software
There are plenty of times when you want to record lectures. Whether you're going to a seminar and want to capture it, or need to record homework, there are many best apps for recording lectures out there that make it easy and simple. On this page, we will discuss some excellent lecture recorder apps for online and in-person lectures, respectively.
For recording lectures remotely, EaseUS RecExperts is the best lecture capture software; and for recording an in-person lecture, take a look at Voice Memos. Now, keep reading to find out why.
Top 3 Best Apps to Record Lectures Online Remotely
Nowadays, online classes and lectures have become more and more common because of Covid-19. To promote learning efficiency, most teachers and students use screen recording software to capture the one, so they can watch it after class. However, finding an excellent lecture capture software is not an easy task. Given that, we are going to share with you some best programs to help you record lectures in the following. Just take a look.
#1. EaseUS RecExperts
Easeus RecExperts is one of our top picks on the list. It's compatible with both Windows and macOS and is powerful enough to capture anything on your screen, including online classes, lectures, movies, and even gameplays. As for recording lectures, it provides a set of drawing tools to help you add text, and insert lines, arrows, and others simultaneously.
Moreover, this software supports different recording modes, like full-screen and partial-screen recording, and then exports high-definition recorded files. It is also worth mentioning that you can export only audio tracks from the recorded video using the audio extractor tool, then enjoy the lectures on your mobile devices anywhere, anytime.
Let's explore more highlights of this lecture recording app:
Simple and Safe to Use: Coming with an intuitive UI and workflow, RecExperts is easy to operate for almost all levels of users. There is no complex setup, and you can quickly get started with it. Besides, you will never find any ads and extras here, which makes it clean and safe to use.
Record with no watermark, no time limit: As a no time limit screen recorder, this software lets you record as long as you want. Only you click the stop button, then it stops recording. Plus, your recorded files will never contain watermarks. Note: all the features are available in the FREE version.
Export recordings in various formats: This screen recorder supports more than 10 media file formats, and allows you to save the recorded video/audio in your desired format.
Now, you can click the below button to start recording lectures remotely without lagging:
Step 1. Launch EaseUS RecExperts on your computer. Before recording, you can choose from two recording modes. To record the whole screen, choose the "Full Screen" mode; to record a part of the screen, select "Region".

Step 2. You can also choose to record the screen with your webcam, system sound, microphone. Just click to select them. You can also set auto split, auto recording with various functions on the interface.

Step 3. Then, click on the red "REC" button to start recording. To pause the recording, click on the white double vertical bar; to end the recording, click on the red square sign. They are located on the menu bar appearing on your screen.

Step 4. After recording, you will be led to the recording list. Here you can view, split, extract audio, take screenshots, ans manage your recordings, etc. To start a new recording with previous settings, click on the "REC" button on the top of the window.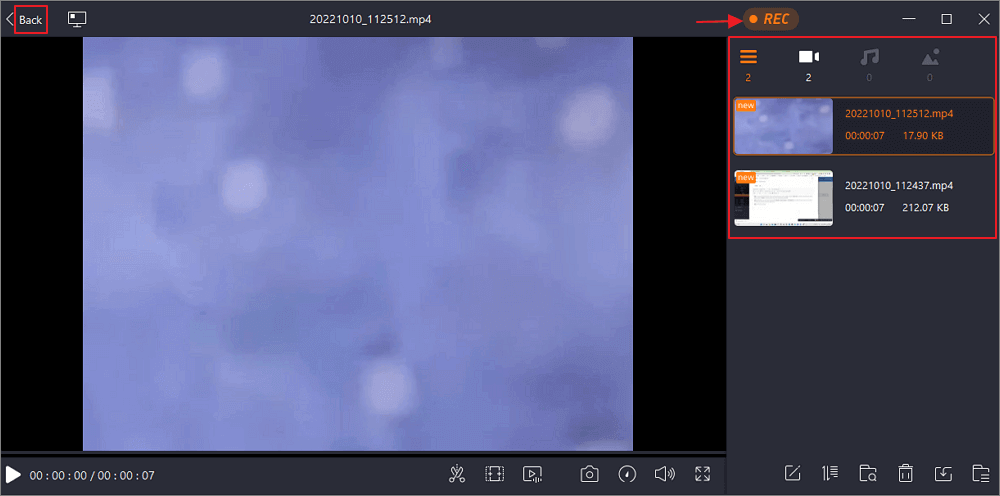 #2. OBS Studio
If you are searching for a completely free lecture recording app, look no more than OBS Studio.
As one of the best open source screen recorder software, it is used widely as remote work software or learning program. Whether you need to capture an entire screen, a selected area, or even a locked window, you can always get the task done by using this freeware. So, recording lectures is just a piece of cake for it.
However, it is a little complicated for novices. If you have never used OBS before, you'd better learn how to record screen with OBS on the internet first, or choose other easy-to-use OBS alternatives.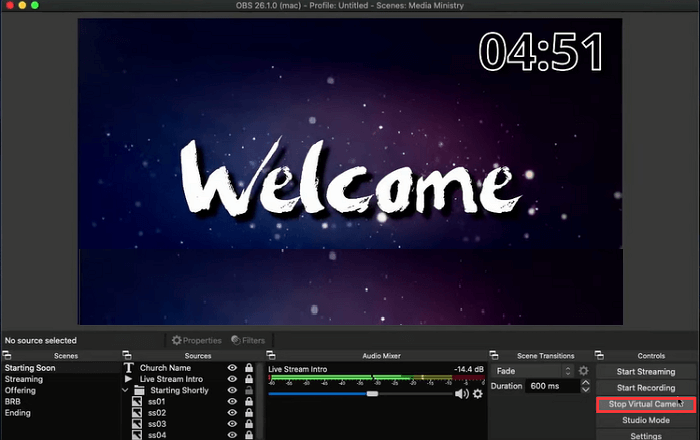 Highlights:
Run perfectly and smoothly on Windows, Mac, and Linux
Best for screen recording and streaming
Make it possible to record multiple screens
Allow setting hotkeys for nearly every sort of action
#3. Loom
Loom is the last app to record lectures remotely on our recommendation list. It is an online screen recorder service, which is best for teachers, as well as students.
This online service offers qualified educators unlimited recordings and access to premium features. If you are a teacher who wants to create an online course, you can use it to record screen and camera uninterruptedly, and add text or arrows, then share your recorded videos with students with a single link.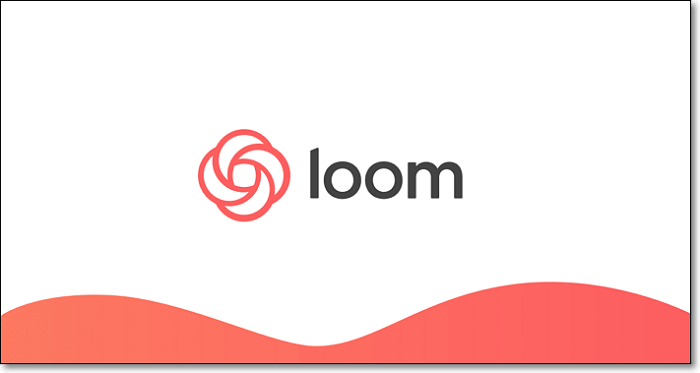 Highlights:
No need to download and install
Provide emoji reactions options
Protect your recorded video with a password
3 Best Lectures Recording Apps Offline [In-Person Lectures]
As you can see above, there is some great lecture recording software for remote study. So, are there also any apps to record in-person lectures? Here, the answer is Yes. Below are some best lecture recording apps. Continue reading to find the one that suits you best.
#1. Voice Memos
Voice Memos is an ideal app to record lectures for iPhone users. It's pre-installed on your device, so you won't wait to download and install it. Just unlock your iPhone and open Voice Memos to start your recording.
Once you finish the recording, you can choose to edit and share your recordings on iCloud, as it supports cloud storage; or, you are able to sync, adjust the speed, share with friends and colleagues, and more. Although it offers limited options, it is still enough for daily lecture recording.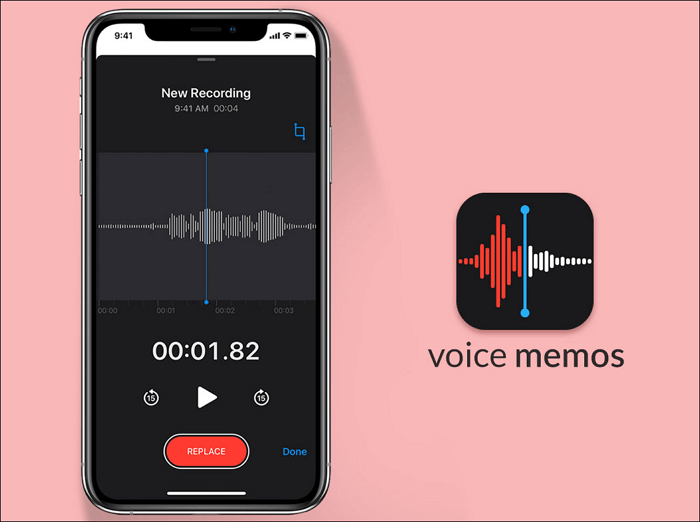 Highlights:
No need to download and install
Support uploading the recorded audio files to iCloud
Save recordings in compressed or uncompressed formats
Provide a quick way to share files
#2. Rev Voice Recorder
Another lecture recorder app is Rev Voice Recorder. Whether you are an Android or iOS user, you can use it to record an in-person lectures, memos, meeting notes, or even interviews. After recording, you can use the inbuilt trimming tool to cut the recorded audio files with ease. Beyond this, this application provides professional human typists or speech-to-text robots to transcribe your recordings.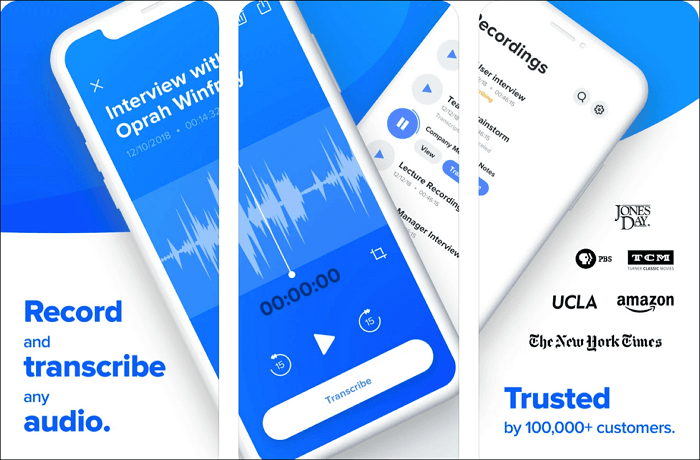 Highlights:
You can sync recordings to Dropbox to backup
It will pause automatically for incoming calls and other interruptions
Support recording in the background while using other apps
#3. Office Lens
Office Lens is an app created by Microsoft Office, which aims to help users scan, capture, and annotate documents, whiteboards, and photos to share them across digital platforms.
With this lecture recording app, you can record almost any lecture easily and quickly. More than that, it even lets you convert lecture photos to PDFs, Word, or PowerPoint files, and then store all the data via OneNote or OneDrive for revision.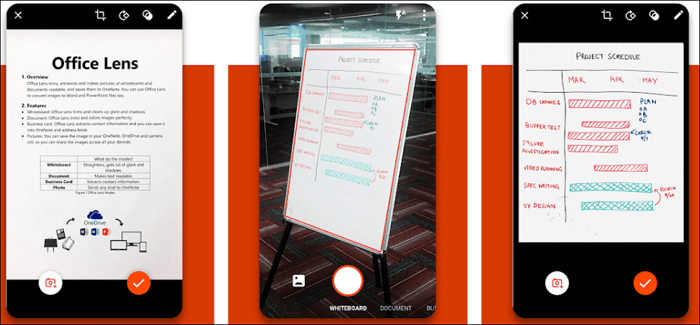 Highlights:
Compatible with iPhone, iPad, and Android
Completely free for all users
Scan documents to PDF in a snap
The Bottom Line
Whether you join an in-person lecture or online class, you can find the right app to record lectures on this page. We hope you like the lecture recorder apps we recommend and discuss in this post.
Best Apps for Recording Lectures FAQs
1. What is the best way to record lectures?
The best way to record lectures is to find a fantastic recorder. Whether you are going to record an online lecture or an in-person one, you can choose the right one from the below list:
EaseUS RecExperts
OBS Studio
Loom
Voice Memos
Office Lens
2. How can I record a lecture on my laptop for free?
Try EaseUS RecExperts! This software enables you to record almost everything on your laptop for free, including lectures. Just launch this lecture capture software, and select the recording area, then hit the Rec button to begin the task.
3. What device should I use to record lectures?
You can use the following devices to record lectures:
Olympus WS-853
Tascam DR-05
Philips DPM6000
Zoom H1
About the Author

Jane is an experienced editor for EaseUS focused on tech blog writing. Familiar with all kinds of video editing and screen recording software on the market, she specializes in composing posts about recording and editing videos. All the topics she chooses