
Table of Contents

About the Author

Related Posts

Best Audio Recording Software
If you are a game player, you must be familiar with Roblox. Roblox is a popular game that gains a high reputation among gamers. It enables you to build your own virtual world and create gameplay as you like. Sometimes you may want to save the highlights in the game or share the best moments with others, and the best way is to record on Roblox. The recorded video can keep the memory of an amazing time in Roblox. 
However, most of you may have difficulty getting the work done. Given that, this post shares the best game recorder for Roblox and walk you through the step on how to record Roblox with voice. 
Content Navigation
How to Record on Roblox with Built-in Recorder
Roblox has a built-in recorder that allows you to make a Roblox video quickly and easily. It is straightforward to use, but it offers limited functions. You can only use it to start and stop the recording. Here we offer you detailed tutorials to do the task with the built-in recorder.
Step-by-step on how to record on Roblox:
Step 1. Move into the gameplay and click on the menu to choose the Record tab in the upper-left corner.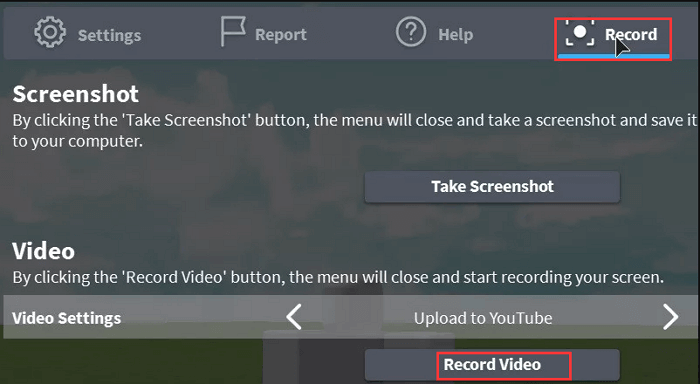 Step 2. Choose the Video Settings option to select the location to save your recording on your computer.
Step 3. Click "Record Video" to begin recording Roblox gameplay. When you are done, click the icon in the upper-left corner to end the recording.
Step 4. You can choose "My Videos" to view your recorded videos on your computer.
If you do not have other requirements, you can try this built-in recorder. But for those who want to adjust the recording area or capture your webcam and voice at the same time, you can try other better alternatives below.
How to Record Roblox with Voice on Windows/Mac with EaseUS RecExperts
Although recording Roblox with the built-in recorder is easy, there are still some disadvantages, like no options to choose the recording area. So, another Roblox recording software is introduced to you – EaseUS RecExperts.
It is one of the most practical Roblox recorders on Windows and Mac, enabling you to choose the recording area and record the Roblox video with your own voice. Most importantly, you can set the hotkeys according to your preferences so that you can choose to pause or resume the recording by pressing the hotkeys.
Stunning Features:
Record LoL gameplay and other gameplay
Capture the screen with audio and webcam
Record desktop audio, microphone, or both at the same time
Trim the recorded Roblox video clips
Capture the game video in different formats
To record Roblox, download and install EaseUS RecExperts on Windows. No registration is needed! 
Step 1. Start the gameplay you want to record and launch EaseUS game recorder. Next, select the Game mode.

Step 2. Click the nut icon to open the Settings window, and then click on "Video" to adjust the frame rate (from 1 to 144), video quality, format, etc. 
In addition, you can click on the "Game" button to change some game overlay options. Once done, click "OK".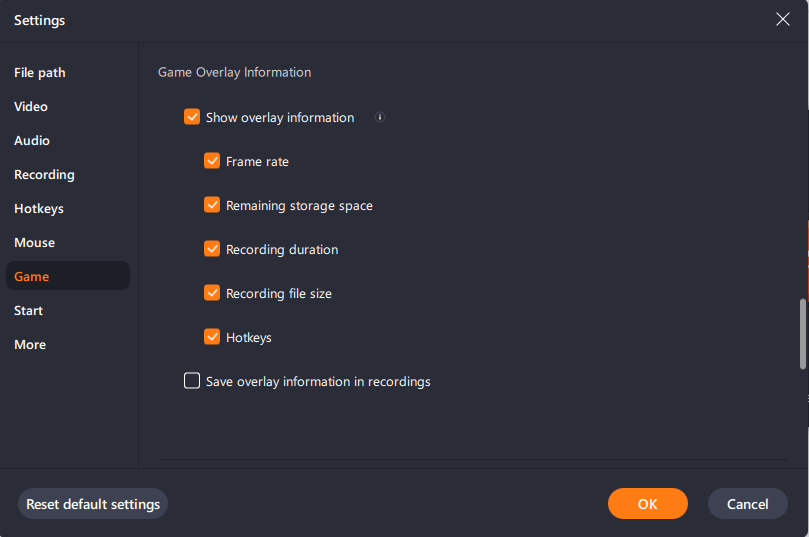 Step 3. Go back to the Game mode interface and click "Select Game" to choose the gameplay you want to capture. Next, click REC to start your game recording.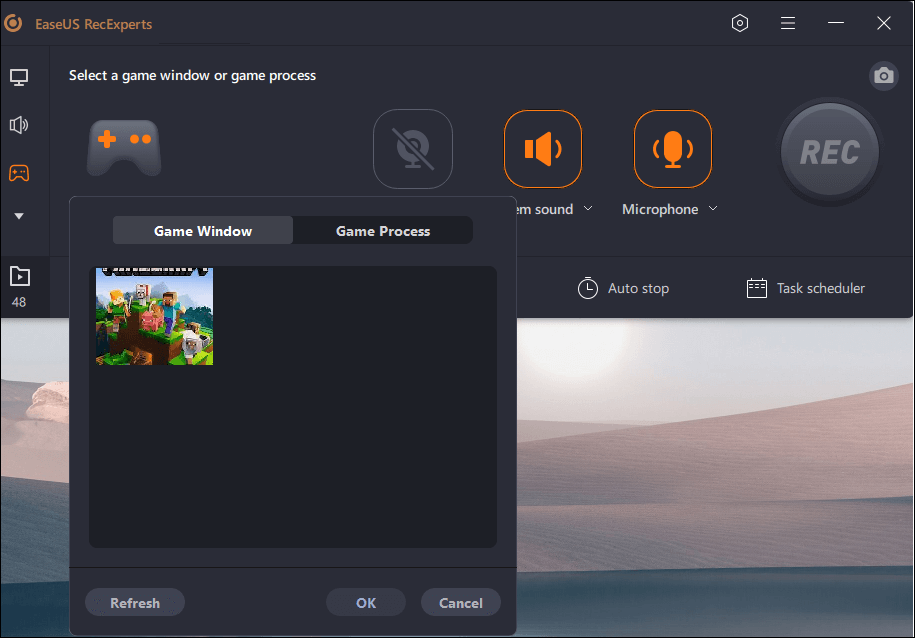 Step 4. You will see a small bar showing the time of your record. If needed, you can take screenshots in recording, or set the specific time to stop the recording by clicking the "Clock" icon on the toolbar.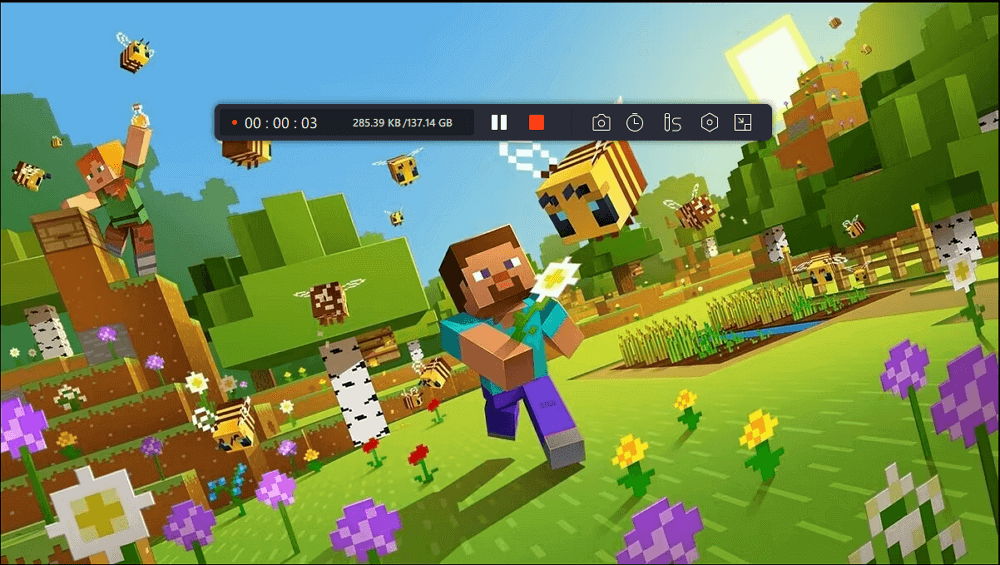 Step 5. Once done, you can watch and edit the recorded footage with the built-in video editor. On the recorded video, you can trim the recordings as you want.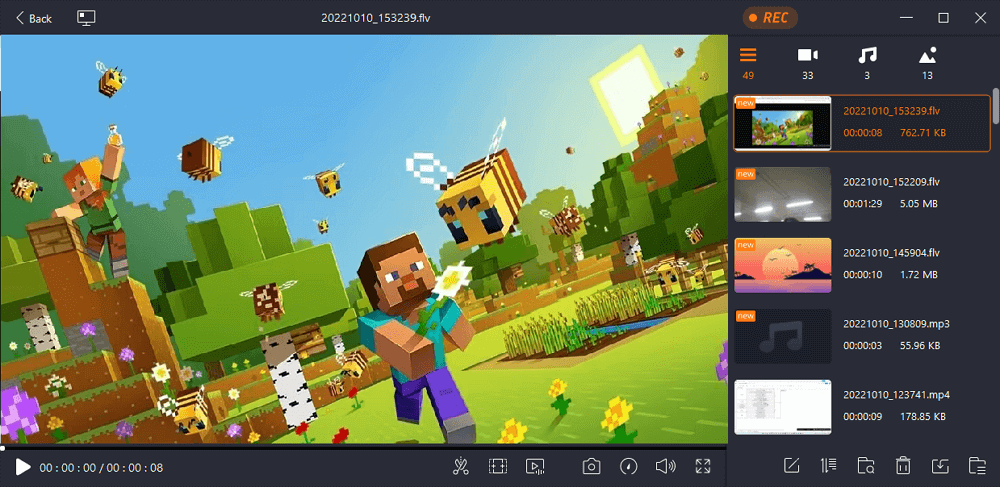 Besides Roblox, this recorder allows recording meetings like Zoom. Read the below one to learn more.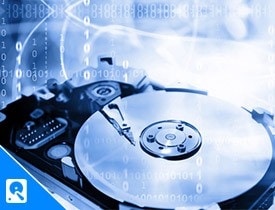 How to Screen Record on Roblox with OBS Studio
OBS Studio is a free and open source screen recorder for video recording and live streaming. This screen recorder is compatible with Windows, macOS, and Linux operating systems. Using it, you can record Roblox videos without effort. It can also capture the voice when recording Roblox video. 
Moreover, it enables you to upload the recorded footage to social media sites, like YouTube, after recording.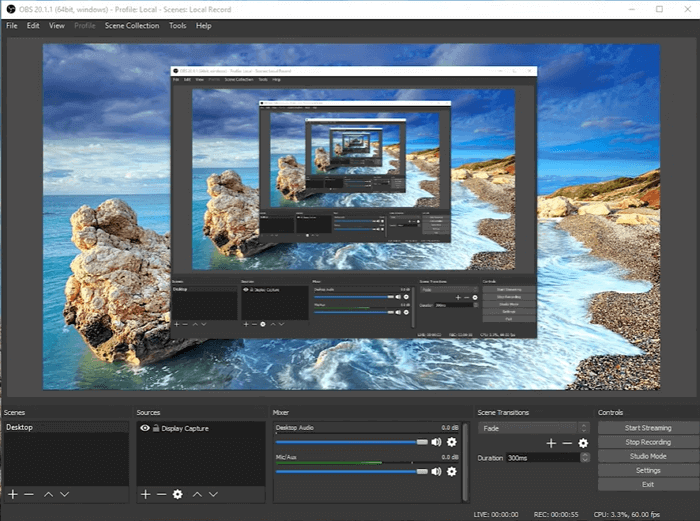 How to record Roblox games with OBS Studio:
Step 1. Download and install OBS Studio, then launch it on your computer.
Step 2. Click "File" > "Settings" > "Output" and set the location and format of the output recorded video.
Step 3. Launch Roblox gameplay. After that, right-click and choose "Add" in the Scenes bar to set a name for the recording, then right-click in the Sources bar and choose the "Windows capture" option to select the window that you want to record and click "OK".
Step 4. When everything goes well, click the Record button to start or end the recording Roblox game. Once done, the recording file will be saved on your computer.
How to Record Roblox 2022 on Chromebook
Apart from recording Roblox on Windows and Mac, you can screen record Roblox on Chromebook. There are many Chrome extension Roblox screen recorder available on the Internet, and we take Loom as an example. 
This Chromebook Roblox screen recorder enables you to capture the gameplay on full-screen for free. Also, it allows you to take screenshots for thumbnails if need.
How to record Roblox with face and video on Chromebook:
Step 1. Install the Loom on your Chrome browser.
Step 2. Go back to your desktop to play the Roblox, and then open the Loom extension.
Step 3. Click the "Start Recording" to begin your recordings.
How to Record a Video on Roblox on iPhone/iPad
To record Roblox on your iPhone or iPad, you do need to download and install any third-party app, as there is a built-in screen recorder – iOS Screen Recorder. It can help you capture any activities on your devices, including live streaming and Roblox games. However, it can only record the external sound. 
Now follow the below steps to record Roblox on iPhone and iPad:
Step 1. Unlock you iPhone or iPad and tap "Settings" > "Control Center" > "Customize Controls". Then press the "+" icon next to Screen Recording".
Step 2. Open Roblox on iPhone, and then swipe up from the bottom edge of any screen. When you want to record the Roblox game, tap deeply on the red circle button and wait for the three-second countdown to begin recording.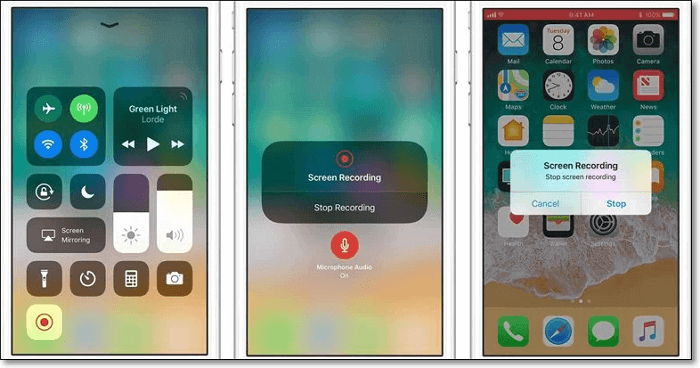 Step 3. Once done, tap the Stop Recording button to end the recording. Then you can go to the Photos app and view your screen recording.
The Bottom Line
On this page, 5 easy ways are provided on how to record Roblox with voice on Windows, Mac, iPhone, and iPad. Just choose the best one based on your needs. Among those Roblox recorders mentioned above, EaseUS RecExperts is highly recommended. It enables you to record different kinds of high-quality games with simple clicks. What's more, you can trim the recorded footage with the built-in tool easily.
About the Author

Crystal Chen is very interested in technology products. Experiencing many technological applications, She is willing to solve users' problems through writing tech-related articles. Through her words, you can find various solutions to solve one issue.