
Table of Contents

About the Author

Related Posts

Best Audio Recording Software
Before we jump to any other information, let's discuss what podcast is. It is an audio program like Talk Radio, where recording audio discussions on a specific topic is done like a business, travel, and that can be listened to. 
You can also say it is a series of spoken words or audio episodes focused on a particular topic. The audio you record is raw and unedited could hold a lot of potentials. But audio with good effect will bring more popularity to the show. For that, you need the best podcast recording software, so let's look at some.
System OS: Windows and macOS
If you are looking for the best podcast recorder, then EaseUS RecExperts is recommended. This powerful podcast recording software does what and how exactly you want it to be done. Apart from podcast recording, it can record desktop audio, any form of music, and audio from a browser, etc. 
Let's find out more useful features, and you'll see how to use this audio recorder as a podcast recorder. 
Key Features:
Allow screen recording with flexible recorded area
Record Zoom meeting and other online discussions
Produce high-quality audio and video output
Download this recorder! No registration is required.
Let's find out how to record a podcast effortlessly.
Step 1. Launch EaseUS RecExperts on your computer, and click "Audio" (looks like a speaker) on the left side of the main interface.

Step 2. To record the internal audio, you need to select the "System sound" option on the next window. You can adjust the volume by clicking on "System sound" > "Advanced options".

Step 3. Next, click on the red "REC" button to begin your recording. While recording, you can pause or stop the recording by clicking on the according buttons.

Step 4. Once done, you can find the recordings in the pop-up recording list window.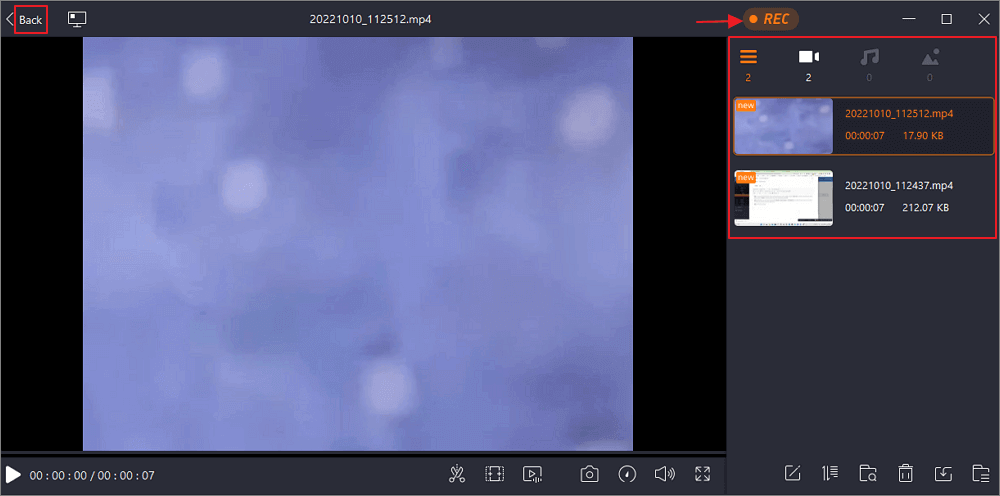 Top 2. Wavelab10
System OS: macOS and Windows
This podcast recording software is one of the best software and can be used for podcast recording and performing any form of sound editing tasks. It allows us to add real-time effects, recover sound damage, and more. Apart from recording noise-free podcasts, it also supports editing of the recorded files with less/ no effort, and you get amazing audio outputs in no time.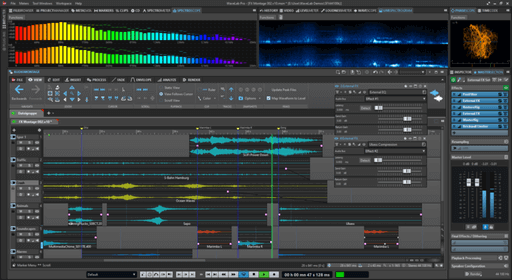 Pros:
Provide excellent sound design features
Powerful batch processing tools
Industry-leading audio analysis options 
Cons:
Quite expensive 
Designed to aim at only audio industry professionals 
Top 3. Hindenburg Journalists PRO
System OS: Windows and macOS 
Using this podcast recording software, you can conduct interviews from your home and any other remote location. This powerful sound recorder will preserve the quality of the audio throughout the process of editing. You can use it to record interviews that can be conducted by using applications like Skype, Facetime, and more.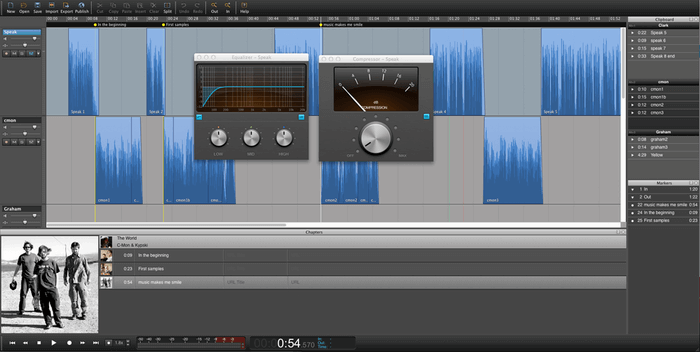 Pros:
It has a lot of audio effects 
You can add chapters, images, and links to podcasts
Allow reducing noise incredibly 
Cons
No option for file conversion 
Lack some advanced editing tools for audios 
Top 4. Adobe Audition 
System OS: Windows and macOS 
This tool is one of the most popular and most used podcast recording software of all time. It is one of the best audio editing tools available in the industry. It has almost all the features that you need to record and edit audio. There are a variety of templates available you can choose from, and it allows you to set and adjust audio levels.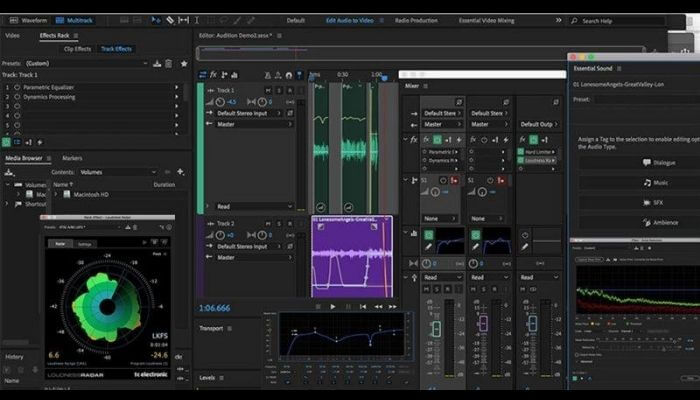 Pros: 
Allow to do professional audio mixing and also mastering the tools
Help in removing the noise effortlessly
Provide royalty-free audio effects
Cons:
With the steep learning curve for novice audio engineers
Top 5. Pro Tools 
System OS: Windows and macOS
It is a simple yet powerful podcast recording software, especially for musicians, storytellers, and podcasters. It allows you to speed up the mixing process and to mix the audio and the video files. There is a completely free version of this software available for music lovers to use for free for a lifetime. Even the PRO version of it has a limited trial period to use it for free. Apart from that, the software in association with UVI Falcon 2.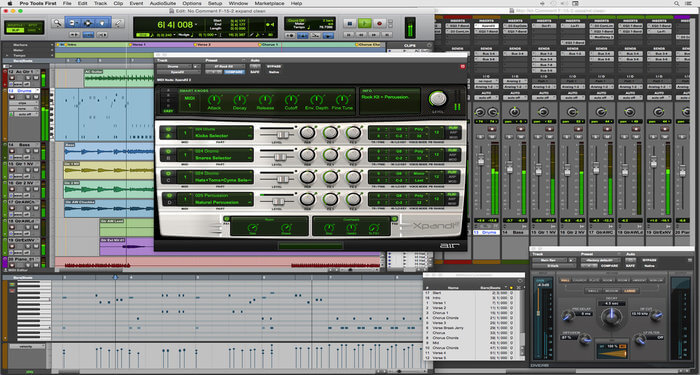 Pros:
Provide extensive plugin support 
Allow creative freedom for all the projects
Cons: 
Aimed only for professionals
Feature more audio recording and editing tools that a regular podcast needs
Top 6. GarageBand 
System OS: iOS and macOS
GarageBand is simple audio recording software that has a lot of features and is versatile. By using this software, you can learn to create podcasts easily. It has features as it helps remove the users' mistakes during the recording session and has the feature to control the audio peaks.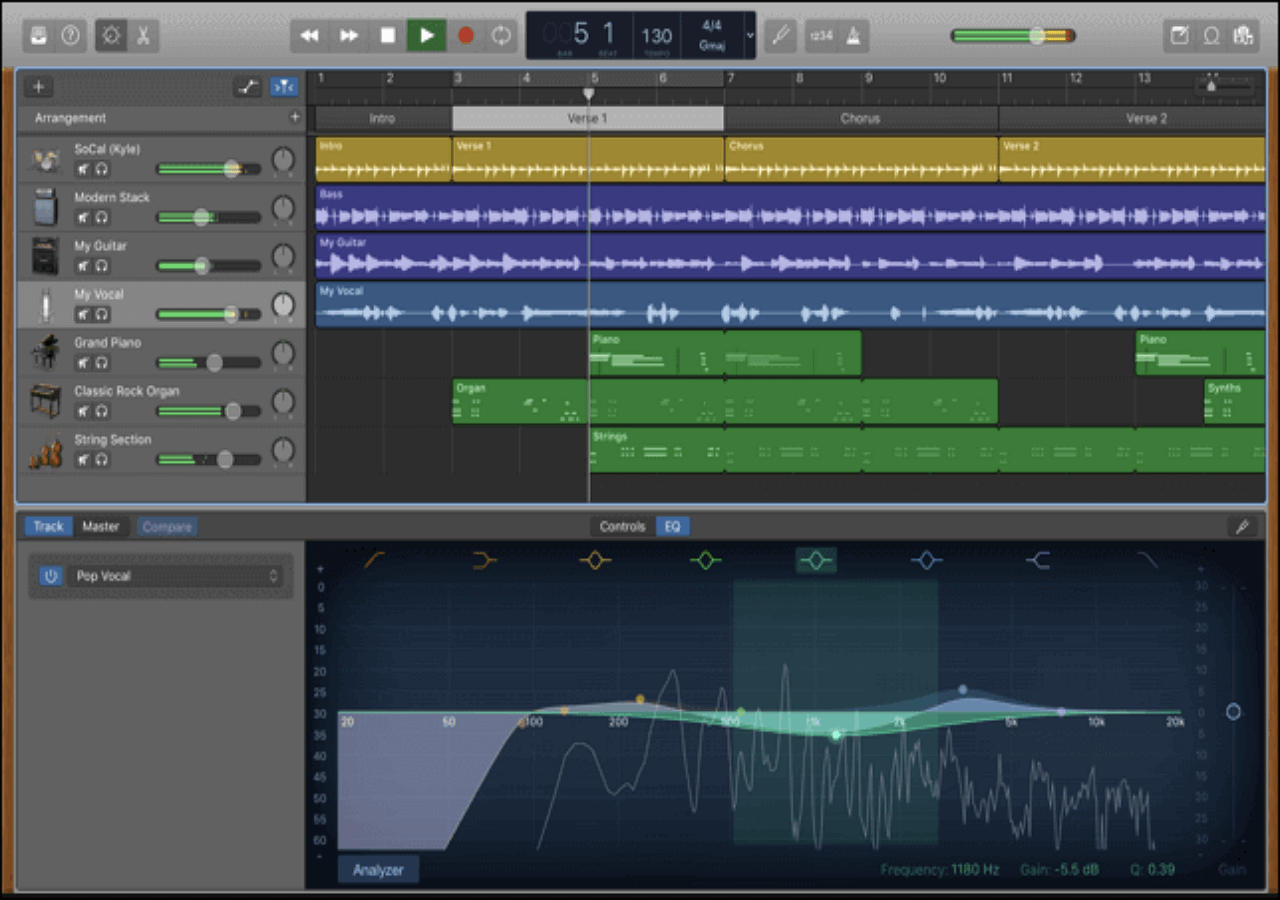 Pros:
Smooth podcast recording 
Allow users to share their recordings on social media 
Provide high-resolution recordings 
Cons:
It doesn't support MIDI output
Mediocre technical support assistance
Top 7. Reaper
System OS: Windows, Linux, and macOS
Reaper is a podcast recording software that allows multitracking and MIDI recording, mastering the tools, and mixing it. It also allows support to digital audio file formats. It has a wonderful online guide to train the basic functionalities of the software for first-time users. One can also join the online forums and download operational instructions to know the features of every option present in the panel.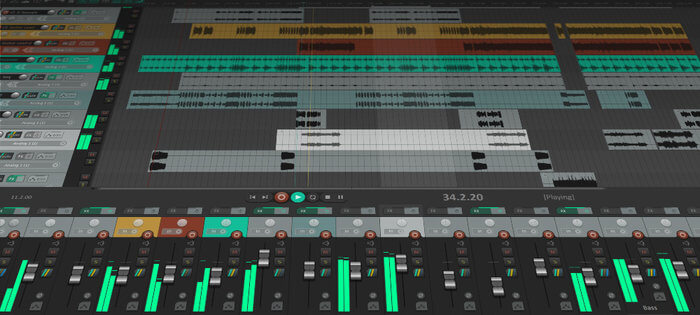 Pros:
Hundreds of in-built audio effects 
Advanced audio editing tools
Cons:
No file-sharing options
Designed for music industry professionals 
Top 8. Fission 
System OS: macOS
This podcast recording software provides features where you can get various audio editing tools that make the audio editing process simple and easy. You can integrate with audio and record the podcast and also edit them. The software is equipped with in-built effects that you add to the recorded file while editing and producing fascinating audio tracks to add more to the functionalities.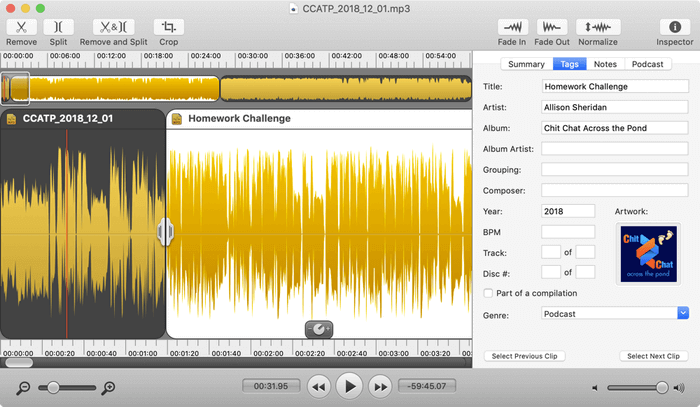 Pros:
Fade, cut, and merge multiple numbers of files without interrupting the quality of the audio
Quick conversion of audio files
You can set split points 
Cons:
No inbuilt recording feature 
No option to add plugins
Top 9. TwistedWave
System OS: macOS, iOS, and web-based
This sound recording software provides audio recording options as well as editing options. TwistedWave offers limiting or compression of audio files and also transforming them into high-quality soundtracks. This podcast recording tool provides an easy user interface with robust architecture to draw exceptional sound recordings out of a normal audio track. Moreover, it is free to use!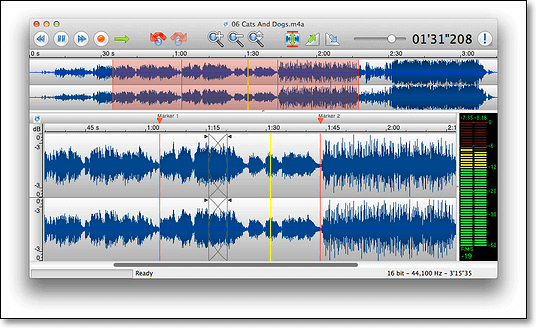 Pros:
Support metadata concept
An automatic silence detection feature
Excellent batch processing facilities 
Cons:
No audio effect library
Not available for Windows
Top 10. Audacity 
System OS: macOS, Linux, and Windows 
It's an open source screen recorder. This software has been used by podcasters for decades and is still one of the best and most used podcast recording and editing software to record and edit audio for free. You can record live audio and also digitize audio files from other media. It has a feature where you can choose to create a 16-bit, 24-bit, or 34-bit audio recording.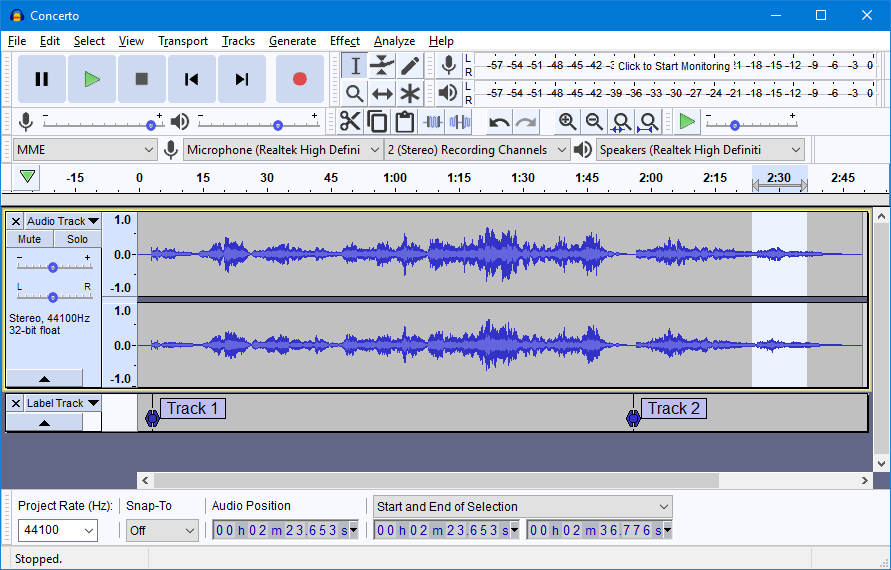 Pros:
Provide a vast library for audio effects
Audio recording options are free
Support all of the audio file formats that are mostly used
Cons:
Outdated interface design
Confusing architecture
Top 11. Zencastr 
System OS: Windows, macOS, and Linux
This software has been used by podcasters for decades and is still the best and most used software to record and edit podcasts online. You can record audio using standalone software. It also has a feature where you can choose to create a 16-bit and 44.1k quality audio recording. You can easily edit the recorded files as well.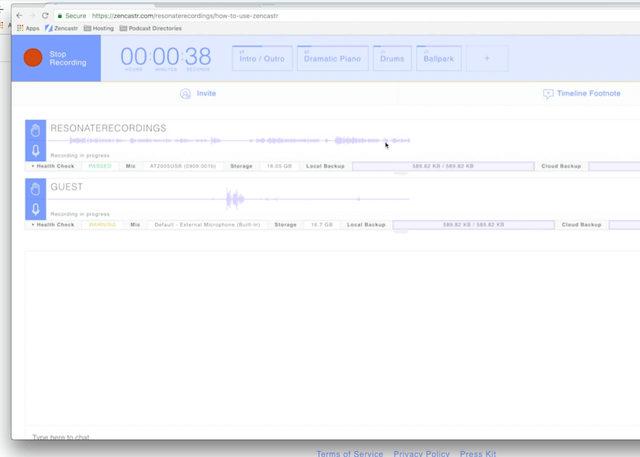 Pros:
Provide a soundboard for live editing 
Allow automatic post-production 
A separate track per guest where Zencastr records voice
Cons:
The free version of this software has limited features
The premium version is still in the beta stage
Conclusion
It is difficult to select the best podcast recording software when you have plenty of options, and all are great performers. But still, when you are forced to decide the best one among all of them, then the choice would be EaseUS RecExperts, and that is the reason it tops our list of best 11 best podcast recording software.
Understanding the features, functionalities, portability, and affordability, EaseUS RecExperts is the best solution.
About the Author

Crystal Chen is very interested in technology products. Experiencing many technological applications, She is willing to solve users' problems through writing tech-related articles. Through her words, you can find various solutions to solve one issue.