
Table of Contents

About the Author

Related Posts

Best Audio Recording Software
Quick Navigation:
Snapchat is a popular app for all youngsters worldwide, and it empowers people to express themselves, live in the moment, and have fun with friends and family easily. However, it has the greatest weakness in that the Snaps will automatically disappear after 24 hours, or they can be deleted after your view them. So, if you find some interesting Snapchat stories and don't want them to go away, then how to deal with it?
Generally speaking, it is impossible to get the task done, as Snapchat does not allow you to save the Snaps. However, if you insist, you can choose to screen record on Snapchat to save the recording on your devices, but most of you don't know how it works. Given that, this post comes in handy. Here, you will learn some workable screen recorder software that will help you screen record on Snapchat without them knowing. Now let's dig into it.
Tips About Screen Record Snapchat Without Them Knowing
Does Snapchat notify when you screen recorded? Of course, yes. Whether you screen record or screenshot on Snapshot, it will notify the sender. But most of you might want to screen record Snapchat without them knowing. If you are one of them, you can get help from the below tips:
Tip 1. Disconnect from the Network
First, load the Snapchat stories that you want to record. Next, turn off the data network or Wi-Fi. Once done, you can use a screen recorder to begin recording on Snapchat without others knowing.
Tip 2. Enable the Airplane Mode
Another way is to enable the Airplane mode before recording Snapchat. It will cut off the network, and all the operations in the app won't respond to the operation occurring. Also, it will not send the notification to the targeted person.
Tip 3. Mirror Phone on PC
Mirroring Phone on PC is another way. As Snapchat cannot read the computer's activities, which means you can quickly record on Snapchat without them knowing.
Tip 4. Use Another Camera
The last way is to try another phone or camera to record your screen. It might not be with a higher resolution. But to screen record on Snapchat, it is an accessible way.
How to Screen Record Snapchat Without Notification on iPhone/iPad
If you are going to record on Snapchat on iOS devices, like iPhone or iPad, you can finish the task in simple steps. One of the biggest advantages is that you don't need to download any third-party screen recording apps from App Store, as there is an inbuilt iOS screen recorder.
This built-in screen recording feature lets you capture your screen with or without sound. Once the recording is done, you can find the recorded Snaps file in Photos. If needed, you also can use it as a YouTube recording software to record videos from YouTube. In the following, we will walk you through the steps to record on Snapchat:
Stage 1. Enable screen recording feature.
If you used to record something on your iOS screen, just skip this step. If not, check out below.
Step 1. Back to the main screen, find and tap the Settings app. Hit "Control Center" > "Customize Controls".
Step 2. Scroll down to tap "Screen Recording" > "+" to add this feature to your Control Center.
Stage 2. Start Snapchat Recording on iPhone/iPad
Step 1. Open Snapchat and find the Snap that you want to save. Then 
Step 2. Next, open the Control Center, and touch the gray Record button to start your recording.
Step 3. To stop recording, you just need to open the Control Center again and hit the red Record button. Once done, you can view the screen recordings in the Photos app.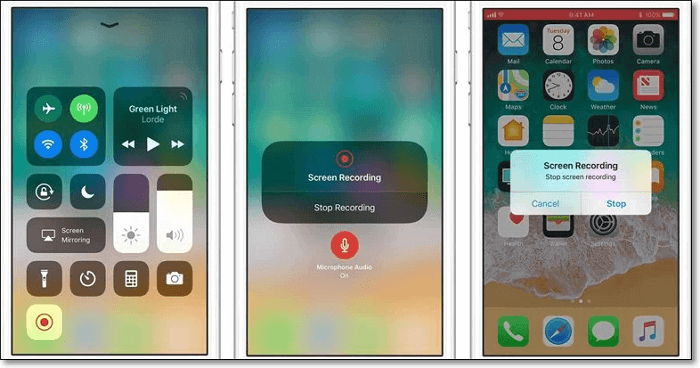 How to Record on Snapchat Without Knowing on Android
If you use an Android device, you can quickly screen record on Snapchat, as there is also an inbuilt Android screen recorder available. Similar to iOS devices, you can quickly start Snapchat recording, however, it only provides some basic recording options. If you have other requirements, you can choose to use some third-party applications. In this section, we will show you how to record Snapchat on Android with its inbuilt feature:
Step 1. Unlock your Android device, then swipe down from the top of your screen. 
Step 2. Tap the Screen record button. If you cannot find it, just hit "Edit" and add the "Screen record" option to your Quick Settings.
Step 3. Launch the Snapchat app and view the Snaps you want to record. Next, tap on the "Start" button to begin the recording.
Step 4. To end the recording, you just need to swipe down from the top of the screen and hit the Screen recorder notification.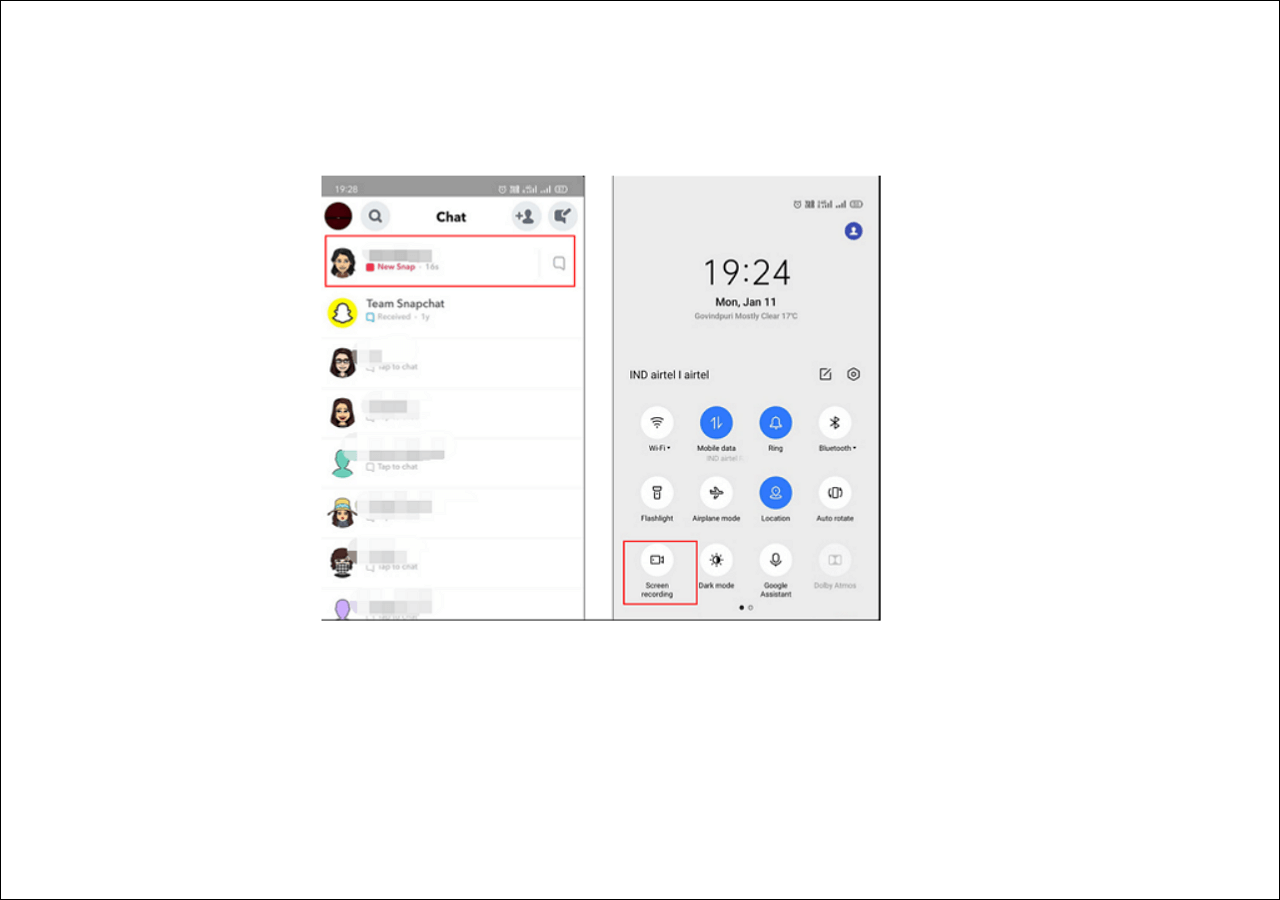 How to Screen Record on Snapchat on PC/Mac
Sometimes, you might view the Snaps on your PC or Mac from its official website, and want to record Snapchat stories on computer. Then, you cannot miss a fantastic screen recorder called EaseUS RecExperts.
Compatible with both Windows and macOS, EaseUS screen recorder helps you handle almost any screen recording-related task, including recording live streaming videos, gameplay, video conferences, etc. All you need to do is to select the recording area, hit the Record button, then let RecExperts do the rest. 
The reason why we recommend this video recording software is that it lets you record anything in an unlimited time. That means you can record as much long as you want. Moreover, your recordings will not contain any watermark. All the features mentioned can even be available in the FREE version. 
Highlights:
No watermark and no time limit
Record screen in HD and even 4K resolution
Start, stop, and split the recording automatically
Provide some tools to edit your recordings
Here's how to record Snapchat on Windows/Mac:
Step 1. Run EaseUS RecExperts on your device and you will see two recording modes. You can choose "Full Screen"to record the whole screen or choose "Region" to select the recording area manually before recording.

Step 2. After that, you can choose to record the webcam, system sound, microphone or record none of them as you like. You can also set auto split, auto recording with various functions on the interface.

Step 3. Then, you can click the red "REC" button to start recording. Here will be a menu bar on your screen. To pause the recording, click on the white double vertical bar; to end the recording, click on the red square sign.

Step 4. After recording, you will be led to the list interface. Here you can view or edit your recordings. To start a new recording, just click on the "REC" button on the top of the interface.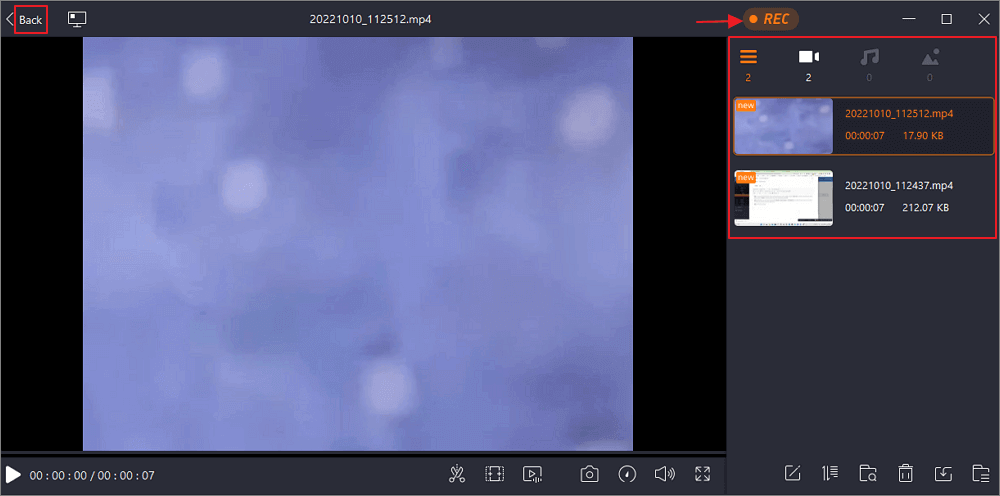 The Bottom Line
If you need to record screen on Snapchat without notification, you are going to get help on this page. Whether you use iPhone, Android, PC, or Mac, you can always find solutions here. Just share it with your friends to help them record on Snapchat.
How to Screen Record on Snapchat FAQs
1. How to Record Snapchat without holding the button?
Step 1. Open Snapchat on your phone and start recording a video by holding the record button.
Step 2. You can see a little lock sign next to the record button when you start recording. Just slide it toward the lock button to release your finger.
Step 3. The record button will now contain a stop sign. Then you can click the button to stop it.
2. Is it illegal to screenshot someone's Snapchat content?
Actually, it depends on the situation or the purpose for which the screenshot is being taken. If you use it for yourself, it is not illegal.
3. Why does Snapchat include screenshot notifications?
It strengthens internet privacy and takes care of people's stuff. 
About the Author

Jane is an experienced editor for EaseUS focused on tech blog writing. Familiar with all kinds of video editing and screen recording software on the market, she specializes in composing posts about recording and editing videos. All the topics she chooses