
Table of Contents

About the Author

Related Posts

Best Audio Recording Software
A good quality screen recorder will allow a user to record freely. It won't only present great options such as recording specific areas, windows, or games, but it will also allow the user to record audio—whether from their microphone or the sound of their computer.
While a good video capture software will always present these options, the best kind will also allow you to edit the videos. Hence, you need a screen recorder to allow you to record videos and edit them as you go along. Here's why:
save a lot of time
increase video-recording efficiency
be ideal for gamers
ideal for streamers, YouTubers, etc.
These are only some of the benefits that users might look for. So, let's keep digging and find the best screen recorder and video editor you can use today.
1. EaseUS RecExperts
EaseUS RecExperts is perhaps the most well-known screen recorder tool today. This screen recorder and video editor offers intriguing options that'll provide you all you need in a tool of such kind. It has convenient options, and it allows you to edit as you go.

Besides that, the ability to set up keyboard shortcuts to specific tasks makes it an even better option for those who work on the go— or need something speedy to accompany them. That's why this is the best screen recorder and video editor that you can use today.
Pros
A lot of flexibility in terms of screen recording
Easy to use for audio recording
Very handy in terms of specific captures, i.e., Webcam, audio, games
Allows you to record a specific window/game
Edit to add lines, texts, and other notes as you record
Cons
The free trial only has two minutes of video capture
2. SmartPixel Pro
SmartPixel Pro is one of the basic screen and video recorder programs and editors available today. However, this is all you need, as this tool keeps it simple and straight. This tool is targeted towards beginners in screen capture and recording, as it only offers an efficient option for recording and editing.
The tool has other intriguing elements, including the ability to record microphone audio over any video. This particular feature is targeted more toward teachers or content creators. However, it's equally viable for all types of PC or android users.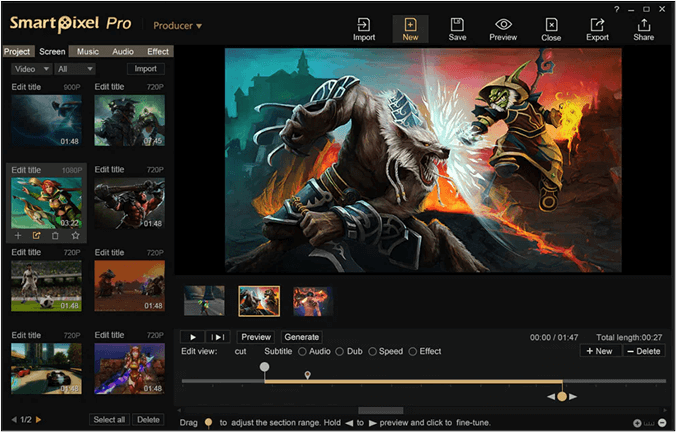 Pros
The pro version activates many great features, including microphone and audio editing
Allows you to record specific audio, video, or windows
Record webcam/narration separately
Overlap the video's recording by adding your own voice/music
Cons
The pro version is a bit expensive
Doesn't support 4K recording or a 60fps option
Very basic editing features
3. Camtasia
Camtasia is another remarkable and renowned screen recorder and video editor today. This tool is known for its flexibility and the options that it provides. The tool is targeted at content creators and gamers, but there are features that make it ideal for all sorts of users.
For one, the audio editing ability of this tool is outstanding and perhaps one of the best available today. That's why this tool is an ideal option for those who wish to edit audio after recording.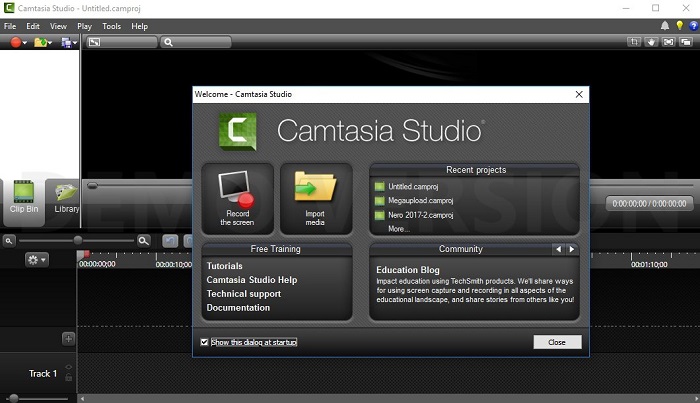 Pros
Ability to capture high-res videos (including 4k)
Edit, clip, or cut out video or audio
Add visual effects or audio to your videos
Cons
The trial version is very limited and leaves a watermark
Not an easy tool to use
4. CamStudio
CamStudio is one of the most used audio and video recorder today. Not because it's an all-powerful and all-encompassing software—but because it's very simple and keeps things very easy for a beginner. That's why this screen recorder without watermark is ideal for someone who is just getting started in editing and capturing screen videos.
This tool's basic design makes it easier for those who aren't well-versed in technology. Thus, there aren't many features in this tool besides the ones that you absolutely need.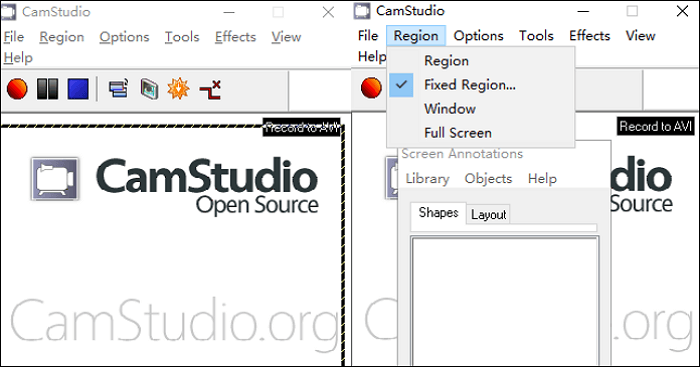 Pros
Useful for quick recording
Support recording picture-in-picture videos
Simplistic UI makes it easier for beginners
Cons
Very limited audio and video recording options
Only a few basic editing features
5. Flashback Pro
Flashback pro is one of the most efficient editors and video recorders available today. Used mostly by gamers or content creators, this tool is a bit of an overkill for educators or professionals who record meetings.
The tool is ridden with incredible features, including its video and audio recording leniency. Besides that, the editing options make it a very useful software for those who wish to save time right after recording.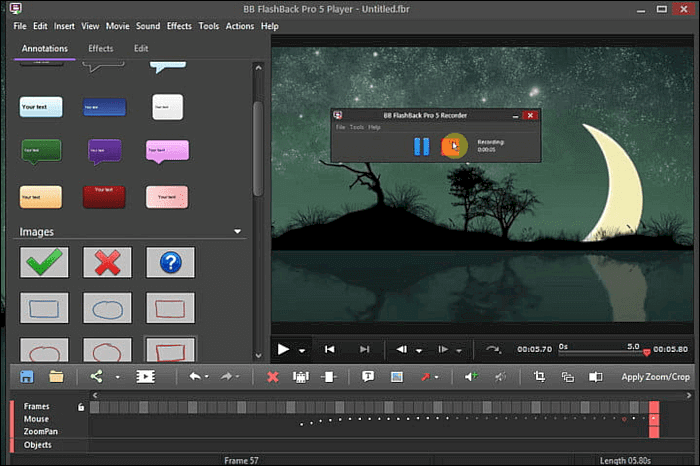 Pros
Exciting and simple UI design
Efficient editing options
Direct video sharing after editing
Cons
Not available for Mac or any other OS besides Windows
Not ideal for video game recording
6. Movavi Screen Capture Studio
Movavi Screen Capture studio is one of the best tools for video capturing and editing. However, it's this far down on the list because it's not exactly an affordable option. The tool has great options, which makes it enthusiastic software.
So, it may not be suitable for people who aren't well-versed in technology or those who do not need a detailed recording and editing tool. However, it's a remarkable video recorder and editor which can help content creators and game recorders in many ways.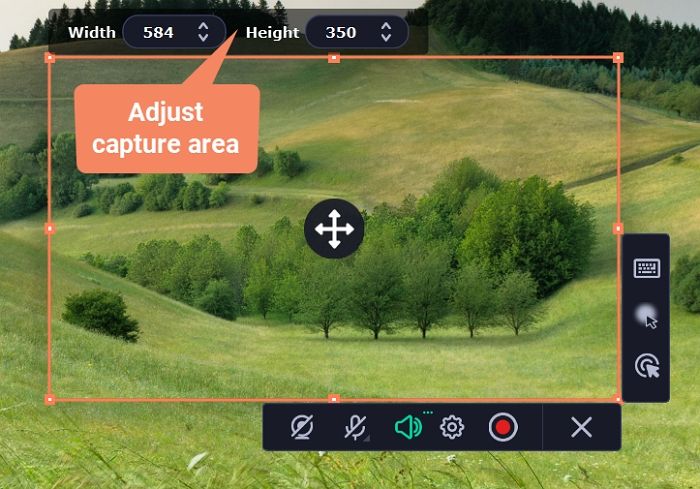 Pros
Ideal for professional screencasts and recording
Basic but handy editing features
Add visual effects
Share or export files directly to Google, One Drive, or other cloud storage   
Cons
A lot of complaints about crashes and freezes during recording
Lack of genuine customer support
Quite expensive for its quality
7. ScreenFlow
ScreenFlow is one of the renowned tools among gamers and streamers, as this tool has all the key essentials you need. It allows you to edit and record videos, including on Windows, Mac, iPhone, and iPad as well.
Besides that, it has a few detailed editing and clipping features that make it just the right option for YouTubers, tutors, or content creators.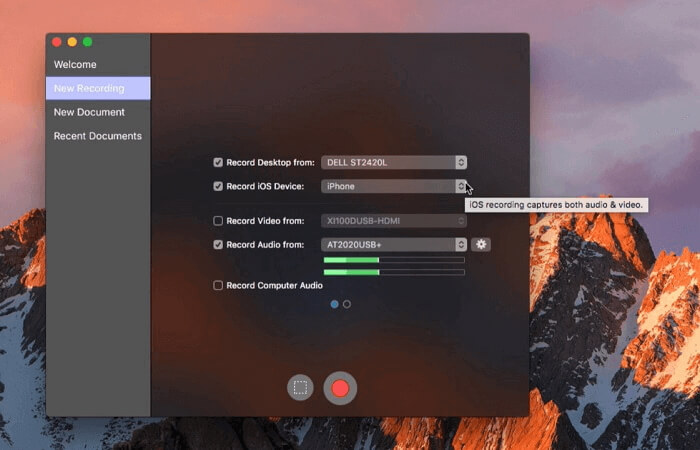 Pros
Ideal for gamers as it's very steady during challenging recording sessions
Very easy to use even with its advanced features
Ideal for voice-over audio editing
Cons
Doesn't offer free upgrades after you buy it
Doesn't have many effects
It may not be ideal for beginners
Wrapping Up
These are some of the best tools that you can use today to record your screen and edit the video right after. While all of these tools are remarkable, there's no doubt that EaseUS RecExperts stands out as the best option that you have today.
It's easy to use; it has remarkable editing options; it's ideal for all sorts of purposes, including gaming, and it is very affordable. Thus, you should pick it if you're looking for a long-term and affordable solution.
Screen Recorder and Video Editor FAQs
If you're looking for further answers, you'll find them here:
1. How do I edit a screen recording video?
It depends on the tool that you use. In EaseUS RecExperts, you can easily edit the videos as you record them—saving you time from having to edit them later.
2. What are screen recorder and video editor Chrome extensions?
Screen Recorder and Editor is a chrome extension that allows users to record and edit videos running in their Chrome browsers. It's a browser-only tool, so it'll record what's happening in the browser only, even if you switch between tabs.
3. What are the best free screen recorder and editors?
There are many tools available today that fall into this category, but EaseUS RecExperts stands out because it's affordable, easy to use, and offers a very simple yet effective UI design.
4. How do I record my screen in the Windows video editor?
Using Windows video editor for screen recording is quite straightforward, and here's how you can do it:
Open the video editor, then click on the Record Screen option
Select the area of the part of your screen you wish to record
Start recording
Head back to stop recording
About the Author

Jane is an experienced editor for EaseUS focused on tech blog writing. Familiar with all kinds of video editing and screen recording software on the market, she specializes in composing posts about recording and editing videos. All the topics she chooses