
Table of Contents

About the Author

Related Posts

Best Audio Recording Software
PAGE CONTENT:
World of Tanks is a vehicle combat game. It offers hundreds of various tanks from different countries for users to choose from. Published by wargaming.net in 2010 and launched on Xbox in 2014, it has been around for over a decade.
Many people like to record the gameplay process to upload to social platforms or share with friends and families. However, not all of them know how to record World of Tanks in simple ways. In this article, we will show you how to record World of Tanks gameplay with the default way and some third-party apps.
Method 1. Record World of Tanks with EaseUS RecExperts
To record a gameplay on PC and Mac computers, you can never miss EaseUS RecExperts. This software is a screen recorder that can record all the gameplay without a time limit. With it, you can easily adjust the settings and capture whatever gameplay going on on your screen.
It can record not only World of Tanks but also hot games like Overwatch, LOL, Minecraft, etc. You can record screen and webcam at the same time or not. If you need to record a tutorial, it's better to record the screen with the webcam.
What's more, with this Mac and Windows screen recorder, you can choose to record in the way you like. You can record the full or part of the screen, record system audio, record online meeting, and record the webcam if you want. Check more information about it below.
Main Features:
Record Minecraft, LOL, Overwatch, and more
Record videos with noise cancellation
Record gameplay with a virtual background
Record Google Meet and other online conferences
Split recording clips to get rid of unnecessary parts
Now, you can download the software from the button below and follow the steps to record World of Tanks gameplay immediately.
Step 1. Launch the gameplay that you want to record. Next, open EaseUS RecExperts and click on the "Game" button on the left.

Step 2. Click on the "Select Game" option to choose a Game Window or Game Process. Then, you can enable the audio and webcam recording if needed. When all are done, click the big REC button to start the gameplay recording.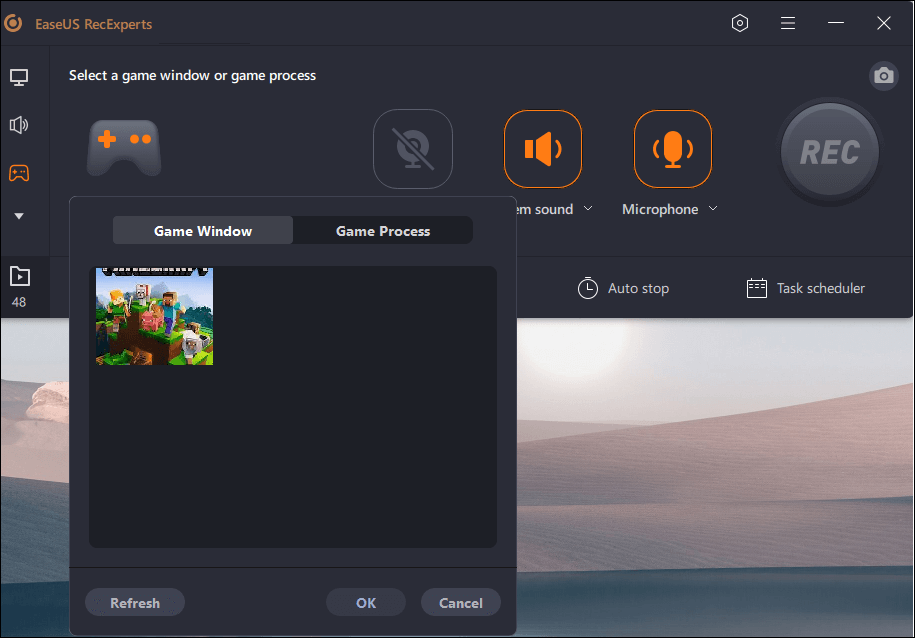 Step 3. A floating toolbar will appear, and you can pause or stop the recording. Besides that, the camera icon enables you to take a screenshot, and the timer icon lets you stop the recording automatically.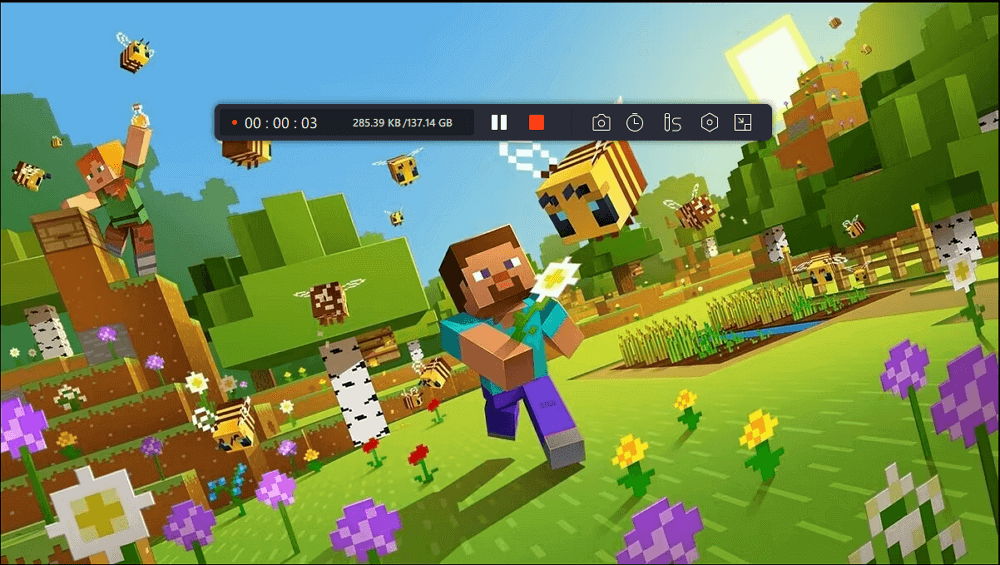 Step 4. After saving the recorded gameplay video, a media player will pop up. It gives you a built-in tool to trim the recording, extract audio from the video, and add an opening & ending part. You can find the tool at the bottom of the player.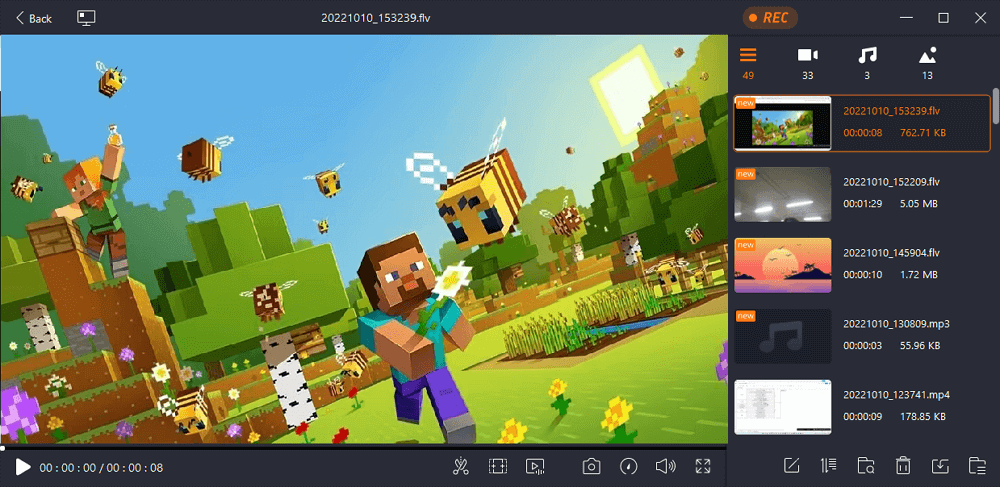 Method 2. Record World of Tanks with the Default Feature
In fact, the game offers a default game recording feature so you can record the gameplay from the settings. It offers two options for users to record the game. You can choose to record "Last" or "All". If you choose the former one, it will record only the last gameplay of yours. And if you choose the latter, it will record all your gameplay.
After setting, you can start playing World of Tanks, and the game will record your gameplay without extra operation. All the recordings will be saved automatically, you can review or share them if you want. Now, let's check on the steps to record World of Tanks with the default game recorder.
Step 1. Go to the settings tab. A general page will pop up on the screen.
Step 2. Scroll down on this page and enable the battle recording.
Step 3. A dropdown box will pop up with three options: None, last, and All. They stand for don't record gameplay, record the last gameplay, and record all games.
Step 4. You can click on one of the three options above and start playing your game.
Step 5. When the game is finished, go to the drive where your World of Tanks is hosted and click on the folder. You will find your replays here.
 Note:

Every time you record a new battle, it will overwrite the recordings that existed. Therefore, to save the last recorded video, you need to rename the file.
Method 3. Record World of Tanks with Xbox Game Bar
Since many people are playing this game on a Windows computer, we offer you a method that works only on Windows 10 and later. This method is to record World of Tanks using the inbuilt Xbox Game Bar.
It is often used by Windows game players because it can capture the gameplay with several hotkeys. If you have known enough about this tool, you may follow the Xbox Game Bar Recording guide to start recording World of Tanks now.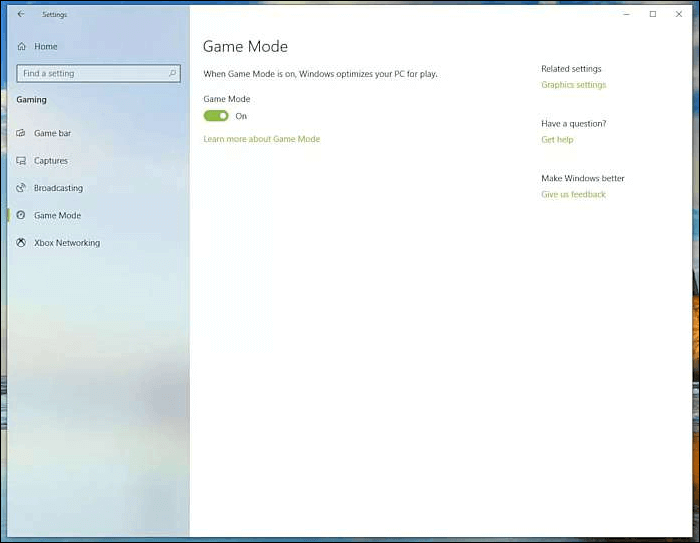 Step 1. Press the "Windows + Alt + G" buttons on your keyboard at the same time to wake up the tool.
Step 2. Click on the red recording button to start. After that, click again to stop recording.
Step 3. After recording, find and view the recorded videos.
Method 4. Record World of Tanks with OBS
OBS is an open-source screen recorder that is popular among game players. One of the reasons that people like it is that you don't need to pay for anything when using it to record gameplay. If you are searching for a free method to record World of Tanks, this may be a good choice.
OBS is rich with features and functions that allow you do more than just record a game. You can also use it to record online lessons, record YouTube videos, and anything that is displayed on your screen. After recording, you can share the videos on social platforms. Just read and follow the steps below to start.

Step 1. Before recording, you can adjust the settings to meet your requirements. You may choose to record the gameplay with or without your microphone.
Step 2. Choose the quality of the recording. The tool supports recording multiple screens, so you can add as many scenes as you want.
Step 3. Click on the "Start Recording" button to start recording. After recording, you can view the recorded videos.
Method 5. Record World of Tanks Using FBX Recorder
FBX Recorder is the last tool that we want to introduce to you when recording gameplay. It can be used to record webcam, audio, and screen. With this tool, you can customize the resolution, frame rate, quality, etc. of the recorded videos.
Moreover, it can be used to record live-streaming videos. Therefore, you can capture all the gameplay without any setbacks. If you want to record the gameplay with exciting sound effects, it's better to record game with audio. Now, follow the steps to start recording World of Tanks gameplay.

Step 1. Download FBX Recorder from its official website and login in.
Step 2. Go to "Settings" to adjust the settings.
Step 3. Start playing the gameplay and press "Ctrl + F12" to start recording.
Step 4. Press the hotkey like "F8" to finish recording.
FAQs about How to Record World of Tanks
In this part, we give you some frequently asked questions and their answers. Let's check on them together.
1. How do I record a game in World of Tanks?
To do so, you can use the methods we offered in the content above. Whether you use the built-in tool or not, you can record a game in World of Tanks successfully by following the steps.
2. How do you record on World of Tanks Blitz?
Your mobile phone comes with a screen recording function. Therefore, if you want to record on World of Tanks Blitz, just play the game and record with the inbuilt feature.
3. How do I control Wot replays?
There are some hotkeys for you to control World of Tanks replays. Just have a look at them below.
Skip forward 20 seconds = Right-arrow;
Skip forward 40 seconds = Ctrl + Right-arrow;
Go to the end of battle = End.
Conclusion
Recording a game is not as difficult as you thought if you get the proper recorder. In this article, we give you a list of capable recorders and you can choose one to start recording. Among all the tools, we suggest you download and use EaseUS RecExperts as it is comprehensive and easy to use at the same time. What are you waiting for? Download it from the button now!
About the Author

Melissa is a sophisticated editor for EaseUS in tech blog writing. She is proficient in writing articles related to screen recording, video editing, and PDF file converting.