
Table of Contents

About the Author

Related Posts

Best Audio Recording Software
Are you in search of the best open source webcam recorder? Your search comes to an end today, but that is just not all. The webcam recorder programs we picked for you can do more than record your webcams, such as recording your audio or editing your video clips or audio files. Without any further ado, let's explore and see which one is for you and what you should select.
Top 8 open-source webcam recorder:
#1. Native Webcam Recorder
Both Windows and macOS have their own webcam recorder built inside. You can search for "Camera" and record your webcam on Windows. And on Mac, open "Photo Booth" to record your webcam.
These are just some great options if all you want is to record webcam. This should not be your choice if you want more control over the recording. But for most people, this is going to be a lot more helpful and is going to be the preferred and go-to webcam recorder tool.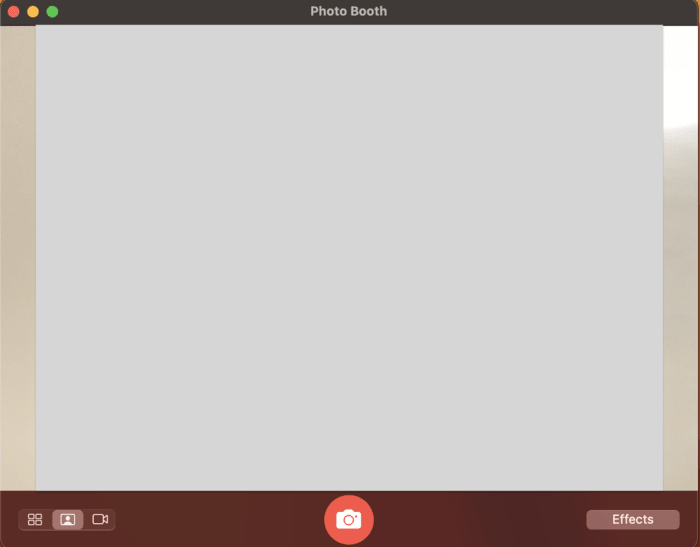 Pros:
Easily accessible
Available for free
Ease to use interface
Cons:
Lack of granular recording controls
#2. WebcamStudio
WebcamStudio is a multifunctional virtual webcam software. It is a free, open-source program, and you can use it to record your meetings on apps like Zoom, Skype, and more. With this program, you can switch between different webcams with ease. If you want to broadcast something, you can also do that with ease. It supports PIP mode (picture-in-picture), and lets you record screen and camera at the same time. It reports the weather and so much more. To download this app on your PC, you will need to head to Steam.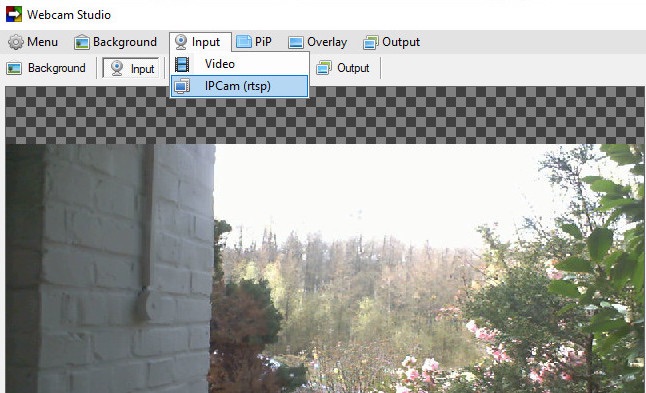 Pros:
It is open-source and free
You can record your webcam as well as your meetings on Zoom and other websites
Supports PIP mode
Cons:
Only available on Steam for download
#3. Logitech Capture
Logitech Capture is a very intuitive and powerful webcam recorder that is very simple to use. With this software, you can connect multiple webcams to your computer and simultaneously record from all the sources. It can record your video in vertical format for mobile viewing and share it on your social media. You could also stream yourself, add text overlays, apply filters, and so much more.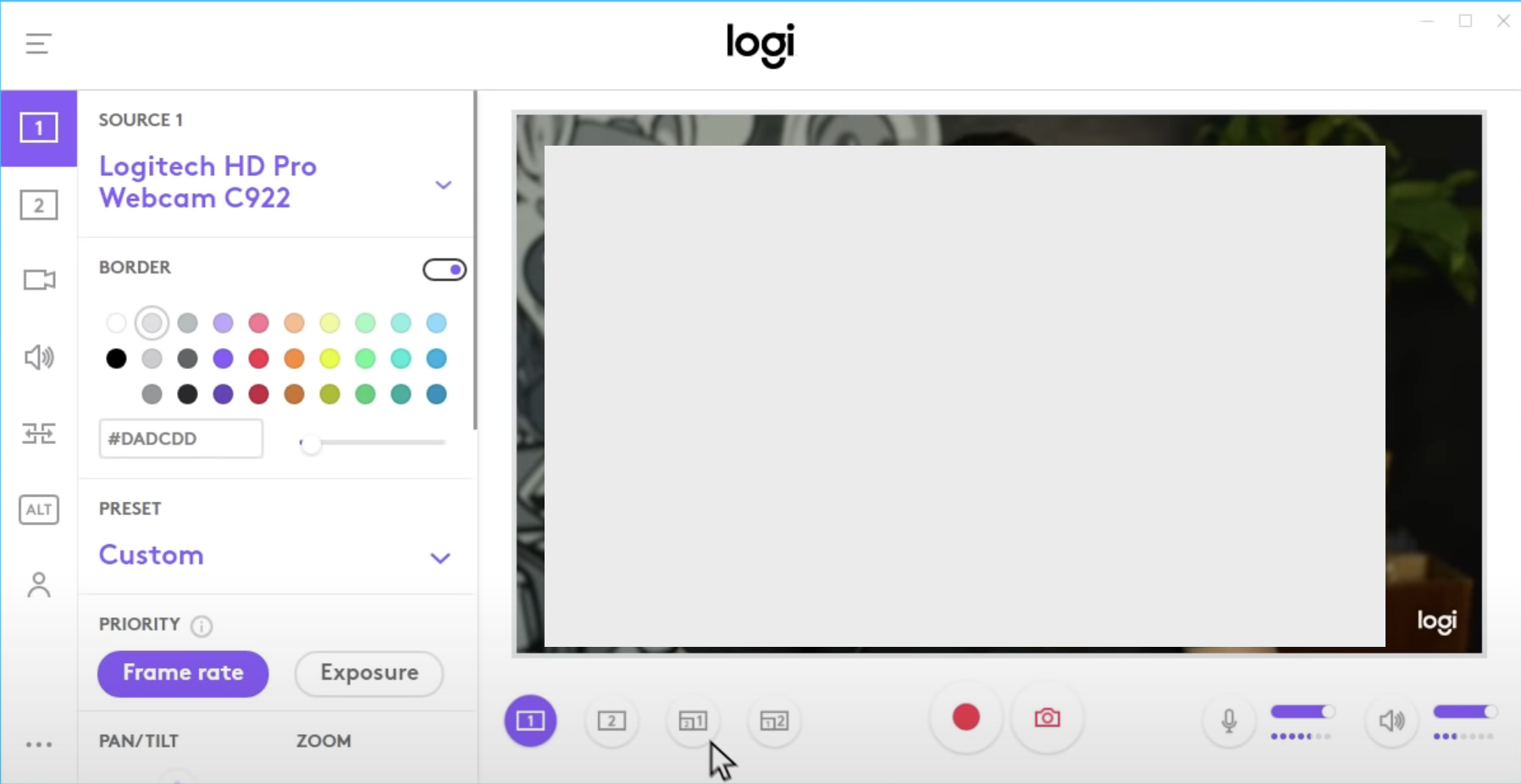 Pros:
A very lightweight and feature-rich program
Records video in vertical format
Records from multiple sources
Cons:
Only works with Logitech's webcams
#4. Free2X Webcam Recorder
The Free2X Webcam Recorder can record your webcam and can also be used to take picture with webcam. You can save your recordings in the following video formats: MP4, AVI, WMV, and more.
This open source webcam recorder also packs in quirky features like pausing that you can use to pause your recordings and resume them again when needed. You can also remove watermarks, record audio, and edit your videos.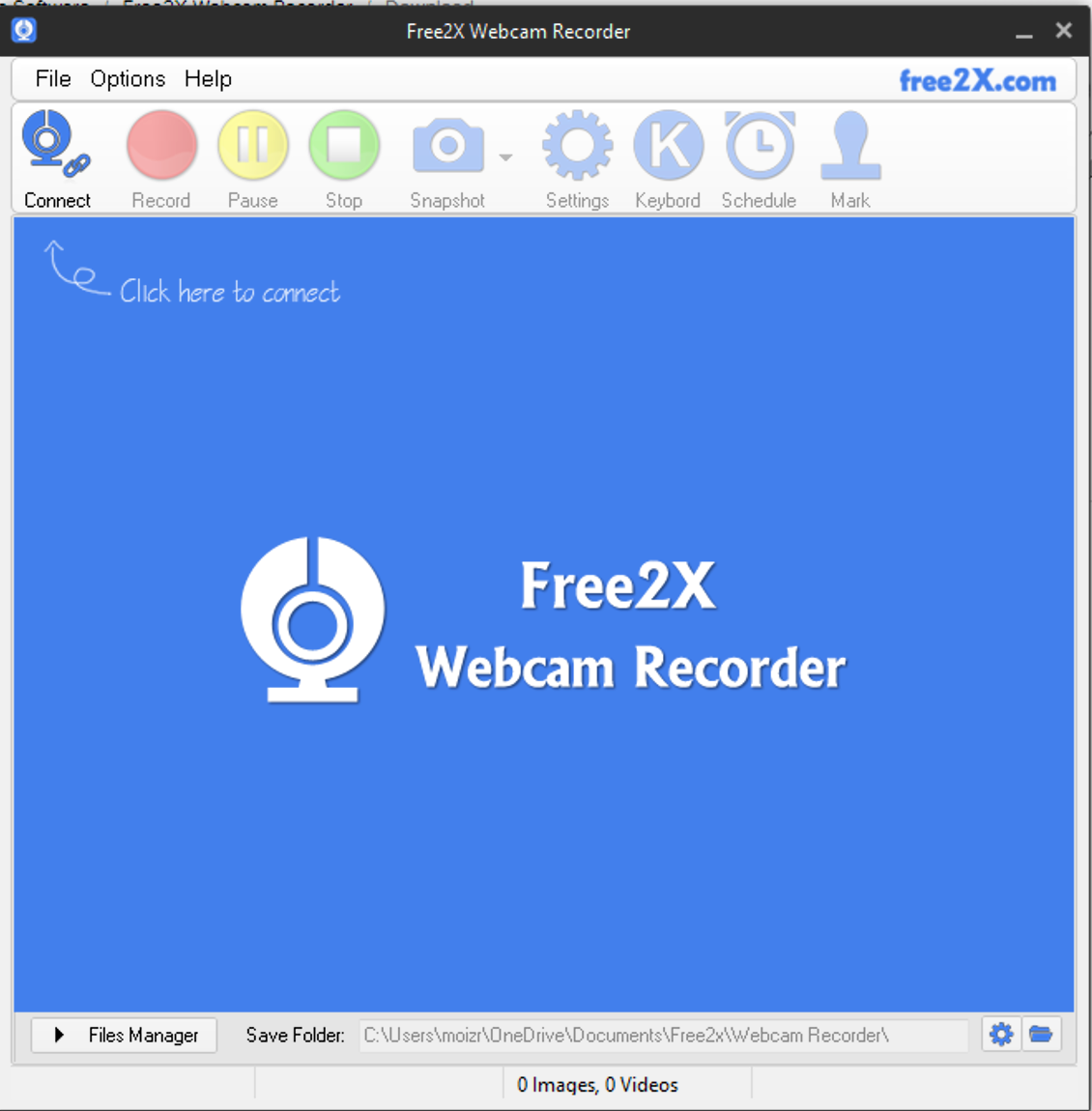 Pros:
Remove watermarks
Save video files in different video formats
Edit videos
Cons:
#5. ManyCam
ManyCam, a free webcam screen recorder, and video switcher is a great program for recording your video chats. If you want to create a live stream on Twitch, YouTube, or any other platform that supports live streaming, you can do that effortlessly using ManyCam.
In fact, you can live stream to different platforms effortlessly at the same time using this program. This is an ideal program if you host online classes or online meetings.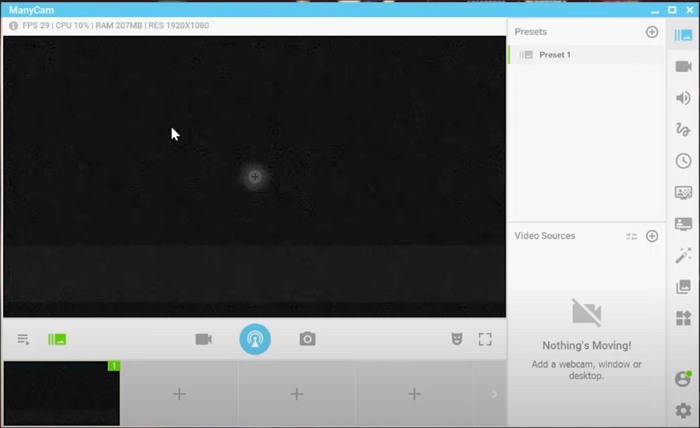 Pros:
Live stream to multiple platforms at the same time
Picture-in-Picture
Masks and effects
Cons:
Limited features in the free version
#6. CamDesk
Another excellent webcam recorder is CamDesk, but it is not a software application but a Google Chrome extension. Unlike other webcam recorders on this list, this can also act as your home surveillance, along with being a great webcam recorder. Also, need a quick screenshot? This could also be one for you.
Although this doesn't have video editing capabilities or fancy features, it is a very lightweight program that anyone can install and get their job done. And since it is just a chrome extension, you can also install it on your PC and Mac.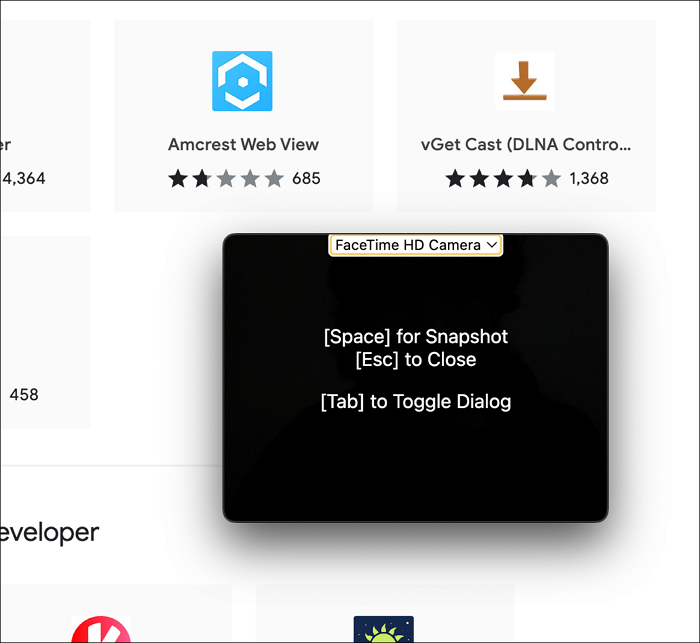 Pros:
Cons:
#7. Bandicam
Bandicam is a free Windows 10 webcam recorder that allows both first-time screen recorder users and those who have previously used one to get started quickly. It is one of the simplest webcam recorder programs and can also screen record your desktop.
Bandicam records all your videos in high quality and is available for download on both Windows and Mac.
With Bandicam, you can record streams from Apple TV, your PC, PlayStation, or Xbox gameplay, record your smartphone screen, and so much more, apart from recording your webcam.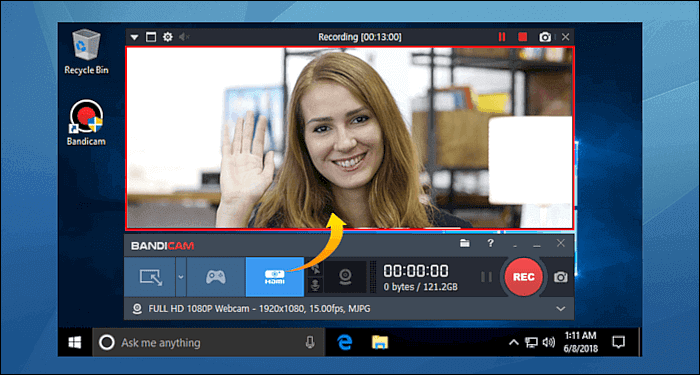 Pros: 
Easy to use
Record webcam as well as different types of sources
Cons:
Only available on Windows
#8. OBS Studio
Open Broadcaster Software (OBS) Studio is one of the most popular programs that lets users record their webcams and stream them playing games. It is regarded as one of the best programs available yet for streaming on different online streaming websites such as Youtube.
It has plenty of features that are going to transform your whole experience when compared to other applications. This is truly overkilled for most people.
It is also important to add that while this is fully feature-rich, there will be a learning curve initially. Once you are acquainted with the program and its features, this program is going to help you in many ways.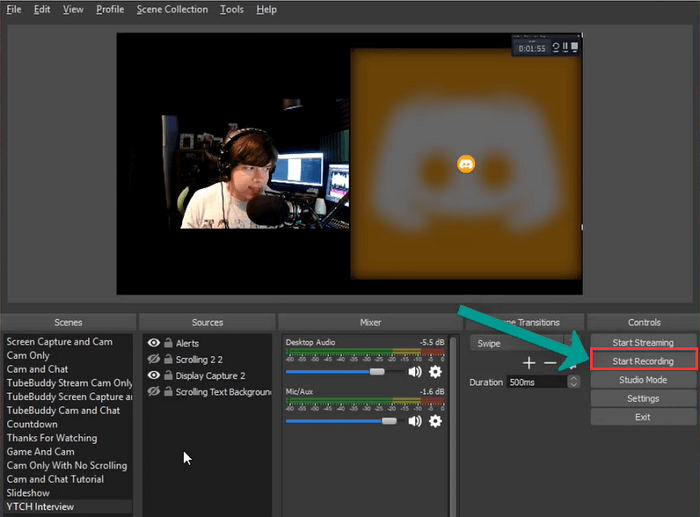 Pros:
Feature-rich
Records and streams videos
Free to download
Cons:
It can take a while for users to learn
Open Source Webcam Recorder Alternative - Record Video with Virtual Background
Although open-source webcam recorders are free, they usually provide limited features and functionalities and won't be updated. Sometimes, you might want to find a powerful webcam recorder that lets you record with virtual background, voice, or others, then you can switch to EaseUS RecExperts, an all-in-one Mac and Windows screen recorder.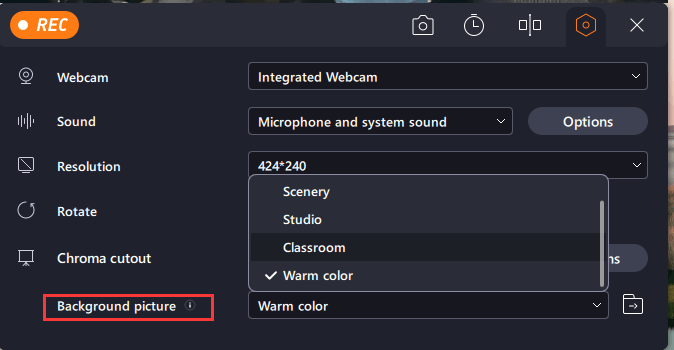 This software lets you record internal or external webcams as you want. Besides, you can choose to record with audio, and change the webcam resolution, position, and more while capturing the webcam. If needed, you can even take a picture during the webcam recording.
Most importantly, it offers a Chroma cutout feature. Once enabled, you can easily record video with virtual background. Don't hesitate to get this fantastic software now!
Wrapping Up
There are many open-source webcam recorders, but we wanted to suggest only the best ones. I hope I succeeded in that and you have found the tools that you were looking for after reading this article.
Open Source Webcam Recorder FAQs
Have more questions about recording your webcam? This section should solve it for you!
1. Is there free webcam software?
Yes! In fact, it is already preinstalled on your computer. On Windows, you can record your webcam using "Camera," and on Mac, you can do that with "Photo Booth."
2. How long can a PC camera record?
There is no limit, but technically, you can record until your hard drive is full.
3. How do I use a virtual camera on OBS?
Here's what you need to do after you install OBS on your computer:
Open OBS and click on "Sources" and then click on the "+" icon.
Now, select between Media Source or Display Capture.
Now, in the lower-right corner, click on "Start Virtual Camera" under the "Controls" section.
About the Author

Jane is an experienced editor for EaseUS focused on tech blog writing. Familiar with all kinds of video editing and screen recording software on the market, she specializes in composing posts about recording and editing videos. All the topics she chooses