
Table of Contents

About the Author

Related Posts

Best Audio Recording Software
Most people in the audio and video industry prefer Mac to Windows because of the smooth workflow and great performance. And actually, there are some built-in apps for audio recording and video editing on Mac, which can help you deal with some basic tasks.
However, if you want to record audio for music production, or capture it for a podcast, you must need the best audio recording software for Mac. Here, on this page, we have covered some of the best Mac audio recording software, which will assist you in creating high-quality audio files effortlessly.
No.1 EaseUS RecExperts
While speaking audio recording software for Mac, EaseUS RecExperts ranks top of the list. It lets you capture both system sound and microphones with one click; besides, it is also possible to record sound from other external devices. That means, you can easily record streaming audio, online music, or even podcast. Once the recording is done, you can save the recorded files in different audio formats like MP3, AAC, FLAC, etc. Most importantly, there is no time limit for audio recording.
Apart from being an audio recorder for Mac, it performs professionally in capturing your screen, webcam, etc., as well. You can use it to record all activities on your Mac, including movies, gameplay, video conferences, and a lot more.
Highlights of EaseUS Audio Recording Software
One-click to start your audio recording
Record internal audio on Mac without any plugin
Support the schedule recording feature for managing recording tasks
Trim recorded audio files flexibly

No.2 Audacity
If you prefer open-source audio recording software for Mac, look no more than Audacity. It is an easy-to-use, cross-platform, and multi-track audio recorder.
This free Mac audio recording software can help you capture live audio through a microphone or mixer and digitize recordings from other media. Also, it comes with a lot of effects and numerous plugin support to simplify the recording process. In addition, you can enjoy some editing functions in Audacity, like cutting, copying, pasting, and deleting, and all of these tools will guarantee high-quality audio.
Highlights of Audacity
Support 16-bit, 24-bit, and 32-bit
Support and offer a wide range of plugins
Export all your recordings in various file formats
Allow manipulating tracks and selections with the keyboard

No.3 GarageBand
GarageBand is an easy-to-use audio capture for Mac users, which lets you record, create, edit, and share your music files without hassle.
Coming with an intuitive and simple interface, it is super easy to handle. Using this program, you can record by simply plugging in your device. Once you finish the recording, you can use lots of audio effects and make your music recording as professional as possible. If you are going to record audio for music production on Mac, GarageBand is a great choice you cannot miss.
Highlights of GarageBand
Provide lots of filter and audio effects for editing
Offer powerful synths with shape-shifting controls
Make it easy to create professional-sounding music
Available in macOS and iOS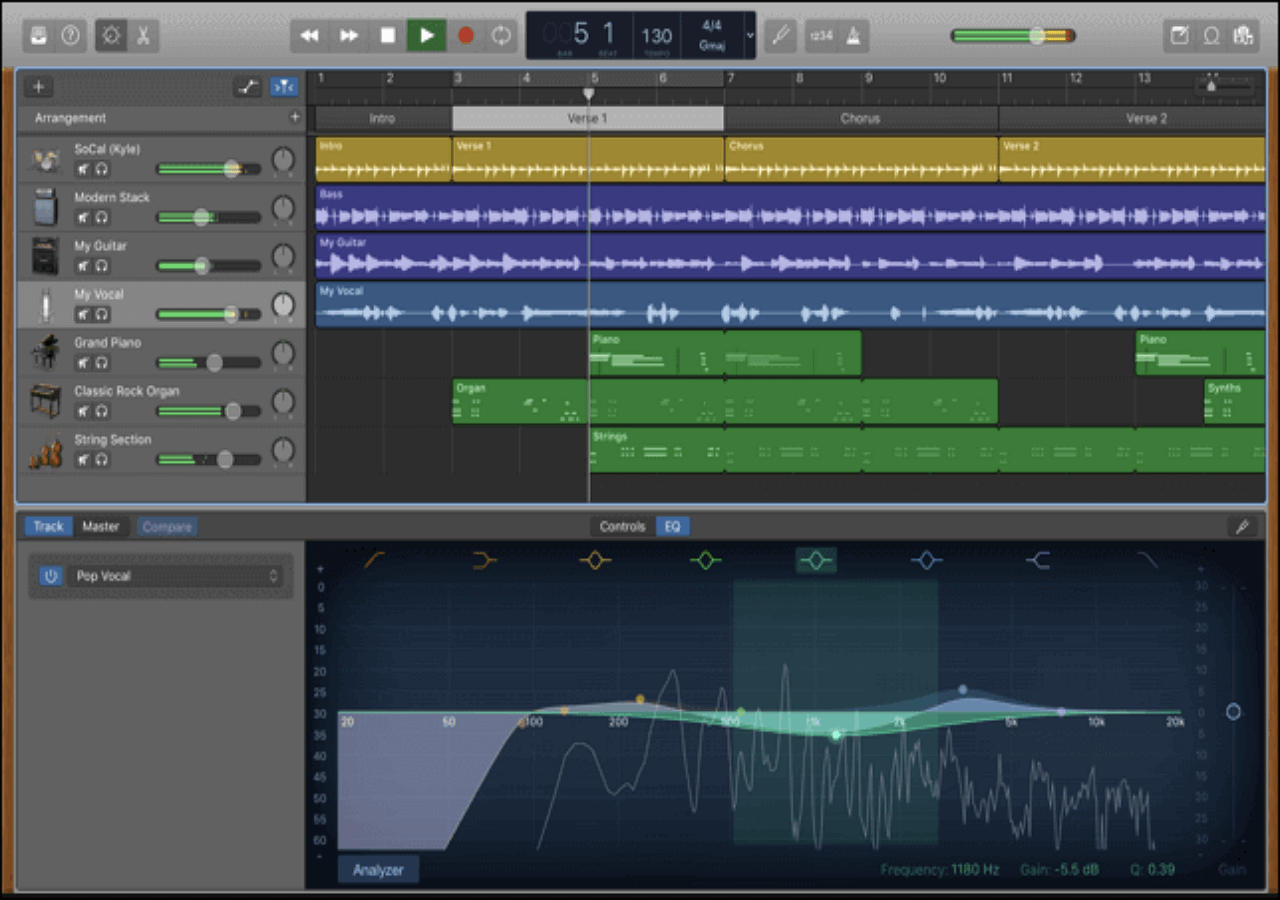 No.4 Ardour
Ardor is an open-source Mac audio recording software. Combining recording, editing, and mixing, it is an amazing complete feature-filled digital audio workstation for both beginners and professionals.
With this freeware, you can enjoy unlimited track recording, crossfading, and transposing the recorded tracks with more options like Inline Plugin Control in the mixing section. In addition, this free Mac audio recording software allows you to master audio and MIDI projects, which means you can import audio or MIDI from your hard device or the Freesound database, and then modify them in the same window.
Highlights of Ardour
Simple and neat user interface
Allow arranging audio and MIDI using the same tools and same workflow
Support numerous editing tools, like cutting, moving, stretching, copying, pasting, etc.
Enable to extract audio from the imported videos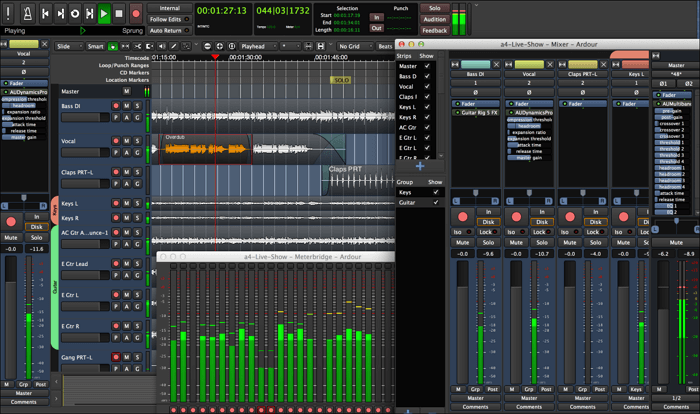 No.5 Audio Hijack
With a very easy-to-use interface, Audio Hijack provides numerous tools designed to make the editing process as simple as possible. With its aid, you can capture any sound you hear on your Mac, including VoIP calls, live streaming audio, microphone sound, etc.
Unlike other Mac audio recording software, this software has a clear advantage; that is, it supports silence monitoring. That's said, while the silence is detected, this program will automatically stop recording, split to a new file or remove audio.
Highlights of Audio Hijack
Offer a lot of gorgeous audio effects
Save your recordings automatically if your Mac sometimes crashes
Record audio into many major formats, including AAC, AIFF, WAV, and many more
Enable you to send recorded audio to Shoutcast, and Icecast serves for global listening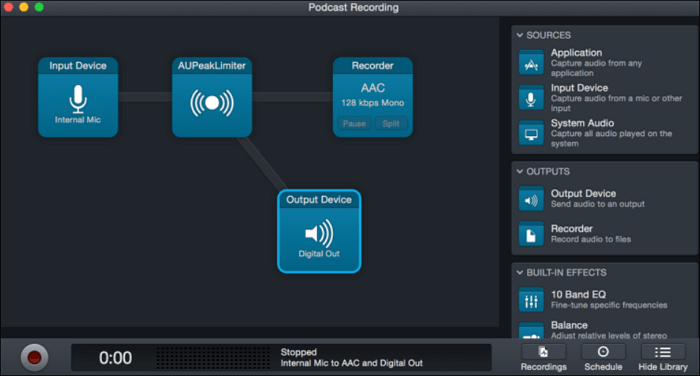 No.6 OcenAudio
The last audio recording software for Mac is OcenAudio. It is a cross-platform audio recording and editing program that comes with a user-friendly interface.
With its aid, you can record music without hassle. Besides, you are able to edit your recordings with this freeware. For example, you can apply EQ, gain, and filtering effects while previewing it in real-time. Last but not least, there is no limit to the length or quantity of the audio files you can edit and record.
Highlights of OcenAudio:
Support VST plugins, giving users access to numerous effects
Compatible with macOS, Windows, and Linux
Offer an incredible waveform view of your audio file while recording

Editor's Final Words
There are lots of audio recording software for Mac on the market, but finding an easy yet powerful one may be difficult. Thus this post outlines the top 6 Mac audio recorders that are suitable for both novices and professionals. We really hope that you can find the right one from the tools above.
About the Author

Jane is an experienced editor for EaseUS focused on tech blog writing. Familiar with all kinds of video editing and screen recording software on the market, she specializes in composing posts about recording and editing videos. All the topics she chooses