
Table of Contents

About the Author

Related Posts

Best Audio Recording Software
Although many media players for Windows 10 and Mac are available for viewing videos on your desktop or portable devices, open source video player programs are consistently highly rated for their advantages. No matter what operating system you use; Linux, Mac, or Windows; you can always have access to open-source software that will help you easily play any media file format. The post below provides information on the top 7 free, open-source media players. Now, let's take a look.
7 Best Free Open Source Video Players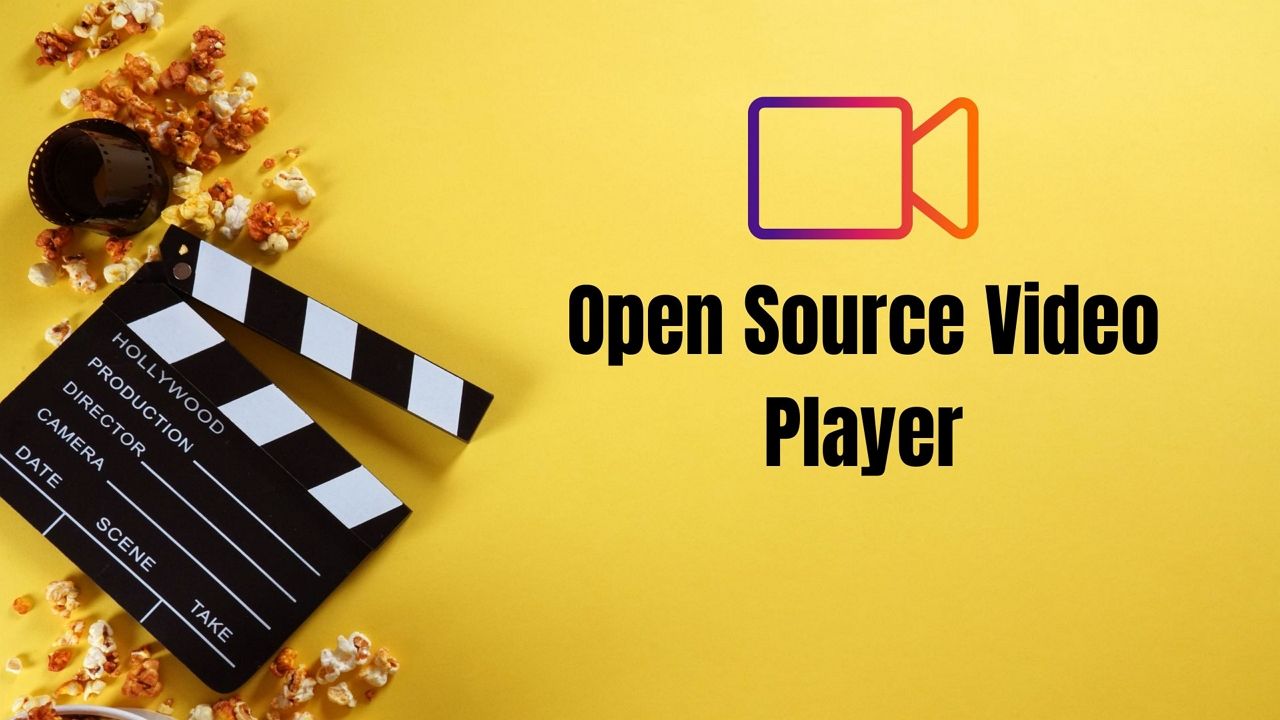 #1. VLC Media Player
Due to its cross-platform design, VLC Media Player has retained its functionality and reputation over the years. Its efficient foundation works well with all streaming protocols and can play almost all common media files. Other features of VLC include online streaming using URLs, subtitles (to add subtitles to a video), track synchronization, video effects, aspect ratio, etc.
Although this application is well known for its media player features (it can play many types of files, discs, devices, streams, and devices), it can convert both video and audio.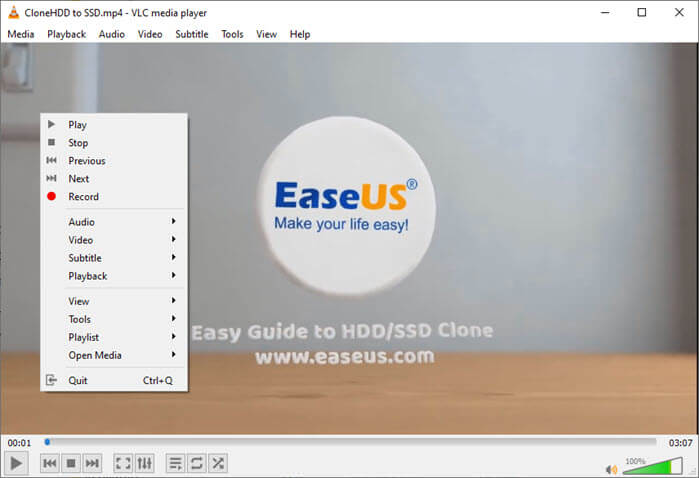 Pros
Suitable for all platforms
Provides download options for streaming audio and video
Offers customizable conversion profiles
Enables you to see a preview of the conversion's outcome
Contains well-known codecs (MPEG-2, MP3, MPEG-4, MKV, WMV, H.264, WebM)
Cons
Lacks the ability to edit videos
It has atmospheric absorption, shadowing, and beam dispersion problems.
#2. MPV
The MPV video player is another free, open-source video player. It is a video player built on the FFMPEG platform that supports playing audio and video files in various formats, including MP4, AVI, WMV, MKV, VOB, M4V, 3GP, MP3, AAC, and WAV. Plus, you can flexibly speed up video playback while watching any video.
You can stream online videos in this player by entering their URLs.
This video player with speed control streams high-quality video footage, which offers extensive control over compression, frame timings, color management, and quality algorithms. Professionals are developing it to provide simple integration on other required platforms. However, use this one if you prefer a straightforward video player with a minimalistic interface that can handle any format.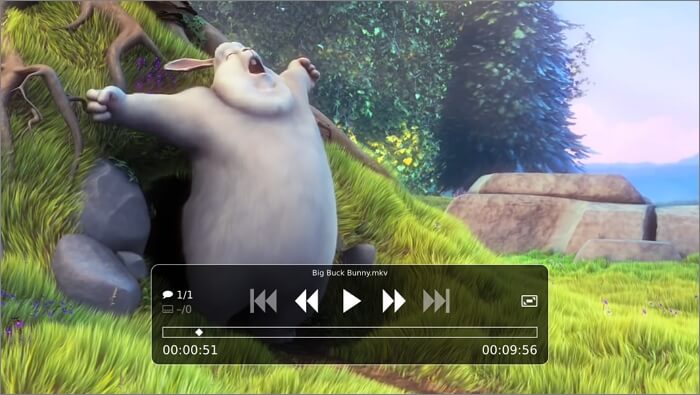 Pros
Allows high-quality video content streaming
It needs no additional codecs
Integrates with streaming services
Cons
It is not available for 32-bit CPU
#3. Bino
Bino is another open-source video player available for free on Windows and Mac. The primary purpose of this software is to play and view HD, 3D, or stereoscopic films. Most of its capabilities, such as Left View, Right View, Top View, and Bottom View, are offered to change two distinct video streams of a 3D video. However, this HD video player also supports playing common 2D video formats, including MP4, AVI, WMV, MPEG, and others.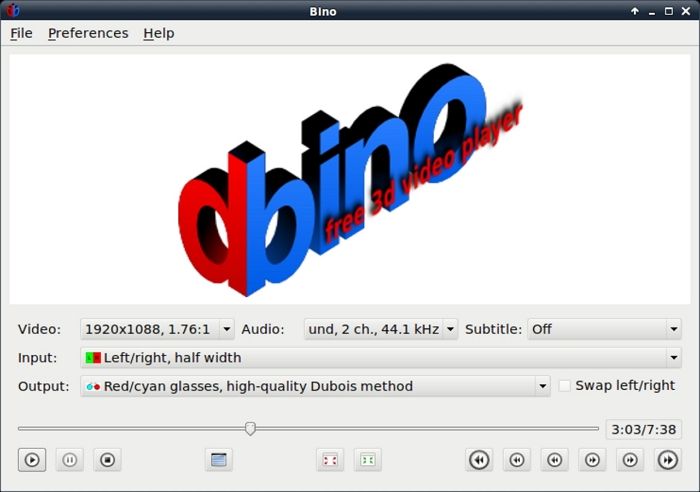 Pros
Compatible with Windows, GNU/Linux, FreeBSD, and OS X
A wide range of input and output formats are supported for stereoscopic 3D video (video discussion)
Support for multiple video displays, such as power walls, virtual reality installations, and other multi-projector configurations
No need for extra codecs to playback
Cons
No option to resume the playback
Subtitle playback issues
#4. Kodi
Another free, open-source media player is Kodi. In reality, it is an open-source entertainment center package that includes media management tools, a player for opening audio and video files, a library, and more. Its video player supports various well-known file types, including MP4, AVI, WMV, MKV, WMV, ASF, and more. You can adjust several video properties, such as Video Scaling, Brightness, Contrast, and Pixel Ratio, from the Video Settings menu and watch the video.
Additional features offered by this video player include Online Video Player (to play online videos), Remote Control Support, Online Radio, Add-0ns (to expand this software's usefulness), Live TV Support, and more.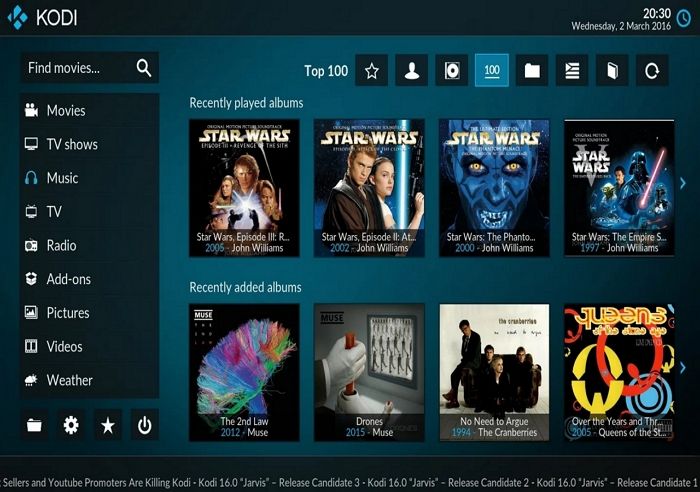 Pros
Can easily convert media file format into MP4 OR H264 format
Can add a variety of add-ons to modify its interface
Compatible with platforms such as Android, iOS, Windows, Mac, Android TV Boxes, and Amazon Fire devices
Cons
Receives no support from Kodi if you report any issues
Add-ons might include malware
#5. MPC-MC
MPC-MC is a very lightweight, open-source media player. It supports all of the widely used audio and video file formats. There are no toolbars or advertisements, and it is completely spyware-free.
You can watch videos on any SSE2 CPU, including on an outdated computer from 2000. MPC-HC can also be tailored to suit practically any demand because of its extensive range of options. It also introduces unique toolbars, among other things. MPC-HC is an all-purpose player that also functions as a DVB player.
Pros
Provides improved video rendering
Removes tearing from video playing
Accepts new decoders like H.264, VC-1, and MPEG-2 with DirectX video acceleration support
Includes support for other formats and codecs, like 3GP, AC3, MP2, and DTS audio
Cons:
Not updated frequently 
Old user interface
#6. SMPlayer
SMPlayer is a Windows video player that is entirely free and open source. It has numerous integrated programs that allow you to play almost audio and video files in any format. This freeware includes a special Video Menu with several tools for customizing video playback. You can adjust the aspect ratio, add filters (noise, post-processing, deblock, etc.), rotate the video, take screenshots, and perform other functions using the video menu.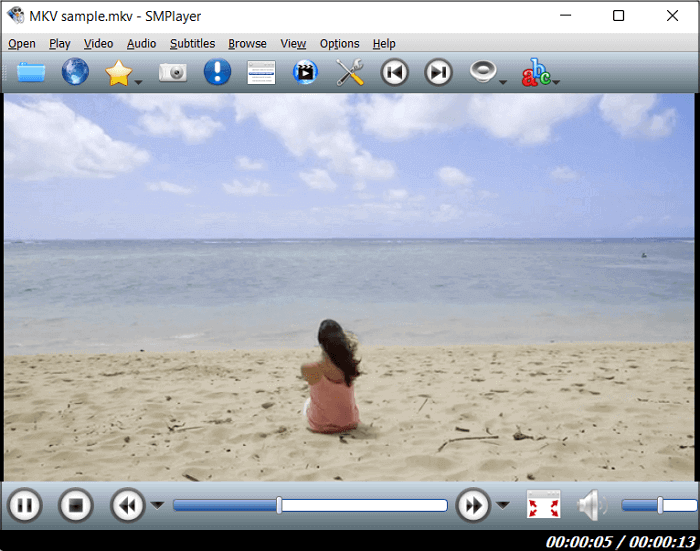 Pros
very simple and robust to use
It loads quickly for playing videos and does not need any Codecs/patches to play it
Cons
Low sound issues
App freezes sometimes
#7. ExMplayer
Another free, open-source video player is ExMplayer. In addition to 3D media, this player can play SD, HD, and FULL HD videos. In this versatile video and music player for Windows 10, audio files can also be played. It allows you to change the playing speed, apply video filters, change the aspect ratio, change the video equalizer settings, and tweak the video quality and characteristics. Similarly, you can alter the audio settings using an audio equalization, an audio booster, an audio filter, etc., to change the audio quality.
This media player also includes several extra tools, including a Media Cutter (for cutting a portion of a video), an Audio Extractor (for extracting audio from the video file), an Audio Converter (for converting audio file formats), a Video Downloader (for downloading online videos), and a Movie Animator.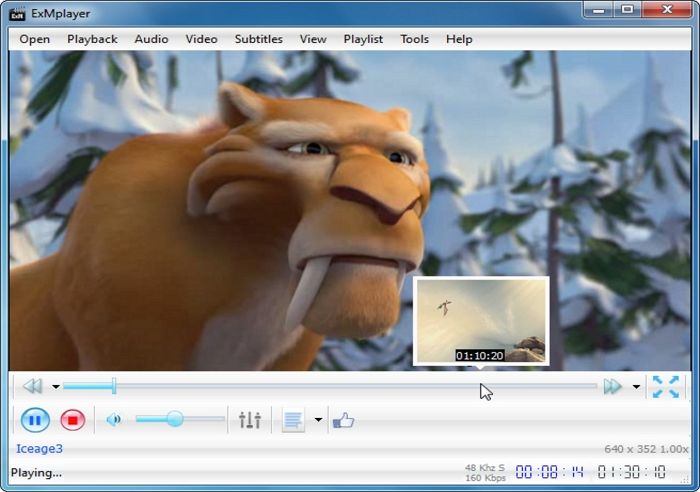 Pros
Added Volume booster (up to 5000% boost) enables playback of low-volume files
A wide variety of 3D output formats supported
No codecs required
Cons
Audio pitch issue with the change in the playback speed.
An issue with subtitle placement.
Pro Tip: Open Source Video Player Alternative - EaseUS RecExperts
While EaseUS RecExperts is primarily a Windows screen recorder, it also includes an advanced Media Player. It is a versatile media player that can quickly and easily open various common media files, including MP4, MOV, MKV, MP3, and AAC. You can also speed up video playback from 0.5X to 2X to suit your needs. If needed, you can even choose to extract audio from video with a simple click.
Given below are some of the features of EaseUS RecExperts Advanced Media Player
Play 4K high-definition videos stutter-free in raw format without any compression, change the playback speed, and record the playback history.
To play the recorded video immediately, make a player shortcut. Restart the recording from the player if the video does not turn out as you had hoped.
Manage all audio and video files effortlessly. The ability to relocate files to specific locations or erase recorded films in bulk is supported.
Drag and drop the video into the player to start it. Both video input and output are available in up to 13 different codecs, including MP4, MP3, etc.
Just click the below button to get it now!
Wrapping Up 
So, in this article, you can read and understand the features and the pros and cons of each open-source video player, which will guide you to download the most app software. You can always use the EaseUS RecExperts tool as an alternative if nothing else works out for you. 
Open Source Video Player FAQs 
Here are some of the most frequently asked questions about open-source video recorders.
1. What is an open-source video player?
Open-source software is software whose source code is publicly accessible for use, modification, redistribution, and other uses. As a result, anyone can download and use an open-source media player to play back media without paying anything.
2. Is VLC open-source?
VLC is a cross-platform multimedia player and framework that is free and open-source. It can play most multimedia files, DVDs, Audio CDs, VCDs, and many streaming protocols.
3. Which free video player is best for PC?
There are many free video players for PC, but the best one I think is EaseUS RecExperts. This software lets you play almost all video and audio files, change the playback speed freely, and even edit them as you like.
About the Author

Jane is an experienced editor for EaseUS focused on tech blog writing. Familiar with all kinds of video editing and screen recording software on the market, she specializes in composing posts about recording and editing videos. All the topics she chooses