
Table of Contents

About the Author

Related Posts

Best Audio Recording Software
When you are watching a video with poor audio quality, will you feel difficult to focus on the content? Most people will. Let's picture if that is your video presentation, will people get what you are trying to pass? When recording a video presentation, many of us spend a lot of time and effort to make sure the content is perfect. However, if your audience can't hear you, it will cut down the information pass, or even cause misunderstandings.
If you have recorded the video and found the audio quality is low, you can use a video editing tool to enhance the audio in your video. But we recommend you record the video with a tool that can cancel noise and enhance audio. This way, you don't need to edit the video after recording, which could save a lot of time.
5 Tips to Improve Sound Quality of a Recorded Video
Next, we will give you 5 tips to improve the sound quality of a recorded video. Just read them one by one and choose a solution.
1. Remove as Much Noise as Possible
Minimizing any noise in the room can help you get the best sound quality out of your microphone. The sound of people talking, music playing, car whistling, children laughing, etc. can all lower the audio quality of your videos. Therefore, you'd better remove them from your video. Also, before you start recording, make sure that any machines, such as a fax machine or printer, are turned off.
2. Choose the Right Audio Recording Equipment
Normally, your laptop's inbuilt microphone or the microphone on your webcam will be sufficient. However, if you're in a conference room or what, you may want to consider using a uni-directional microphone, which could make sure that only the sound from one direction will be picked up.
Depending on the situation, you may choose:
Hand-held microphones: This type of microphone is exceptional at eliminating background noise and distortion; however, it could be a distraction since you have to hold it all the time.
Lavalier Microphones: This is the least noticeable microphone. Properly secured to a collar or lapel, this type of microphone can also eliminate noise and distortion.
Headset Microphones: If you need to keep your hands free, you may use a headset microphone; but note this type of microphone is still noticeable.
3. Record with EaseUS RecExperts
If you don't want to spend a lot of money to buy a high-quality microphone, you may use a Windows screen recorder that can cancel noise during recording and enhance the audio quality of your video. EaseUS RecExperts is such an application. With this Window screen recorder, you may record a video on the full screen, record a video of fantastic gameplay, record the screen of a Zoom meeting, record Google Meet, etc, all with the audio enhancing function. See the main features of EaseUS RecExperts below.
Main features of EaseUS RecExperts:
The audio enhancement function improves audio quality greatly
Support capturing videos in 1080P and 4K
Edit recordings with the built-in tool
A safe and secure screen recorder
Capture the screen and audio at the same time
Now, you may download EaseUS RecExperts and start recording a video with enhanced audio quality now.
Step 1. Launch EaseUS RecExperts. There are two modes for screen recording. Choose "Full Screen", this tool will capture the whole screen; choose "Region", you will need to select the recording area manually.

Step 2. After that, you can choose to record the webcam, system sound, or microphone as you like. Of course, you can turn them off if you only need to record the silent screen.

Step 3. Then, you can click the red "REC" button to start recording. Now you will see a menu bar on your screen. If you want to pause the recording, click on the white "Pause" button; to end the recording, click on the red "Stop" button.

Step 4. After recording, you will be led to the recording list interface. Here you can view or edit your recordings easily.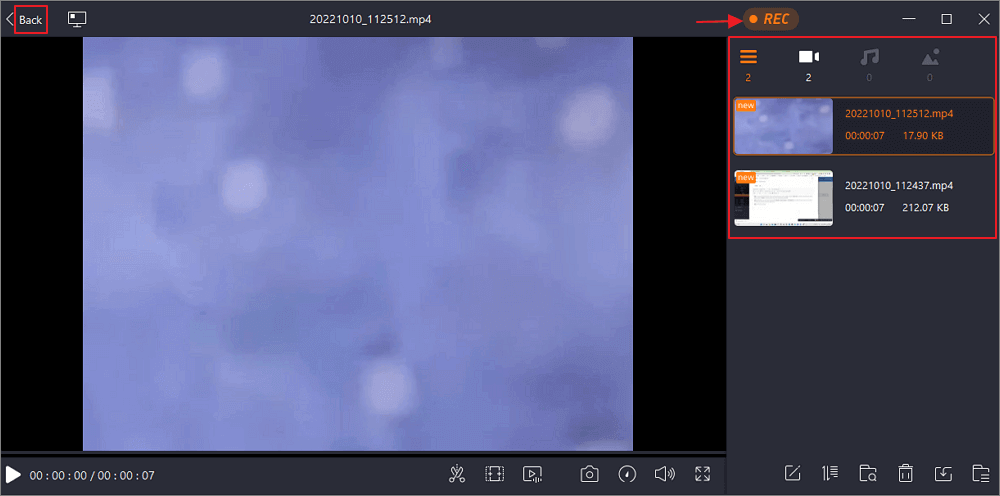 4. Keep an Eye on Your Input Volume
Many recorders will show you the microphone input volume meter so that you can see how high the sound wave is when the sound is loud enough. When you are recording, you need to keep an eye on the volume meter. If your voice is too loud or too low, you need to make adjustments in time.
5. Edit the Recorded Video Afterwards
If you have a recorded video that is poor in audio quality and you are reluctant to record it again, you may edit the recorded video with a video editing tool. There are many videos editors on the market, here we recommend you to use EaseUS Video Editor.
Designed for novices, this tool is quite easy to use as it has a simple and clear interface. With this software, you can improve the audio by adding a loud and clear audio track, or you can directly volume up the audio if you feel it is not loud enough. Of course, you need to make sure there is no noise in the background. Otherwise, the noise will be enhanced too.
Conclusion
In this article, we have given you five tips to enhance the audio in a recorded video or to record a loud and clear video in the first place. You may see that there are many remedies and tools that can help you improve the sound quality of a recorded video. Therefore, if you have encountered such problems, you can find a way from the above that suits you the best.
For Windows and Mac PC users, we sincerely recommend you to record your streaming videos, presentations, training courses, etc. with EaseUS RecExperts. Thus, you can record a high-quality video without editing it afterward.
About the Author

Melissa is a sophisticated editor for EaseUS in tech blog writing. She is proficient in writing articles related to screen recording, video editing, and PDF file converting.