
Table of Contents

About the Author

Related Posts

Best Audio Recording Software
Quick Navigation:
As a famous instant messaging app, Telegram is widely used to communicate with friends and families. Besides text messages, you can now use Telegram to make video and voice calls. What would you do when you want to preserve the happy moments with your family in the video calls? Is there any screen recorder to capture the Telegram video call on Windows/Mac/iPhone/Android?
This post will focus on the methods of Telegram recording and teach you how to record Telegram calls with the best recorders on different platforms. Keep reading if you are interested in this topic.
How to Record Telegram Video Calls on Windows
For capturing Telegram video calls on Windows PC, a robust Windows screen recorder, such as EaseUS RecExperts, is of the essence. This lightweight and user-friendly recording software can capture anything on your screen without slowing down the PC. In addition to recording screen without lag, it will also record both the system sound and microphone audio separately or simultaneously so that you can record your own and your friends' voices effortlessly. 
Some other advanced tools are also available. For instance, this software offers you a Task Scheduler to help you automatically start or end the recording. After recording, you can preview the captured file using a built-in player, and a video trimmer is also available to edit the recordings.
Key Features:
Free video recording software to capture video calls
Support auto-split and auto-stop
Record videos in 4K, 1080P, or 720P
Add intro and outro to recorded videos
Whether you want to record video calls, live streams, gameplay, or anything on your screen, this recorder can help. Click on the button below to have a try.
Steps to Record a Telegram Call with EaseUS RecExperts:
Step 1. Install and launch EaseUS RecExperts on your devices. Choose the "Full Screen"  recording mode or select the recording area in the "Region" mode.

Step 2. Choose to record the system sound, microphone sound or none by clicking on the according buttons. Start the video call with your friends. When it's time to start recording, click on the red "REC" button to begin.

Step 3. To pause the recording, you can click on the white double vertical bar or press "F10" on your keyboard. To end the recording, click on the red square sign or press "F9".

Step 4. After recording, you can view the recorded videos in the pop-up recording list. You can also make simple changes to the recodings here.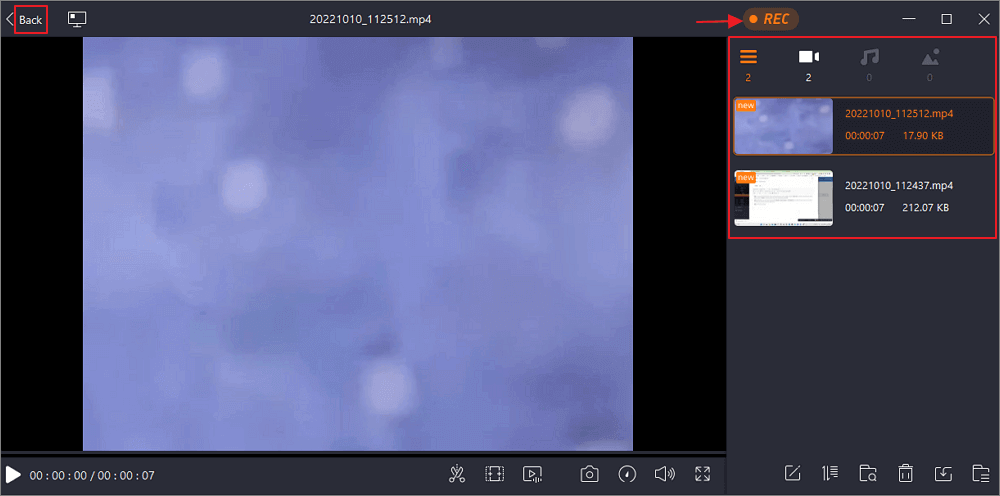 How to Record Telegram Calls on Mac
Is there any screen recorder for capturing Telegram video calls on Mac? The answer is yes. EaseUS also provides you with a Mac version of the screen recorder that is easy to use. EaseUS RecExperts for Mac is designed for beginners unfamiliar with recording video calls. Unlike some professional recorders, the interface of this software is straightforward, and you can find any option you need to capture the screen with audio.
This software is capable of capturing the screen, audio, and webcam. Whether you are using a built-in camera of a laptop or an external camera connected to your PC, EaseUS RecExperts can record it in high resolution. As this software supports many formats, it's convenient to export the recordings in the format you like. 
Key Features:
Record full screen or part of the screen
Support more than 10 output video/audio/image formats
Support adding opening titles and closing captions to recordings
Don't miss this all-in-one Mac screen recorder. Click on this button to download it for free.
How to Capture Telegram Video Calls on iPhone
It's well known that there is a vendor-supplied screen recorder on iPhone. The built-in iPhone recorder is straightforward to use, but it only offers you the primary functions. For instance, this built-in tool cannot meet your requirements if you need to edit the recordings after capturing the Telegram call.
In this situation, what you need is a versatile third-party screen recording app, such as Mobizen Screen Recorder. The same as the powerful desktop recorders mentioned above, this app supports recording your iPhone screen, your voice, and the camera at the same time. For editing the recordings, it offers you tools to trim or split the videos as well as add background music to them.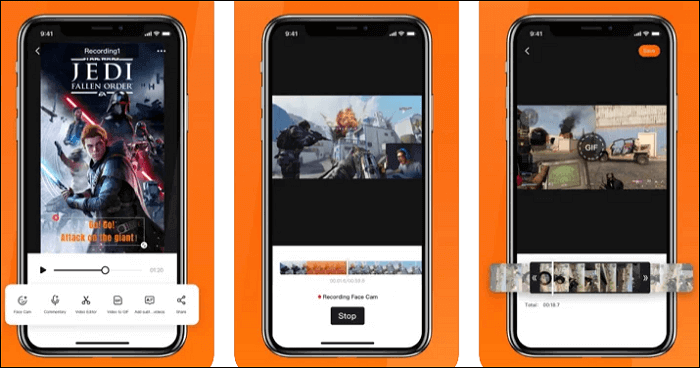 Features:
Support recording 1080P and 60fps videos
Support trimming videos and adding images
Support live streaming
The Tutorial for Telegram Recording on iPhone:
Step 1. First, you need to install this app on your iPhone and launch it.
Step 2. Start the Telegram video call on your phone, and tap the "Record" button to start recording.
Step 3. After capturing all the content, tap the "Stop" button to end the recording process.
How to Record Telegram Video Calls on Android
AZ Screen Recorder is a notable screen recording app on Android. When recording your Telegram video calls, you perhaps want to capture system audio and your voice at the same time. However, on some old versions of the Android operating system, the built-in recorder only supports recording the audio from the microphone, which is the main reason to find a robust third-party recorder.
AZ Screen Recorder, an app famous for its multifunctionality, can help you capture the Telegram calls, edit the recorded videos, and even broadcast the live stream. You don't even need to worry that the recordings will take up a lot of your phone's memory, as this app can compress the recordings to reduce their file size.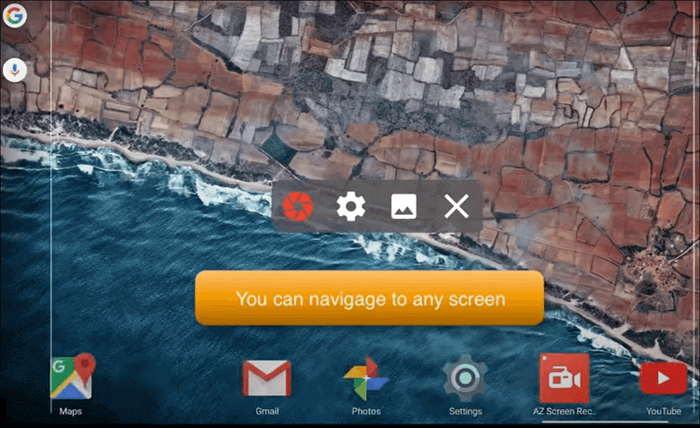 Features:
Trim, crop, and rotate the recorded video
Add background music to the video
Capture your screen as a GIF
Record Android screen with the facecam
Steps to Capture Telegram Video Calls on Android:
Step 1. Install and launch the AZ Screen Recorder on your Android phone.
Step 2. Tap the gear icon to adjust the settings, including the frame rate and video resolution.
Step 3. Start the Telegram call and tap the red button to start recording.
Step 4. When you want to stop the recording, you can find the option to end the process in the A-Z notification.
Method of Telegram Recording Online
Recording Telegram video call using an online tool is the best choice for users who don't want to install other software on their devices. Among all those optional online recorders, Veed is a rich-featured one. When you start it on the Interner browser, a window will appear and ask you to choose a recording mode that fits your need. 
Some online screen recorders can only export the recordings in HTML format, and you may not play the file directly on your computer. But the output format will not be a problem if you choose this online tool to record your screen as it allows you to download the captured video in MP4 or GIF format.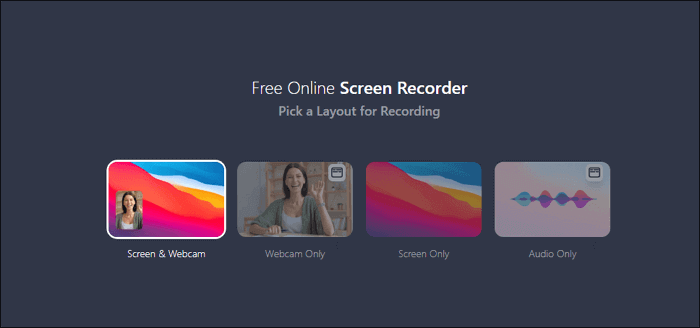 Features:
Easy to use
Offer you some preset layouts
Share the recording to social platforms directly
Support adding subtitles to the captured video
Steps to Use the Online Telegram Call Recorder:
Step 1. Go to the page of this recorder.
Step 2. Select from the four optional recording modes, including "Screen & Webcam," "Webcam Only," "Screen Only," and "Audio Only."
Step 3. Then, you need to choose the video and webcam source. After that, click on the red button to start recording.
Step 4. Click the button again to stop recording, and you can save the captured recording in MP4 or GIF format.
Conclusion
With the popularity of Telegram, more and more people like to make video calls with others using this app. However, capturing video calls on different platforms might be difficult for many users. To solve that problem, this post introduced 5 of the best recorders on Windows/Mac/iPhone/Android/online and taught you how to record Telegram calls with those tools.
For Windows and Mac users, EaseUS RecExperts is what you can never miss. Click on the button to download it now.
How to Record Telegram Call FAQs
1. Can Telegram video call be recorded?
Yes. Telegram video calls can be recorded with some screen recording software. If you use mobile phones like Android or iPhone, you can directly record Telegram video calls with the built-in recording feature. If you want to enjoy more recording features, you also can use some third-party recording apps.
2. How can I record voice chat in Telegram?
You can record a voice chat in Telegram easily with the built-in recording feature:
Start a voice call within a group or channel.
Tap on the three dots in the top right, and then start recording this voice chat.
3. Where is Telegram call recording saved?
They are saved in the document folder inside the telegram folder. You can find the telegram folder with your file explorer app: Telegram> Telegram Documents.
About the Author

Melissa is a sophisticated editor for EaseUS in tech blog writing. She is proficient in writing articles related to screen recording, video editing, and PDF file converting.