
Table of Contents

About the Author

Related Posts

Best Audio Recording Software
WAV files are created by Microsoft and IBM for use in Windows 3.1. After that, they quickly became known as the standard for lossless audio format. Many years later, there is still a place for WAV because it is a raw audio format boasting uncompressed lossless audio.
Because of this feature, WAV files can take up about 10 MB space per minute. So if you've got a WAV file, it is normal that you need to crop it out. Read below to find out how to trim WAV file for free, with some capable audio editing software.
PAGE CONTENT:
Part 1. Trim WAV File with EaseUS RecExperts
When it comes to EaseUS RecExperts, people usually think it as screen recording software. Yes, it is mainly a screen and audio recorder. However, it is also a video and audio player that enables its users to make simple changes to the file, including trimming, deleting, and double-speed file playing.
Trimming WAV files is an easy task for EaseUS RecExperts. As a screen recorder, it can also do things like record screen, record audio, record webcam, record live stream, and even record gameplay, etc. All the functions you want are gathered in one program. What are you waiting for? Just download it now!
Now, you may follow the steps below to trim WAV files successfully.
Step 1. Launch EaseUS RecExperts, and click on "Recordings" to open the audio trimmer.

Step 2. Import your audio file by clicking the "Import" button in the lower right corner.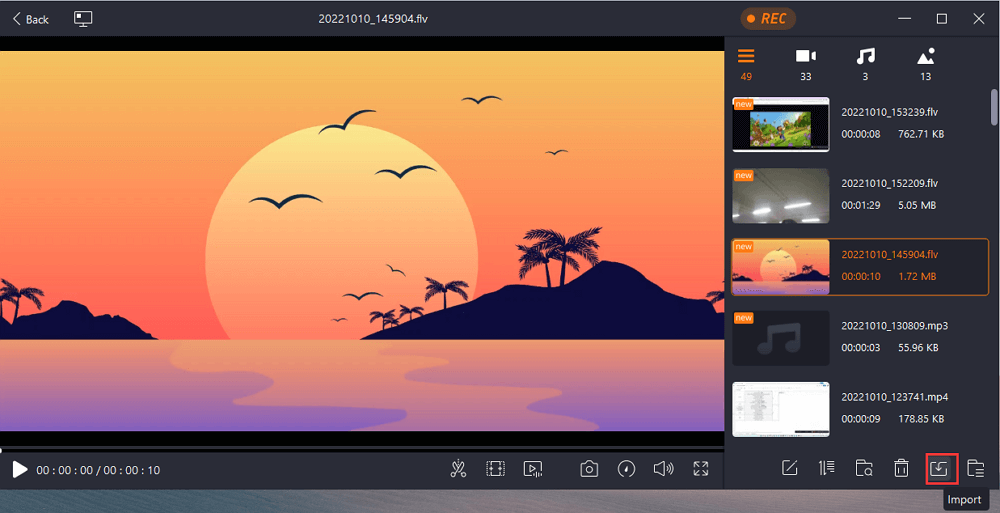 Step 3. Choose the scissor button to cut or trim your audio file. Once done, click "Save" to export the trimmed audio file.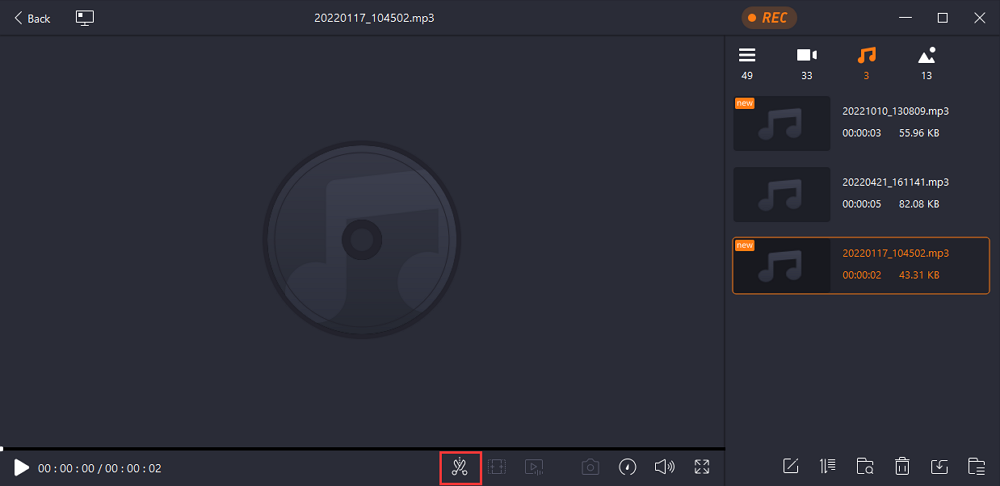 Part 2. Trim WAV File with Audio Trimmer
Audio Trimmer is one of the best free audio editors online which lets you trim your WAV files without downloading anything you don't want. It is designed to work on most modern devices including computers, tablets and mobile phones. With this tool, you can crop certain part out of your WAV audio.
This online tool is totally free and easy to use. You can also create a ringtone out of WAV, MP3, OGG, WMA, and other audio formats. All you need to so is upload your file and start. Your trimmed sound track will be ready within seconds. Now, let's see how you can use it to trim WAV files.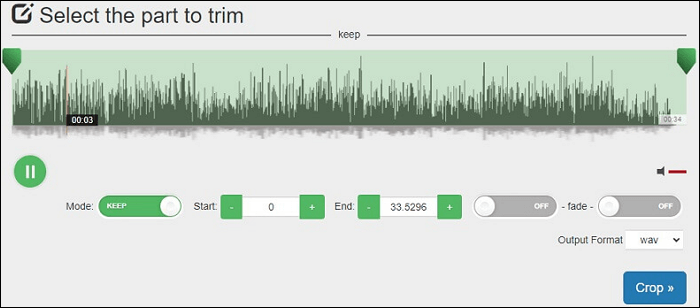 Step 1. Choose an WAV or any other audio file from your local hard drive.
Step 2. The audio will start playing immediately if your browser supports it. If not, click "Upload" to import it.
Step 3. Drag the handles to select the part you would like to cut and press "Crop".
Step 4. Wait for the trimming process and download your trimmed audio file.
Part 3. Trim WAV File with Audacity
To edit WAV files using free tools on your computer, phone, or tablet, you need Audacity. Audacity is actually an easy-to-use, multi-track audio editor and recorder. And it is compatible with Windows, macOS, GNU/Linux and other operating systems. So you don't have to worry about compatibility issues.
Since Audacity is a free, open source program. You can download it without paying. Just download it for your Windows or Mac computer and follow the steps below to trim WAV files with it.
Step 1. Download Audacity and launch it on your computer.
Step 2. Click the "File" tab. You will see the navigation menu above the editing workspace in Audacity or along the top of your screen. Hover your cursor over "Import".
Step 3. Click on "Audio", and your file browser will open. You can also drag-and-drop your WAV file to the Audacity window.
Step 4(Optional). Double-click your WAV file to select it. The file will open in the app.
Step 5. Use your cursor to select the parts of the waveform you want to keep. Then, go to "Edit" > "Remove Special" > "Trim". All the audio that you don't have selected will be deleted.
Step 6. Go to "File" > "Save" to save the changes. If you want to export your file, just go to "File" > "Export" > "Export Audio" and select the file format to save it in.
Part 4. Trim WAV File with Aconvert
If you really can't trim a WAV file directly, you may convert it to other formats and trim it afterward. To convert file format, the easiest way is to use an online converter. Here we give you Aconvert as it can convert files format and trim WAV files directly.
Aconvert has a user-friendly interface and enables you to trim WAV files with high precision by entering the cut duration in seconds. You can even import files from cloud storage and via the URL of the file if the file comes from audio-sharing sites. With this app, you can also cut audio like MP3, OGGe, AAC, and M4A, etc. Now, let's see how to trim WAV files with it.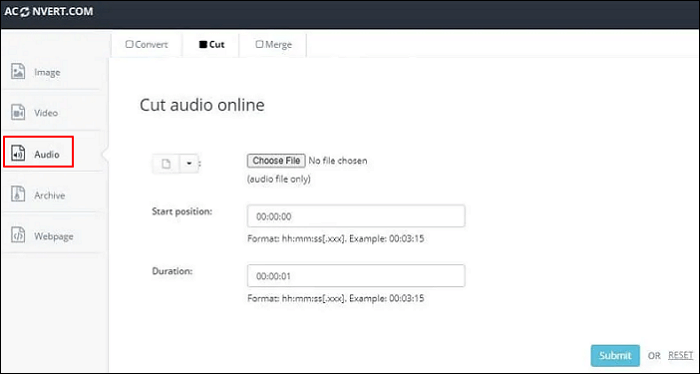 Step 1. Visit the main website of Aconvert with any browser.
Step 2. Select "Audio" on the left-side menu and click on the "Cut" button at the top menu of the interface.
Step 3. Hit the "Choose File" button to upload a file. Set the start duration and the end duration to where you would like audio to start and end.
Step 4. Hit the "Submit" button if you are happy with the changes.
FAQs about Trimming WAV Files
There are some asked questions related to trimming a WAV file. Now, let's take a look at them.
1. How can I cut a WAV file for free?
There are many tools can help you cut a WAV file for free. If you don't want to download software, you can try the online tools in this article.
2. How do I trim a WAV file without losing quality?
To trim a WAV file without losing quality, you need to download and use EaseUS RecExperts. Just follow the steps below.
1. Launch EaseUS RecExperts on your computer, click on "Recordings", and choose "Audio" in the new window.
2. Choose the recording you want to trim, and click on the scissor sign.
3. Then, drag the start and end points to trim the recording as you want. After that, click "Save" to save the trimmed recording.
3. How do I trim an audio file in Windows?
You may try the Photos app on your computer. Or, you may use a WAV player - EaseUS RecExperts.
Conclusion
In this article, we give you 4 methods to trim a WAV file. But for Windows and Mac users, we recommend you to download EaseUS RecExperts as it can be used without internet connection. And it will not leak your data as it works offline. Download it from the button below.
About the Author

Melissa is a sophisticated editor for EaseUS in tech blog writing. She is proficient in writing articles related to multimedia tools including screen recording, video editing, and PDF file conversion. Also, she's starting to write blogs about data security, including articles about data recovery, disk partitioning, data backup, etc.