
Table of Contents

About the Author

Related Posts

Best Audio Recording Software
Have you had enough of scribbling notes during meetings and lectures only to realize you missed important details? Or perhaps you have a great idea for a song or podcast but don't have a way to capture your thoughts and vocal melodies easily. An audio recording software is a perfect solution for both of these scenarios, and with so many options available, it's never been easier to find one that fits your needs.
Windows 11 users, take note! In this article, we'll explore your operating system's top 8 voice recorder Windows 11 options to help you record audio on Windows 11. Whether you're a business professional looking to efficiently capture and transcribe meetings, or a creative individual in need of a simple way to record your ideas, there is a voice recorder on this list for you. So why wait? Let's delve straight into these voice recorder Windows 11 options and sample what makes them stand out.
Top 8 Voice Recorder for Windows 11
Here are the top 8 contenders, each bringing their unique features to the table. Get ready to find your new go-to voice recorder:
#1. EaseUS RecExperts
EaseUS RecExperts is the ultimate screen recorder and audio recorder for easily capturing high-quality audio and videos.
It is a powerful and easy-to-use audio recorder for Windows that lets you capture audio from various sources, including your computer's microphone, external microphones, and even streaming audio from websites. With this software, it only takes a few clicks to record high-quality sound. Here are a few of the things it has to offer:

Scheduled recordings: You can set a specific time and date for the software to start and stop recording automatically.
Audio editor: Trim, split and merge audio files with ease using the built-in editor.
Multiple audio formats: Save recordings in popular formats such as MP3, WAV, and M4A, or export them to other devices.
Adjustable audio quality: Set the audio quality, get rid of background noise, and adjust the bit rate to suit your needs.
Audio player: Listen to your recordings using the built-in audio player.
Volume booster: Up the sound quality of your audio with the volume booster feature.
User-friendly interface: The software has an intuitive interface that makes navigation a piece of cake for people of all skill levels.
Overall, EaseUS RecExperts is a complete and reliable voice recorder Windows 11 program that can be used by students, professionals, and people who want to record their own voices.
#2. Audacity
Unleash your inner audio wizard with Audacity, the powerful and free audio editing software.
This open-source audio recorder is loved by musicians, journalists, and anyone else who needs to edit audio at a professional level.
With Audacity, you can record your voice or any other sound with crystal clear quality. Then, use its vast array of editing tools to tweak and perfect your audio tracks. Want to add some flair? You can choose from a wide range of effects in Audacity, from subtle to extreme.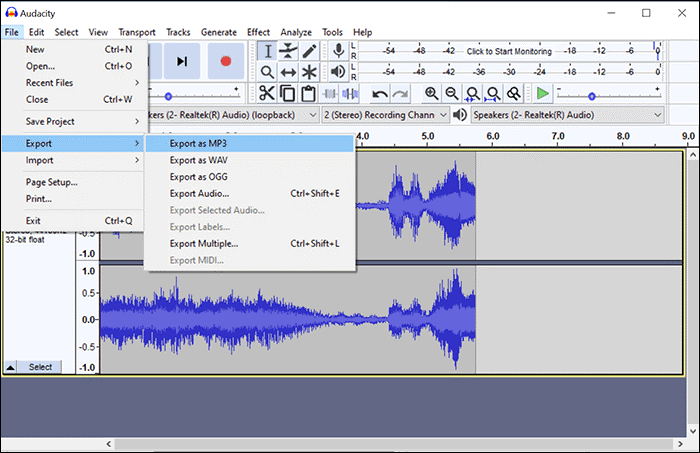 Pros:
A cross-platform audio recorder
Flexible file format support for import and export
Free and Open Source
Easy audio editing and mixing
Cons:
Fewer mixing options
Functionality requires additional plugins
#3. OBS Studio
Experience insane audio capture with OBS Studio, the free and open-source recording powerhouse.
Similar to RecExperts, this program is the go-to for streamers and content creators who require a voice recorder Windows 11 software because of the high quality of the recordings it produces.
OBS Studio is perfect for recording tutorials and audio from multiple sources. It sets up mixing and matching audio inputs for easy use to get the perfect sound.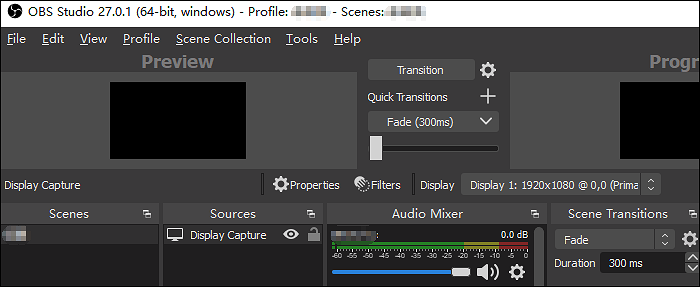 Pros:
Free to use
A large wealth of online resources and support
Highly customizable
Several advanced features
It's a cross-platform software
Cons:
Not beginner-friendly
Resource-intensive might need a powerful computer to
#4. Adobe Audition
Adobe Audition is a high-end piece of software for editing and recording audio, packed with a variety of useful extras.
With Audition, you can record, edit, and mix audio with precision and ease. Musicians, podcasters, and sound designers will find this software a useful addition to their collections.
Audition has the tools you need to bring your audio creations to life. With its robust multitrack editor and extensive effects library, Audition is the tool of choice for professionals in the audio industry.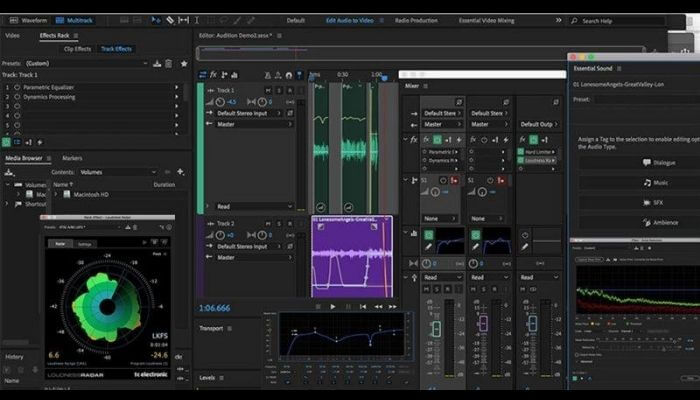 Pros:
Excellent integration with other Adobe apps, such as the Premiere Pro
Support for multitrack editing
Mix, edit, and trim audio files into one
Cons:
Made for professionals, complex to use
Crashes randomly while rendering files
#5. WavePad
You can effortlessly enhance your audio with WavePad, the audio editing software for noobs. From professional musicians to casual content creators and college students, WavePad has something for everyone.
With this voice recorder Windows 11, you can record and edit your audio files with a simple and easy-to-use interface and a wide range of tools and effects. WavePad has the tools you need to do the job, whether you want to clean up your recordings or add some creativity to them.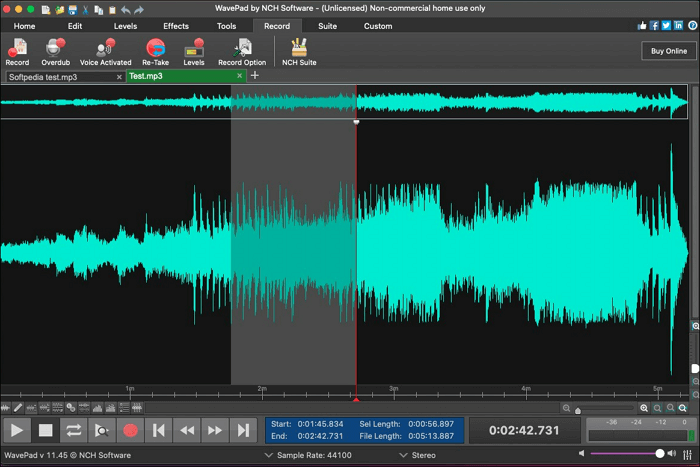 Pros:
Easy to use and intuitive interface
Wide range of tools and effects for audio editing and enhancement
Suitable for both professional and casual users
Supports a variety of audio file formats
Available for both Windows and Mac
Cons:
Limited advanced features
Some users have reported bugs or stability issues
Lesser community or support resources
#6. Voicemod
With Voicemod, the ultimate voice changer and audio recorder, you can completely change the sound of your voice. In real-time, you can record your voice or sounds and use different effects to sound like a robot, a chipmunk, or even a celebrity. Voicemod is the perfect tool for adding some fun to your voiceovers, prank calls, and other audio projects while recording with the same tool.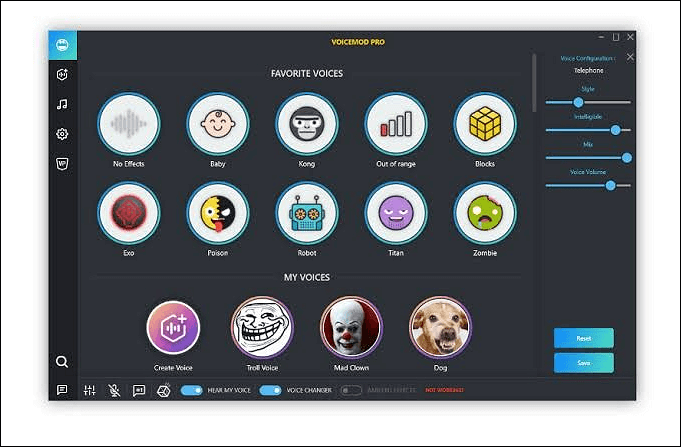 Pros:
Allows users to alter their voice in real-time easily
Provides a large library of different voice effects
Allows users to record their voice with the chosen effect
Easy to use and intuitive interface
It can be used for a variety of fun and creative audio projects
Cons:
Not all effects are good or convincing.
Some users have reported bugs or instability.
Besides voice alteration, it has less advanced features
#7. Voice Recorder
Voice Recorder (previously known as Sound Recorders) is a built-in voice recording software that comes with Windows 11. It is simple to use and offers basic recording and editing capabilities. With Voice Recorder, you can quickly and easily record your voice or other audio sources and save your recordings as MP3 files. Whether you're recording a lecture, a meeting, or a musical performance, Voice Recorder has you covered.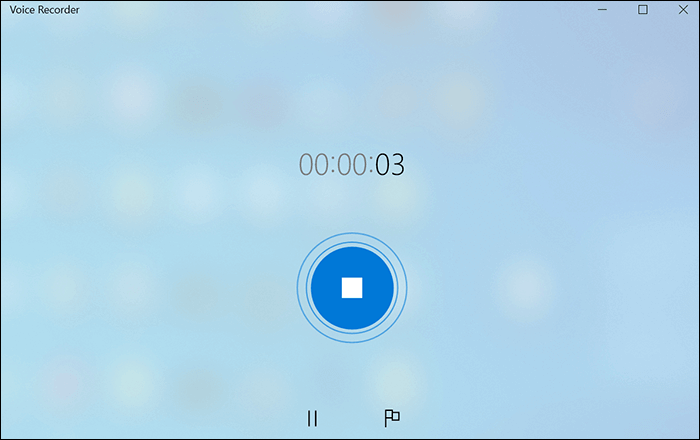 Pros:
It is free to use
Has a user-friendly interface
Allow quick and easy recording
It is suitable for various basic recording tasks
Cons:
Occasionally glitchy and not consistently reliable
A low number of advanced features
Low audio quality
#8. RecordPad
Finally, we have RecordPad, a leading, cross-platform audio recording tool. This computer sound recorder can help you capture simple audio, make a digital presentation, or even make an audiobook. Packed with professional-grade features, RecordPad makes the audio recording and editing process a breeze.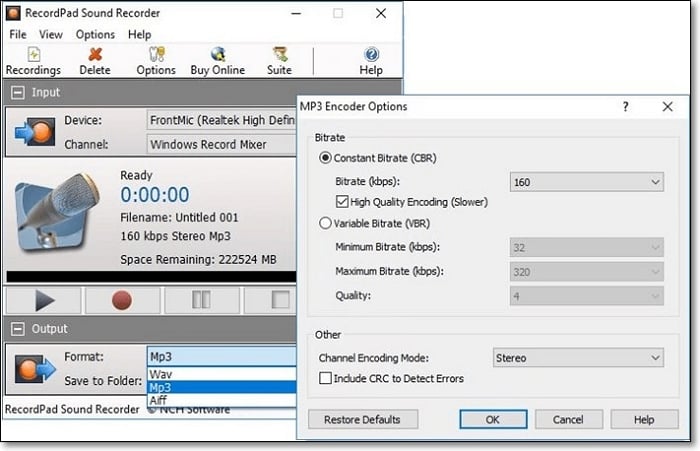 Pros:
It is available for both Windows and macOS devices.
Wide range of features suitable for professional audio editing
Easy to use
Cons:
Unsuitable for professional audio recording
Incompatible with all audio formats
Conclusion
To sum up, the aforementioned eight best voice recorder Windows 11 software provides a wide array of features and functionalities to accommodate a wide variety of recording requirements.
Among these options, EaseUS RecExperts comes the closest to perfection. It's the only voice recorder Windows 11 software you'll ever need, with everything from recording to editing built right in. Download now to get started with EaseUS RecExperts and see the results for yourself.
Voice Recorder Windows 11 FAQs
1. Is there a Voice Recorder in Windows 11?
Yes. Even though you can use apps from other companies, Windows already comes with an app called Voice Recorder. This might soon be redesigned and also renamed "Sound Recorder."
2. How to do an audio recording on Windows 11?
You can use the built-in Windows Voice Recorder or third-party software like EaseUS RecExperts to record audio on Windows 11. Simply open the software, hit the record button, and begin capturing audio. You can save your recording or edit it as needed when you are done.
3. How do I record my screen and voice on Windows 11?
Use a program like EaseUS RecExperts to record your screen and voice on Windows 11. Start the program and choose screen and voice recording. Then, hit the record button and capture as much audio and video as you'd like without any lag.
4. How do I record myself on Windows 11?
Open the Voice Recorder app or your audio recording software. Select the audio input source (e.g., a microphone) and adjust settings if needed
Click "Record" to begin recording and "Stop" to finish. Save the recording and edit or export (optional)
About the Author

Jane is an experienced editor for EaseUS focused on tech blog writing. Familiar with all kinds of video editing and screen recording software on the market, she specializes in composing posts about recording and editing videos. All the topics she chooses