
Table of Contents

About the Author

Related Posts

Best Audio Recording Software
Quick Navigation:
A Chromebook runs on a different operating system than your common PC and Mac devices. This device uses ChromeOS—a Google exclusive, which allows it to run on low power, low storage, and low ram. That's why Chromebook is widely considered a good device for light work, including for people who work on PowerPoint presentations, excel sheets, etc. This requires them to attend Google or Zoom meetings.
However, the problem arises when they have no tool to record audio on Chromebook. That's why they look for specific Chromebook audio recorders. So, let's keep going and find out a few of them.
Top 6 Chromebook Audio Recorder
1. BandLab for Chromebooks
BandLab for Chromebooks is one of the best choices for Chromebook users. This remarkable audio recorder is available for Chromebook as well as for Windows. This app is designed to record system audio and microphone at the same time.
Besides that, it's simple and easy to use. So, any Chromebook user would find it handy and easy to use compared to other online tools.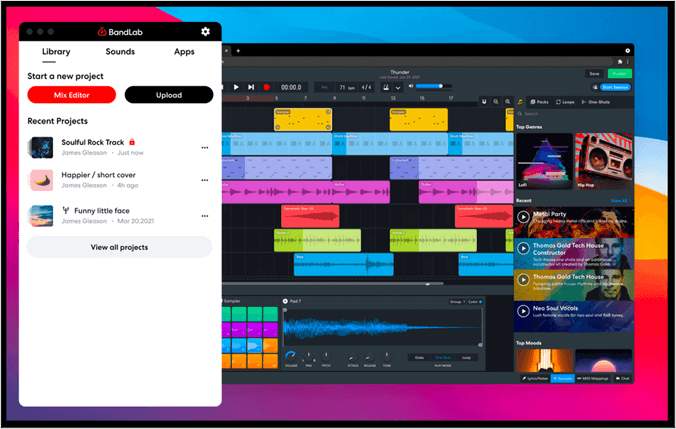 Pros
Free to use
Very simple UI design
Free audio recording—for unlimited time
Records music, meetings, and broadcasting
Cons
2. Vocaroo
Vocaroo is one of the easiest and most useful online MP3 recorder tools you can use on your Chromebook. The tool has everything you need—albeit all of it is a bit basic, it does get the job done. The UI design is straightforward, as it only offers a few buttons.
The quality of the recorded audio is pretty clear too. So, whether you're recording a class or meeting, you'll quickly hear everything without distortion or static.

Pros
Very simple and easy to use
Kids can use it for their classes
No registration or account sign up needed
Share files directly from the website
Cons
Doesn't have an editing option
Only offers 5-minute time limits
Recurring issues with system sound
3. Reverb Record
Reverb Record is another online tool with just the suitable options for Chromebook users. This simple yet effective audio recorder has all the efficient perks that you need in a tool of this nature. Moreover, it offers a premium subscription but also provides extensive free use.
Besides that, its online nature doesn't require you to download—as you can use it right away and record up to 10 free recordings of 2 minutes each.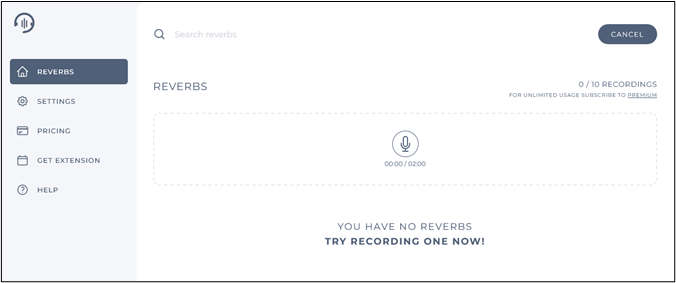 Pros
Very straightforward and easy to use
You can edit your clips on the spot
Ideal for quick free uses
Cons
Doesn't have clipping methods
Only has limited free recordings (10)
Only allows 2 minutes recordings at a time
4. Online Voice Recorder.com
Online Voice Recorder.com is another remarkable audio recording software that allows you to record your audio online. Though this tool only works if you have a microphone, its ability to record voices and audio is outstanding.
The tool also uses a feature called "Auto silence trimming," which will remove any static or other noises from the background as you record from your mic.

Pros
Totally online—doesn't require download or app
Variable microphone settings
Offers basic settings and the ability to cut audio
Cons
A little too basic
It may not be ideal for classes or meetings
5. Mic Note
Mic Note is another audio recording tool with just the right options for Chromebook users. This tool offers a basic UI design that allows you to record, edit and cut out audio clips. Besides that, it's very easy to use, but you'll need to download it as it's a Chrome extension.
On each note, you will be able to record around 10 minutes of audio. This may not be much, but for some meetings and classes, it's going to suffice.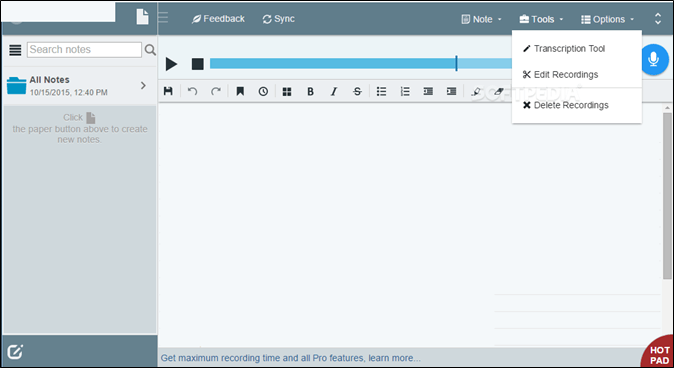 Pros
Offers 2-in-1 audio and notepad solution
Edit, delete, trim, or extract recordings
Save in Google Drive or Dropbox
Cons
Requires downloading
Allows only 10-minute recordings at a time
6. SoundTrap EDU
SoundTrap is the last option on this list, but perhaps one of the best. Made by Spotify, this tool is specifically designed for students who wish to record their classes. However, people who attend Zoom meetings can use it all the same.
The tool has additional features, such as editing and adding instruments, which might benefit some users. But for most, it's an ideal tool to record their audio and microphone sound clearly.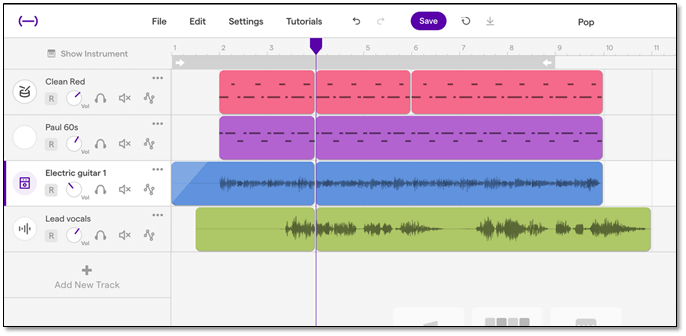 Pros
Very easy to use
Various recording options
Good editing options
Easily integrated into browsers
Cons
EDU/Teacher's version requires an invitation
Not ideal for slow internet
Best Audio Recorder for Windows/Mac
If you are not a Chromebook user and need an audio recorder for your Windows/Mac PC or laptop, then you'll need another tool. For that, you have EaseUS RecExperts, which is one of the preferred screen recorder programs for professionals, gamers, and people from all facets of life.
This tool has all the features you need to record videos, and then you'll still have more features that you can use. For instance, in the video recording section, you can:
Record selected areas, games, or apps
Record multiple screens at a time
Edit and record as you go
Auto-stop and auto-split according to your liking
Scheduled recording in case you forget
While it's an all-inclusive audio and video recorder, the features that allow you to record sound make it even better. These features include:
Capture streaming audio in high-definition
Record audio from YouTube or other video services
Record a particular application, and avoid system or sounds from other apps
So, it's not only an ideal solution for those looking to record specific meetings or calls but also music, games, or sound from other videos without having to capture large files. That's why you need to use this tool.
Wrapping Up
These are some of the best audio recording tools that you can use for Chromebook. All of them of something unique, and each one has features that might be handy for one type of Chromebook user or another. So, pick the option that you think is more suitable for you. 
Chromebook Audio Recorder FAQs
You'll find answers to any further questions in this section.
1. Can you record audio on Chromebook?
Yes, you can, but you will have to use a third-party tool. Chromebook doesn't have an in-built recording program for any sort of audio or sound. So, you'll have to use one of the six tools mentioned in this article.
2. What can I use to record audio on Chromebook?
As mentioned in this article, there are six audio recording tools that you can use on your Chromebook, and they are as follow:
Vocaroo
Reverb Record
Anchor
Mic Note
SoundTrap
So, use the one that's more suited to your need.
3. Does Google Chrome have a voice recorder?
Google Chrome doesn't have an in-built feature to record audio. However, you can find various extensions on Chrome Web Store that allow you to record or capture audio and video in Chrome.
About the Author

Jane is an experienced editor for EaseUS focused on tech blog writing. Familiar with all kinds of video editing and screen recording software on the market, she specializes in composing posts about recording and editing videos. All the topics she chooses