
Table of Contents

About the Author

Related Posts

Best Audio Recording Software
"How do I record audio on my Chromebook?" - From
Quora
.
Compared to Windows and Mac laptops and computers, Chromebook is more popular, as it can sync with your Android phone and tablet by logging in with your Google account. Sometimes, you might want to record an audio message for your family or a fleeting idea before it disappears, then learning how to record audio on Chromebook is much more important. Given that, we will talk about some excellent Chromebook audio recorder software, and walk you through the steps to easily capture Chromebook audio. Let's get started now!
How to Record Audio on Chromebook (4 Easy Ways)
In this part, you will learn some easy yet powerful Chromebook voice recorders to create an audio file on your Chromebook. Just keep reading.
#1. Voice Record Chromebook using Vocaroo
Vocaroo ranks top of the Chromebook audio recording software list. Requiring no downloading or installation, this tool lets your record Chromebook audio directly in the browse. You just need to open the website and click the Record button for audio recording. Once done, it provides you with some options for output formats, including MP3, OGG, WAV., and more. Besides, you can choose to share the recordings directly via email. Here is the step-by-step guide:
Step 1. First, go to https://vocaroo.com/ to open this audio recorder.
Step 2. Then, you will see a red microphone button. When you are ready, click on the Record button to start your audio recording. To end the recording, you can press the button again.
Step 3. Once done, click "Listen" to preview the recorded file. If you are satisfied with it, click "Save & Share" at the bottom to download it. If not, just hit the "Refresh" button to start a new recording.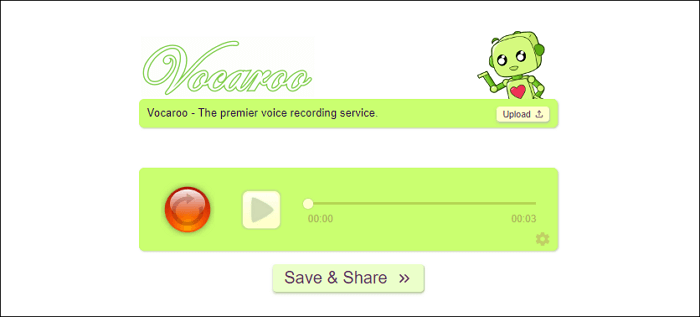 Read also: How to screen record on Chromebook
#2. Make Audio File on Chromebook via Mic Note
Mic Note is a Chrome audio recorder, which lets you capture your voice with simple clicks. It enables you to start a long-term recording for up to hours, and lets you take notes simultaneously. You can continue the last recording with one click if you pause your recording.
When you stop your recording, you can export your audio recording to the cloud, and it will automatically sync all the notes with Google Drive or Dropbox between devices. Below is the tutorial:
Step 1. First, open the Mic Note that can be found in the launcher.
Step 2. Click "Unnamed Note" and create a new one for your audio recording. Next, click the microphone button cut in the top right section of the Window to start recording.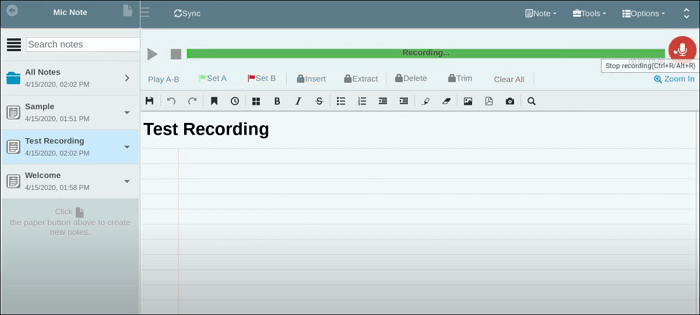 Step 3. If you want to stop, click the icon again. Once done, click on the note menu at the top and choose Export from to save your audio recordings.
#3. Capture Voice on Chromebook with Anchor
Anchor is another Chromebook voice recorder that lets you also capture audio from the browser. With its aid, you are able to record and edit your audio, then upload and publish the recordings to some social platforms, like Spotify, Google Podcasts, Apple Podcasts, and more.
Step 1. Sign up to create an Anchor account.
Step 2. Click "Create Your Podcast > Record" and choose your microphone. By default, this tool will detect your Chromebook's onboard microphone.
Step 3. Finally, click on the record button to start recording.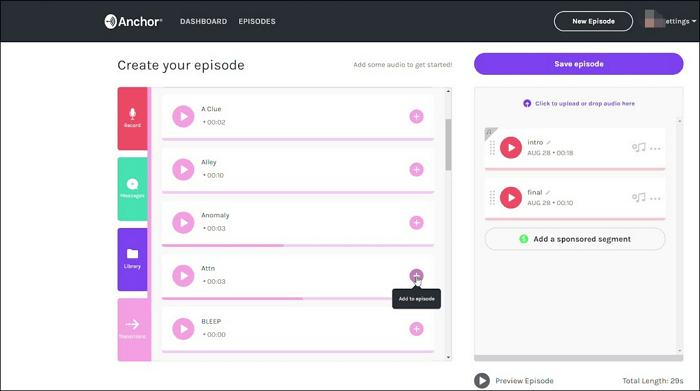 #4. Record Sound on Chromebook with Audacity
The last way to voice record on Chromebook is using Audacity. This free and open-source audio recorder allows you to capture a microphone or live radio. Plus, there are some advanced editing tools available, including but not limited to cutting, mixing, copying, etc. At last, you can export the recorded audio file in WAV, MP3, FLAC, or other formats as you like.
Step 1. Connect your microphone to the Chromebook; then you can do a microphone check and adjust Audacity settings.
Step 2. Click on the red Record button to start your vocal recording. To stop it, click on the yellow stop button.
Step 3. Finally, click "File" > "Export" to save your recordings.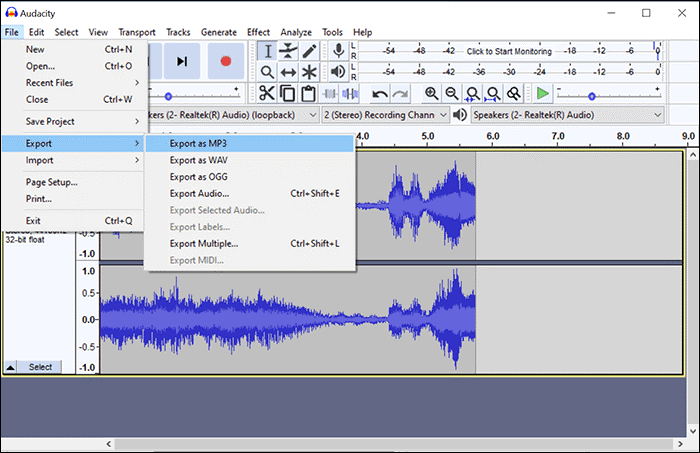 Pro Tip: Best Audio Recording Software for Windows/Mac
Apart from Chromebook, most users still prefer to work with Windows or Mac. Thus, knowing some fantastic voice recording software is necessary if you want to capture audio in the future. Here, we want to share EaseUS RecExperts with you.
This audio recorder can run on both PC and Mac smoothly and perfectly, making it easier to capture any system sound or mic audio. With its help, you can freely choose to record streaming audio from Spotify or other sites, create a voiceover, or even record lecture audio for later review. Besides, it offers some advanced features which let you adjust output format and quality, reduce background noise., and even enable you to edit your audio recordings if needed.
Last but not least, it also can be used as a free screen recorder, which lets you do any screen recording tasks. Don't hesitate to get this versatile program.
How to Voice Record on Chromebook FAQs
1. Does Chromebook have voice recording?
No, Chromebook doesn't provide a voice recording program for audio recording activities. However, many browser-based tools and apps can help you easily create an audio file on a Chromebook. Moreover, you can also use web-based DAW to record sound on Chromebook. Below are some recommendations:
Vocaroo
Anchor
Mic Note
Twisted Wave
Audacity
Soundtrap
2. Where is the voice recorder on Chromebook?
There is no built-in voice recorder app on Chromebook, so you may need to go to Web Store to find the best applications that suit your needs. You can follow the below steps:
Step 1. Click on the Apps button (it looks like nine squares) on the lower left of your screen.
Step 2. Choose the "Web Store" to open the Window.
Step 3. Enter "Voice recorder" in the search box, and then you can find many Chromebook voice recording software.
3. How do I record a sound on a Web page in Chrome?
If you try to record sound on a Chrome web page, you first need to find and add a Chrome audio recorder extension. Once done, you can follow the on-screen instruction to start your audio recording. Here are some popular Chrome audio recorders:
Screencastify
Rev Online Voice Recorder
Online Voice Recorder
Cloud Audio Recorder
Reverb Voice Recorder
Virtual Voice Recorder
The Bottom Line
After reading this post, you will find that it is easier to record sound on Chromebook than your image. All you need to do is to select a suitable Chromebook voice recorder; then, you can start your recording effortlessly. If you sometimes look for voice recording software for Mac and Windows, don't forget EaseUS RecExperts!
About the Author

Jane is an experienced editor for EaseUS focused on tech blog writing. Familiar with all kinds of video editing and screen recording software on the market, she specializes in composing posts about recording and editing videos. All the topics she chooses