
Table of Contents

About the Author

Related Posts

Best Audio Recording Software
PAGE CONTENT:
Though watching videos is a favorite task for many, virtual reality has made its way into this field. VR videos or 360 videos are becoming famous with the introduction of VR headsets, like Oculus, HTC Vive, etc. But a VR video player is a must for headsets and other devices to offer the best video-watching experience.
Whether watching a football match, watching people riding a roller coaster, or enjoying the starry night views, you will feel immersed in the screen using a VR player. So below are the top 10 excellent VR video players for Windows, along with the MP4 VR video player!
Top 10 VR Video Player for Windows
Let's explore the list that offers you the 10 best VR video players for Windows users!
Tool 1. Virtual Desktop
One of the best streaming software for Windows is Virtual Desktop which serves as a general VR desktop viewer. It is more than just a video player famous for its versatile features. Since this software enables you to project any video from your PC to the VR headset, you can use it successfully as an alternative to a standard VR video player. Even it supports Windows Mixed Reality, Oculus Rift, Valve Index, and more.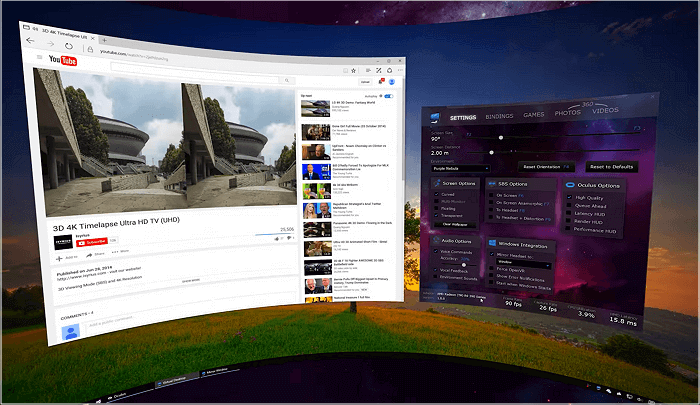 Pros:
Offer a highly safe and secure interface
Let you access and manage data from anywhere
Help you control the device infrastructure remotely
Cons:
Only beneficial for trained & skilled people
Bring Driver instability for specific apps like scanning & printing
Running high-resource apps in software impact user experience
Tool 2. Magix
Magix is not only a remarkable VR video player for Windows and mobile phones but one of the best free video editors for PC. Its unique feature provides you with smooth VR video playback without any additional hardware device. Plus, you can wirelessly transfer VR videos to a VR-X player from Photostory Premium at a quick pace. Even it is possible to create unique virtual spaces and share them with others effortlessly.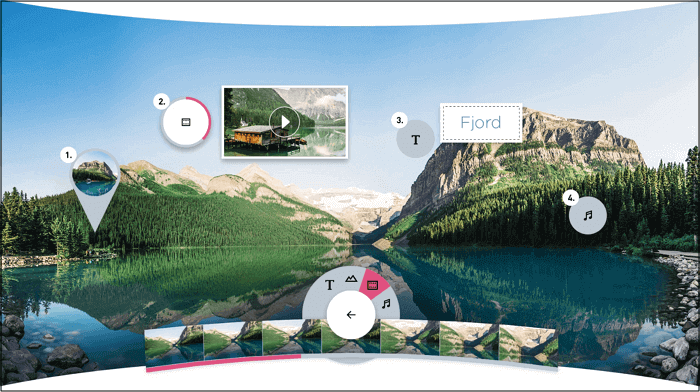 Pros:
Offer a simple and intuitive interface
Support an extensive range of videos
Help you overcome all the compatibility issues
Cons:
Require a purchase to play some formats
Give rise to occasional bug issues
You may get it crashed sometimes
Tool 3. VR Player
If you are looking for a VR player for Windows that offers an immersive video-watching experience, VR Player must be your way to go. Since it supports up to 4K playback resolution, you will observe the original video quality. It also helps you in loading subtitles so you can understand the foreign language, especially language learners. Even playing videos directly from social platforms or Cloud is possible.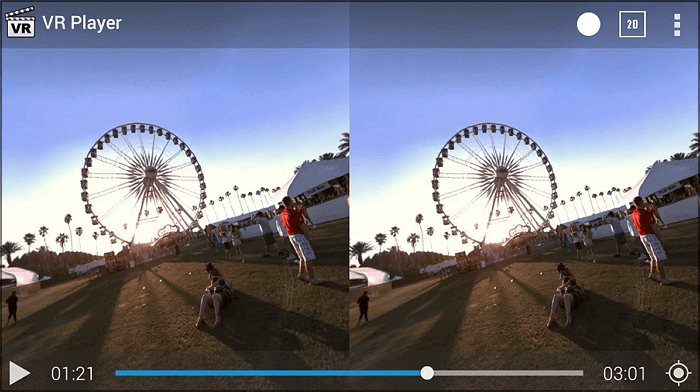 Pros:
Preview a VR video directly through YouTube URL
Support customized control with Bluetooth device
Help you organize videos by creating a playlist
Cons:
It does not support 360 surround audio
Not a completely secure software
Lack the video editing features
Tool 4. SKYBOX VR Player
Another heavy hitter on this list is SKYBOX VR Player, which provides you with excellent features like 4K resolution support. The one that sets it apart from other players is identifying video file format, dimensions, and orientation and then applying it automatically during playback. With an intuitive interface, you won't have to waste time over the menu to get a smooth VR video viewing experience.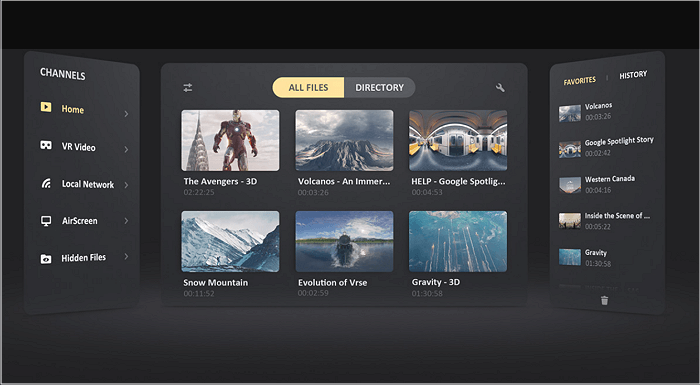 Pros:
A completely free-to-use VR player
Support almost all stereo modes
Let you stream VR videos on the same network
Cons:
Offer a slow and choppy playback
Not suitable for larger VR video files playback
You may encounter USB device disconnection
Tool 5. GoPro VR Player
GoPro offers powerful software to play your VR videos on various devices. Since it supports 3D stereo videos and equirectangular images, playback of VR videos with 360 degrees to 4K resolution is not a challenging task. Also, it is possible to personalize the default settings from the menu option of the main interface. Even you can connect your headset to your iPhone or Android device to watch videos online.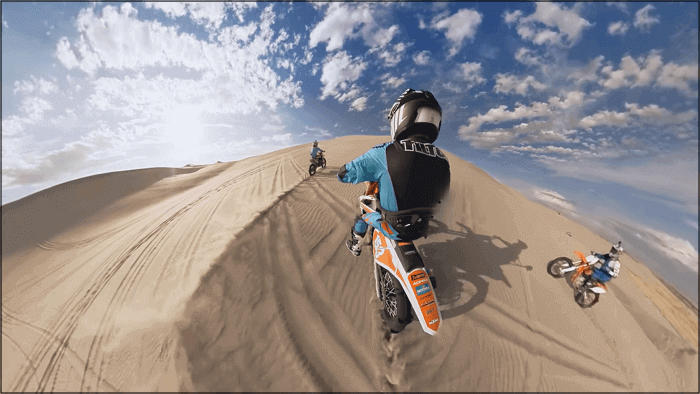 Pros:
Offer a new, improved, and user-friendly interface
Work on devices like Windows, Mac, HTML5, etc.
Provide 360-degree player plugin for Premier Pro
Cons:
Users report slow performance
Fail to work correctly from time to time
Updates often lead to crashing
Tool 6. Simple VR
Whether you are a beginner or just looking for a VR HD video player with an attractive interface and simple functioning, Simple VR proves to be a great choice. It offers 180/360-degree support with customizable controls to completely control video playback. The distance, height, and tilt can also be adjusted using the optional settings. Even it is not tricky to find the desired video with the file browser.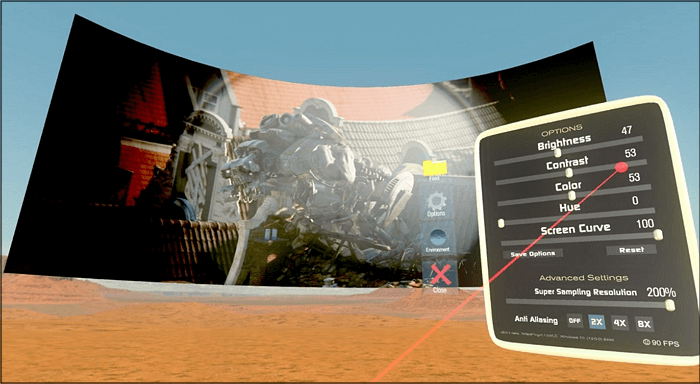 Pros:
Offer file navigation with a 3D menu
Let you pause, play, and stop the video
Resize controls with motion controllers
Cons:
Give rise to occasional bugs often
Offer no updates and new features
Lead to a black screen problem
Tool 7. Opera VR Player
Opera VR Player is a specialized program that lets you watch VR videos without any additional software installation. You only have to plug in your VR headset to your device and start watching your videos. Even it detects the suitable video format to play automatically once you tap the video. Along with that, you won't need to turn on the VR settings for playback.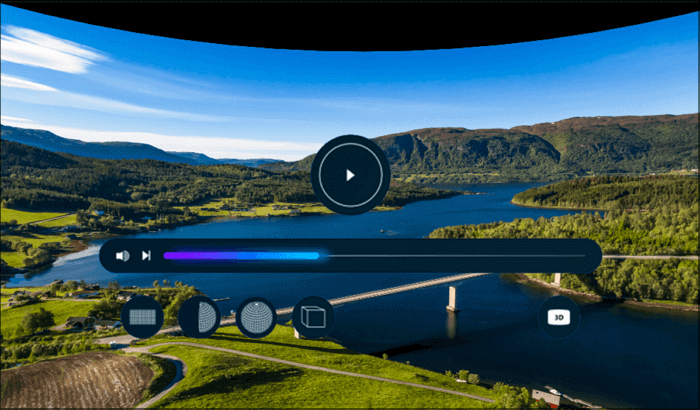 Pros:
Play all the videos in VR mode
Synchronize the stereoscopy if required
Keep updating the 360-degree content library
Cons:
Require a hardware device for playback
Unable to provide the reading mode or list
Load the large files slowly at times
Tool 8. Total Cinema 360 Oculus Player
If you want to enjoy optimized omnidirectional or live-action video content on the Oculus VR headset, this player works at its best. Its perfectly designed cameras allow you to capture live videos in good 360-degree quality. Plus, you can practice using its four sample videos to learn its controls entirely beforehand. Finally, watching videos on the web at an affordable price is possible.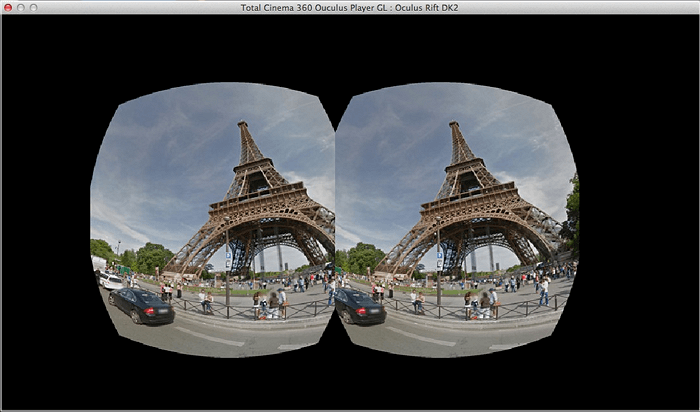 Pros:
Offer the best quality playback services
Support M4V, MOV, and MP4 video format
Let you zoom, adjust, and pause easily
Cons:
Provide free but limited functionalities
The beginners may require a tutorial
It may fail to work correctly
Tool 9. LiveViewRift
LiveViewRift is considered an efficient VR video player by Windows users since it offers access to different media storage and helps you watch VR videos over Oculus Rift. What makes this player unique is its powerful distortion and view correction features. Even you can view photos and videos online in VR mode. Plus, adjusting view-pitch and FOV options is easier than ever.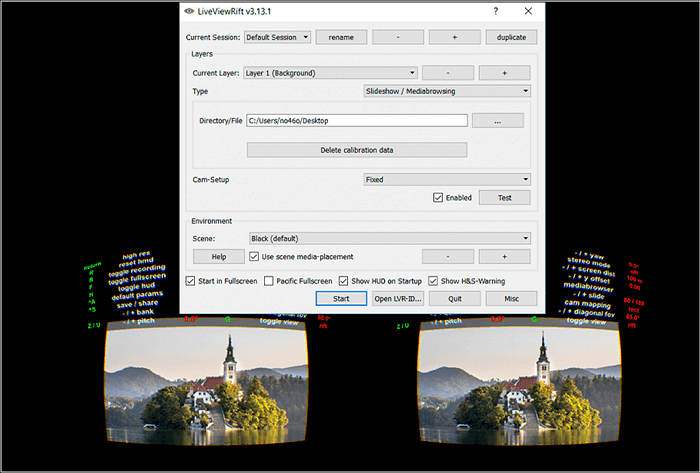 Pros:
Support easy MJPEG streaming over HTTP
Play a mixture of cinematic & panoramic images
Allow you to watch full-length movies
Cons:
Get crashed from time to time
Play VR videos with a VR headset
Outdated program
Tool 10. BigScreen
For people who are searching for more than a VR video player, BigScreen comes in handy. It provides gaming and social experiences like playing games and watching movies with friends or family. However, you can use this powerful social program to mirror your desktop on the headset. Besides all, it is possible to optimize your experience as desired.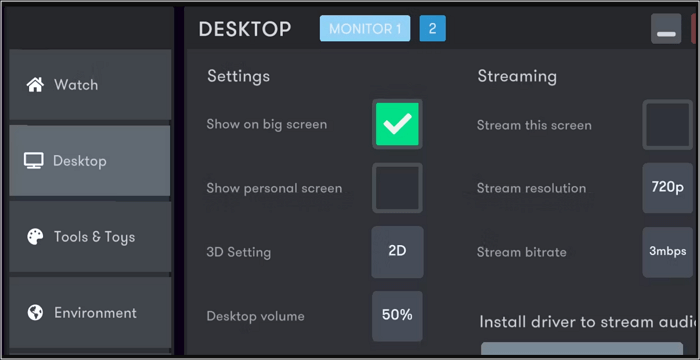 Pros:
Support VIVE, Valve Index, Oculus, and more
Let you collaborate in virtual reality for free
Support joining the Discord app easily
Cons:
Play a limited variety of 3D videos
The interface is not attractive
Offer slow performance in comparison
Bonus Tip: Play MP4 VR Videos on a PC
To play MP4 VR videos, you can preview a video on your PC screen, record it with EaseUS RecExperts, and edit it effortlessly. Supporting 10+ formats, this Mac and Windows screen recorder is beneficial to record audio, webcam, games, and screen with audio. Plus, you can use the option to record in a full-screen, and a specific region is available.
Furthermore, its processing is easier because the software doesn't require registration. Even it is possible to change multiple settings like output format, frame rate, quality, and volume of the recorded VR videos. Last but not least, you can easily use editing features like trimming, adding an intro/outro, and slowing down or speeding up video playback.
Features
Record the screen with or without audio effortlessly
Capture the system and microphone sound at once
Take a screenshot of the VR video playback with hotkey
Export the audio and videos in the desired format
Work as a qualified streaming video recorder
Now, you can download this software from the button below and follow the steps to play MP4 videos.
Step 1. Launch EaseUS RecExperts, and click "Recordings" on the lower left to open the media player.

Step 2. Click "Import" on the bottom right to load your media files. It allows you to import multiple files or a folder.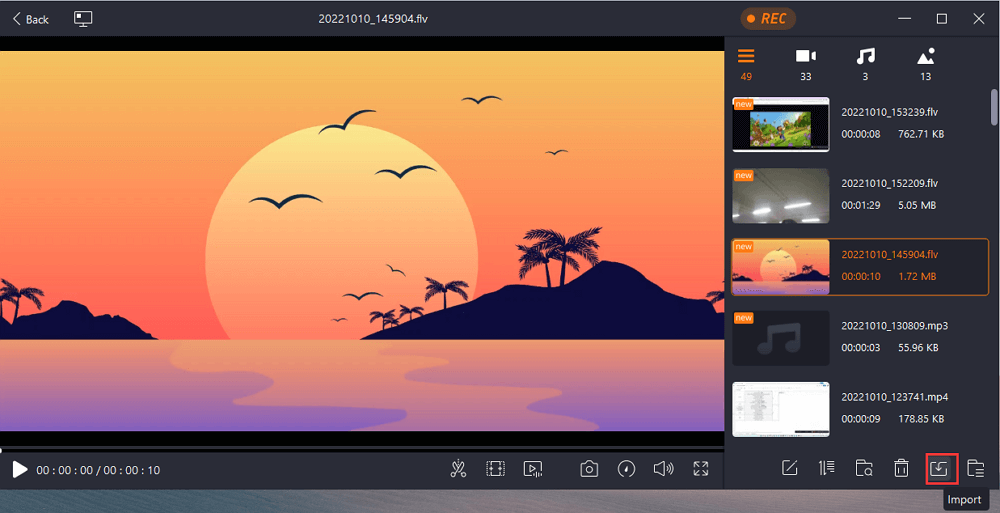 Note: You can hit the monitor icon on the top to add EaseUS Media Player to your desktop.
Step 3. Then, you can enjoy your audio or video file with different playback speeds, from 0.5X to 2.0X.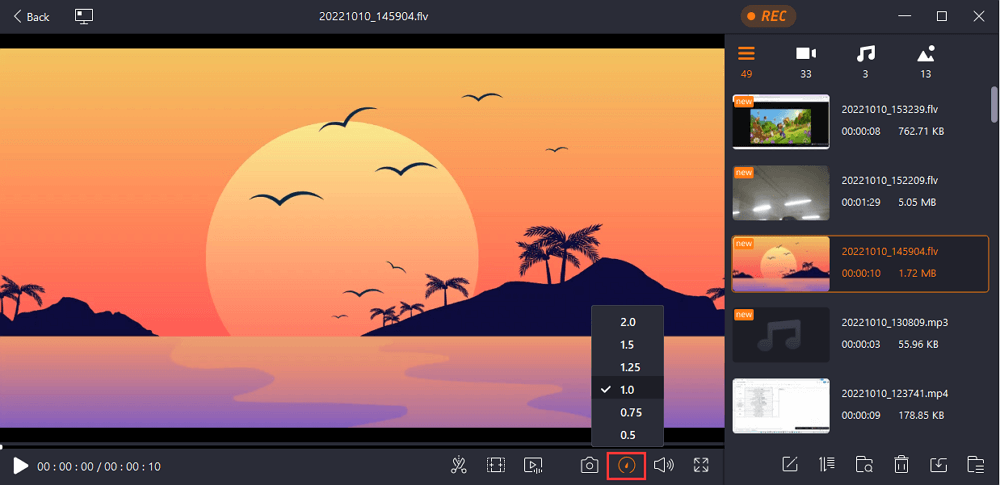 FAQs about VR Video Player Windows
Check the frequently asked questions related to this topic below.
1. Can VLC play VR videos?
The answer is yes. You just need to follow the steps below to playback a VR video.
1. Launch VLC Media Player and go to "Media" then "Open File".
2. Browse to the directory of the video file and double-click to open it. Or, you can press "Ctrl+O" and choose the video file to open it.
2. Which video player supports VR?
All 10 video players listed in this article can be used to play VR videos. Just choose the one you like to play your VR videos with easy operation.
3. Does Windows Media Player support VR?
The answer is yes. Windows 10 is equipped with a media player program named Movies & TV and it can play a VR video. If your computer is running this system, you may try this inbuilt software.
Conclusion
Streaming VR videos is not tricky with a professional and efficient VR video player. After exploring the above write-up, you can pick up the desired player and enjoy watching your videos right now. However, you must check the player's compatibility with your device, like a PC only requires a VR player for Windows.
In contrast, you can record and then play MP4 videos on a PC using EaseUS RecExperts. It even offers to edit all your recorded videos with multiple other features.
About the Author

Melissa is a sophisticated editor for EaseUS in tech blog writing. She is proficient in writing articles related to multimedia tools including screen recording, video editing, and PDF file conversion. Also, she's starting to write blogs about data security, including articles about data recovery, disk partitioning, data backup, etc.