
Table of Contents

About the Author

Related Posts

Best Audio Recording Software
Video resolution is undergoing drastic improvements. There was a time when people were satisfied with 240p SD. But the urge for betterment made 720p HD a reality which was soon followed by 1080p HD and UHD 4K to keep people basking in a visual extravaganza. If the network is smooth, then you are hardly watching your favorite videos on a lower resolution.
Today we are going to share some best free 4K screen recorder software to capture your screen in 4K resolution. But for best results, you need to ensure that your device has an adequately high configuration. Otherwise, the resultant video will not be up to the mark.
                  Best 9 4K Screen Recorder Free Download for Windows/Mac [Quick Comparison]
1. EaseUS RecExperts - Special Pick
Compatibility: Windows and Mac
As one of the best screen and audio recorder, you can bank on EaseUS RecExperts to capture your desktop and make easy tutorials in high resolution. A unique thing about this software is that it can record webcam footage simultaneously and display it as an overlay atop your main footage.
The self-explanatory interface of this Mac and Windows screen recorder is another one of its great strengths. You can determine the audio and video format from Settings. Users can even configure hotkeys to start with various types of capturing in a fast and easy manner. 
EaseUS Screen Recorder
Record computer audio, microphone audio, or both simultaneously
Flexible capture your wanted screen
Capture your screen automatically
Take a screenshot from the video
Support schedule recording feature
2. ShadowPlay
Compatibility: Windows 7, 8, 8.1 and 10
NVIDIA GeForce has designed this free 4K screen recorder, which offers manual and shadow modes of screen recording. In manual mode, you can record without any upper time limit. The shadow mode can record only for 20 minutes and each new file replaces its predecessor.
Besides, this program allows users to stream videos over Twitch and doesn't hamper the system performance while running in the background. 
Pros:
Allow users to record 4K HDR at 60 fps and 8K HDR at 30 fps
15-second GIFs can be created using the ShadowPlay videos 
Upload recorded videos to Facebook, Google, or Weibo with a single click
Cons:
ShadowPlay cannot operate without GTX 600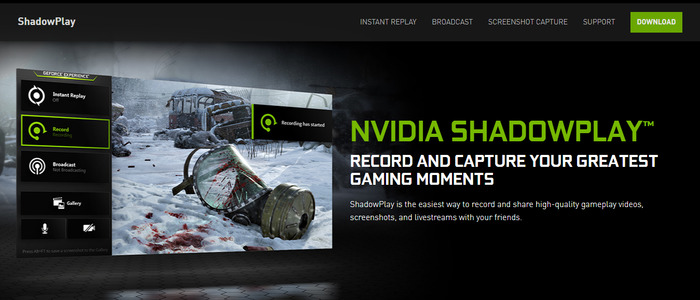 3. Bandicam
Compatibility: Windows
Bandicam is an overly reliable offering of Bandisoft Company that can record 4K videos and deliver top-notch results. This 4K screen recorder for PC has already won accolades from gamers, vloggers, trainers, and marketers around the globe.
Moreover, it also allows users to record webcam footage and incorporates the same through picture-in-picture mode for better personalization of your video, and it is also great at capturing snapshots in PNG, JPG, and BMP formats as well. 
Pros:
Record OpenGL/DirectX gameplay in 4K resolution
Users can optimize the quality of the captured 4K video 
Allow screen capture over 24 hours' time without any halt
Size of the recorded files is not very bulky 
Cons:
The audio and video recording settings might be difficult to remember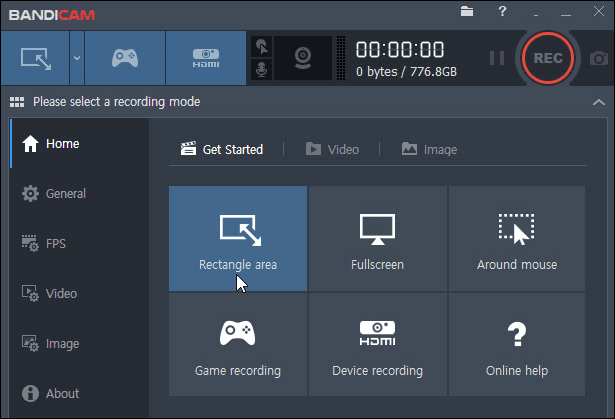 P
4. ShareX
Compatibility: Windows 7, 8.1 and 10
If you are searching for a 4K screen recorder free download that goes beyond the ordinary, then you are bound to like ShareX. This free-of-cost tool presents users with an array of screen capture options.
The automated capture feature helps in taking screenshots at regular intervals which is especially helpful in recording the time-lapse of activities. Another important attribute of ShareX is its ability to upload multiple screenshots taken recently from the clipboard directly. 
Pros:
Allow capturing the entire screen, a particular region, a particular window, scrolling capture, and many more
Onscreen activity can be recorded as a GIF
Screen recordings and captures can be shared over cloud services and even social media
Cons:
Not suitable for game recording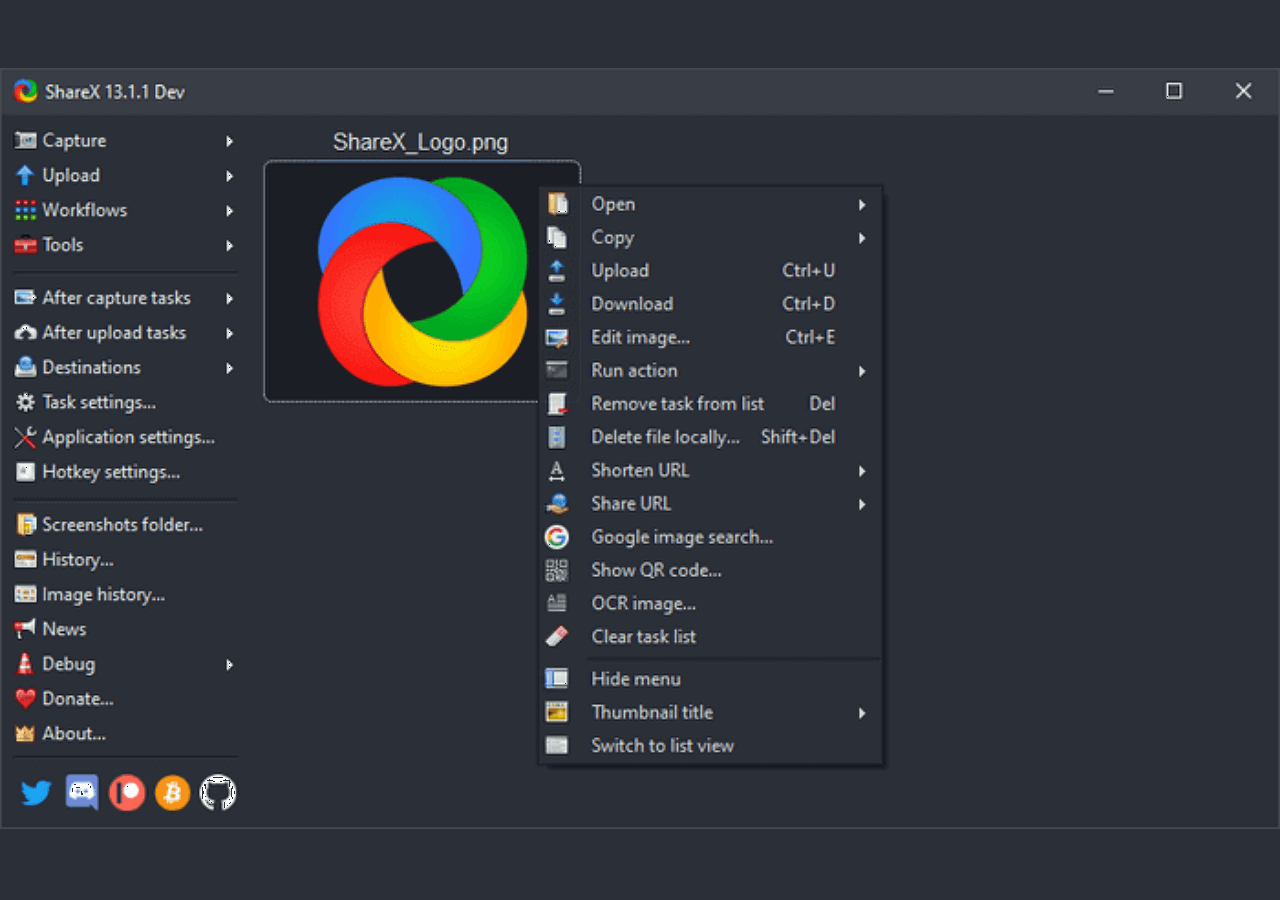 5. OBS Studio
Compatibility: Windows and Mac
If you are trying to find an open-source screen recorder that can be downloaded for free, look no more than OBS Studio. This high quality screen recorder can record everything ranging from video chats to video games, webcams, capture cards, browser windows, and a lot more.
Besides, its built-in audio mixer helps in reducing background noise with the per-source filters so that you can enjoy crystal clear audio. However, its interface is considerably complicated and you might require some time to master this software. 
Pros:
Enhance the video quality with its built-in filters
Users can add images and text in their live video captures
Game streams can be broadcasted to YouTube, Twitch, etc.
Cons:
Not compatible with in-game overlay recording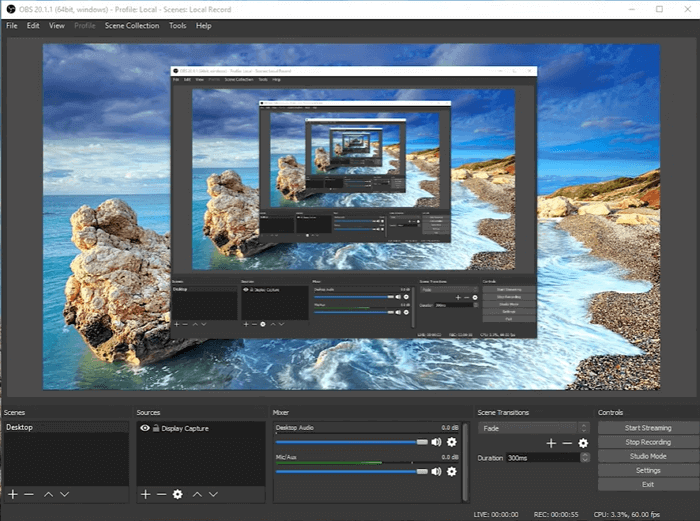 6. Snagit
Compatibility: Windows and Mac
You can exercise a variety of editing and customization options with this powerful 4K screen recorder app, Snagit, which is ideal for individuals who often create website or software reviews and video tutorials.
Snagit also allows users to add notable effects for enhancing the recorded images or videos. It also becomes possible to trim your recordings as per preference and convert videos into animated GIFs. Snagit is also helpful in extracting text from a file or screen capture for pasting it easily in other documents to make quick edits.
Pros:
Share videos directly to different word processing software, cloud services, and social media platforms
Create a GIF or "how-to" video by drawing over a series of screenshots
The "Favorites" feature collates all of your valuable tools under a single umbrella
Cons:
Come with an expensive price tag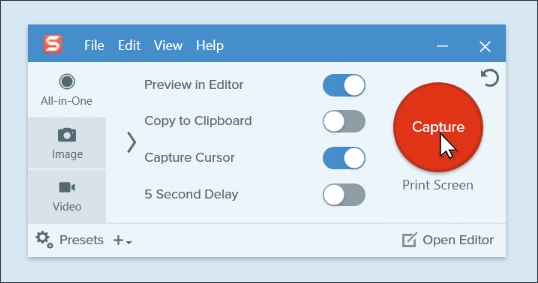 7. Movavi Screen Recorder
Compatibility: Windows and Mac
This easy-to-use 4K screen capture can help you record everything from video to webinars, Skype video chats, movies, and TV series in high quality. You can even create complete clips like tutorials, video blog content, how-to, and many more with its built-in video module. If you want to know how to record Zoom meeting, you also can find solutions within this program.
In addition, it offers different audio options of recording the screen with system sounds, plugging in your microphone, or adding a voice commentary. This 4K video recorder can help capture your screen even when you are away once you schedule the recordings in advance. 
Pros:
Users can record full screen or opt for custom capture
Can render perfect output footage by capturing Full HD videos at 60 fps
Results can be shared easily over social media channels
Cons:
Come with an expensive price tag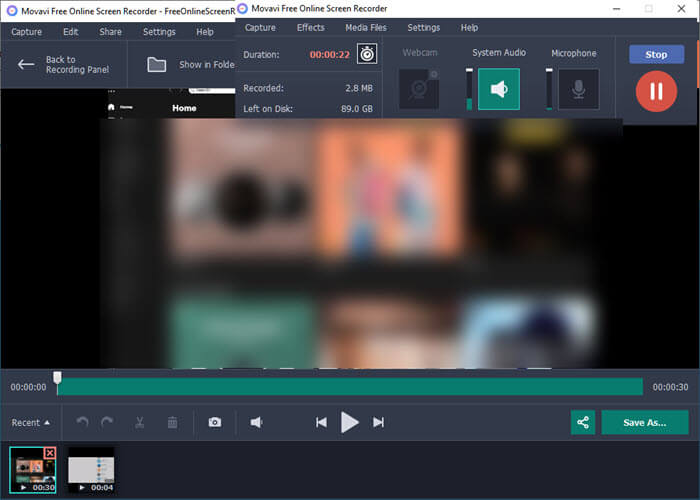 8. Camtasia
Compatibility: Windows and Mac
Camtasia is a professional 4K screen capture and video editor, which comes with pre-built templates to reduce the editing time. A simple drag-and-drop interface makes it possible to add, remove, trim, or move sections of audio and video.
This software also allows users to record either the entire screen, a region, specific dimensions, or an application. You can even import audio, video, and image files from your computer or the cloud, or any other external device for being dropped right into your recordings. 
Pros:
Interactive quizzes help in adding to the level of user engagement
You can easily select a variety of music and sound effects from its exhaustive built-in library
Superb animation effects like transitions and annotations help in making the end videos look more professional
Can record from video calls, browser, desktop, and many more
Cons:
Might feel a little intimidating to amateur users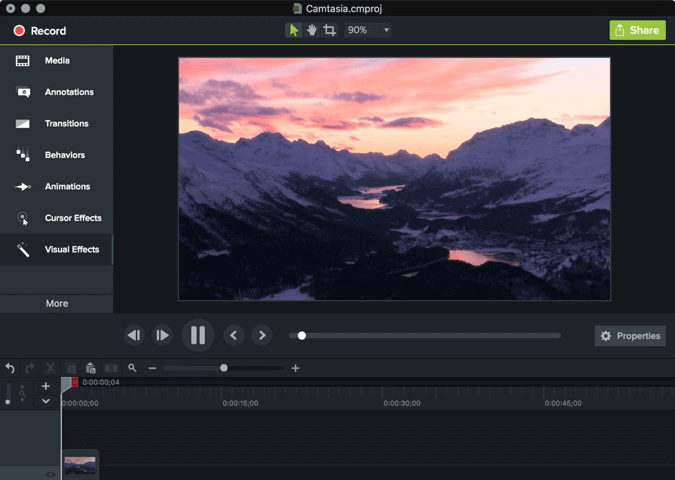 9. QuickTime Player
Compatibility: Mac
There is an inbuilt 4K screen capture on your Mac, and that is QuickTime Player. It comes loaded with a plethora of features and one of such is screen recording. You can thus bank on this user-friendly software to capture your entire computer screen or a particular portion by moving your cursor to the specified location.
Functions like "Task Scheduler" and "Follow Recording" bring in more time savings as you can concentrate on more important avenues while the program takes care of all your screen captures automatically.
Pros:
The video can be uploaded over social networking sites like Facebook, YouTube, and Vimeo
A simple and clean interface is loved by users of all experience levels
Support live streaming of contents
The built-in annotating tool adds a professional flair to the recordings
Cons:
Basic recording and editing tools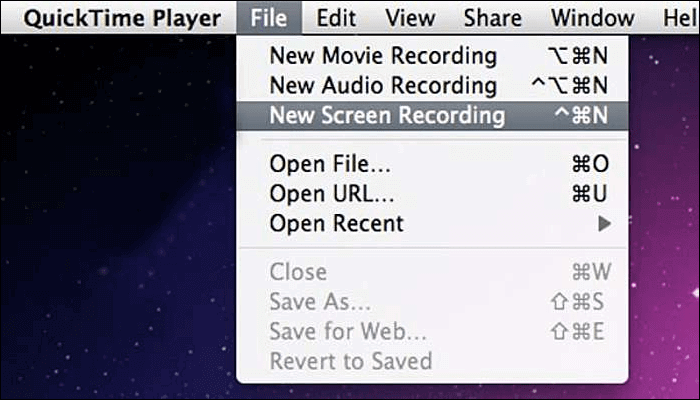 Conclusion
On this page, we have talked about 9 excellent 4K screen recording software, and which one do you prefer? No matter what you choose, make sure to select the one according to your needs.
If you can't decide which one is better, you can try EaseUS RecExperts. Whether you want to create interactive presentations, demonstrate any computer activity, or create a flowchart of tips and tricks, this screencast software can let you do all that in 4K UHD resolution.
FAQ About 4K Screen Recorder
1. Can you screen record in 4K?
Yes. Screen Recording can be done in 4K resolution only if you have 4K Screen recorder software like OBS Studio, EaseUS RecExperts, Movavi Screen Recorder, etc.
2. Do you need a 4K monitor to record in 4K?
Yes, that is possible. But quality can not be assured. The best and easiest way to record 4K content is to record it on a display that has 4K as its native resolution.
3. How do I record in 4K?
4K is four times the resolution of 1080p and offers fantastic video quality right from your screen. Keep in mind that depending on your device, there are varying levels of 4K support.
4. Can you record 4K on a 1080p monitor?
Your capture method needs to have access to an actual 4K feed before it is scaled.
Some software can do this if it renders and generates the recording itself, but virtually video games are not designed to do this. Like something like 3D Studio Max might be able to generate a 4K video on a 1080p monitor.
About the Author

Jane is an experienced editor for EaseUS focused on tech blog writing. Familiar with all kinds of video editing and screen recording software on the market, she specializes in composing posts about recording and editing videos. All the topics she chooses