
Table of Contents

About the Author

Related Posts

Best Audio Recording Software
FLAC, known as Free Lossless Audio Codec, is an audio coding format for lossless compression of your digital audio tracks. Basically, this format works like MP3 but is lossless, which means that any audio player that supports this format will not degrade its quality. Fortunately, many audio players support this function. 
Recording audio tracks as FLAC is one of the best ways to guarantee its quality no matter where it is opened. Hence, we will show you some excellent FLAC recording software to help you create FLAC audio from your favorite streaming music and songs here. Keep on reading this article.
1. EaseUS RecExperts 
Compatibility: Windows and macOS
EaseUS RecExperts is becoming one of the most popular PC internal audio recorder software. It is widely used by Windows and macOS users worldwide thanks to its friendly interface and incredible recording features. 
With this software, you can record any music or streaming music into FLAC format. Beyond that, it supports exporting MP4, MOV, WMV, and many more, which means it can act as an MP4 screen recorder, MOV recorder, etc.
Apart from that, you can record screen, audio, and webcam outputs all in one place. One of its more prominent features is that it allows you to record them together, meaning screen plus audio.  
EaseUS RecExperts
Simple and straightforward user interface
Record and play FLAC audio tracks
Capture sound, video, or both at the same time
Record your webcam with just a few clicks
The inbuilt tools let you edit the recordings by trimming, and more
2. WavePad 
Compatibility: Windows  
The software has excellent editing capabilities and is compatible with most audio formats, including FLAC. 
With this software, you can record your audio tracks in FLAC format. In addition, you can perform essential functions such as cutting, copying, pasting, inserting, and automatic trimming. If you are a professional user, you can use spectral analysis. In terms of recording quality, WavePad provides professional-quality recording in any audio format.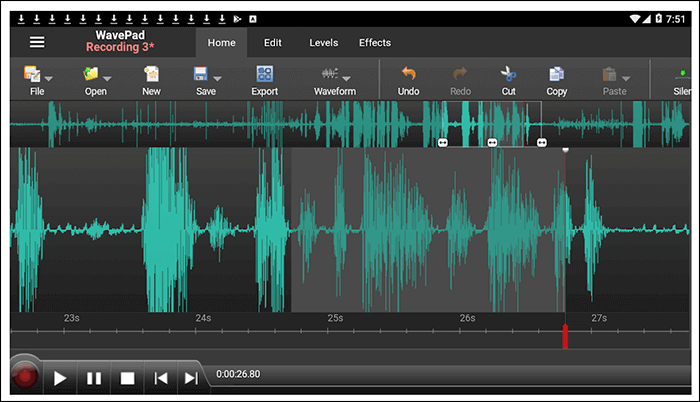 Pros: 
Access to amplification and music effects
It supports over 50 audio formats
Batch audio file processing
You can edit the audio in any video file
Cons:
The user interface can be complex
Not destined to beginners in audio processing
3. PreSonus Studio One 5 
Compatibility: Windows
This music recording software has a paid version and a free version. 
This software is very suitable for beginners and professionals, making it the best recording software, which supports different formats, such as WAV, FLAC, MP3, etc. It has a simple and easy-to-use interface, and it runs smoothly. Some of the free version highlights are unlimited audio tracks, multiple instruments, time spread, and delay compensation. The free version of the software provides a good set of editing tools.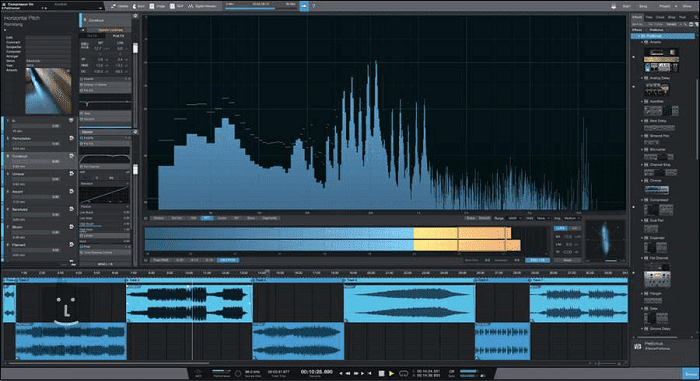 Pros: 
Access to unlimited song creation
Work with multiple tracks at the same time
Fast drag and drop function
Users can download resources from a 1.5 GB library
Cons:
Not many free resources are available to users
You need to research before using the advanced features 
4. Ardour
Compatibility: Windows and macOS
Ardor is an open-source audio working station that is available for Linux, macOS, and Windows. Providing multitrack recording capabilities, it enables you to import video tracks from a movie or any video file. 
It is a good FLAC recorder that you can use to record lossless tracks with simple clicks. If you are looking for a free and easy-to-use FLAC recording program,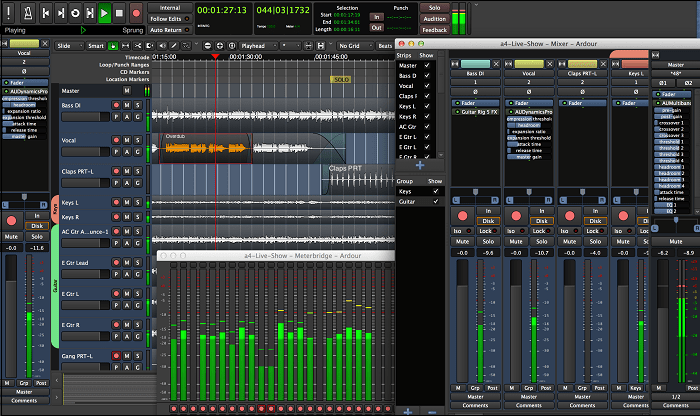 Pros:
Process multiple tracks simultaneously in many different ways
Support simultaneous collaboration of other users from separate locations
Easy-to-use interface
Cons:
To use the software, you still need some kind of recording equipment
No built-in effects or instruments
5. GarageBand
Compatibility: macOS
GarageBand is an Apple-exclusive program that provides you with a complete audio creation system that includes built-in recording capabilities, virtual instruments, and even music classes. 
If you want to record your FLAC track, just plug in an instrument or device and start using it. Also, you can use a variety of virtual amps and effects to improve your tracks.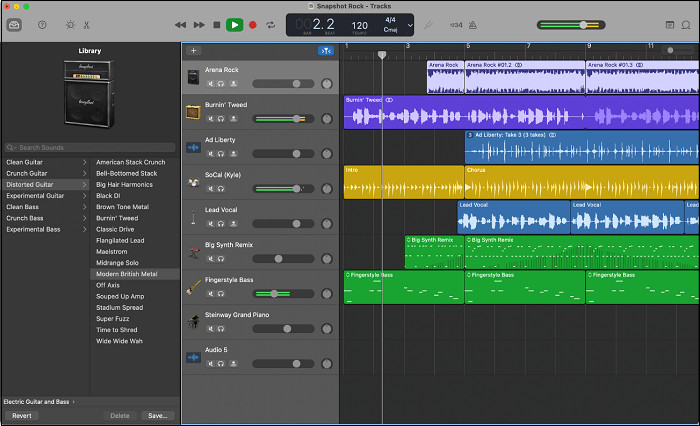 Pros: 
It has a professional and optimized interface
Easy to record and mix music
Access to Apple's built-in sound and loop library
Impressive instrument lessons are available to users
Cons: 
Not compatible with Windows 
It is not suitable for professionals because it is more beginner-friendly software
6. Audacity
Compatibility: Windows and macOS
Audacity became one of the most popular free audio recording and editing software programs. This open-source program offers users various options for recording and editing audio, all of which are supported through a simple user interface. 
There are toolbars for navigating, editing, and mixing tracks. As you will see, the tracks are loaded, and they will be displayed as waveforms. This allows users to edit specific parts of the track by highlighting them. Despite being simple software, it can record FLAC audio. Even though it lacks many new features, it is excellent to use.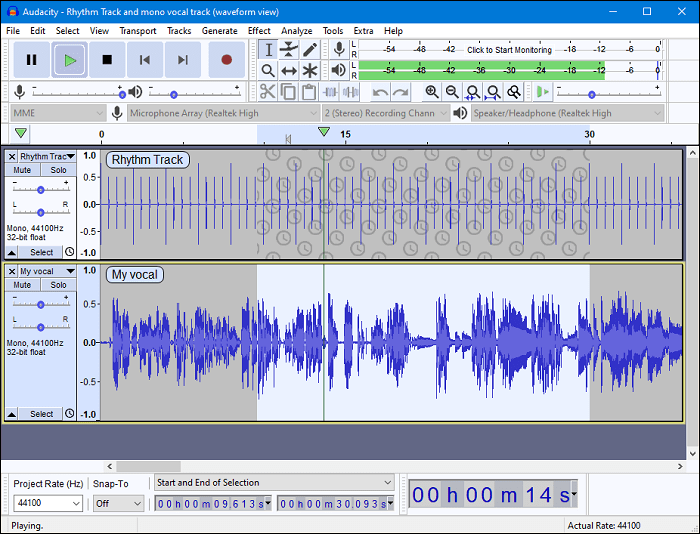 Pros:
Completely free to use
Very lightweight, which helps it to run fast
It is open-source with community support
Cons:
This program is vulnerable to bugs exist that can make it unstable
It has minimal mixing capabilities
Conclusion 
Having a FLAC recorder is a perk when dealing with this particular audio format. It has many advantages to record in FLAC, especially regarding the audio quality.
There is plenty of FLAC recording software out there. Pick whichever one fits your needs. If you want to use more advanced and user-friendly software, try EaseUS RecExperts to work on your FLAC audio tracks.
About the Author

Jane is an experienced editor for EaseUS focused on tech blog writing. Familiar with all kinds of video editing and screen recording software on the market, she specializes in composing posts about recording and editing videos. All the topics she chooses